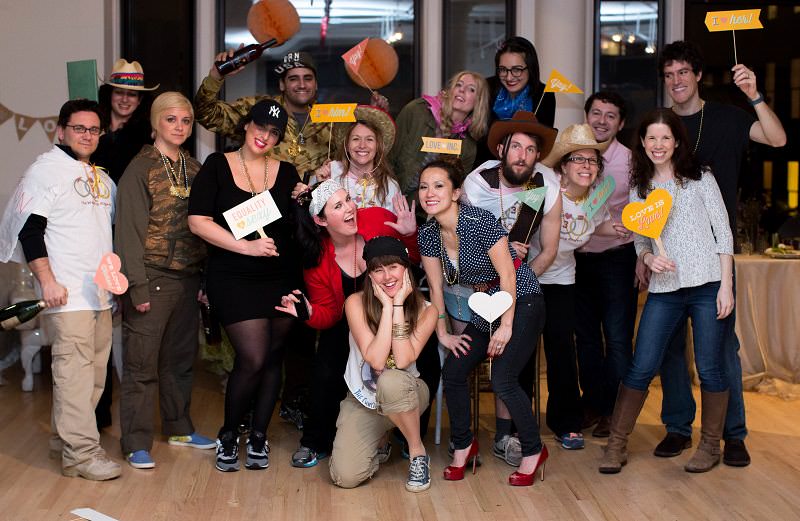 Cue the "Rocky" music. They had been training their whole careers for this day of craziness challenges and it had finally arrived. The first-ever Love List Olympics.
Teams of Love Listers competed for bronze, silver and gold bragging rights. Last week, you met the teams in all of their costumed glory, so now it's time to see your favorite wedding vendors in action …
Instagram Scavenger Hunt
As an ongoing challenge to earn extra points to their final score, the Love Listers were given a list of wedding-themed items to spot, snap and hashtag on Instagram. Those who were unable to attend the Olympics were even able to join in on the fun, competing against each other for a prize of a free three-month listing on the Love List! A big congratulations to the Instagram Scavenger Hunt winner NST Pictures. Here are just a few of the clues they uncovered with Instagram:
The Champagne-and-Cupcake Relay
This game required skill, teamwork and trust. And an appetite to stuff as many mini cupcakes in your mouth as possible. Blindfolded, vendors had to rely on their teammates to coach them through a set of cones carrying a tray of wine and cupcakes. Hit a cone, a cupcake was lost. At the end of the cones, a team member ate as many of the cupcakes that were left as possible. Points were scored by cupcakes eaten and by the measurement of wine.
The Bouquet Toss
We put their years of watching clients toss the bouquet to the test. Each player had 30 seconds to shoot bouquets created by Karma Flowers into a hoop. With the choice of three levels, this game was all about skill and strategy. And they weren't just shooting for themselves — they were shooting for marriage equality. The winning team's points were calculated, multiplied by $100 and turned into a donation for Freedom to Marry on behalf of the Love List.
The Table Design Challenge
The final throw down …. where they put it all on the line … was the Table Design Challenge. Each team had 30 minutes to design a table using their linen of choice from Nuage Designs, centerpieces from Karma Flowers (each team had the exact same type and amount of blooms, which they could use as they wish) and props they brought from home. And for an added twist, we partnered with Uncommon Goods to give them tabletop decor that they were required to incorporate into the design (seeing the options for the first time right before the competition). The results just proved how talented these wedding vendors are.
The judges deliberated, the points were tallied and winners were announced.
The winner of the best-dressed team was … The Wedding Ringers
The Winners
In third place with 122 points and winner of bronze honor and prizes was … The Wedding Ringers
In second place with 129 points and winner of silver honor and prizes was … Team Hustlers
In first place with 150.5 points and winner of gold honor and prizes was … Team One
It was an incredibly close race but a big congratulations goes to Meena of 5th Avenue Weddings & Events, Kristyn of Karma Flowers and Rachel and Lorme of Guesterly. Now let the training for next year's Love List Olympics begin!
Photography by Whyman Studios