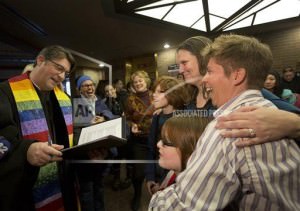 In a not-so-surprising turn of events, the U.S. Supreme Court has granted Utah state officials a stay on the federal judge's ruling for same-sex marriage while the Denver-based 10th U.S. Circuit Court of Appeals deliberates, leaving more than 1,000 newlyweds wondering if their marriage is legal.
As we predicted, the Justices clearly want the issue to take the proper steps through the legal system, though while doing so, same-sex couples continue to be denied this basic human right. As for those who said "I do" during the 17 days Utah was the 18th state, Jon Davidson, director of Lambda Legal, said Utah may choose not to recognize the marriages in the interim, but predicted the federal government and other states will honor them since they were granted in accordance with the law at the time.
The 10th Circuit has set short deadlines for both sides to file their written arguments, with the state's first brief due Jan. 27. No date for arguments has been set yet.
Photo AP/Kim Raff