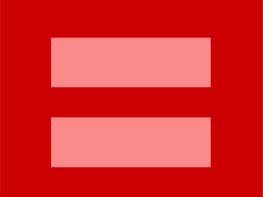 It goes without saying that 2013 was a banner year for marriage equality and the significant social shift that we saw this year is being recognized in a wide variety of fields, including symbolic systems.
Symbols are a crucial role in the happenings and understandings of human culture, so much so that Stanford University launched a program last year to designate a "Symbol of the Year." Students and faculty nominate and vote on symbols that "achieved widespread cultural importance during the year." And for 2013, it was the equal sign that took home the crown. 
Nominated by affiliated faculty member BJ Fogg (Consulting Professor of Education), Fogg explains is choice:
I wanted to nominate something happy and upbeat for the symbol of 2013. I thought about the best aspects of the year, and marriage equality was the most inspiring to me. The equal sign was a natural fit.
The symbol, which is perhaps most notably recognized as the Human Rights Campaign logo, received the most votes from a slate of 17 nominations submitted by program affiliates. Other notable nominations for 2013 included an icon of "the cloud" and the National Security Agency logo.