By Kaitlynn Moquet | Photography by Hoot Media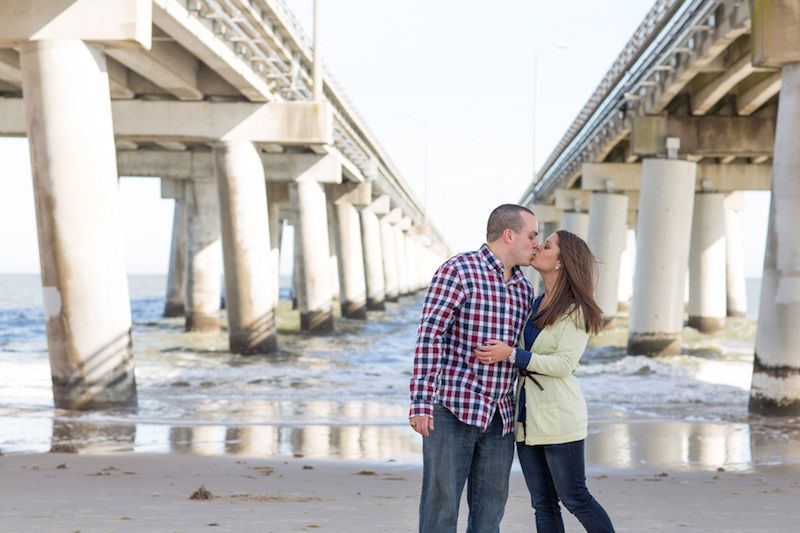 Lovebirds Kate and Sean revisited some of the places most meaningful in their relationship during their super sweet Virginia Beach engagement session, effortlessly captured by Hoot Media. The two held hands as they walked along their favorite beach hangout Chesapeake Beach (a.k.a. Chic's Beach by the locals), giggled in each other's arms as they strolled down the boardwalk and climbed the massive spiral staircase leading to the destination where their future began.
The Love Story
Kate and Sean never could have imagined that attending a frat party alongside their friends would be the beginning of a wonderful romance together.
"We were both playing wingman and wingwoman for two of our very good friends who planned on meeting up that night," Kate recalls. "I dropped my first cup of jungle juice on the floor and Sean rubbed it into the carpet with his foot saying, 'don't worry no one will even notice.'"
If Kate wasn't 100 percent sure that Sean was the one for her at that moment, she certainly knew when they moved in together. Kate's niece was also born right around this time and seeing Sean interact with the baby made her heart melt.
"The combination of sharing a home with him and seeing the way he acted around a newborn baby pretty much solidified the fact that I was going to spend the rest of my life with him," she laughs.
The Proposal
After over five years of dating, Sean popped the question on a Sunday morning that was anything but average.
"Sean suggested that instead of our usual routine of eating breakfast, walking the dog and heading directly to the beach that we do something a little different and take a tour of the Cape Henry lighthouse on Fort Story," Kate remembers.
Although it was a scorcher, the couple was determined to reach the top of the lighthouse that led to a beautiful 360-degree view of the ocean. Kate had no idea that there was much more than a view that would make this climb worthwhile.
After a sweaty walk, the couple made it to the top of the lighthouse. As Kate took out her phone to capture a pic, she turned to see Sean on one knee, beaming at her and asking for her hand in marriage.
"With a look of shock I said nothing," Kate chuckles. "With his heart in his throat Sean repeated, 'Babe, will you marry me?' After a long pause, I finally got my bearings and was able to awkwardly utter, 'yes.'"
Kate was so surprised by the proposal that she couldn't believe it was real. It was not until the couple trekked back down the spiral staircase and reached Sean's car where he had a bottle of chilled Champagne waiting for them that she realized this was not a dream.
The couple enjoyed the Champagne sitting in the trunk of Sean's car and celebrated the monumental moment in "true Kate and Sean fashion," Kate explains.
The Wedding Date: September 6, 2014