By Meghan Kennedy | Photography by Annie Gerber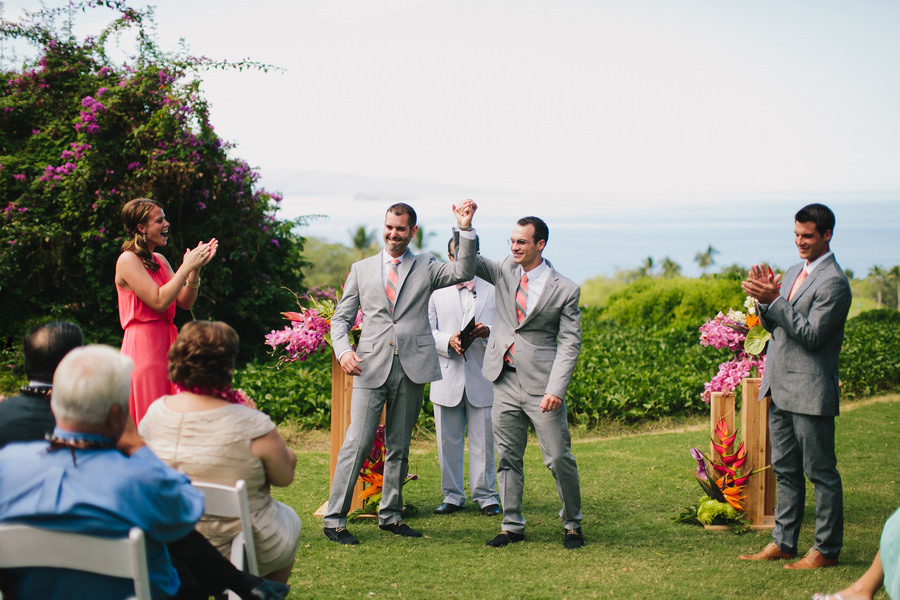 Chicago couple Chris and Danny chose Maui for their wedding destination—before they were even engaged! After Chris and Danny met for the first time, they took a business trip to the tropical island. Chris tells us, "When we were there, we joked about how amazing it would be to get married in a place like Maui. A year and a half later, we were engaged and planning a wedding in our dream destination." Of course, the two made their dream a reality, and were married in October 2013, overlooking the Pacific Ocean as they said "I do."
The Love Story
Chris had just finished school and was living Chicago when he met Danny, a transplant who didn't know many people in the area. As luck would have it, a mutual friend brought Danny to a party trolley that Chris was hosting one night, and the rest is history. Chris says, "A mutual friend of ours invited him onto a Chicago Trolley party I had organized and we didn't really talk to anyone else the whole night. A few months later, I decided to attend a conference in Maui and asked Danny to come along. He happily agreed." From there, the two fell in love—not only with each other, but Hawaii as well.
The Ceremony
Chris and Danny picked their venues solely based on pictures they saw online, and lucked out with Gannon's in Wailea. A restaurant with breathtaking views of the Pacific Ocean, it was the perfect place for their small and intimate ceremony, with 54 of their closest family and friends attending the beachfront wedding. Chris tells us, "We did a non-religious service on Gannon's lower wedding knoll at 10:30 a.m. overlooking the sun-soaked Maui coastline. My boss and friend, Ashish Bhatia did a fantastic job officiating the ceremony, which included warming of the rings, personal stories about each one of us, and individually-written vows. "
As Chris and Danny walked down the aisle, a guitarist serenaded them with "Somewhere Over The Rainbow," a sentimental touch to a beautiful ceremony.
The Party
After the ceremony, Chris and Danny held a luncheon at Sarento's on the Beach where they incorporated the island's lush tropical flowers into centerpieces and added soft candles for a romantic glow. Thunderstorms moved in during the post-wedding lunch, erupting in a downpour that resulted in stunning post-ceremony pictures once the rain cleared.
Chris and Danny elected to include classic Hawaiian staples as well as traditional wedding food in their menu. According to Chris, there was a "plated formal lunch that included local Maui Ono, Maui cattle filet mignon, and chicken. For our informal dinner reception we had a buffet dinner that included chicken, fish, pasta, potatoes and more relaxed fare."
The cake was a classic white three-tier cake, with "simple masculine ribbons of green fondant and many orchids covering the top." As for favors? Chris says, "We made up 'Welcome to Maui' bags for everyone." Similar to their t-shirts shown in the picture below—Just Mauied—the favor was a great way to thank everyone for attending their beautiful ceremony.
The evening ended with hors d'oeuvres and dancing at Mulligan's on the Blue late into the night.
Memorable Moment
Saying our vows overlooking this incredible ocean in front of 54 of our friends and family was truly amazing.
Vendors
Photography: Annie Gerber Photography
Coordinator: Your Aloha Wedding
Ceremony venue: Gannon's
Reception venues: Sarento's on the Beach and Mulligan's on the Blue
Floral design: Maui Wedding Flowers
Wedding Cake: Maui Wedding Cakes
Guitarist: Hawaiian Style Weddings
DJ: DJ Dan
Suits: J.Crew
Rings: Tiffany & Co.