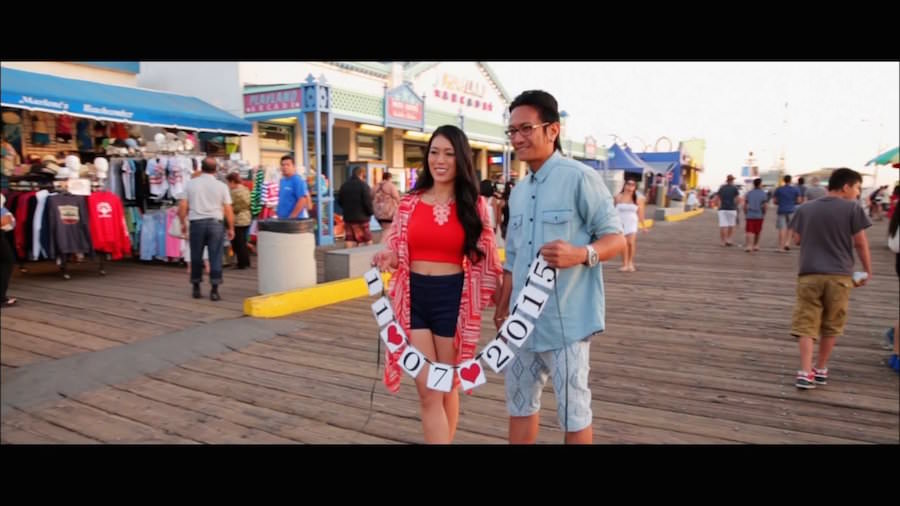 A growing trend is giving engaged couples a chance to introduce their spouse-to-be to distant family and friends through video. In addition to the traditional engagement photo session, couples are now including a video to bring the session to life.
Save-the-Date films give couples a chance to tell the story of how they met or their proposal. The films give couples an opportunity to give loved ones a glimpse into their lifestyle, because they can share the way they interact with each other in motion. Just like photos, the films are easy to share on social media.
In one popular style of engagement film, this couple used their film to show places in Brooklyn that have been significant to their relationship with a scavenger hunt theme. In another film by NST Pictures, the couple showed off their dancing skills while telling the story of how their shared hobby brought them together. Others use a music-only style that lets friends and family see the couple in their everyday interactions. The films look great in any season, and can be shot at the same time as engagement photos, which saves time for the couple.
At NST Pictures, Save-the-Date Films are typically shot in a two-hour session, which can be done in combination with a photographer for engagement photos. The final product is a 3-5 minute film that's turned around in less than a month. The films bring the photo session to life, and they make a great addition to the front page of a wedding website!
By NST Pictures
Since opening its New York office in 2011, NST Pictures has filmed 25 Save-the-Date films in the New York area and over 250 weddings nationwide. The company has become a leading expert in artistic, yet affordable engagement and wedding cinematography. NST Pictures is a cinematic videography company serving the Northeast and Midatlantic regions, as well as Southern California. Headquartered in Tokyo, NST Group shoots 30,000 weddings and events each year and is the largest video production company in Japan. The company strives to artistically preserve once-in-a-lifetime events for our clients and future generations so that every moment can be relived for years to come.