By Brittny Drye | Photography by Kate Neal Photo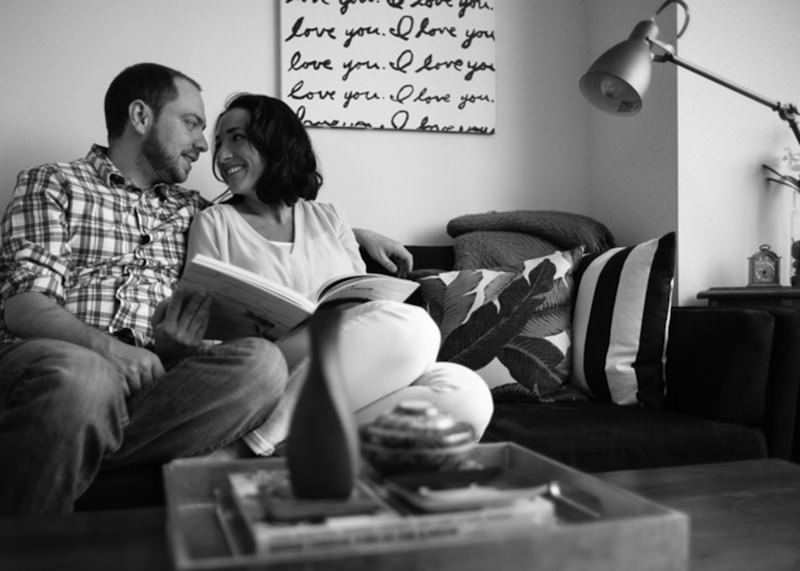 At-home engagement sessions are some of my favorites because you get an intimate glimpse into the lives of the couple and the home they built together—where they make their Tuesday night dinners, the couch they cozy up on to watch movies, the dining table that will soon be loaded down with wedding projects. For Sarah and Patrick, the comfort of their surroundings and in each other allows their love to shine through and Kate Neal expertly captures that love with her lens. "We wanted to have photos that captured how we live in real life," says Sarah. "We both love spending weekend afternoons at home reading the paper, playing with our dogs and relaxing so our home was a natural fit for the photos."
The Love Story
Sarah and Patrick met at the New York City law firm where they both worked. "We were actually friends for several years before we started dating," adds Sarah. Friendship soon blossomed into more and after a year of dating, Patrick popped the question.
The Proposal
During a trip to see family in Vermont, Sarah and Patrick found themselves alone strolling along a picturesque path along Lake Champlain, with the Northeast's rich fall foliage blazing in the background. "The colors of the changing leaves were stunning and the water was still and calm. As we walked, we approached the part of the trail that is a narrow strip of land with water on both sides," describes Sarah of the moment that would forever change her life. "As the sun was close to setting and we were admiring the beautiful views on both sides of the trail, Patrick got down on one knee and proposed. It was a beautiful moment and I, of course, said yes."
"Holding hands after the proposal as we walked back from the way we came on the trail really brought home the idea that we were embarking on a journey together and was the perfect thing to do after such a special moment," she continues.
The Ring
Patrick proposed with his grandmother's 1940s engagement ring. The gorgeous antique features two emerald cut a baguettes that flank the European cut diamond. "I love that the ring is a family heirloom. Not only is it stunning but it feels so special to have a piece of his family history with me."
Wedding Date: May 17, 2014