By Meghan Kennedy | Photography by Melissa Claire Photography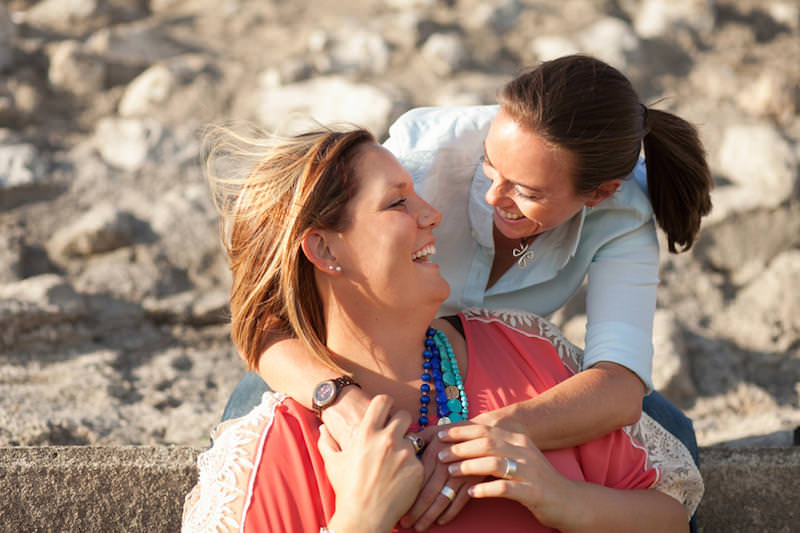 Sara and Melanie's engagement shoot is gorgeous at first glance, with a beachy vibe that normally wouldn't come to mind when you think of a Texas backdrop. However, Sara and Melanie are just that kind of couple: their story is full of unexpected twists, practical romanticism, and the ability to put a positive spin on anything. Once you hear their story, the pictures, beautifully taken by Melissa Claire Photography, become even more enchanting.
The Love Story
Sara and Melanie met through mutual friends, but they're sure they had seen each other beforehand. They were both athletes at competitive schools—Sara played basketball, Melanie played tennis—and since Melanie attended every home basketball game, they had at least been in the same vicinity a few times before they actually met.
Although they were friends first, Sara and Melanie ended up dating and after a couple months, they knew they wanted this to be for a lifetime. However, it was kind of a gray area, and as they say, "We were both tired of being with people who we couldn't see ourselves with longterm. So, we knew then that getting engaged would be the ultimate goal." They dated for two years until their engagement finally came about.
The Proposal
Sara and Melanie are located in Texas, so it makes their situation a little more complicated than most. There was no actual date for the engagement, but Sara and Melanie knew they were going to be together once they bought a house. Since same-sex marriage is unfortunately not legal in Texas, the pair had a commitment talk right before buying the house—the "biggest commitment we had ever made".
As they talked, Sara told Melanie that she was going to marry her one day, and Melanie replied, "with a huge smile on her face: 'Okay.'" When Sara asked Melanie to marry her, she felt "comfort and happiness, mixed with anxiety for the day that we could legally get married".
Sara and Melanie say the most memorable part of the proposal was how easy it was—no one was nervous, and they somehow knew what the other's reaction was going to be. They had already known they wanted to spend the rest of their lives together; they say there was nothing but "a feeling of complete inner peace."
The Rings
The rings are very distinctive—Sara's is extremely detailed, while Melanie's is the opposite. For Sara's ring, she wanted a decent-sized center stone, a detailed side design and a modest height for the center stone so it wouldn't catch on anything while she's at work. All Melanie requested was a wider band with a few small stones … classic and simple.
Sara and Melanie found the perfect rings, but decided not wear them until their ceremony this coming October. When the engagement originally happened, the couple began wearing hammered silver bands to signify their commitment to each other. They promised each other to one day replace those silver bands with "the one"—the rings they ultimately picked out for their ceremony.
The Location
Sara and Melanie have actually already been legally married, which took place in California in August 2013. After the DOMA and Prop 8 rulings of that year, they took a trip to California in order to make it official—and legal. They picked this spot for their engagement shoot because it reminded them of their California trip where they traveled up the coast, taking stops along the water and at lighthouses along the way. "It was the closest thing in our area that reminded us of the lighthouse in California, the beach, water and green countryside."
Since there were no family or friends present at their California ceremony, Sara and Melanie are planning on having a ceremony at home, one that is more about the emotional bonds with their friends and family than the legal one that tied them together in California. They are waiting to exchange their rings and vows at their Texas ceremony.
Wedding date: October 4, 2014