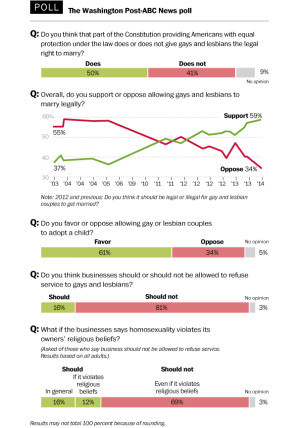 The Washington Post and ABC News teamed up to poll the views of our fellow countrymen and women regarding same-sex marriage and the results show more support of this modern day civil rights movement than ever before. The poll also touched upon adoption rights and businesses' rights to refuse service based on religious beliefs. Let's break down the calculations, shall we?
A record-high 59 percent say that they support same-sex marriage while 34 percent opposed (the widest margin ever tracked by a Post-ABC poll). To put it into perspective, 10 years ago only 34 percent of our country supported it. That's a major, major shift and shows just how far we've come as a society. To pinpoint the logistics, 53 percent of those polled in the 33 states that currently have a ban against same-sex marriage felt same-sex marriage should be legal, while 40 percent opposed doing so.
And those bills that are being introduced throughout the country to give business owners the right to refuse service? Eighty-one percent of respondents oppose it, which reaffirms my faith back in humanity.
As for adoption, 61 percent of respondents felt that same-sex couples should be allowed to adopt, up from 49 percent in 2006.
Are you surprised by these numbers?
Photo courtesy of the Washington Post