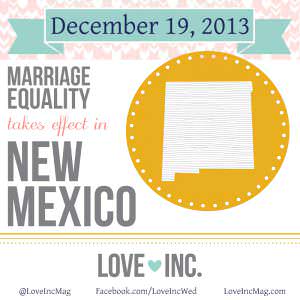 New Mexico's High Court has ruled in favor of marriage equality, making it the 17th state to recognize same-sex unions. From the Thursday ruling:
"We hold that the State of New Mexico is constitutionally required to allow same-gender couples to marry and must extend to them the rights, protections, and responsibilities that derive from civil marriage under New Mexico law" – Justice Chavez, New Mexico Supreme Court, December 19, 2013
New Mexico was unique amongst the 50 states in that it didn't have a specific law stating that gay and lesbian couples could or could not enter a legally recognized union. County clerks have denied marriage licenses in the past because the application specifically states it's for a male and female. In August, eight of the 33 counties started issuing marriage licenses to same-sex couples and county officials asked the state's Supreme Court to establish an official state policy, resulting in Thursday's ruling. County officials asked the high court to clarify the law and establish a uniform state policy on gay marriage.
Photo via glaad.org