By Kaitlynn Moquet | Photography by LuRey Photography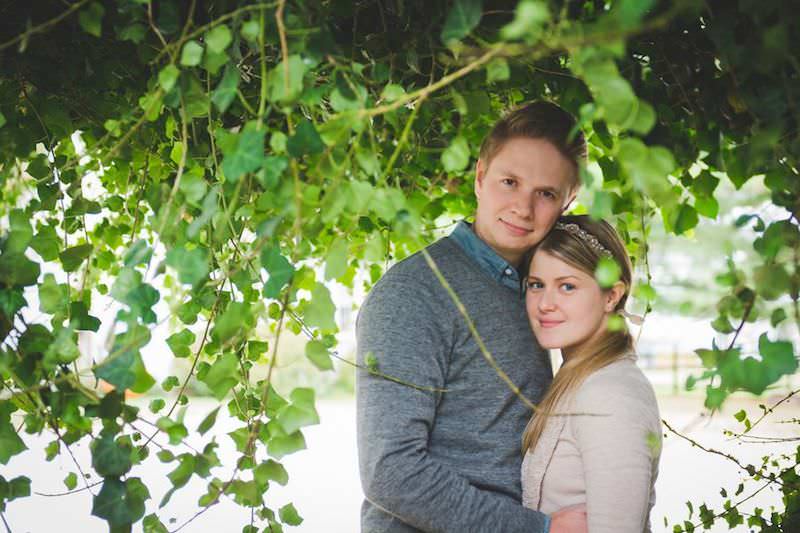 Nate and Clare cuddled up in the romantic bay town of Lewes, Del., for their adorable engagement session. The couple chatted over coffee at the local roastery, swung in the trees and went for a stroll down the pier all the while holding each other close and sharing laughs as that talented LuRey Photography snapped away. 
The Love Story
The two lovebirds met right before Nate took his bar exam while Clare was finishing up her dental residency. With both having busy schedules, the couple struggled to spend time alone but nonetheless found a way to make their love last.
Clare understood Nate would have his head in his books for the three months leading up to his big exam but she understood. "They saw each other a couple of fleeting times, especially when she brought him burritos to fuel his study sessions," the couple's photographer Laura of LuRey Photography said. As soon as Nate finished the exam, the couple became inseparable!
"It always just felt perfect, so it is hard to pinpoint," Clare remembered. "A good friend told us it was immediate, and that he saw it when we first met. The first time we met was with a group of friends, and our friend Matt later told us that he turned to our friend Patty with a huge smile and said, 'That's Nate's wife.'"
Nate and Clare dated for two years before the groom-to-be popped the question.
The Proposal
While Clare expected to meet Nate on March 8, 2013 for a much-needed happy hour drink after a long week of work, her evening quickly took a turn and became one of the most memorable nights of her life.
Nate picked Clare up at home and, after a while of driving, Clare began to wonder where exactly he was bringing her. Nate told Clare they were going to a new bar they hadn't ever been to for this special date.
Clare knew something was up and her suspicions were confirmed when she peaked into the backseat to see her suitcases all packed up for her.
"Nate told her they needed a break and were taking a short trip out of town," Laura explained. "Two hours later they arrived in St. Michaels, Md., on the eastern shore of the Chesapeake Bay and finally had their happy hour drink. Nate mustered the courage and asked her to marry him."
Clare was so surprised and delighted upon Nate's proposal that she dropped to one knee and asked for his hand in marriage as well!
Although their romantic weekend on the bay was filled with love and laughter, they were also excited to get home to share the news with their families and continue the celebrations with them.
Wedding Date: June 28, 2014