By Brittny Drye | Photography by Mathy Shoots People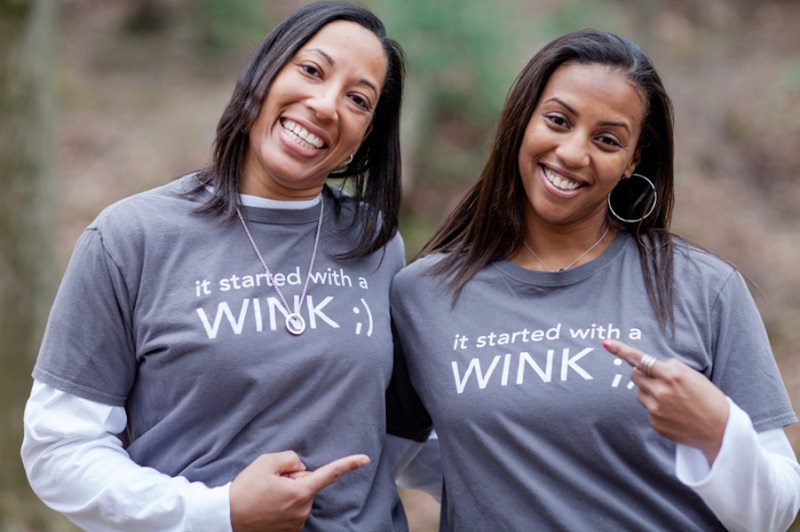 When you come across an engagement session like Nicolle and Minnettia's, you can't help but smile. Their laughter and love is intoxicating and it's easy to see why these two chose each other for happily ever after. What I love about this couple is that they stayed true to themselves for their engagement, a sure sign that their love is going to last.
[raw]
[/raw] For their engagement session with Mathy Shoots People, they started where it all began—the apartment building (and apartment 925) where Minnettia lived and where their romance blossomed. From there, they ventured into the woods of a nearby park where Nicolle had frequented as a child and the place where they spent many afternoons getting to know each other.
Symbolic pendant engagement necklaces, trips down memory lane, kisses stolen amongst trees and super cute custom matching t-shirts make this engagement session almost too sweet to handle.
[raw]
[/raw]
The Engagement
Bucking engagement tradition, they came to the decision to marry during a conversation. "We threw all that traditional romantic on bended knee stuff out the window," says Minnettia. "It was 'Okay, let's get married' and we then started discussing the details." But that's not to say that there were no happy tears shed. "Nicolle was blubbering like a baby with pure joy and happiness, changing her Facebook status with pictures. Then that frantic look of 'I have no idea where to begin planning a wedding,'" laughs Minnettia.
[raw]
[/raw]
The Rings
In lieu of the typical engagement ring, Minnettia gave Nicolle a Tiffany & Co. necklace on her birthday made of interlocking circles to symbolize "our love is forever tied together and our bond will never be broken." In return, Nicolle gave Minnettia a similar Tiffany & Co. necklace on her birthday. "It was something definitely unique to us," says Nicolle. "We wanted not just our engagement but our wedding to be as different and non-traditional as possible to include every last close family member and friends in our lives."
The Wedding Date June 29, 2013