By Brittny Drye | Photography by Mekina Saylor Weddings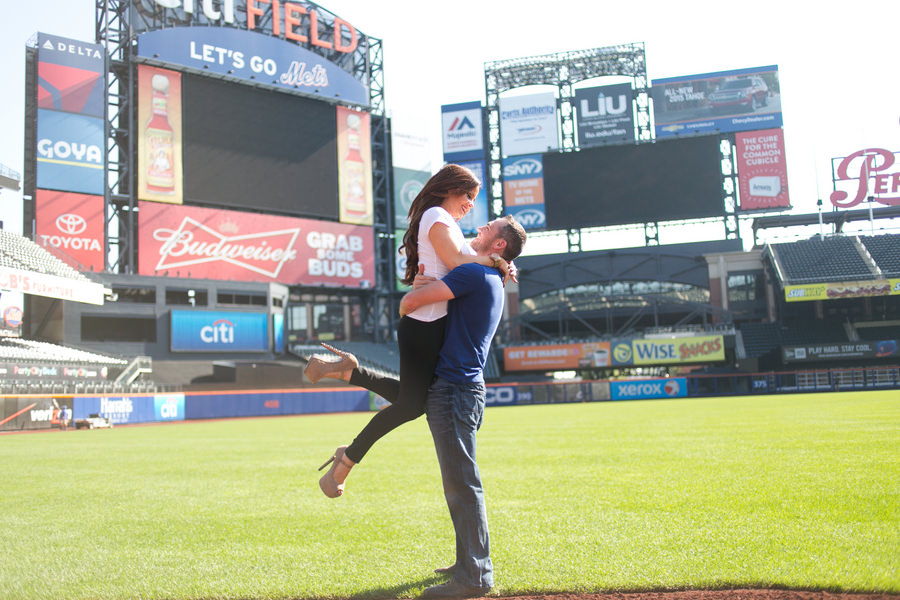 Baseball fans around the country are gearing up for their team's Opening Day today, so we felt it fitting to feature this Citi Field engagement shoot between these two Mets lovebirds, captured by Mekina Saylor Weddings. From strolling the bases to snuggling in the dugout, this engagement session hits it outta the park. Even Phillies fans will appreciate the adorableness of this couple …
The Love Story
Hours after she signed up for Match.com, Dave messaged the blue-eyed beauty that caught his eye.
"I was skeptical but my girlfriend was pressuring me to try out Match.com," says MaryBeth. "So after a few glasses of wine I joined on a Friday night. David emailed me that night and we met the next day. Best $80 I ever spent! My life changed in a matter of 24 hours."
The Proposal
After a particularly rough week, Dave wanted to cheer MaryBeth up in the best way possible. "I decided she needed a pick me up. I brought home three dozen roses, set up our massage table with candles, and pretended that I was just gonna give her a massage which is normal in our house as we are very active in sports and the gym," explains Dave.
"My father had been battling an illness and David was and always has been my biggest support and strength. I'm a makeup artist and have worked in the beauty industry for quite some time so I have neck and back issues constantly. David also was big with baseball in college and continue to play so we try to do daily massages," explains MaryBeth of what she thought would be just a typical night.
"When he slipped the ring on my finger I was speechless. At first I was like 'I can't believe you proposed to me on a massage table!'" she laughs. "But then it set in and it was the perfect way for me and him. He said so many beautiful things and we were just so happy and excited. We called everyone we knew and couldn't wait to start planning our life together. I felt so blessed and lucky that I finally found the most amazing man."
The Ring
Dave popped the question with a gorgeous two-carat round-cut diamond, embellished with 1.5-carats around the band.
Wedding Date: November 21, 2014