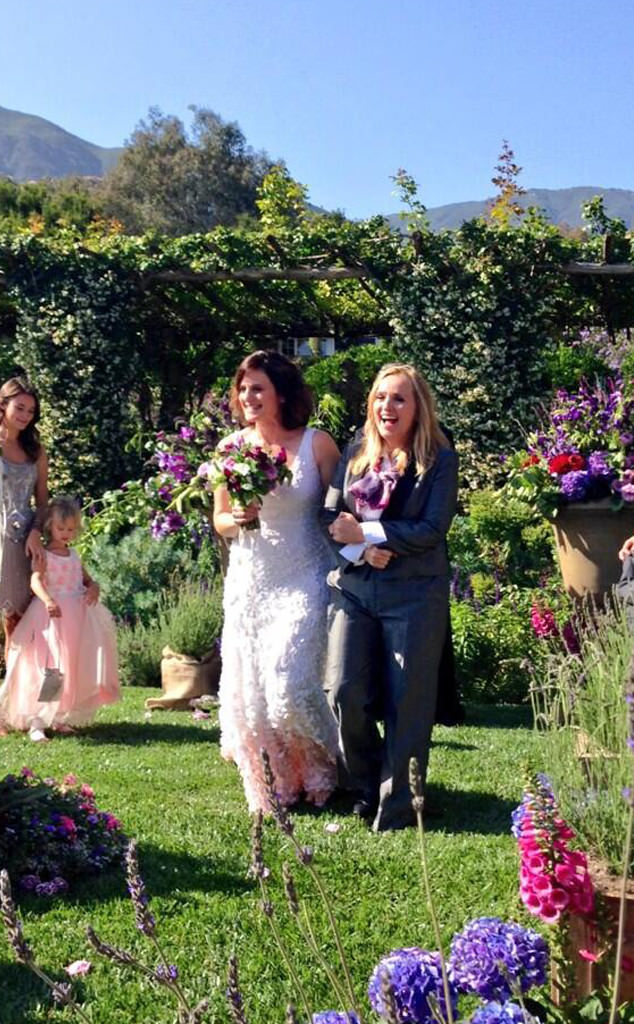 Rockstar Melissa Etheridge has officially tied the knot with "Nurse Jackie" creator Linda Wallem at the enchanting San Ysidro Ranch in Montecito, Calif.
They exchanged vows in front of the creme de la creme of Hollywood (such as Jane Lynch, Rose O'Donnell, Whitney Cummings, Chelsea Handler and Peter Facinelli) in an intimate ceremony that included Etheridge's four children and a song performance that she had written just for her bride. 
Etheridge looked dashing in a gray suit and Wallem looked like bridal perfection in a THEIA "Emma" wedding dress that was hand-embroidered with more than 100,000 ivory laser cut petals and featured a soft ombre full skirt with a romantic sweeping train.
Don O'Neill, Creative Director stated "Working with Linda to choose her wedding gown was an honor and so much fun!"  Linda had seen and loved the iconic THEIA petal gown, their dreamy romance she felt would be perfect for their rustic San Ysidro Ranch wedding. He goes on to state "We tried on various styles as initially Linda thought she wanted  sleeves, but as soon as she slipped on 'Emma,' tears welled up in her eyes, and she knew she had found THE gown."
"True love…so blessed. By the power invested in me by the state of California…" Etheridge tweeted Sunday morning after the ceremony.
Congratulations to the happy couple!
Photo via Twitter