There's no better place for today's stunning engagement session than the proud city off Florida's gulf coast known for its exceptionally large Pride parade every June. Over colorful macarons and foamy lattes, Kéra Photography captured Lindsay and Katie in a charming St. Pete coffee shop and around the town for their endearing engagement shoot. With infectious smiles and stolen smooches in the sunshine city, Lindsay and Katie emit that soon-to-be-married glow that's positively heartwarming.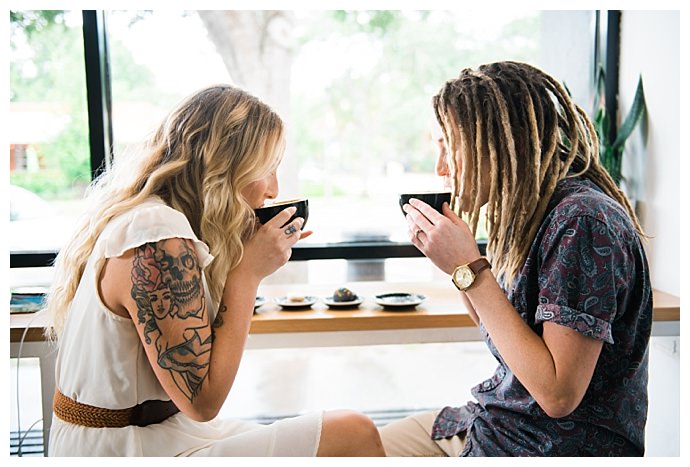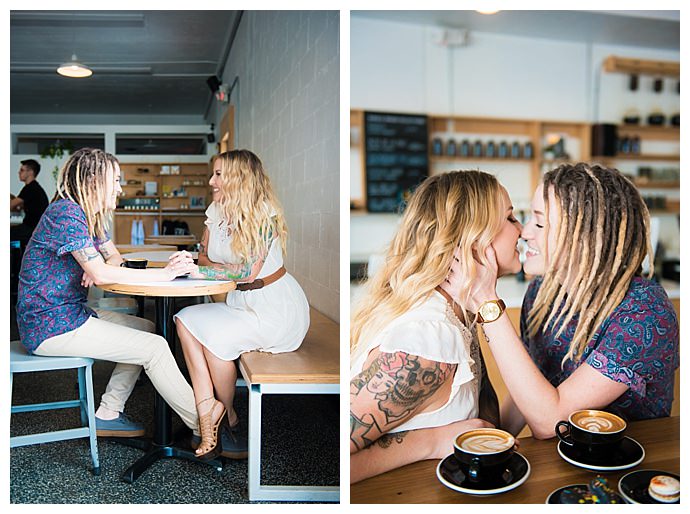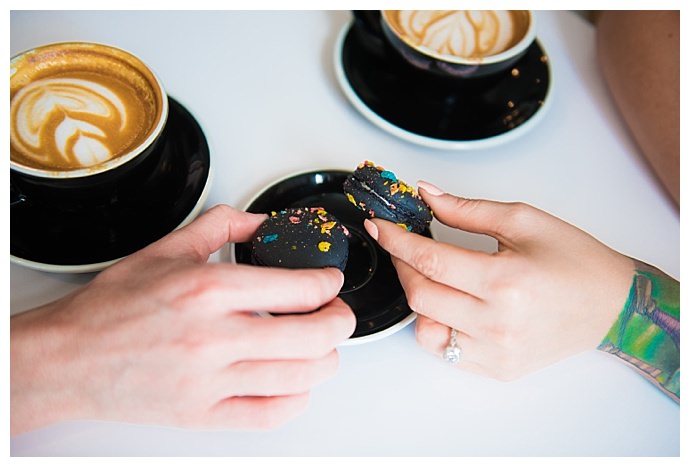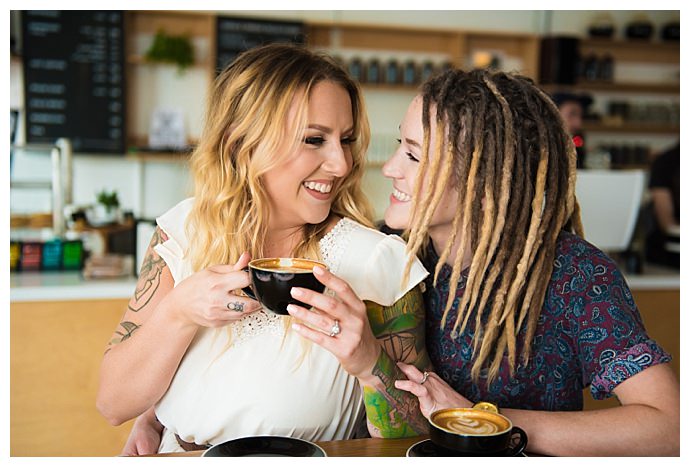 The Love Story
Five years before they started dating, Katie and Lindsay worked together at Texas Roadhouse — although Lindsay doesn't remember this. What Lindsay does remember is being love struck by Katie dressed up as a "Reno 911!" cop at a Halloween party, the image of Katie wearing a pair of aviators burned into her memory forever. Soon after, Katie and Lindsay were in the midst of coming out and rediscovering who they were both separately and apart. They weren't quite ready for a forever commitment and went separate ways.
But four years later, Lindsay was living in Florida when she reconnected with Katie over Snapchat. "Funny enough, Halloween is what brought us together — again," Lindsay says. "Some casual Snapchat shenanigans around Halloween led to texting, and by Thanksgiving, we had plans to meet up." Lindsay flew home for Thanksgiving, anxious to see Katie after four years apart. But Katie got the flu, and Lindsay flew back to Florida before they had the chance to meet. Back home in Tampa, Lindsay texted Katie that her birthday was the following week and asked her to come out to visit. "Within a few minutes, plane tickets were purchased and Katie was flying down to stay for my birthday," Lindsay says. "By February, we had seen each other a total of three times in person, and Katie moved to Tampa. The rest was history."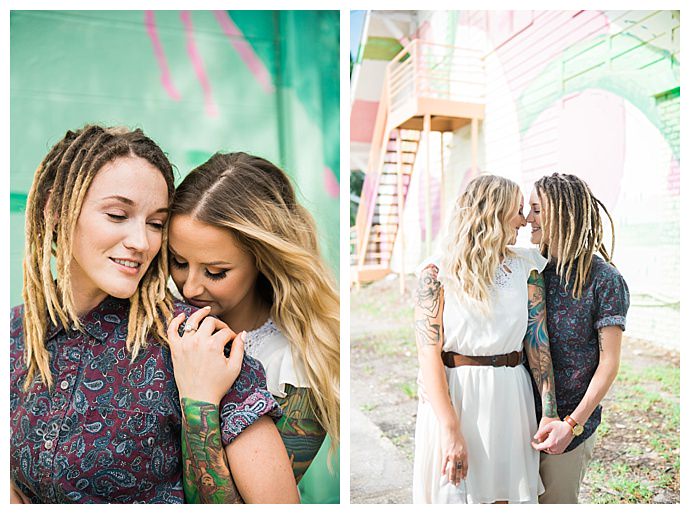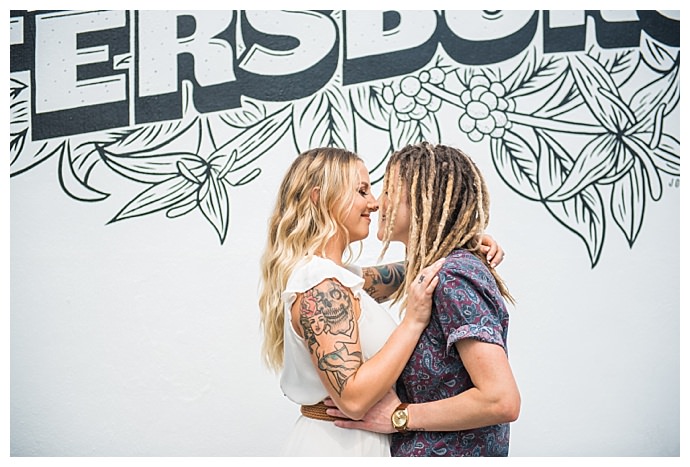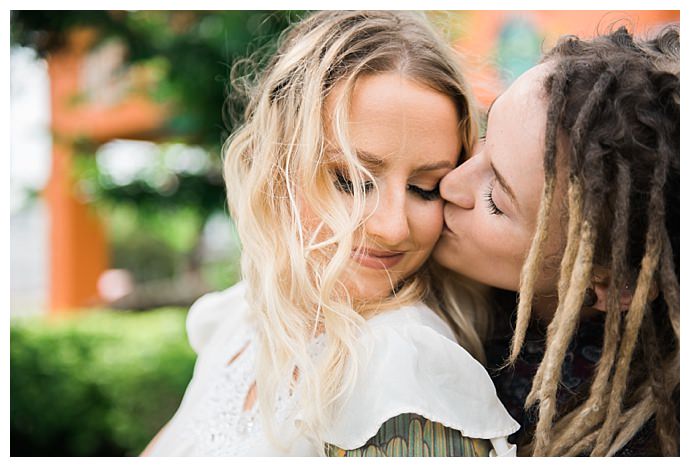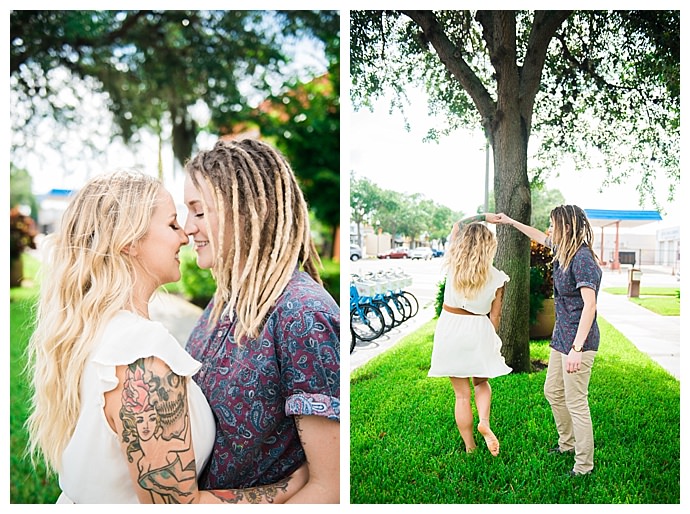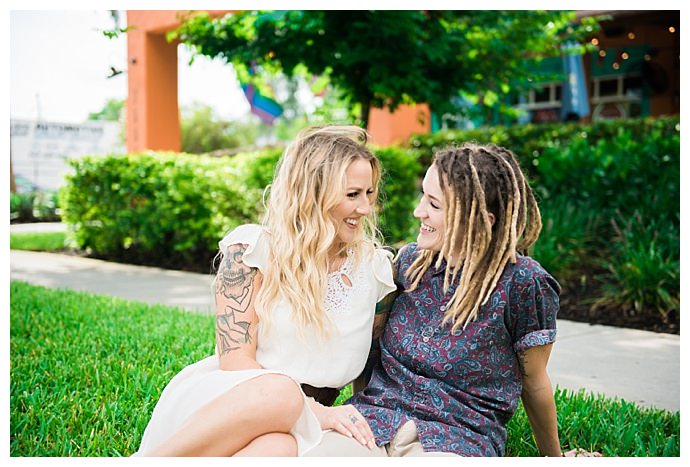 The Proposal
"I wanted to propose for about a year, but I kept waiting because I wanted it to be perfect," Katie says. "I knew Lindsay was beyond ready for me to ask. I just couldn't make up my mind about the most important details: when and where." Many near-perfect moments came and went while Katie carried Lindsay's ring around in her pocket for weeks, until she devised a plan that would surprise her bride-to-be in the best way.
On an unsuspecting night, Katie took Lindsay to their favorite place in Tampa, Ybor City. They walked around the historic town and sipped on cocktails before heading to dinner at the restaurant where they had their first date. "Once I got to the restaurant, I was so nervous I could barely sit still; that ring was burning a hole in my pocket," Katie says. "I finally got the nerve to get down on one knee around dessert. I'll never forget the look on her face. She was sitting down, and when I asked her to stand up, she knew exactly what was happening. She just burst into tears; it was priceless!"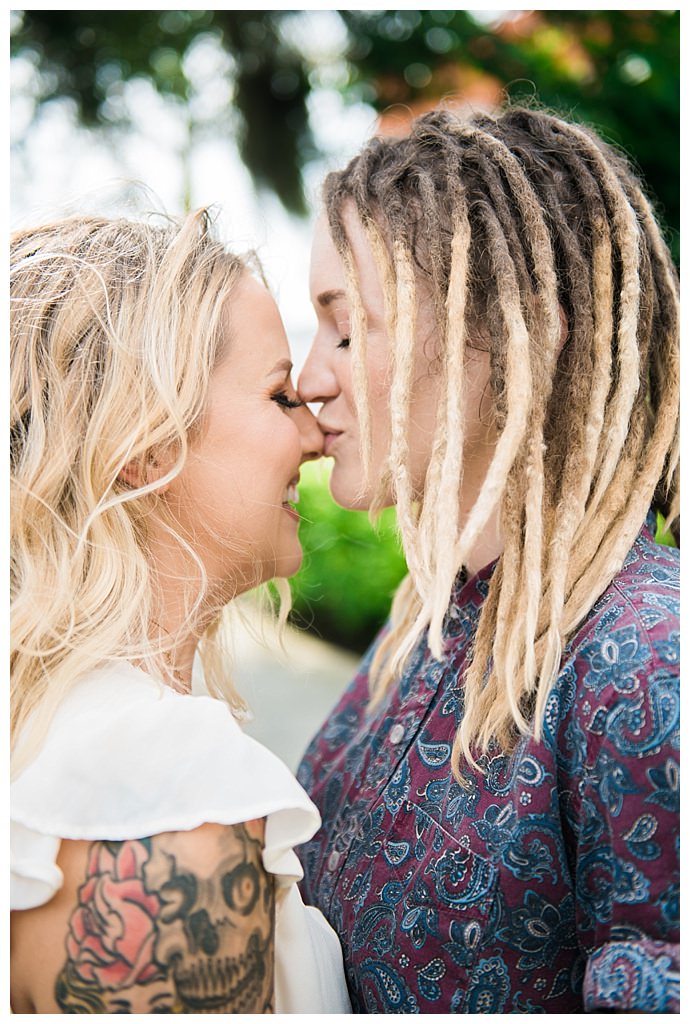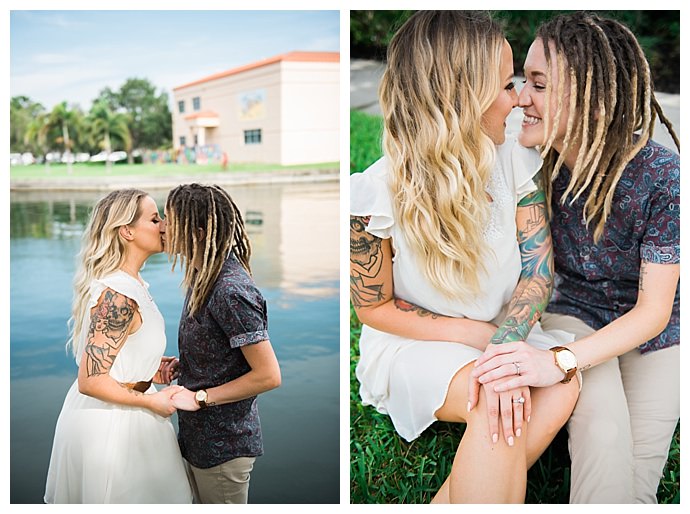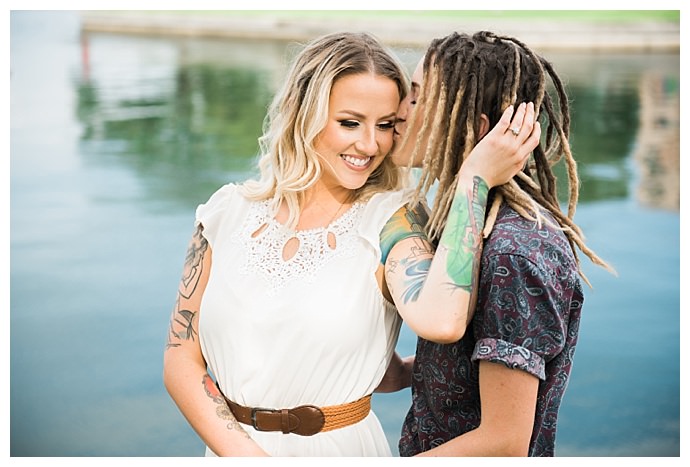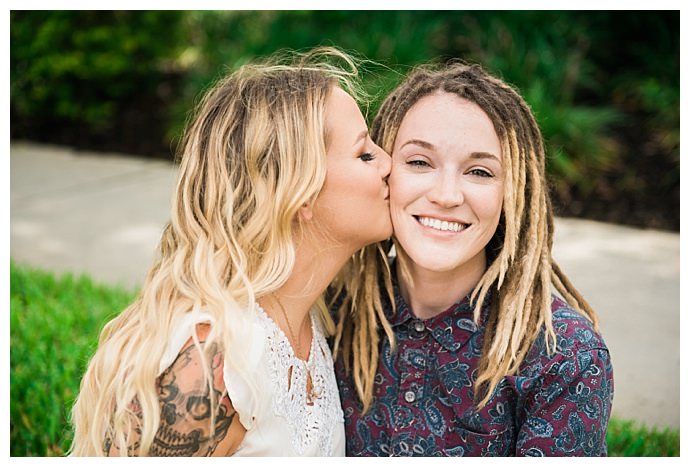 The Rings
Katie and Lindsay's engagement rings are both sentimental pieces with modern and vintage elements that beautifully blend elements of old and new. "Lindsay's ring was built around a beautiful round diamond from her late grandmother's ring," Katie says. "The heirloom solitaire sits in a halo setting with an octagon shaped pavé of diamonds and geometric detailing around the channel set sidestones."
When they were designing Katie's ring, they wanted to include a diamond from Katie's mom's ring. "Katie's mom passed away in 2013 from pancreatic cancer, and this was the perfect way for her mom to be by our side every step of this journey," Lindsay says. "Katie wanted something modest and feminine that matched the style of mine but had its own individuality. We chose to place the round solitaire in a classic setting, and the sidestones are in a channel setting with a slight filigree. We chose a separate eternity band with flush diamonds and a twisty detail to curve around the lifted solitaire of her engagement ring."