Katie and Alecia returned to where it all began for their engagement shoot at Duquesne University in Pittsburgh. Custom Portraits by Charlene followed the newly engaged couple around their college campus, where memories of their college days hung in the crisp winter air. After meeting in college and falling in love, their school played a big role in bringing them together as well as uniting them with the close friends in their lives. So it only made sense that they headed back to campus to capture their love seven years later for this heartwarming engagement session.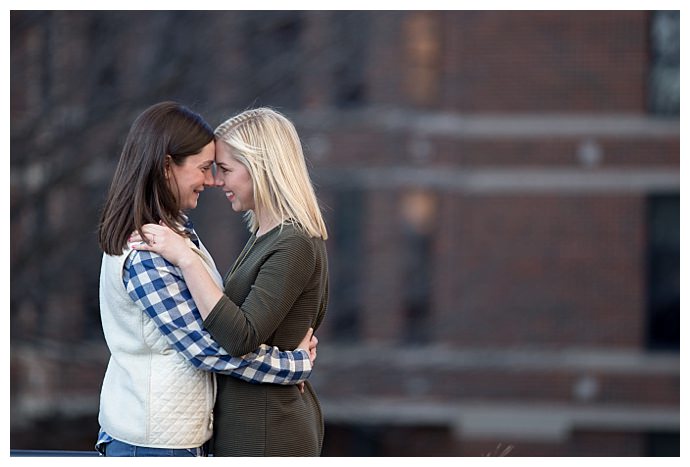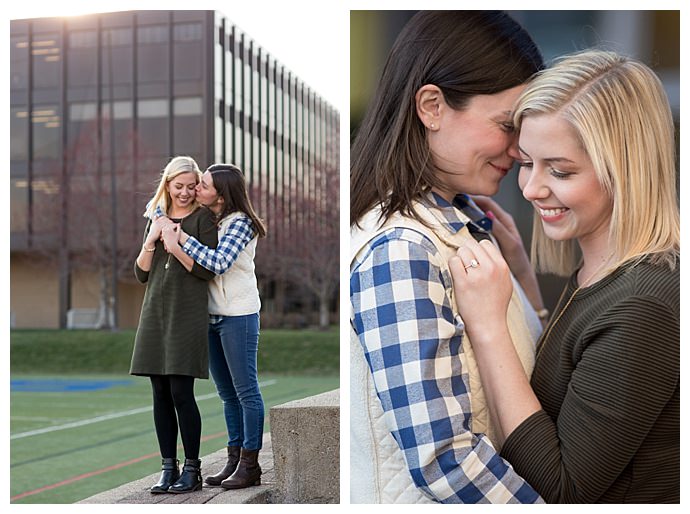 The Love Story
Alecia was a junior at Duquesne University when Katie, a sophomore, joined her sorority. As members of Alpha Phi, Katie became Alecia's little heart sister, and they grew to be friends, but Alecia thought something felt off between them. "We always had a weird tension between us, and I thought it was because I was older and had different interests than her," she says. But what Alecia didn't know is that Katie was harboring a crush. "I was completely oblivious to it this entire time we had known each other," Alecia says. After they had known each other for a year and a half, a mutual friend let Alecia in on the secret, and they've been together ever since.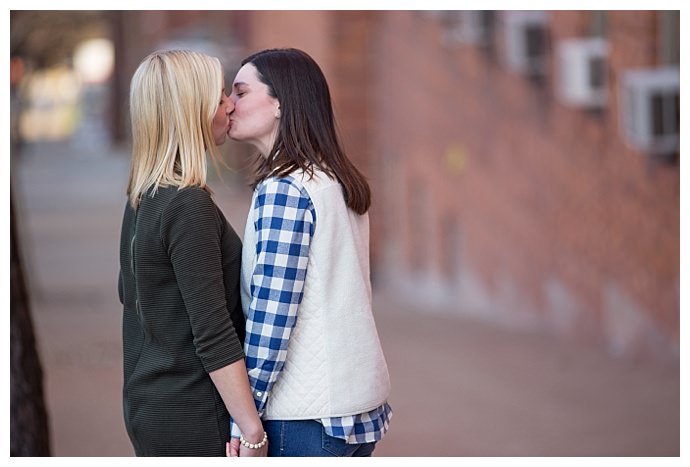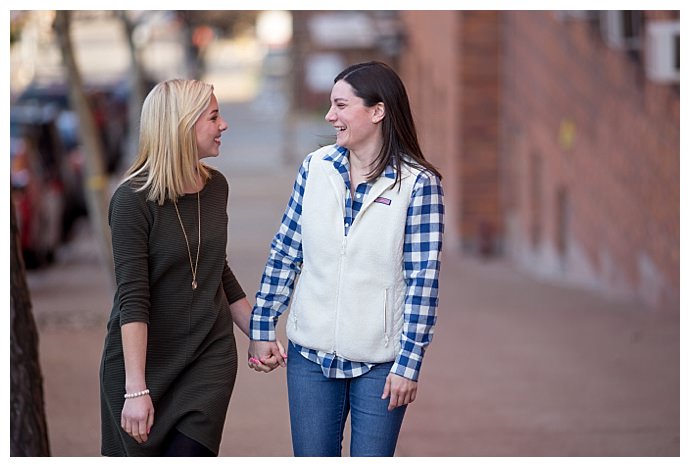 The Proposal
Alecia had Katie's ring on-hand for more than a month, waiting for a perfect, organic moment to pop the question. When they already had plans to be in Ligonier, Pennsylvania, for the day, Alecia capitalized on the opportunity to not have to come up with an additional excuse to get Katie to town so she could propose at the famous Bandstand on the Diamond. As they drove to the town square, Alecia mentioned that she wanted to stop by a bakery to get dessert. "I did not notice any strange behaviors from her until she pulled up to the city of Ligonier and said she wanted to stop at a bakery," Katie says. "We had only been here a couple of times, but I was pretty sure there was no bakery."
Alecia knew that Katie wasn't buying her story, but she was so nervous, she couldn't think of anything else. They got out of the car and Alecia led Katie to the town square where the white bandstand marks the center of downtown. Alecia grabbed Katie's hand and tearfully began the speech she had prepared. "It all fell apart because I was crying and couldn't get any words out," she says. "So before the tears really started flowing, I got down on one knee and proposed." After Katie said yes, they walked hand-in-hand around the town for a couple minutes, and Alecia was able to tell Katie everything she had wanted to say during the proposal.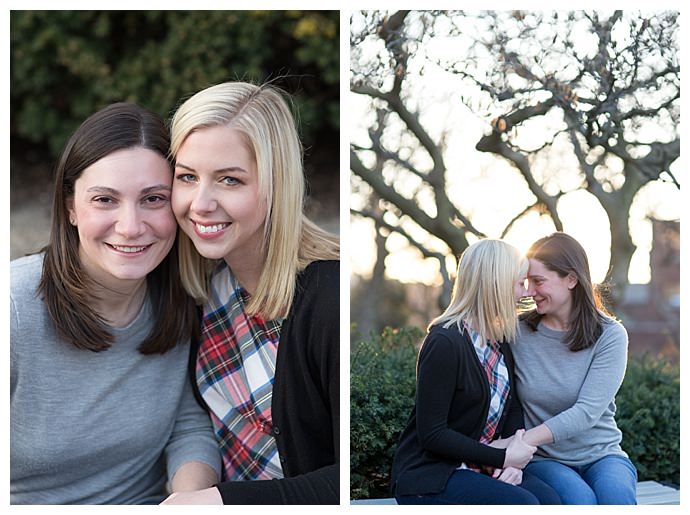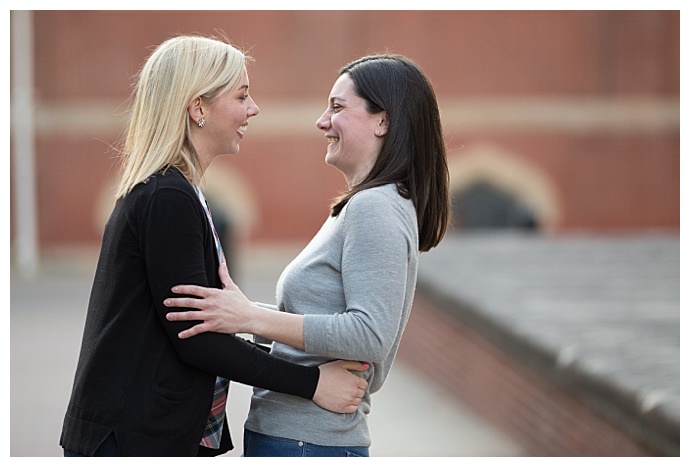 Memorable Moment
"The most memorable part of the proposal to me was the location she chose," Katie says. "Although very new to us, the town of Ligonier is so quaint and romantic. We had previously been to the spot she asked me to marry her during Christmas time the year before, which is our favorite time of year. Although this was mid-January and there were no decorations up, it was still perfect and thoughtful!"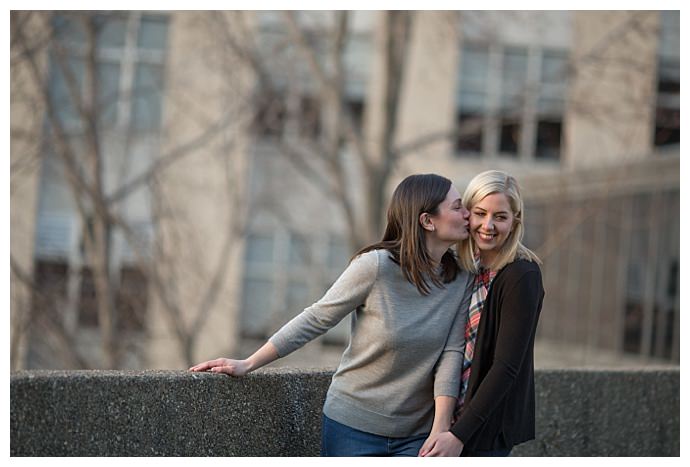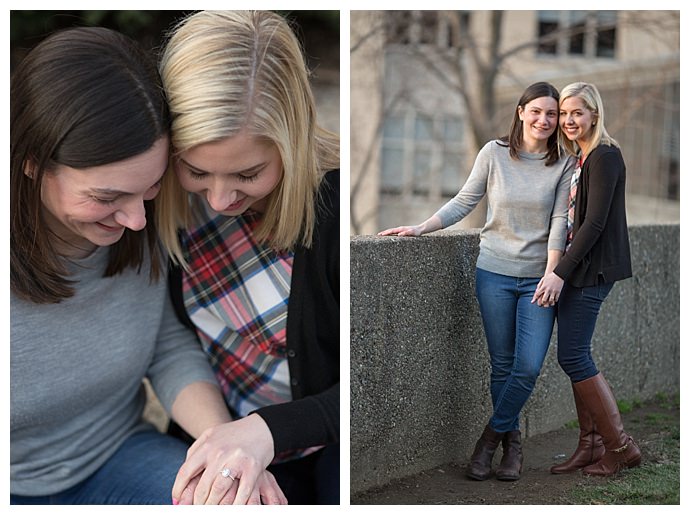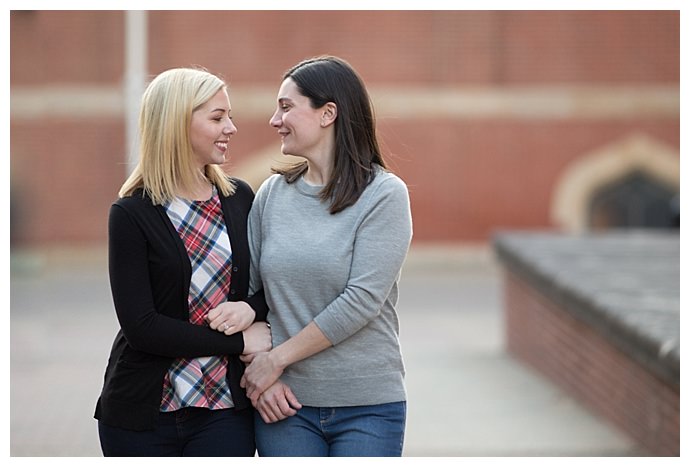 The Ring
Katie's sparkling ring has a white gold band set with a half pave and an oval-shaped center stone with a halo of diamonds.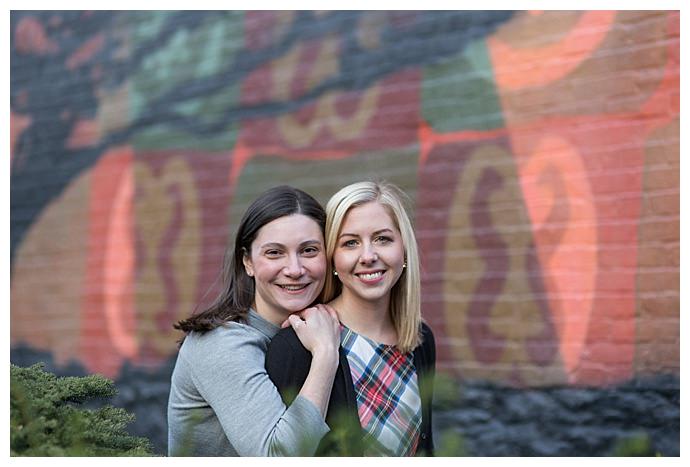 The Wedding Date: December 16, 2017