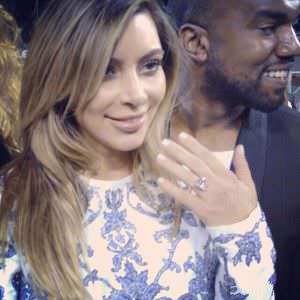 It's official!
Kanye West popped the question to Kim Kardashian last night, which happened to be Kim's 33rd birthday, in an elaborate production that is only fitting for the high profile pair.
Kanye rented out AT&T Park in San Francisco and as Kim stepped into the stadium, she was met with a 50-piece orchestra playing Lana Del Rey's "Young and Beautiful," followed by Keri Hilson, Ne-Yo and Kanye singing his own tune "Knock You Down." As fireworks exploded in the Bay area skies, he presented her with a 15-carat diamond by celebrity jeweler Lorraine Schwartz (seriously, look at that rock!) with "PLEEEASE MARRY MEEE!!!" flashing across the Jumbo-tron.
What I love most about this proposal is that he asked Kris Jenner for her daughter's hand in marriage beforehand (aww!) and, with a presenting gig at the 2013 Hollywood Film Awards earlier in the night, he totally caught Kim (and the paparazzi) off-guard. Well played, West.
Photo credit: PeterKash/Instagram