By Brittny Drye / Photography by Kevin Day Photography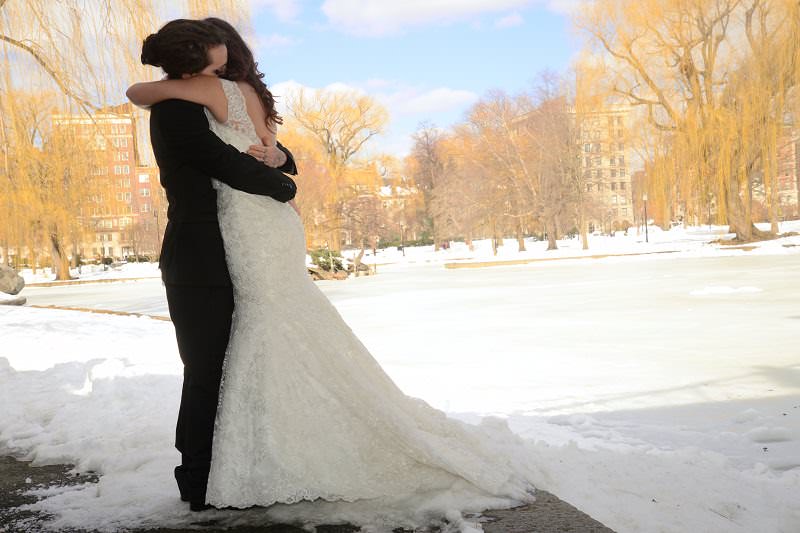 "You're going to be my girl one day, maybe not today, but one day."
Somehow, even on the night they met, Maggie knew that she and Lauren were meant to be, whispering those words at the end of the evening. "We met in a bar. I know that doesn't sound like the most romantic meeting in the world but that's how it all began," explains Lauren of her first fateful encounter with the woman who would later become her wife. "I was bartending at this little hole-in-the-wall place and Maggie, who was a complete stranger at the time, was enjoying a night out with friends. Little did I know, she and a friend had a small bet going on whether I was a lesbian or not. The friend thought that there was no way I could be gay and Maggie was certain that I was. Boy, that was one bet she had no idea how big she would win."
The Proposal: Maggie designed the engagement ring herself, creating a modern day version of Lauren's grandmother's ring. The extravagant plan Maggie had in place was spontaneously nixed as soon as Maggie had the ring in possession. "The ring, as you might imagine, was burning a hole in my pocket," laughs Maggie. "As she was chattering on about who knows what, I placed the ring on the table. It took her a few moments to realize because she talks, a lot. Then, she got really quiet. I didn't say a word. She grabbed the box and opened and closed it a few times. She put the ring on her finger, said 'Yes!' and continued telling me whatever story she was talking about before. My girl doesn't skip a beat."
[raw]
[/raw]
The Location: The Louisiana lovebirds wanted to make their union legal, so they flew from the Southern swampland to wintry Boston in February, guided by 14 Stories to put their romantic elopement into place. "I completely fell in love with the idea of getting married in Massachusetts since it was the first state to legalize gay marriage," says Lauren. They landed on the winter white runway, completely bewildered by the mounds of snow that were taller than they were.
Two whirlwind days later, Lauren was holding her white dress up over her black snow boots, sprinting across busy intersections as they headed toward the Boston Public Garden—"I can't even describe how thrilling that was for me," she adds, smiling.
Teeth chattering, they quickly chose their snow-covered ceremony spot ("I refused to wear a jacket for the ceremony," says Lauren) underneath the park's signature bridge that crossed over a frozen pond … their very own winter wonderland.
[raw]
[/raw]
The Style: Days before the ceremony, Maggie received a special accessory to wear with her black suit as a wedding gift from her aunt. "My uncle had passed away two years prior and he loved Harley Davidson motorcycles, as do I. She had been holding onto his Harley pocket watch and told me he would want me to have it on my big day," she explains of her heartfelt something old.
Lauren wore a vintage lace wedding dress, paired with weather-ready black fur-rimmed snow boots and polka dot tights. She accessorized her long, loose curls with a birdcage veil, borrowed from her sister.
[raw]
[/raw]
The Ceremony: "The ceremony was quick but magical. It was just me, Maggie, our photographer and the justice of peace. Our ceremony was truly the epitome of intimate," explains Lauren. As they exchanged vows, passersby cheered and congratulated the couple, "I still wonder how many vacation and social media photos we may be in," she adds. As the deal was sealed with an "I now pronounce you are married! If you wish to seal this marriage with a kiss, you may now do so," Lauren leaped with joy. "Everyone began laughing and Janet [the justice of the peace] even said that she had never seen a bride do that before."
[raw]
[/raw]
The Celebration: "We celebrated in Boston with a dinner at the Top of the Hub restaurant and then at the Beehive on Valentine's Day. We felt so welcomed at every restaurant we went to and were always greeted with a complimentary bottle of Champagne to celebrate," says Maggie.
[raw]
[/raw]
Memorable Moments:
Maggie: My most memorable moment was when we signed our marriage license in City Hall because that meant that we were finally legally recognized somewhere.
Lauren: My most memorable moment was after our ceremony. Our photographer was snapping photos of us and suggested that we have our first dance. There we were, having our first dance as a married couple on a wooden dock, over a frozen pond, with only the music in our heads playing.
Vendors:
Venue: Boston Public Garden
Photography: Kevin Day Photography
Wedding planner: 14 Stories