Sherman Chu Photography captured the stunning details of Katherine and Swati's gorgeous wedding day, which included a carpeted aisle lined with delicate flower petals leading to a traditional mandap — similar to a chuppah — where the glowing brides partook in beautiful ceremony rituals and then sealed it with a kiss before swaying to their first dance surrounded by rose petals in the shape of a heart. Above all, their wedding was about sharing love and joy with the most important people in their lives, and as evidenced by these lovely photographs, they achieved just that.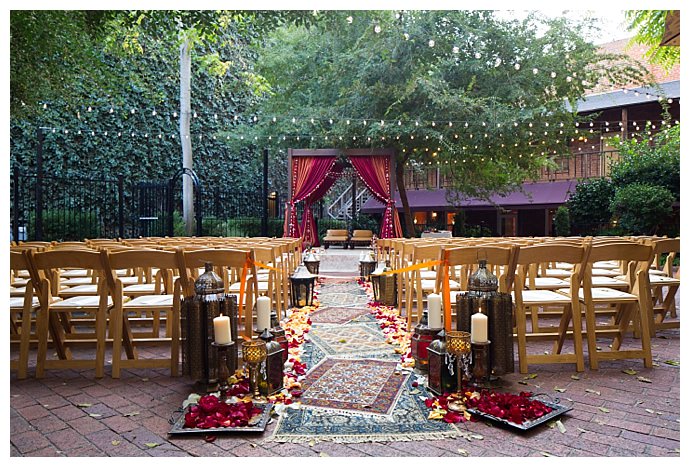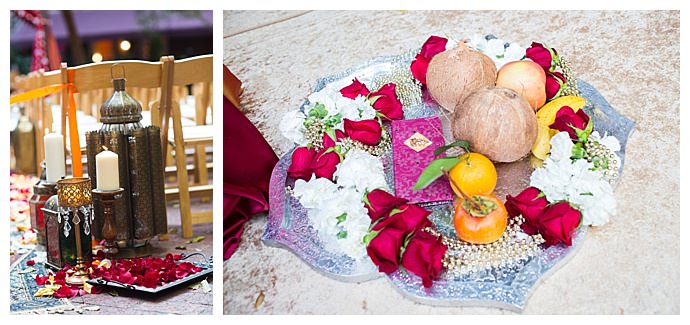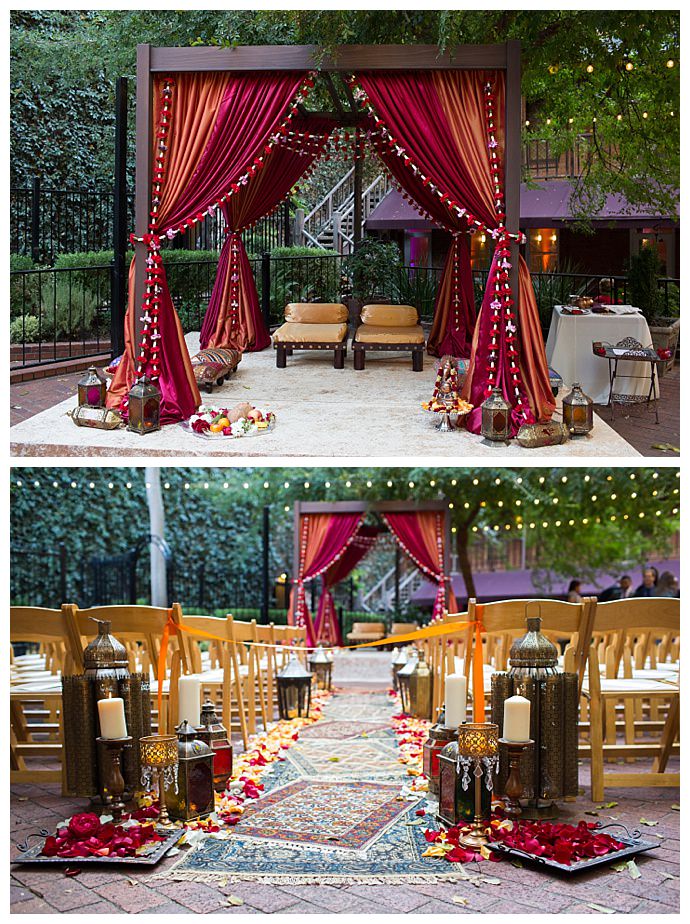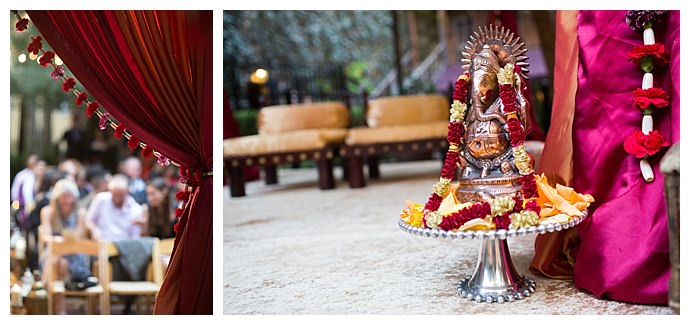 The Love Story
Katherine and Swati first met at UC Davis where they were both completing their residency in family medicine. Despite hectic schedules and demanding studies, they become close friends. It wasn't until two years after they met that they started dating. "When we first started dating, because we already knew each other well, I was scared," Katherine says. "I knew Swati was the one, and I didn't want to mess things up, but it worked, and there wasn't much to be scared of after that."
One day when Swati was out shopping with her sister, she arrived home to a note on the door that instructed her to follow the string. She swung open the door to find a purple yarn that was strung back and forth throughout their house and fresh flowers and candles everywhere. Swati followed the string, where pictures of their favorite memories hung on clothespins in between love notes from Katherine, detailing all the things she loves about Swati, especially her quirks. "The string led me to the back door where there was a photo album filled with pictures and notes from Katherine cataloguing our adventures together and our love," Swati says. "Through the back door, I saw a pathway lit with tea lights, leading me to our pergola that was covered in purple lights where Katherine was waiting for me with a beautiful Indian gold filagree ring. I was crying when I said yes."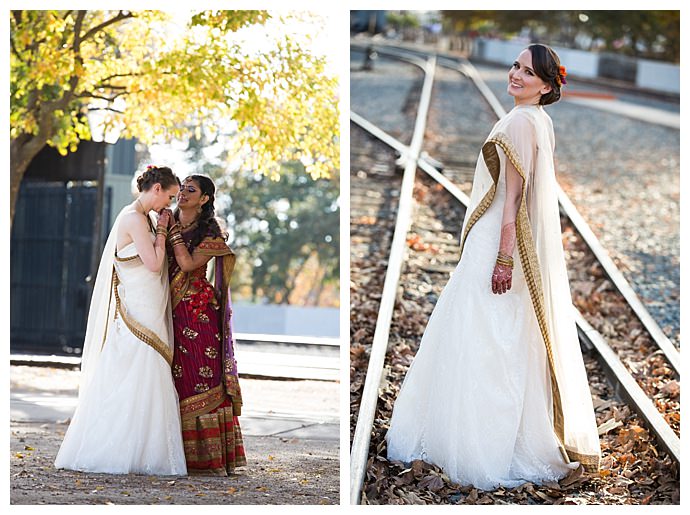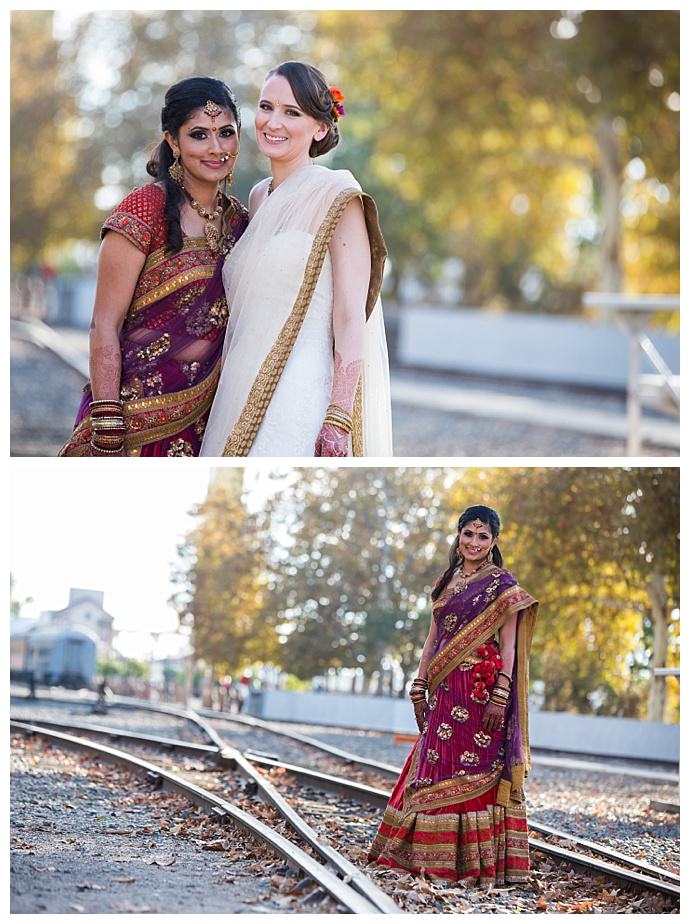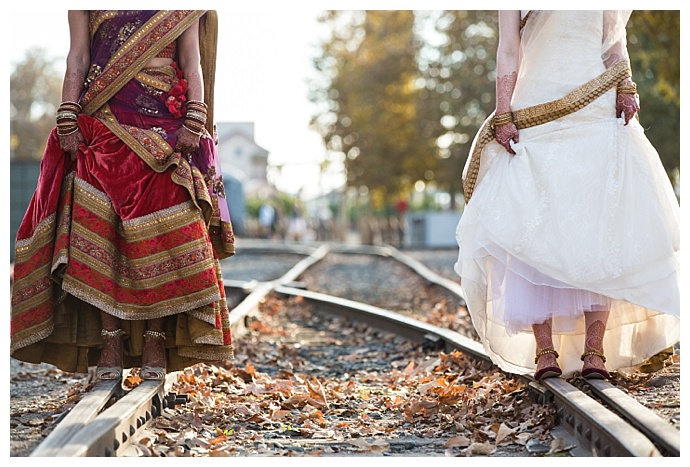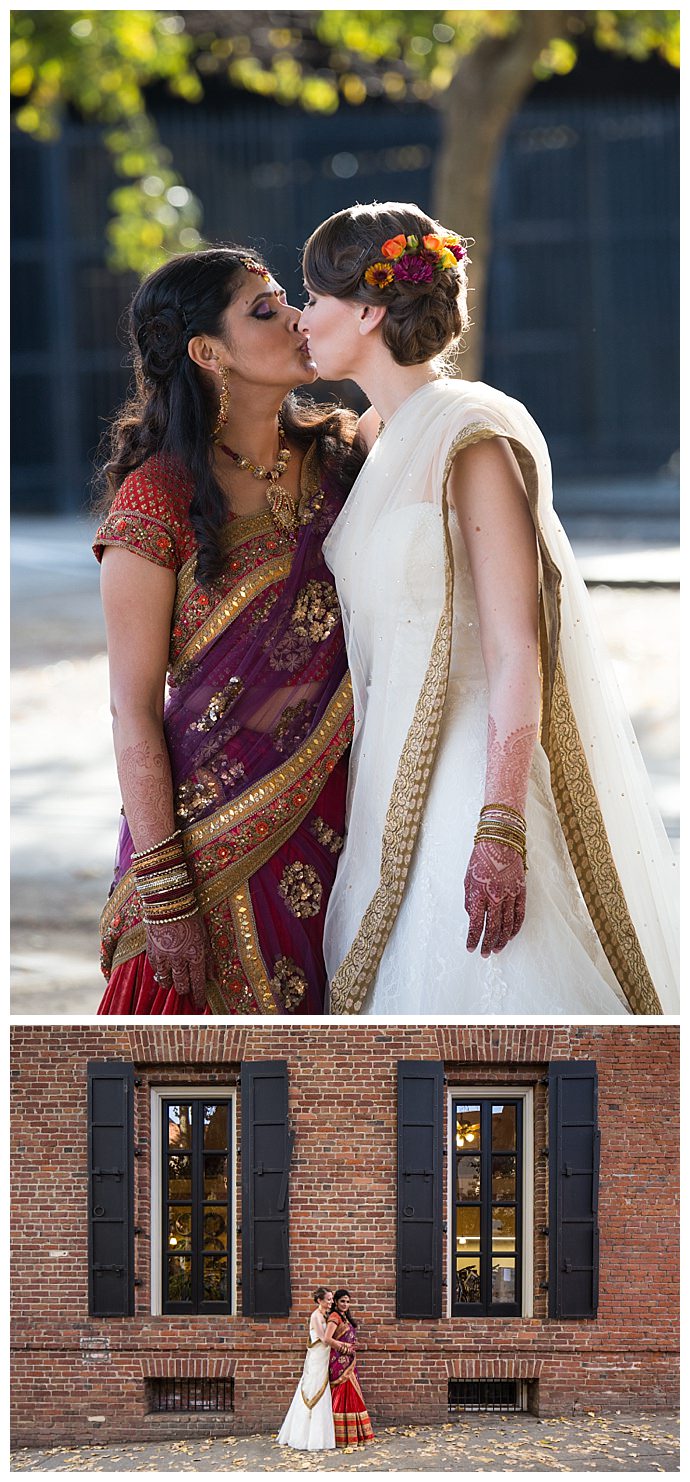 The Ceremony
On Katherine and Swati's wedding day, it was important to them to have a ceremony that embraced the marriage of two women while honoring Swati's Indian background as well as their American and queer identities. So they married both Hindu and Indian elements with hints of Western components and put a modern twist on traditional rituals, such as the Baraat. In Hindu weddings, the Baraat is the groom's grand processional, which traditionally involves entering the ceremony on a white horse or, in modern days, an extravagant, decorated car. For Katherine and Swati's energetic Baraat, they both rode in on the back of a convertible adorned with colorful paper decorations and tassels that blew in the wind as they paraded past cheering friends and family members.
Swati wore a traditional Indian lehenga, which consisted of a deep orange-red velvet skirt with several layers of petticoats that weighed more than 30 pounds, paired with a red blouse and a beautiful purple and gold duppatta. To complement Swati's Indian attire, Katherine wore an Indian dupatta adorned with gold fabric, tassels and beads over a traditional Western ivory dress. With their parents, the glowing brides walked down an aisle of Persian rugs lined with orange and red rose petals and got married under a mandap, a square-shaped structure under which Hindu weddings are performed, that Katherine's dad made.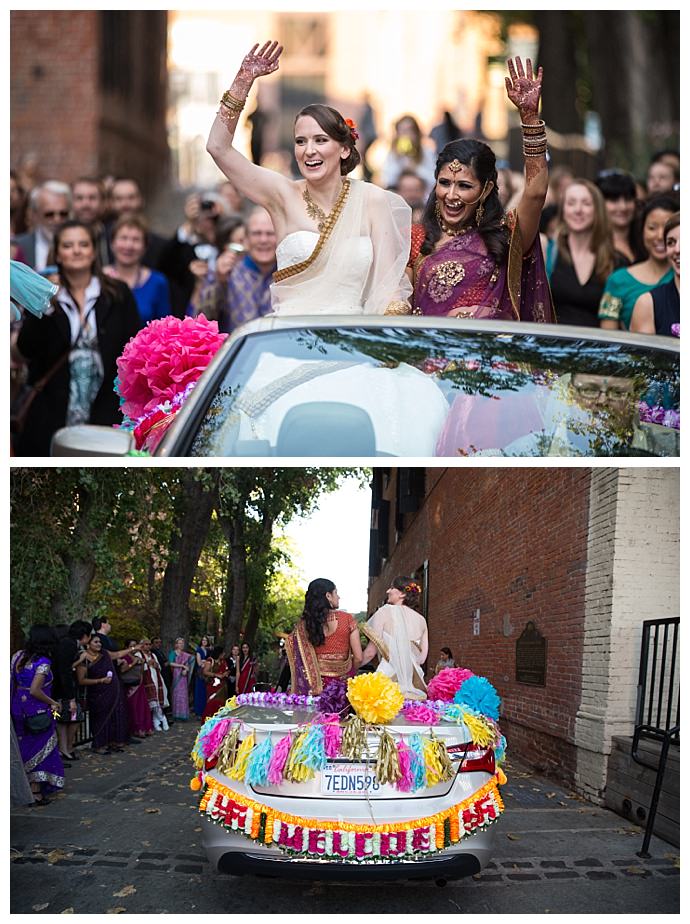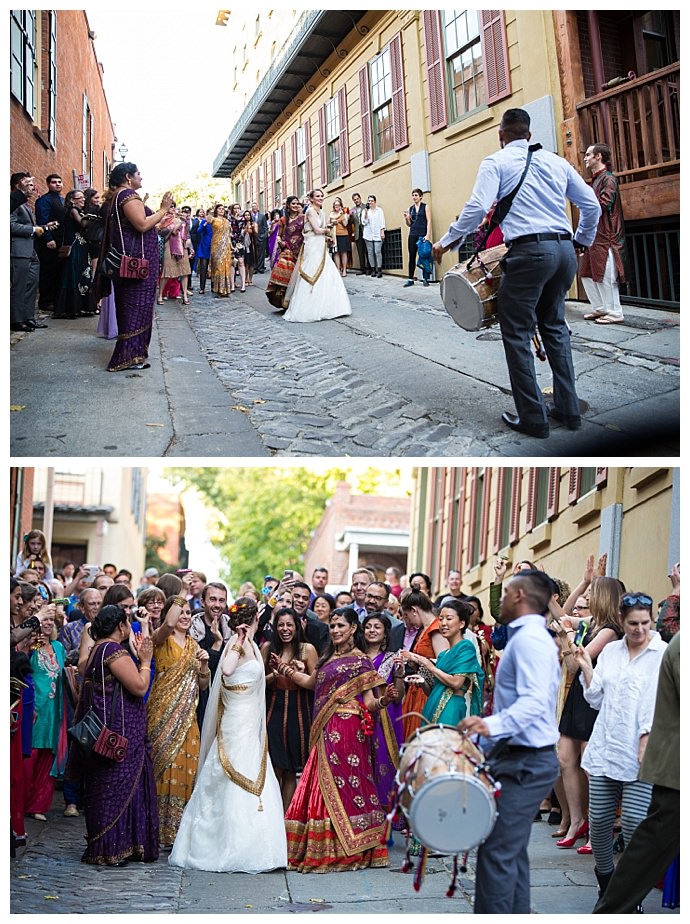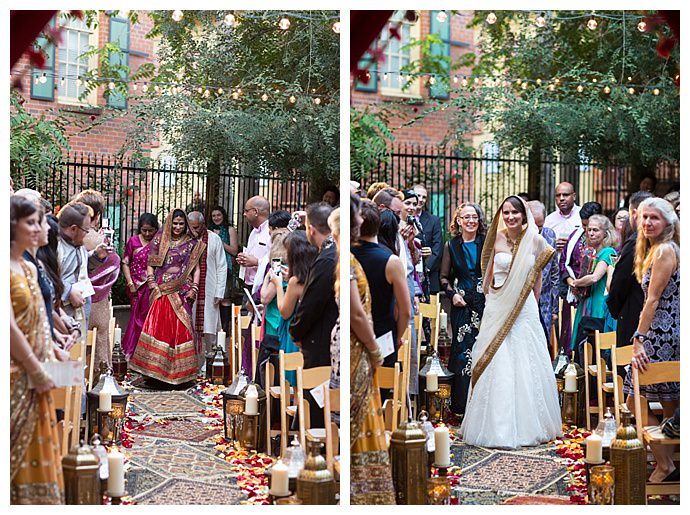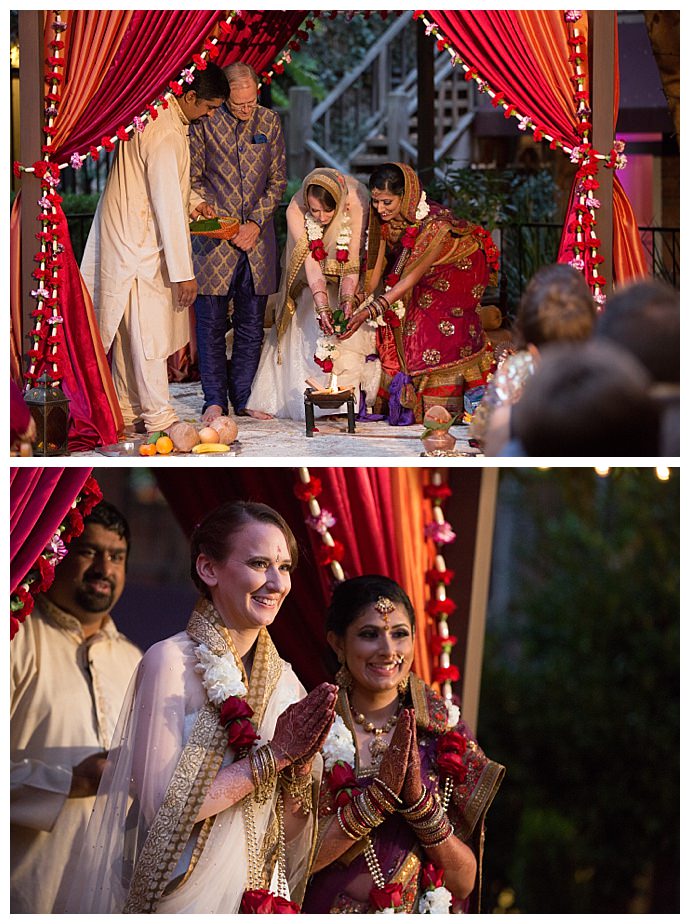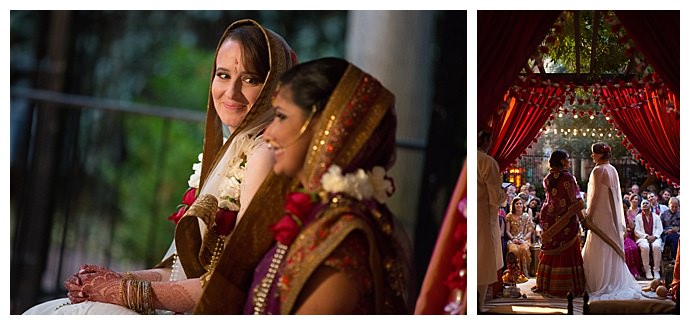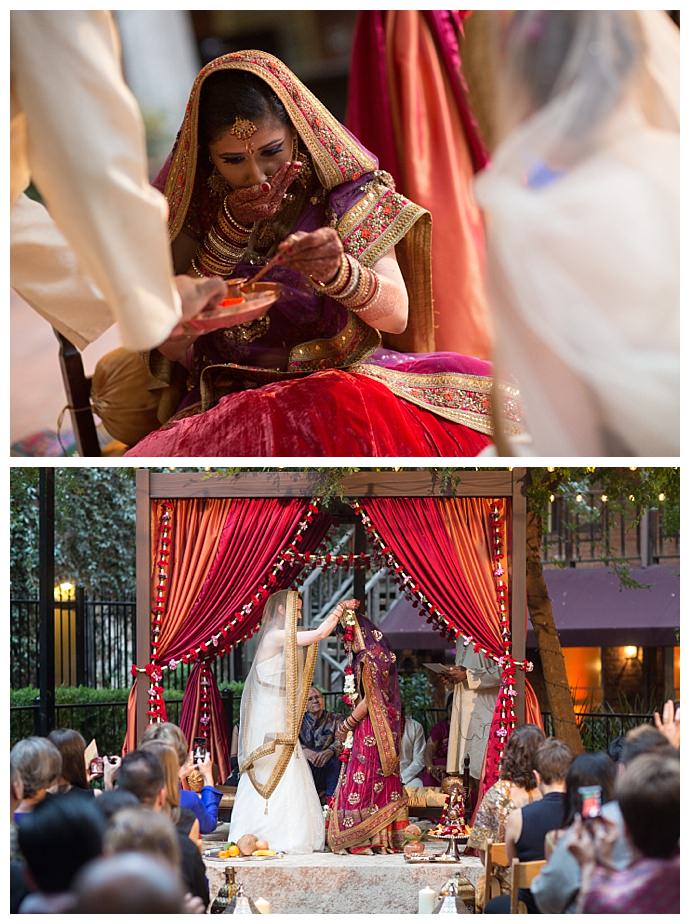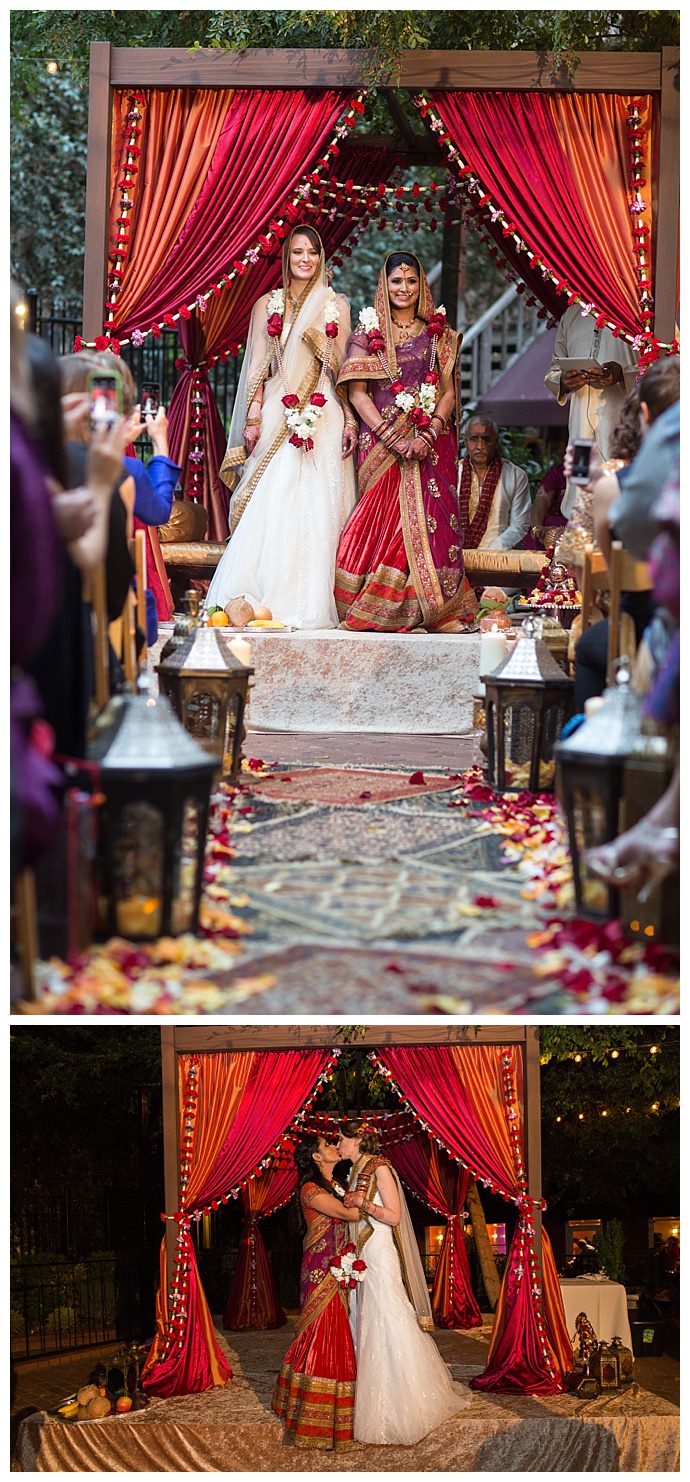 The Party
Following a shortened version of a traditional Hindu ceremony, guests enjoyed a delicious dinner of chicken korma, chicken tikka, seasonal roasted vegetables and rice, a combination of American dishes and an American take on traditional Indian dishes. For dessert, Katherine and Swati's friends and family provided a variety of sweets, which included a gluten-free chocolate cake made by Katherine's aunt and orange, red and purple macarons made by one of Swati's oldest friends. To kick off the dancing, Katherine and Swati arranged a Bollywood-style flash mob before the brides shared a special dance surrounded by the rose petals that lined the aisle, which had been rearranged into the shape of a heart. "Our friends then collected the rose petals and decorated our home with a heart-shaped design for us to find when we returned home," Swati says. "It was very special."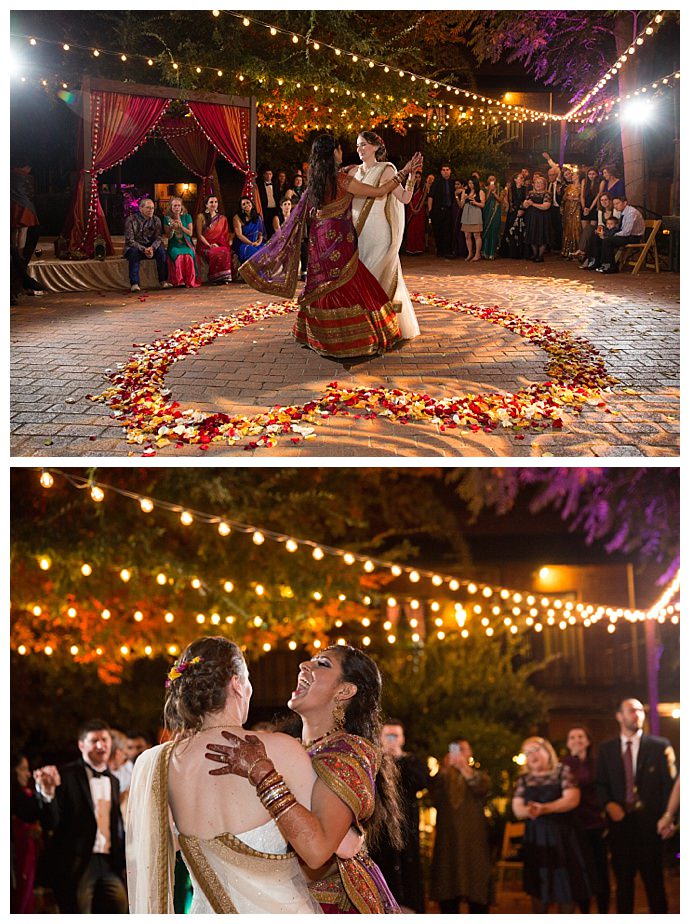 Memorable Moment
"My most memorable moment was riding in the convertible, dancing to the music and feeling the dol's drumming while holding Swati's hand, and seeing our family and friends around us dancing with us down the streets of Old Sacramento to get married," Katherine says. "Thinking about it still makes me feel warm all over."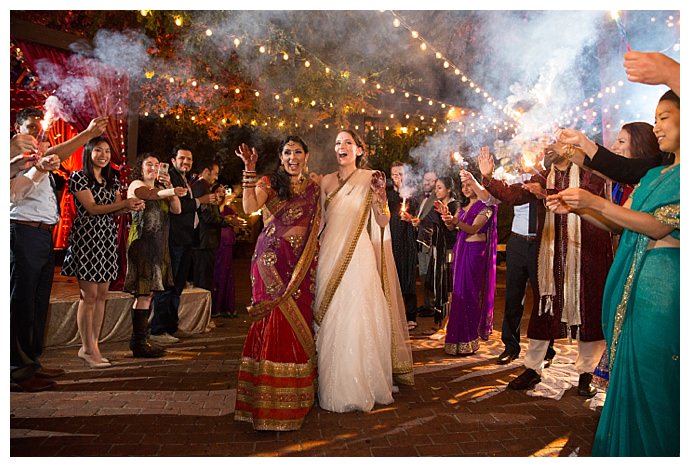 Team of Talents
Photography: Sherman Chu Photography
Venue: Courtyard D'Oro
Wedding Planning and Design: Anais Event Planning and Design
Staionery: Shaadi Paperie
Hindu Priest: Shivam Bhatt
Music and Lighting: Wicked Entertainment
Catering: Event Architects
Hair: Lace Salon
Wedding Dress: Sabyasachi, Melissa Sweet
Henna: Mehndi Designer