By Meghan Kennedy | Photography by Violet Iris Studios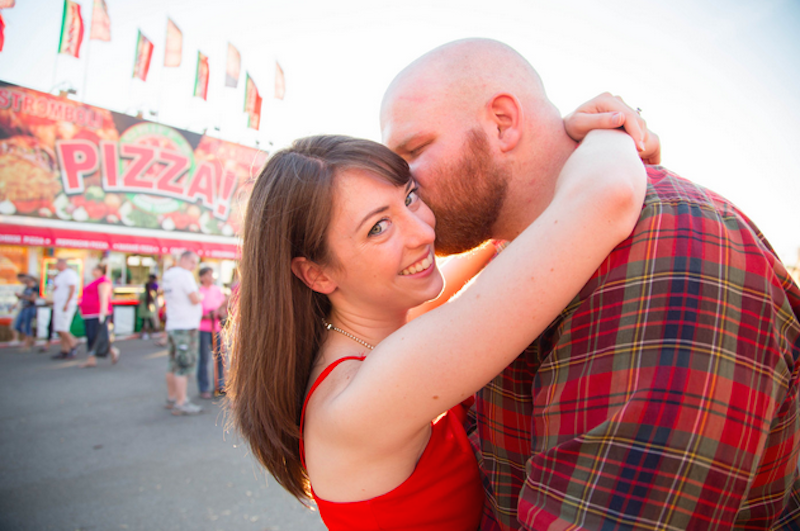 We all have childhood sweethearts, but who can say they've actually married theirs? Not many of us — unless you're a couple like Kait and Nick. They dated for eight years before getting engaged, and were together before most people even met their own spouses. Their engagement session, a fun and playful state fair shoot done by Cate Gravatt of Violet Iris Studios, was chosen specifically because of how fun it is — it matches their personalities so well! "We joke around with each other and tease each other a lot," notes Kait. "We felt as though the fair represented our personality as a couple." This session shows how Kait and Nick have grown as a couple but also retain that same young love that got them together so many years ago.
The Love Story
Kait and Nick met in Spanish class in their first year of high school. The first thing Nick ever asked her was if she was a model. "I thought he was just another guy using a stupid pick-up line and I rudely shot him down," laughs Kait. "Nick explained he saw the pictures on my binder and actually thought they were modeling shots!" Further into their ninth grade year, Nick claimed Kait as his dance partner for salsa lessons and the rest is history — they started dating a few months later and have been inseparable ever since.
Nick says the moment he met Kait, he knew she was the one, but for Kait, it took a little while longer. One night, toward the end of high school, she and Nick were watching West Side Story together. "I knew he was the one when we were watching the scene where Tony and Maria sing 'One Hand, One Heart' in the dress shop. Nick looked over at me jokingly and asked me to run off with him and get married. I didn't answer, I just giggled and snuggled up to him on the couch. That's when I knew."
The Proposal
Eight years after they began dating, in June of 2013, Nick popped the question. They were at the beach with Nick's family and, after dinner, Nick asked Kait to go for a walk. Immediately, she knew it was going to happen. "I put my shoes on and excused myself to the bathroom where I jumped up and down for about five minutes. Checked my makeup, thought about changing but I decided that would be odd, and went back out to meet Nick."
They went for a walk on the beach, and as they walked, Nick complained about sinking in the sand. "I told him to walk closer to the water where the sand is harder. He told me, 'I can't.' I asked why. He replied, 'Because my knee will get wet.' Then he got down on one knee and asked if I wanted to 'make this thing legal.'"
Since their friends already referred to them as husband and wife for so long, they finally made it official with a sentimental yet lighthearted moment.
The Ring
Kait's ring is a turn-of-the-century style but with a modern twist. Instead of a diamond, it features a round cut blue sapphire for the center stone. The band also has an open diamond shaped braid with small, inlaid diamonds.
Memorable Moment
Kait: The exact word's Nick used "Let's make this thing legal." It's so him to bring humor into a romantic moment. I may not remember the exact date, or what I was wearing, or what street we turned down but I will always remember what Nick said.
Nick: Seeing Kait's smile
Wedding Date: December 27, 2014