Jhonathan and Michael knew their wedding was a big day for them, but they also wanted it to be a special day for all their friends and family who were attending as well. So they asked their guests to dress in black tie attire for the occasion and threw a sleek, modern party to celebrate their union. With contemporary elements executed beautifully by Scheme Wedding & Event Design — like a video wedding invitation, a high-gloss aisle runner and custom cocktail napkins — and a stunning assortment of white florals, Jhonathan and Michael were over the moon when they saw their vision brought to life at the Reflection Bay Golf Club in Las Vegas. And Adam Trujillo was there to capture all the incredible moments and gorgeous design elements so that Jhonathan and Michael can remember their perfect day forever.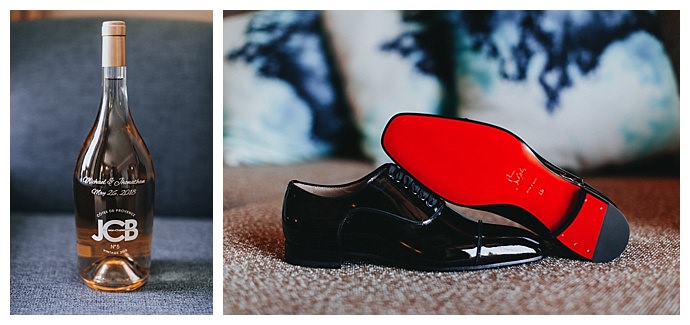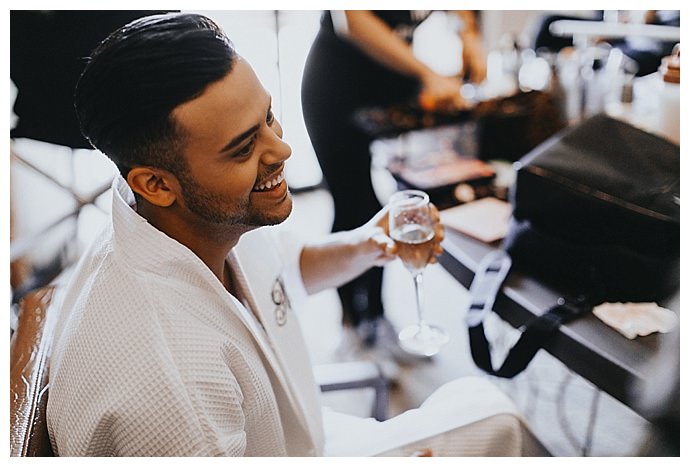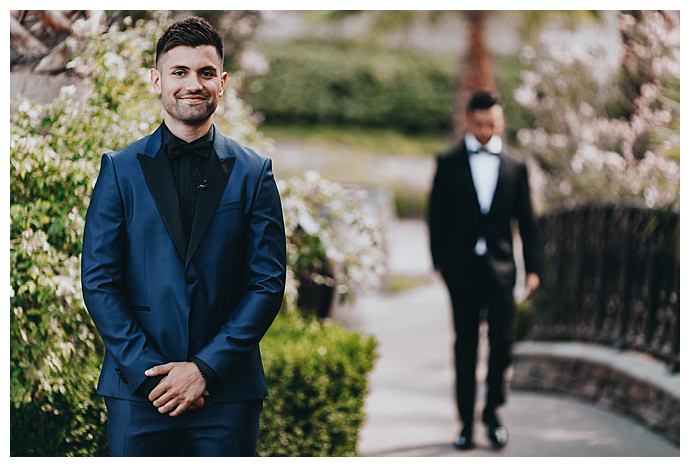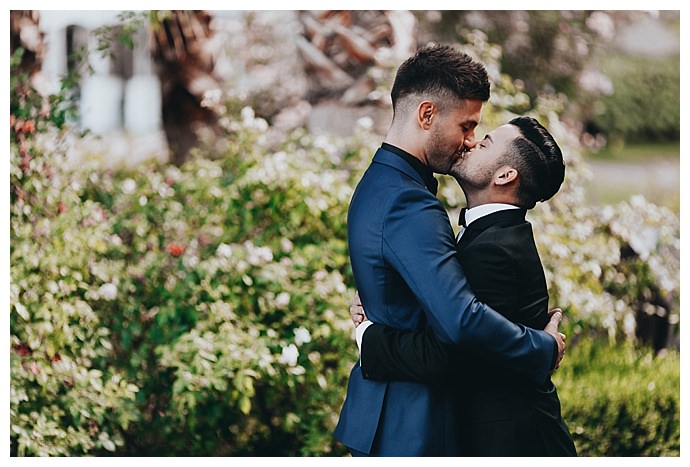 The Love Story
Jhonathan was working at a modeling agency where Michael was hoping to get signed and just so happened to be the one who was assigned to interview him. "When I walked into the lobby to call for my next appointment, Michael looked up at me and took a double take," Jhonathan says. "We made eye contact, and I instantly felt butterflies in my stomach. I walked him back to my desk to interview him, and the whole time I was thinking to myself, 'stay professional, stay cool.'" Little did he know, Michael was feeling the same way, and they both agreed it was love at first sight. Michael ended up signing with the agency, and as his agent, Jhonathan asked him out to dinner so they could get to know each other better. "Since that night, we have been inseparable," Jhonathan says. "We both took the risk, and it was the best decision we could have made."
Later on, Jhonathan and Michael were preparing for a move to Las Vegas where they had both accepted new jobs. Before they left town, they threw a going away party at their home and invited all their close friends. Everyone was having a great time when Jhonathan's friend asked him to come into the kitchen because Michael wanted to make a speech. "I didn't think much of it until he started to get a little emotional," Jhonathan says. "After he thanked all of our friends for coming, he reached for something above the fridge, and as he started walking toward me with a little blue Tiffany's box in his hand, I knew exactly what was going on." Jhonathan had no idea the proposal was coming and was overwhelmed by the surprise. "No one can ever pull a surprise on me because I always find out, but not this time," he says. "He got down on one knee in our kitchen and asked me to marry him — it was one of the best nights of my life."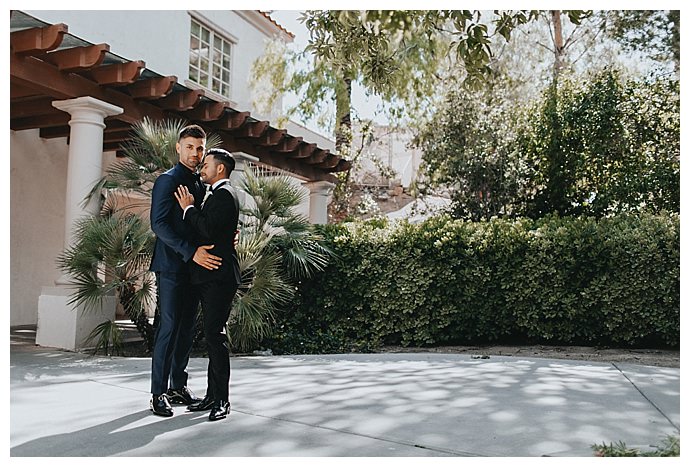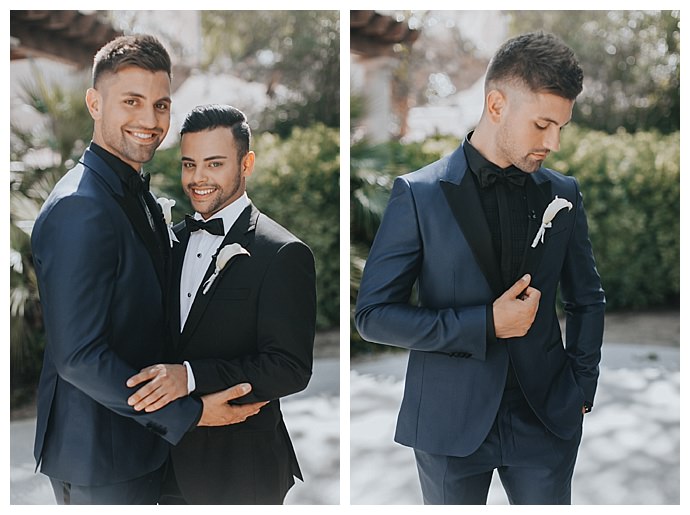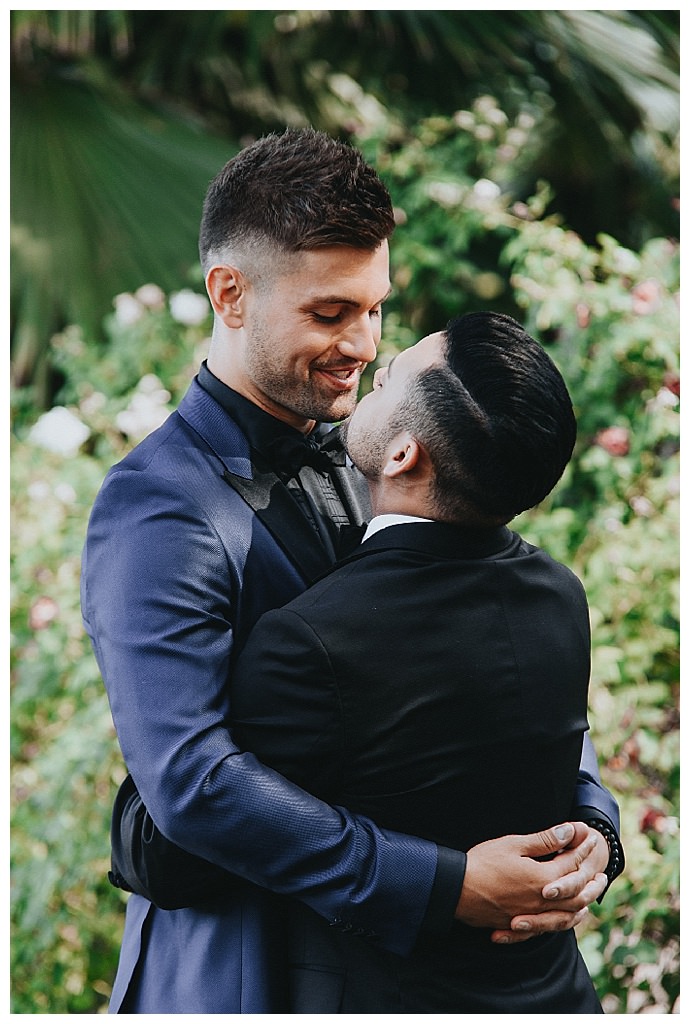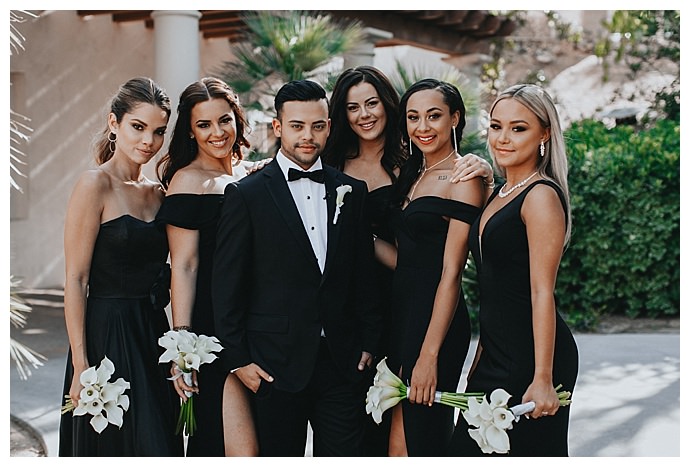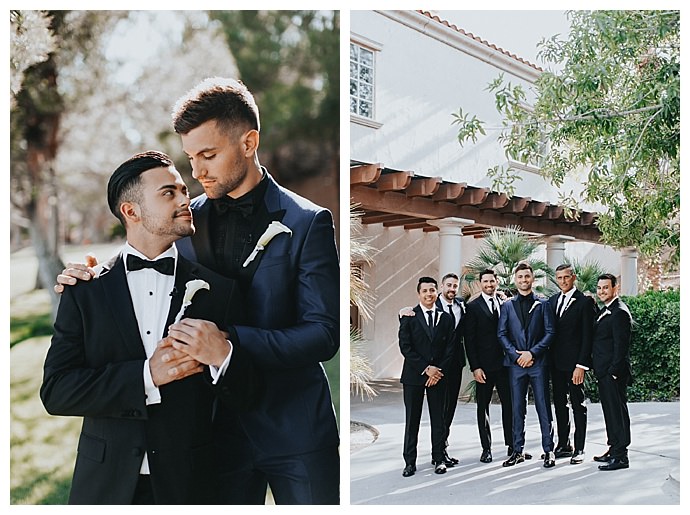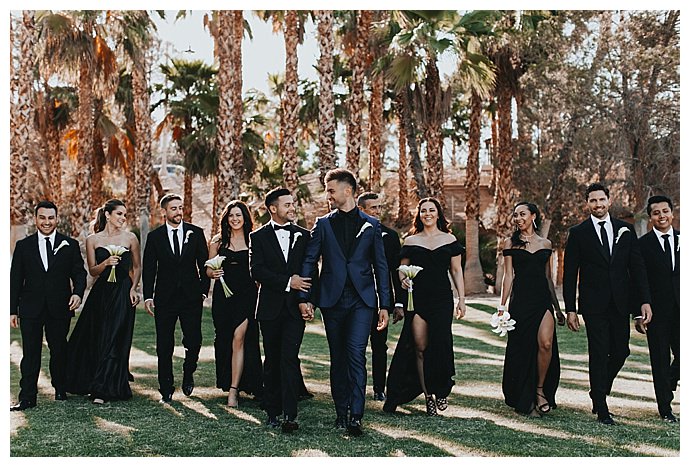 The Vision
"Michael and I had always dreamed of a modern and classy wedding," Jhonathan says. "We wanted it to feel like a true event for everyone, not just us, so we decided to have a black tie-themed wedding." Fit for the occasion, the grooms wore Hugo Boss suits. Michael chose a dark blue suit with a black lapel that he paired with a black bow tie and Hugo Boss shoes while Jhonathan wore a black suit, black bow tie and Christian Louboutin shoes. For the wedding party, the groomsmaids donned mismatched styles of long black dresses and the groomsmen wore matching black suits with skinny ties.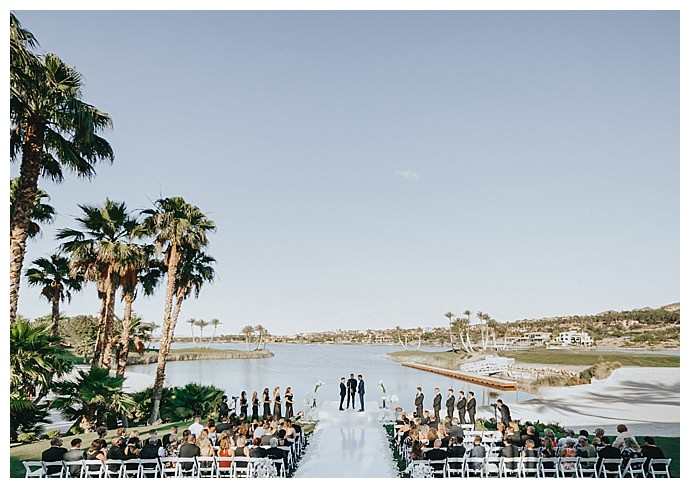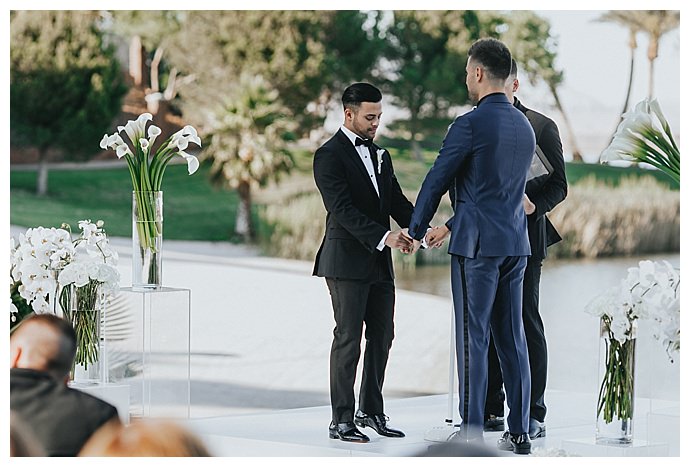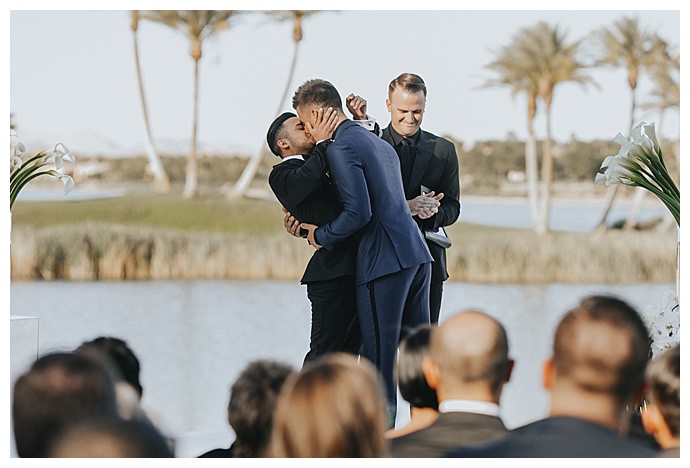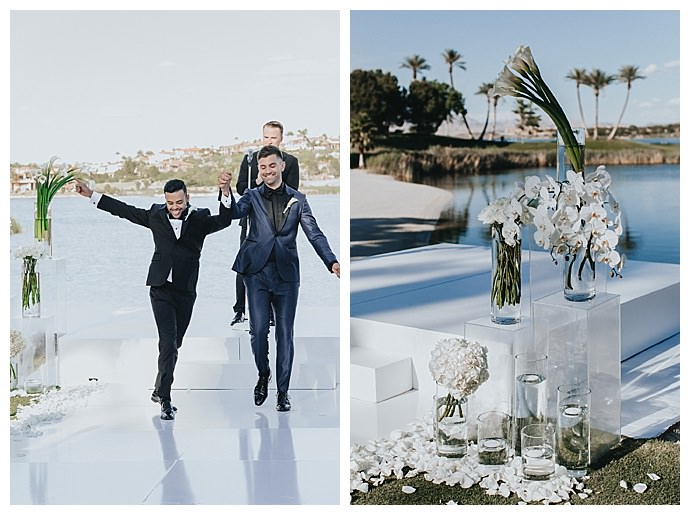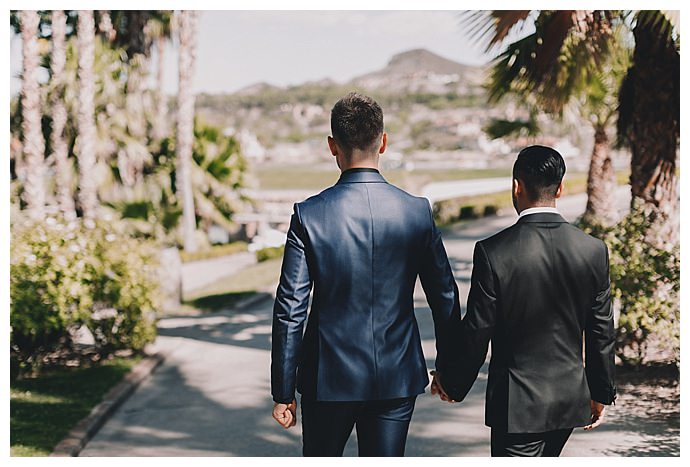 The Party
At the Reflection Bay Golf Club in Las Vegas, Scheme Wedding Event & Design helped bring Jhonathan and Michael's vision to life with elegant crisp white florals and clean, modern decor and a black, white and silver color palette. Floating candles in clear vases added romantic lighting underneath the tall floral centerpieces, and white leather sofas, flanked by arching white calla lilies created a comfortable lounge space where guests enjoyed passed hors d'oeuvres and an open bar all night long. A contemporary square cake with three tall tiers and a cascade of white sugar flowers sat on a clear table with floating candles that gave the illusion that the cake itself was floating. And after they cut into the cake and it came time for the grooms' first dance, the newlyweds swayed on a dance floor that featured their personalized logo.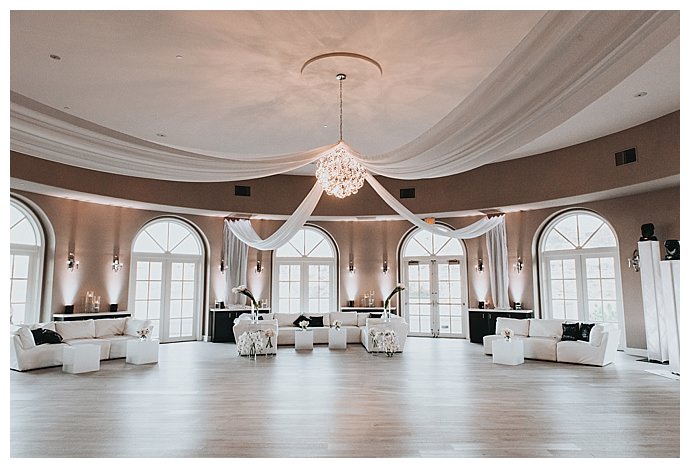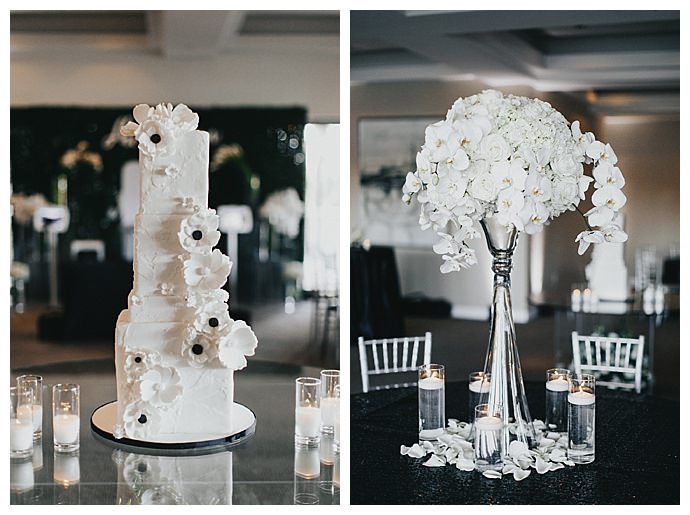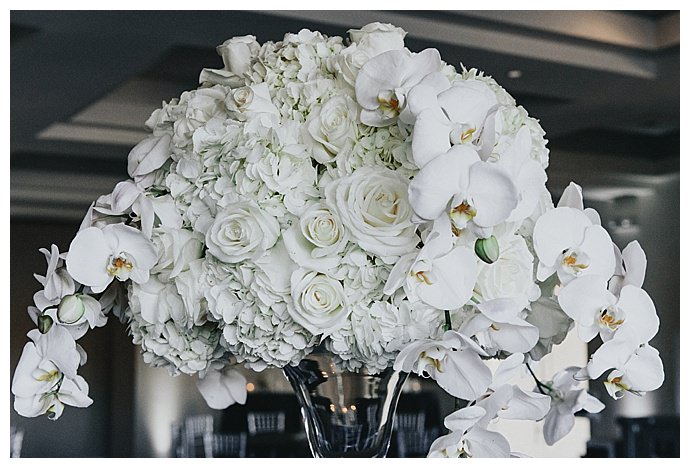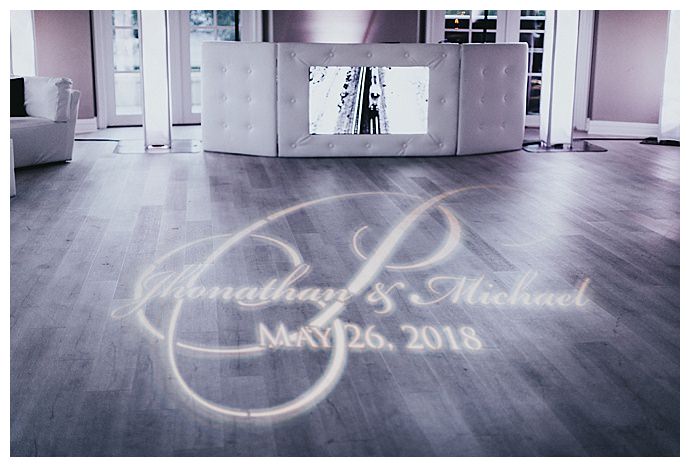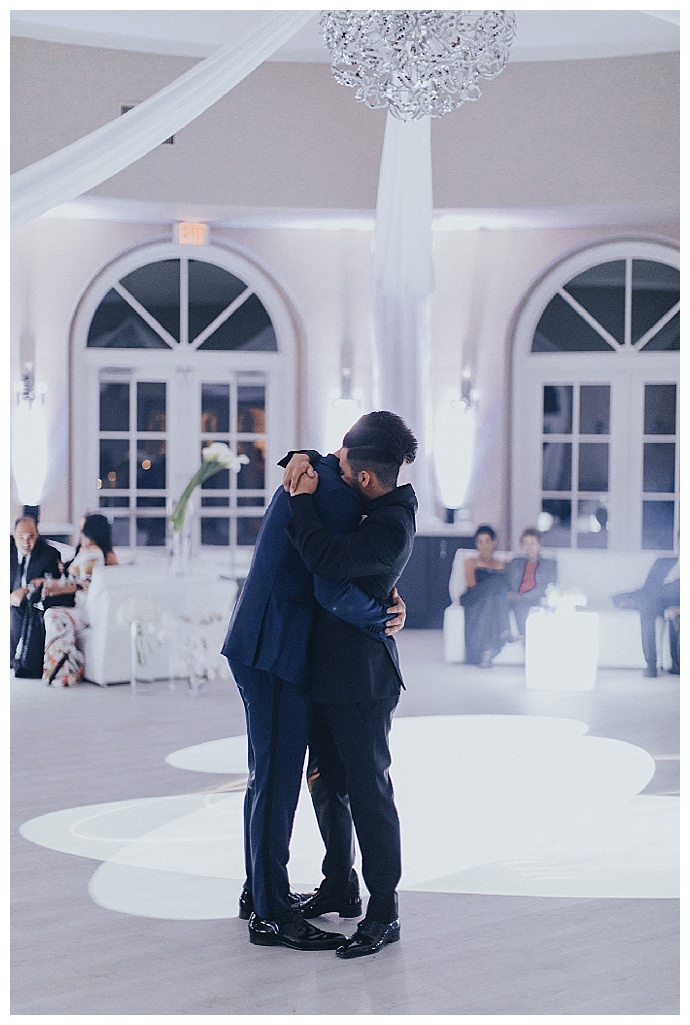 Submitted via Matchology
Written by: