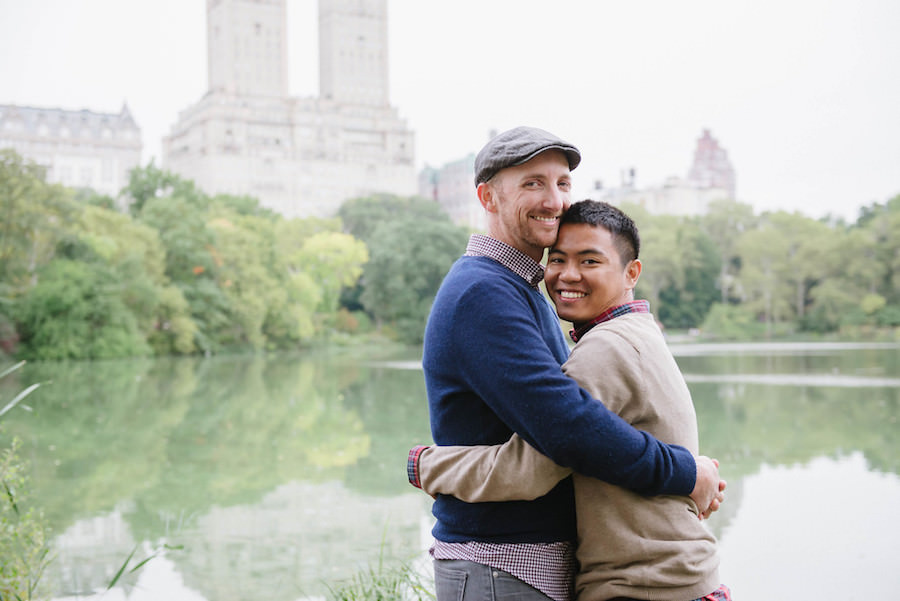 For self-proclaimed Broadway nerds Jeff and Rem, there's no place in the world that could top New York City. The newlyweds traveled to the Big Apple just days after their wedding and began an adventure that was packed with all of the New York must-sees: museums, the Empire State Building, dinners and Broadway shows (natch).
Not to mention, their fall wedding date had them visiting during one of the most perfect times of year and they took advantage of the autumn colors in Central Park with Flytographer capturing some oh-so-sweet photos.
Wedding Date
October 4, 2014
Honeymoon Destination
New York City: My husband, Rem, was relatively new to the country and always dreamed of going to NYC. We're also big Broadway fans.
Dates Traveled
October 7-13, 2014
Itinerary
We saw four Broadway shows including Aladdin, Kinky Boots, If/Then, and Chicago. We had dinner at Per Se and several other lovely restaurants. We took a carriage ride through Central Park at night. We had the VIP experience to the top of the Empire State Building, attended a taping of The Today Show and a lovely boozy brunch at Poco. We stayed at The Library Hotel, a gorgeous library-themed boutique hotel on Madison Avenue within walking distance to the Theater District and Times Square. We also took an awesome dinner cruise with Bateaux New York and spent way too little time in the Metropolitan Museum. Ellen's Stardust Diner was a lot of fun for lunch, especially for us Broadway nerds!
In lieu of gifts, we allowed our friends and family to sponsor individual parts of the honeymoon and pre-printed little thank you cards so that we could take selfies and post them on Facebook. My parents helped sponsor a session with Flytographer so that we could have gorgeous professional photos of our honeymoon.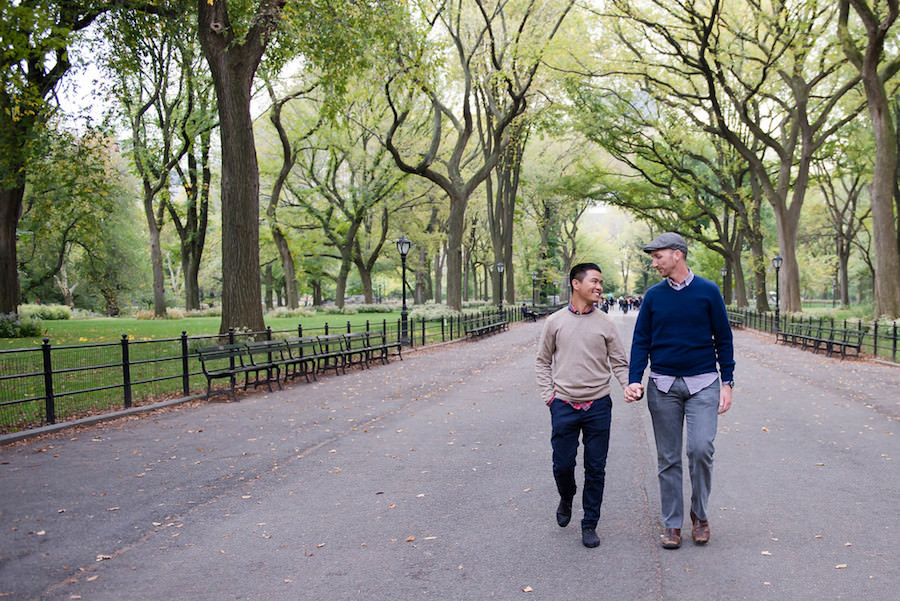 Memorable Moments
For Rem, it was being able to experience his first Broadway show. For me (Jeff), I'd have to say that seeing Rem's face light up when he saw Times Square for the first time — that will never be forgotten. 
Tips & Tricks
If you're going to go to New York City, be prepared to pay more for everything and just enjoy it. Splurge a little on your hotel and buy some of your other stuff in advance to spread out the cost. I highly recommend using a site like Honeyfund.com to allow your friends and family to sponsor your trip. We didn't really need any material things and our guests were happy that we gave them an opportunity to give something. Plan everything in detail and you'll be rewarded with fewer speed bumps along the way.
Want to share your adventures? We're looking for couples to share their honeymoon photos and experiences in LGBT-friendly destinations. Shoot us an email to [email protected] with photos and a quick paragraph about your trip.