By Shannen Hofheimer | Photography by NC Photography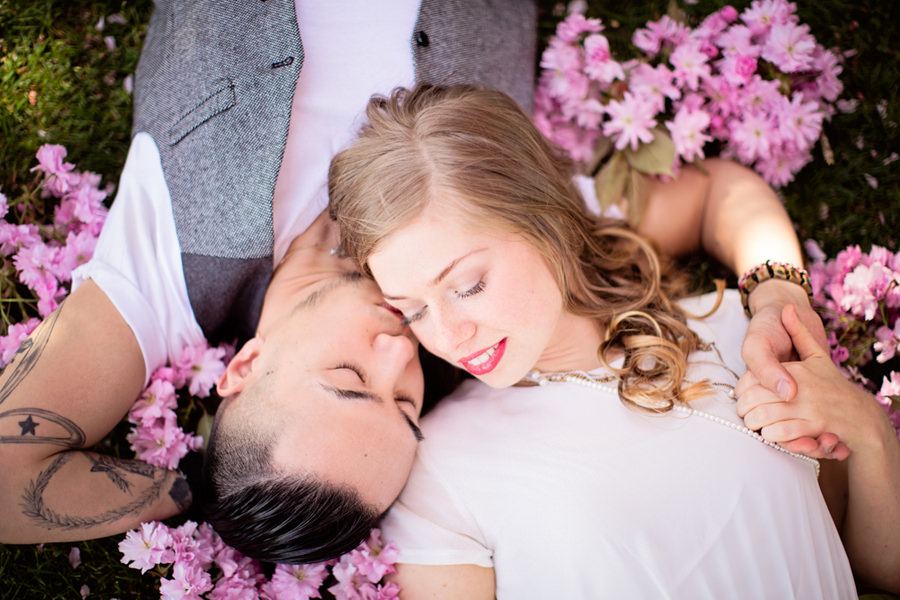 Jake and Taylor's engagement photos are "budding" with romance and sensuality, all the while maintaining a youthful playfulness. The essence of this couple just embodies so many incredible facets of their relationship bundled up in one gorgeous photo shoot by the talented NC Photography. In fact, it was the photographer's idea to capture these west coast cherry blossoms in Vancouver as she was passing through, and we're so glad she did so we can share in this couple's joy and their journey to matrimony!
The Love Story
Bound through a mutual passion for the art of dance, Jake and Taylor knew each other by association through their dance studio. However, it wasn't until Taylor took Jake's dance class that their love really started to blossom. After maintaining a close friendship for three years (with an undeniable chemistry bubbling under the surface), the two lovebirds began a slow and steady courtship. But if you have ever heard the tortoise and the hare fable, you know that "slow and steady" wins the race. Five years later, Jake popped the question, making the slow burn worth the wait.
"When we moved from Alberta to Vancouver, it was a huge test for us. There was a lot of challenges the first couple of years after moving, and it got to a point when I realized that we were a team facing these challenges together, that I could always count on him and he was infallibly there for me and for us," Taylor poetically gushes over her love. "When all of the dust settled, we could see how entwined we were. While still being our own beings, we had also become one together without even realizing it. It was a shock for me to finally see that! That's how I knew he was the one: seeing how we both were committed to doing the work that a great relationship takes and seeing how we use the challenges and rewards to bring us closer together. And still having that growing sense of love."
"Taylor and I have been trying to find refreshing ways to keep our relationship as real, honest and unselfish as possible," the groom-to-be shares with us. "We knew that being in a long-term relationship would take a lot of work and commitment, and naturally, we go through our versions of ups and downs. Every situation that we face, we try our best to take something new from it to make our bond stronger. I knew that Taylor was the one when we ran into a hardship with commitment and trust issues within ourselves, wondering if there is something 'better' somewhere else. I remember sitting down in our dining room in our old apartment and talking about our situation and sorting out our options. I was unhappy thinking that I may lose Taylor, but I knew that holding her back from what she needed to do would make her unhappy, and my priority was for her to find happiness within herself. I made a decision that I was ready to face any consequences that may come from what happened next, and when I told Taylor that if separating us would help her find happiness within herself, I would support that. I remember tearing up while talking to her and I knew the feeling I had was that she was the one. She felt it from the way I talked, the way I looked at her and the way my body was speaking to her. Ever since then, our relationship has gotten stronger and tighter, and we've been more and more equipped to face life and all of our experiences together, good and bad."
The Proposal
Jake proposed to Taylor at the biggest hip-hop dance competition in western Canada in front of friends from both Alberta and Vancouver and their families. Thousands were in attendance to witness this magical moment, which was accompanied by a special slideshow and performance proposal. Taylor was absolutely blown away, not even registering this dream-turned-reality until she saw the look in Jake's eyes, asking her to be his wife "always and forever." "I can't even describe it," the bride-to-be expresses. "That picture will stay with me forever."
The Ring
Taylor wears a beautiful white gold and diamond encrusted infinity-woven band with a larger diamond encircled in the middle. Taylor laughs, "I'm not a jewelry girl, so that's the best I can do!"
Wedding Date: July 3, 2015