Capture the magic of spring with these beautiful cherry blossom wedding ideas and inspiration. From bouquets to boutonnieres to beautiful table decor, make your special day unforgettable with these stunning ideas!
Cherry blossoms are one of the first signs of spring and when you see those pretty pink blooms, you know warmer weather is on the horizon! And though their lifespan is a relatively short window of time, if you're having an early spring wedding, they make for an utterly romantic look. (And if not, there are plenty of other ways to incorporate the bloom year-round!) Check out our roundup of favorite cherry blossom wedding ideas and inspiration that we can't stop swooning over.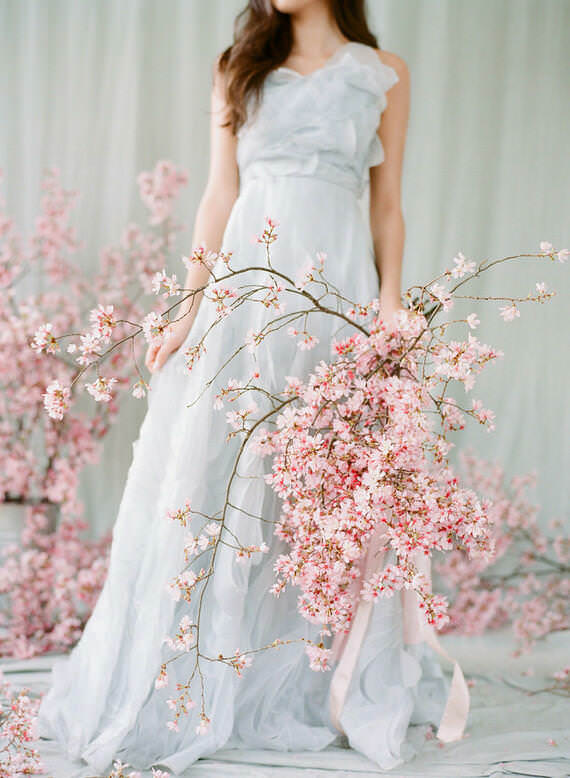 This gorgeous unstructured cherry blossom branch bouquet is an easy DIY option and would pair beautifully with a simple outfit. | photo by Marni Rothschild via 100 Layer Cake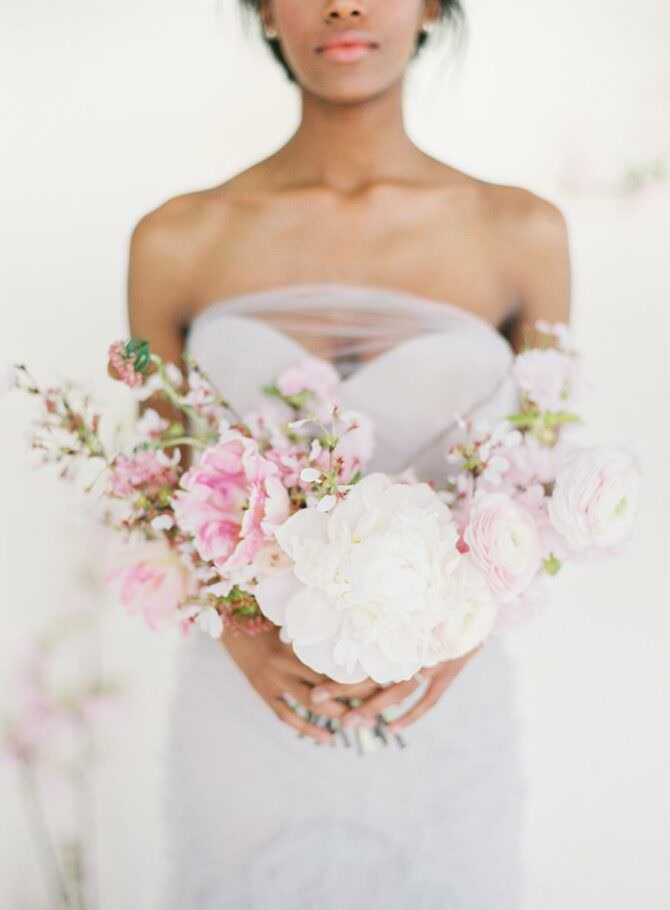 If you want a more styled cherry blossom bouquet, this inspo pairs cherry blossoms with other springtime favorites like peonies. | photo by Angela Newton Photography via Style Me Pretty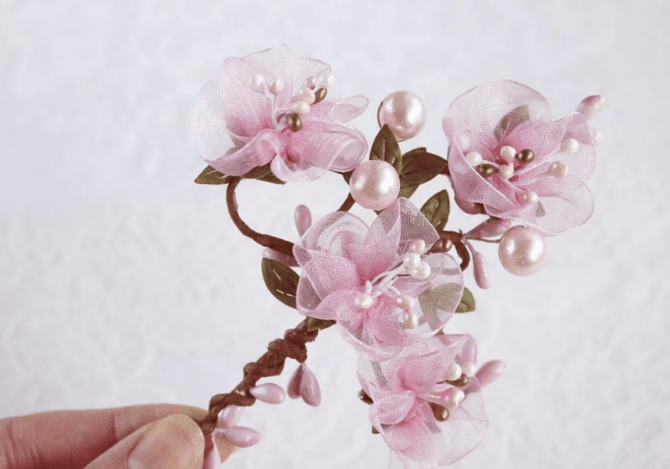 Handcrafted from high-quality silk flowers, this boutonniere features delicate pink cherry blossoms, green leaves, and a stem wrapped in a rustic twine. | available on Etsy for $24.59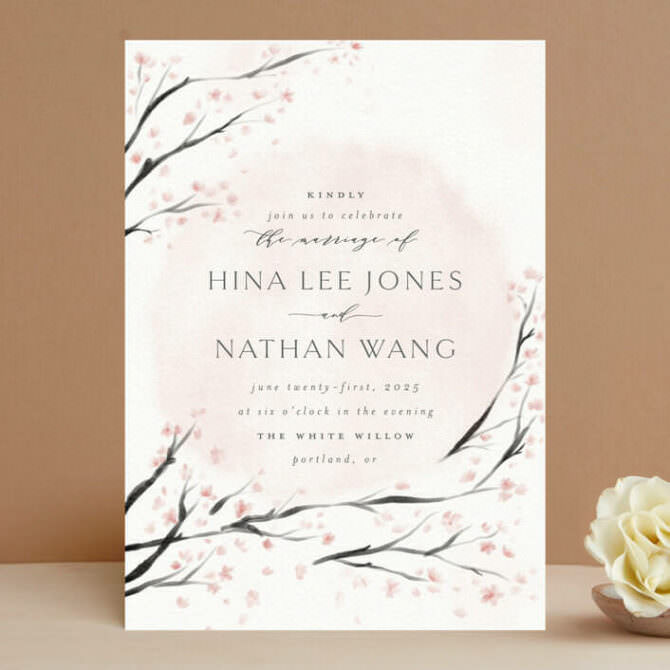 This delicate, hand-painted pink and white cherry blossom invitation design is perfect for a spring or summer wedding. | available at Minted for $264/100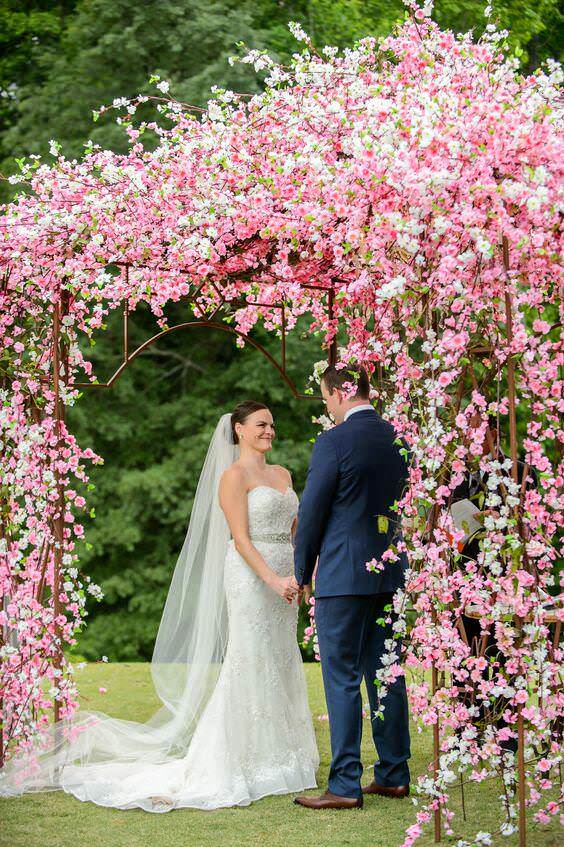 How dreamy would it be to exchange vows under a curtain of cherry blossoms? We love this cherry blossom chuppah designed by Edge Design Group.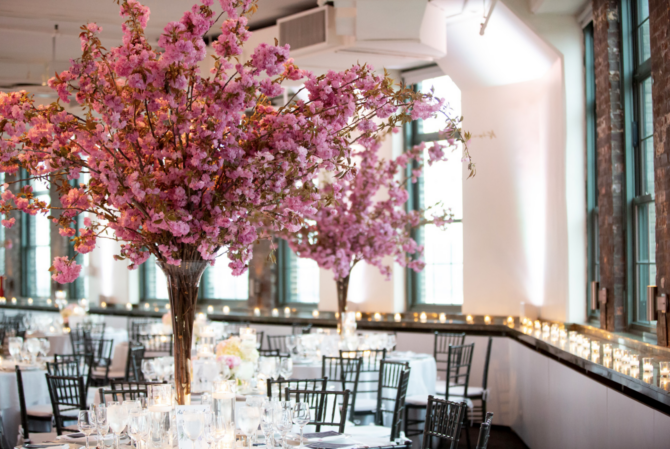 Clustered branches of blossoms make for a grand and elegant centerpiece. Because of their size, you'll want to keep your design tall so as not to block anyone's view. | photo by Sarma & Co.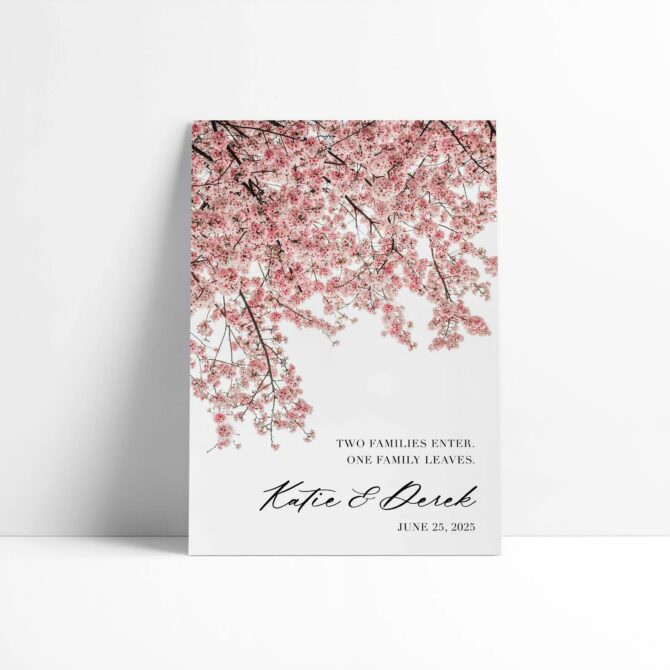 The soft pastel colors and intricate detailing of the cherry blossoms give this wedding welcome sign a romantic and whimsical feel, setting the tone for your special day. The customizable text allows you to add your own personal touch to the sign. Whether displayed on an easel or hung on a wall, this cherry blossom welcome sign is a wonderful way to greet your guests and add a touch of elegance to your event. | available at Etsy for $56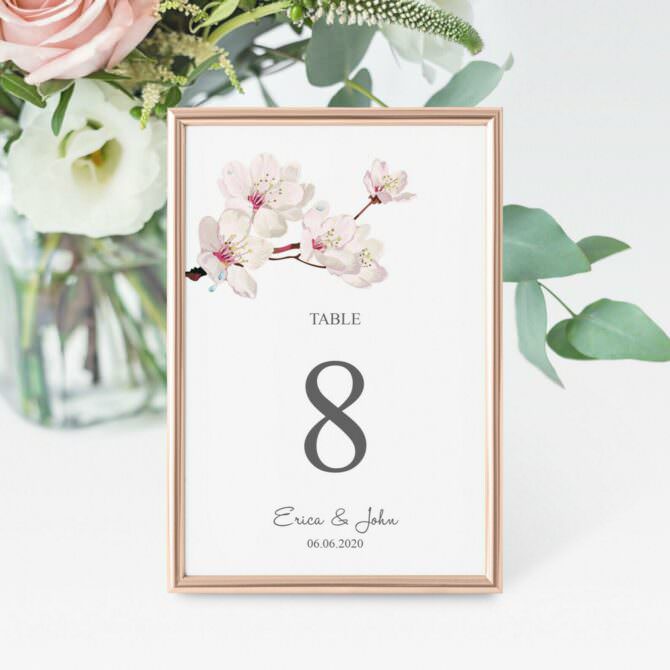 Featuring a lovely cherry blossom design, these table numbers are the perfect complement to any springtime or nature-inspired wedding theme. The downloadable template allows you to personalize the table numbers with your own text and colors, allowing you to incorporate your own wedding brand. | available on Etsy for $7.99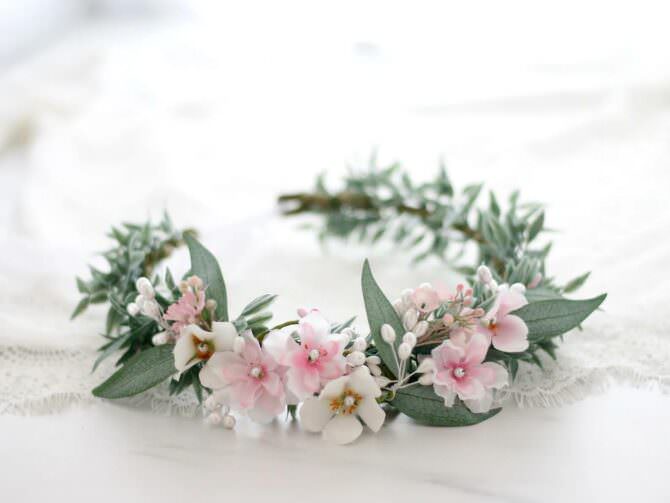 Handcrafted from high-quality silk flowers, this flower crown features delicate blush pink and off-white cherry blossoms arranged in a beautiful and natural-looking pattern. Whether worn alone or paired with a veil, it's a perfect way to add a touch of romantic whimsy to your look. | available on Etsy for $40.92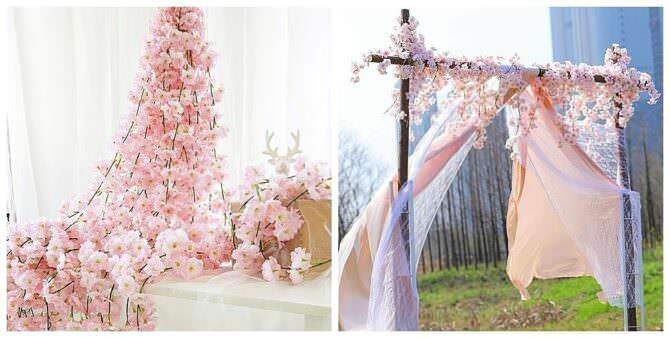 This cherry blossom decor comes as a set of two 5.9 foot garlands and is an easy to way to make a design statement. Hang as a blossom curtain, drape over a table, wrap it around your chuppah … the options are endless! | available on Etsy for $24.99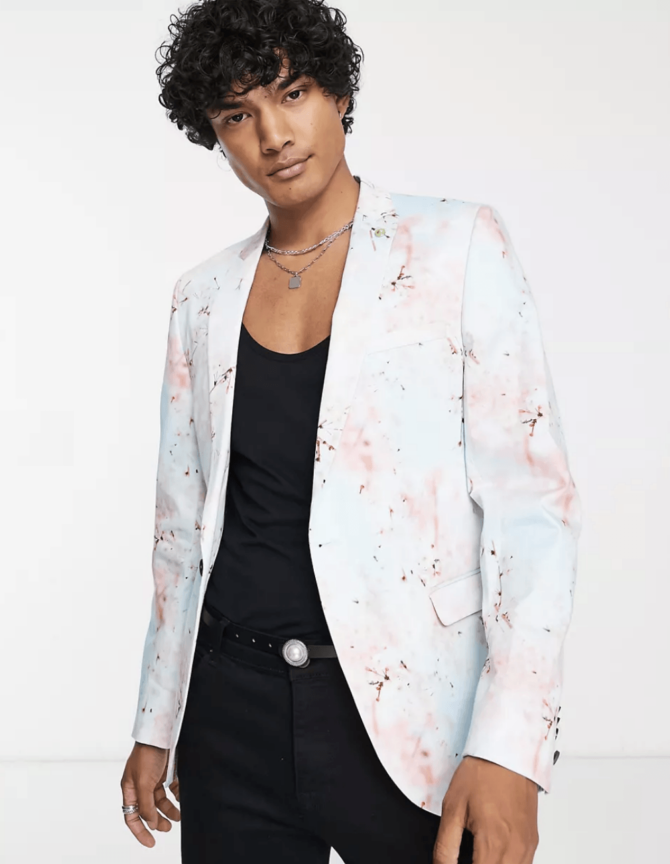 Featuring a light-toned cherry blossom print, this Twisted Tailor skinny-fit suit jacket is a fresh take on the springtime suit. | available at ASOS for $138.60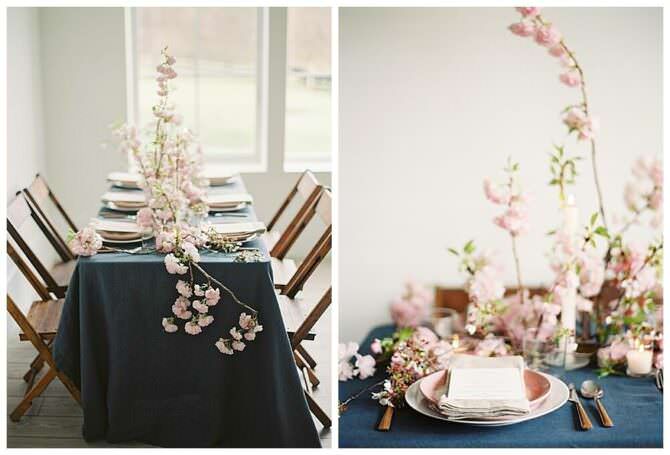 This cherry blossom arrangement extends the length of the table, giving the illusion that the branches are organically growing up from the center. So dreamy! | photo by Angela Newton Photography via Style Me Pretty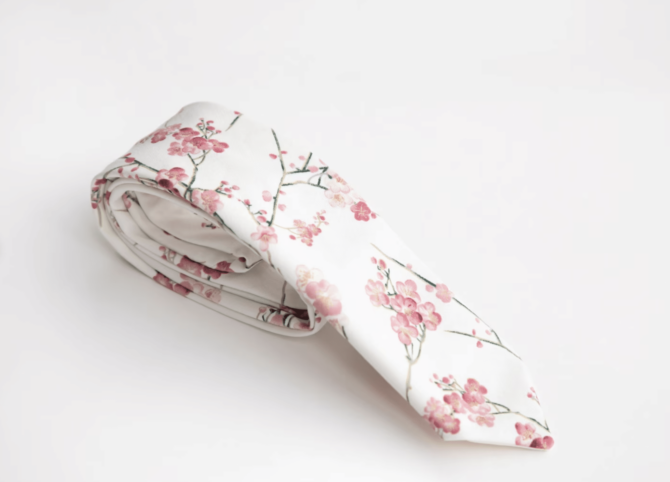 If the above suit is too much for you, try incorporating the theme via your accessories. Sizes range from child to adult, allowing you to incorporate even the littlest members of your wedding party. | available on Etsy for $10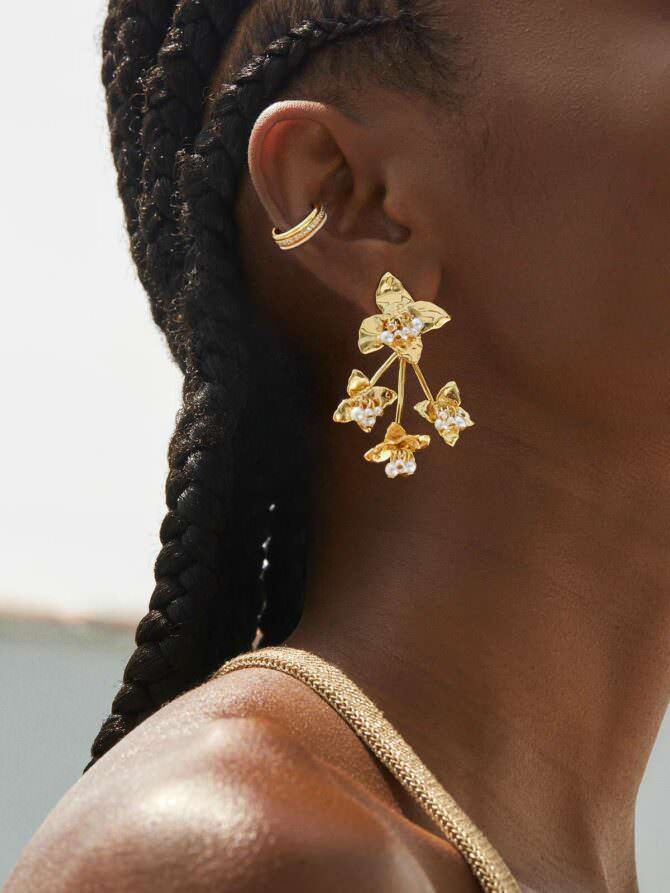 This pair of fashion-forward floral earrings features expertly-crafted gold metal and tiny pearl details, highlighting organic shapes and nature-inspired motifs. | 'Blossom Earrings' available at BaubleBar for $24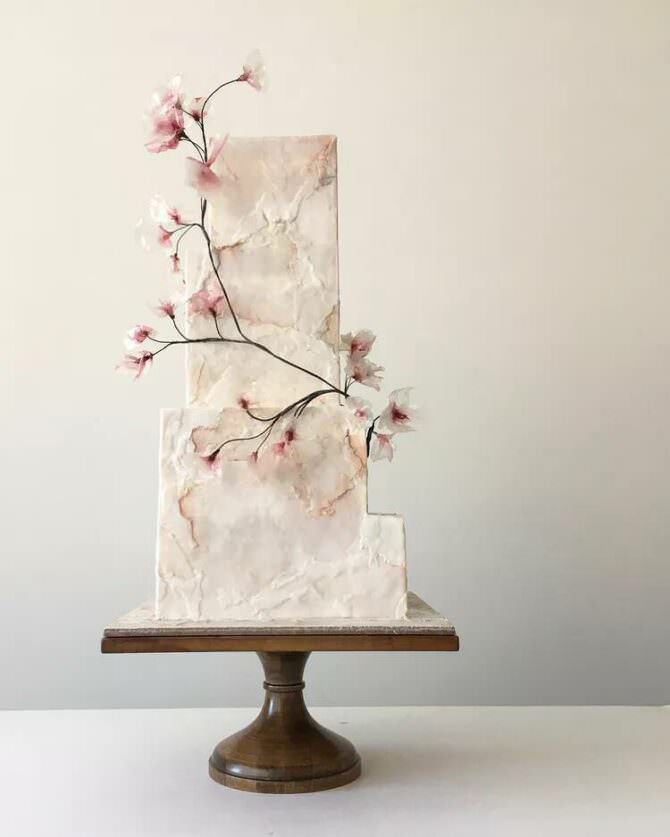 For a more modern take to the traditionally romantic theme, opt for a square cake design with strong texture, such as this beauty by Jasmine Rae Cakes.
Cover photo by Kaitlin Day Photography from Danny and Matthew's Vancouver Cherry Blossom Engagement Session
Editor's note: Some of these links are affiliate-based, which means we earn a small commission when you purchase from these links (and helps our small business keep providing free equality-minded® wedding content to you!)