Since the beginning of 2014, I've worn an engagement band every day. While my ring is perhaps less eye-catching (or light-catching) than the modest-but-luminous diamond my fiancee wears, I still find myself examining it. Here's why: it's not uncommon for masculine-identified folks and men to have little-to-no experience wearing rings before they get engaged or married; in my own case, this is the first time I've ever worn what I consider real jewelry (I used to wear a tiny skull earring in my right ear but wouldn't say it's on the same level as 14k white gold).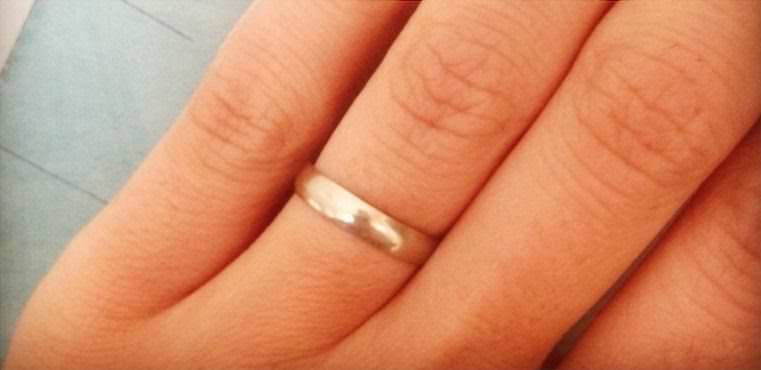 Etsy is, needless to say, an all-encompassing marketplace, but it is not where I would recommend beginning your search. Even if you do have a history of wearing rings, jewelry is tactile, and it's hard to know how a ring will really feel and look in advance of trying it on. Research is key. Drop by your local shops, find out your ring size and try on a variety of rings. Masculine bands typically have a width between 4mm and 8mm; see what weight feels good on your hand, and what looks proportionate.
Shops in Brooklyn such as Catbird and In God We Trust (wisely) have unisex lines. I found my ring at Catbird and could have chosen yellow gold, rose gold or platinum instead of white gold. As many folks do, I'm making up the rules as I go, so I decided to go with white gold for my engagement band, and plan to get yellow gold for my wedding band. Something to note is that gold is a soft metal—14k is soft, 18k is softer, etc.—this means your ring will inevitably get scratched. I chose 14k because I didn't really understand 18k except for the fact that it's a few hundred dollars more expensive (beyond the budget I set in my mind for my fiancee to spend on me), but I'm thankful to know that because I have a 14k band, it's somewhat less vulnerable.
There are also different finishes to choose from: matte or shiny, which is straight-forward enough. Last but not least, you can get a band that's half-rounded so it's more flush with your finger, or you can get a band that's flat like this one. Once you've done your research, then you can visit Etsy to find a ring that possesses all of the things you're looking for.
I consulted a professional, my aunt (Carol Tutera), who's a jeweler. She noted that if you're seeking flatout durability, go with platinum. Keep in mind that it carries a hefty price—platinum's about double the cost of gold. Nothing is immune to scratching unless you look into contemporary metals like titanium. They're not precious metals so they have a price point. Something to remember is that all finishes wear off—about a year into wear, a patina takes their place. But finishes can always be reapplied.
Last but not least, and perhaps this is obvious, but it's wise to take off your ring when you're washing dishes or showering or tinkering on something like your bike, etc. I have a bad habit of not taking my ring off, perhaps because I am guilty of being too romantic.
By Rachel Tutera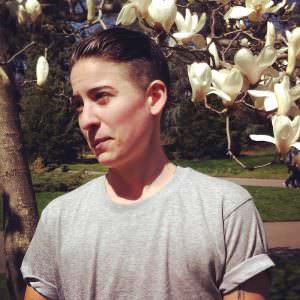 I write The Handsome Butch and work as a clothier for Bindle & Keep. I've measured all kinds of folks for wedding suits, and recently got engaged myself, so I spend a lot of time thinking about weddings. I live in Brooklyn with my fiancee and our tiny dog.