Upcycling can give new life, and new memories, to your wedding-day attire. And designers are taking note.
Finding the perfect outfit for saying "I do," comes with a lot of emotion. Feelings of joy when you look in the mirror can mix with feelings of sadness when thinking about wearing this design only one day for a few hours. Ballgown, jumpsuit, A-line or anything in between, it's not every day, or really any day, you'll get the opportunity to wear this piece again which begs the question, "What happens to the dress after the wedding day?"
Extending the lifespan of such a high-ticket fashion purchase is top of mind for many couples. Combine price with the continued rise in weddings being planned with eco-conscious sustainability in mind, and you get the increasingly popular decision to extend the lifespan of your wedding fashion. The option to rewear your wedding attire (an option that has always been the norm for most suit-wearing soonlyweds) creates exciting possibilities for what it can become.
Some sustainability-focused designers have even placed post-wedding practicality at the forefront of their business. For Brooklyn-based wedding brand Poémia, the ability to wear your wedding dress again is a priority and plays a significant role in their production process from the start.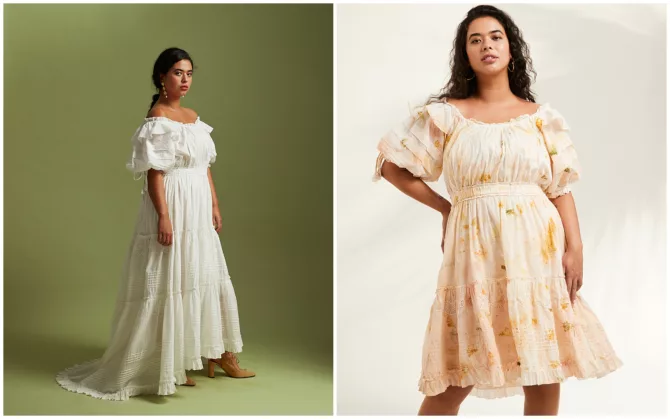 "We specifically design our gowns with the idea that we think there is a way that it will look beautiful cut down," explains Michelle Yom, Poémia co-founder. "If you look on our website, we have images of dresses already cut and dyed because we want to really show what it will look like and that we designed it so you can clip it or use our dye service."
Poémia designs dresses that are not only practical, but already include the option to redesign it for up to 12 months post-purchase.
"Our Ever After package is built into the cost of the gowns," describes Katie Rieben, co-founder of Poémia. "It's a service that we offer with purchase of a Poémia bridal gown. We partnered with a natural dyer in Pennsylvania and have selected three colors to choose from. We also offer a hemming service, so we offer lengths based on height and if you want it to hit the knee, be midi, or just shortened since all of our dresses come with trains."
The outfit you wear on your wedding day is commonly the most meaningful piece of fashion you will own. Having the option to rewear what you wore to your once-in-a-lifetime celebration opens up a world of opportunity to create memories associated with your dress.
For newlywed Leah Consagra, her wedding dress now plays a new sentimental role in her life. Consagra worked with designer Sheila Frank to redesign her wedding dress into a shortened, tea-length style that she wears each year on her anniversary.
When considering upcycling your dress, think beyond just fashion. What else might you enjoy that the fabric from your outfit can be used to create? Consagra took the scraps that remained after Frank's dress transformation and turned them into decorative pillowcases for her home.
"It's a keepsake you can have around all the time," suggests Consagra. "Photos are nice, too, but tangible things are nice to have that little memory of the day that you spent so much time and effort on."
The idea of wear-again fashion looks different for each designer who offers pre- and post-wedding repurposing services. Some designers, such as Frank, will offer upcycling services for dresses from a variety of designers while other brands offer the service for only their own select styles.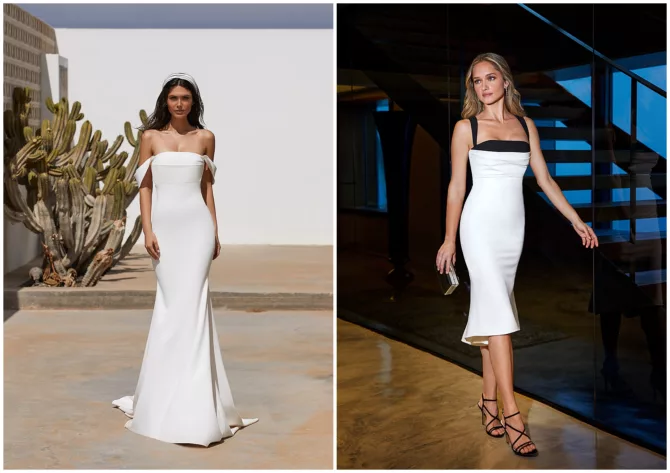 With Spain-based dress designer Pronovias, repurposing comes in the form of their Second Life offer. A selection of Pronovias dresses have been redesigned by Alessandra Rinaudo, the company's Artistic Director. When purchasing a Pronovias dress, shoppers can look for any of more than 50 styles marked "Second Life" on the company's website. These designs are eligible for alteration up to 12 months after pick-up from a Pronovias store, a service which is built into the cost of the original purchase.
Bridal designer Nadia Manjarrez of Mexico envisions her dresses with future upcycling in mind, whether the owner wants a simple alteration or a completely different look. Manjarrez's post-wedding alterations are completely customizable to give you exactly what you are looking for in a new outfit. Pricing varies based on the time and work that goes into recreating the dress, a process that Manjarrez is hands-on in directly with the customer. "I would hope that all my clients would come back to me and make something else from their bridal outfit," says Manjarrez. "It would be huge if this turned into some sort of tradition that you do with your dress."
Depending on who you work with, the decision to upcycle your look does not always need to be made at the time of purchase, but selecting a dress with the plan in mind definitely opens up additional opportunities for the future design process.
"Try to buy a dress that wasn't altered," recommends Frank. "When things are altered, typically a seamstress has cut off seam allowance. The cheaper the dress, the less seam allowance, and that's hard to work with when you're altering size."
Deciding what you'd like your outfit to become post-wedding is a seemingly limitless decision. If the idea of repurposing is on your mind, ask yourself a few questions to help narrow down what it is you would like a designer to create.
Do I want this to be an entirely new piece of fashion, or a simplified version of my current style?
Is keeping this outfit formal a priority or would I prefer it shortened or dyed for a more casual look?
Do I want to repurpose it into something for myself, or do I want to share parts of this redesign with loved ones?
With any trend, increased availability comes from demand. If upcycling your wedding attire is top of mind, it's important to talk with your wedding fashion retailer and contact designers to inquire what, if any, repurposing services are currently available or may be available in the future for the outfits you have your eye on.
Written by Emily Rochotte, originally featured in Love Inc. V8 | Cover photo by Gustavo Fring