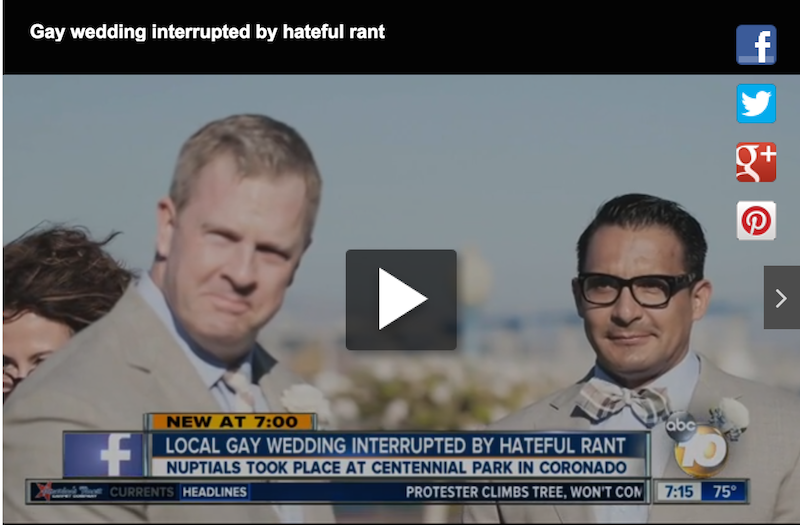 Imagine standing at the altar, with the love of your life standing beside you as family and friends look on, beaming with celebration. The intense feelings of joy, love and gratefulness wash over you as you take in a moment that you will never forget. Now imagine having that moment stolen from you, slashed with hateful slurs from an onlooker. That's exactly what happened to Arizonians Oscar De Las Salas and Gary Jackson during their intimate destination wedding in a park in Coronado, Calif., a resort town near San Diego. 
As the processional music faded and the ceremony began, someone from a nearby condo complex began shouting, "homos" and "go home homos."
"It was a moment of fear," De Las Salas told a local news station. "I'm thinking, 'God forbid this person has a gun and decides to open fire.'"
The rants continued, puncturing their vows and tainting their first kiss as husband-and-husband. "It's just sad that that is now ingrained for the rest of our lives in our wedding day," said Jackson. "That person took a chunk of what should have been a beautiful day and turned it into something nasty and full of hate."
The local police have stated that they are investigating into the identity of the man and looking to determine if it was a hate crime or free speech. Meanwhile, Coronado residents are disgusted by the display of hate in their hometown and have offered to give the couple the beautiful celebration that they deserve.
"We wanted to make it right," said Alisa Kerr, who is organizing the grooms' vow renewal alongside Loews Coronado Bay Resort, several bands and restaurants. "We didn't want that to be a reflection of Coronado. We take a lot of pride in being helpful, kind, generous and accepting. Let's celebrate their love and show them people are one thing that makes Coronado a special place to be."