AMSALE has once again reimagined the modern wedding gown. Fueled by optimism, the luxury design house unveiled its Fall 2022 collections. It's a season of rebirth, wherein pure creativity, emotion and design come together like a butterfly emerging from the cocoon.
"Our direction this season was to focus on diversification and craft, so that each gown represents the vision of a different bride," says Chief Creative Officer Sarah Swann. "The collections feature an exciting variety of textures, silhouettes and styles." This season also represents a homecoming for AMSALE Designer Michael Cho, who returned to the label in March. Cho previously worked closely alongside the brand's esteemed late founder, Amsale Aberra, for more than eight years.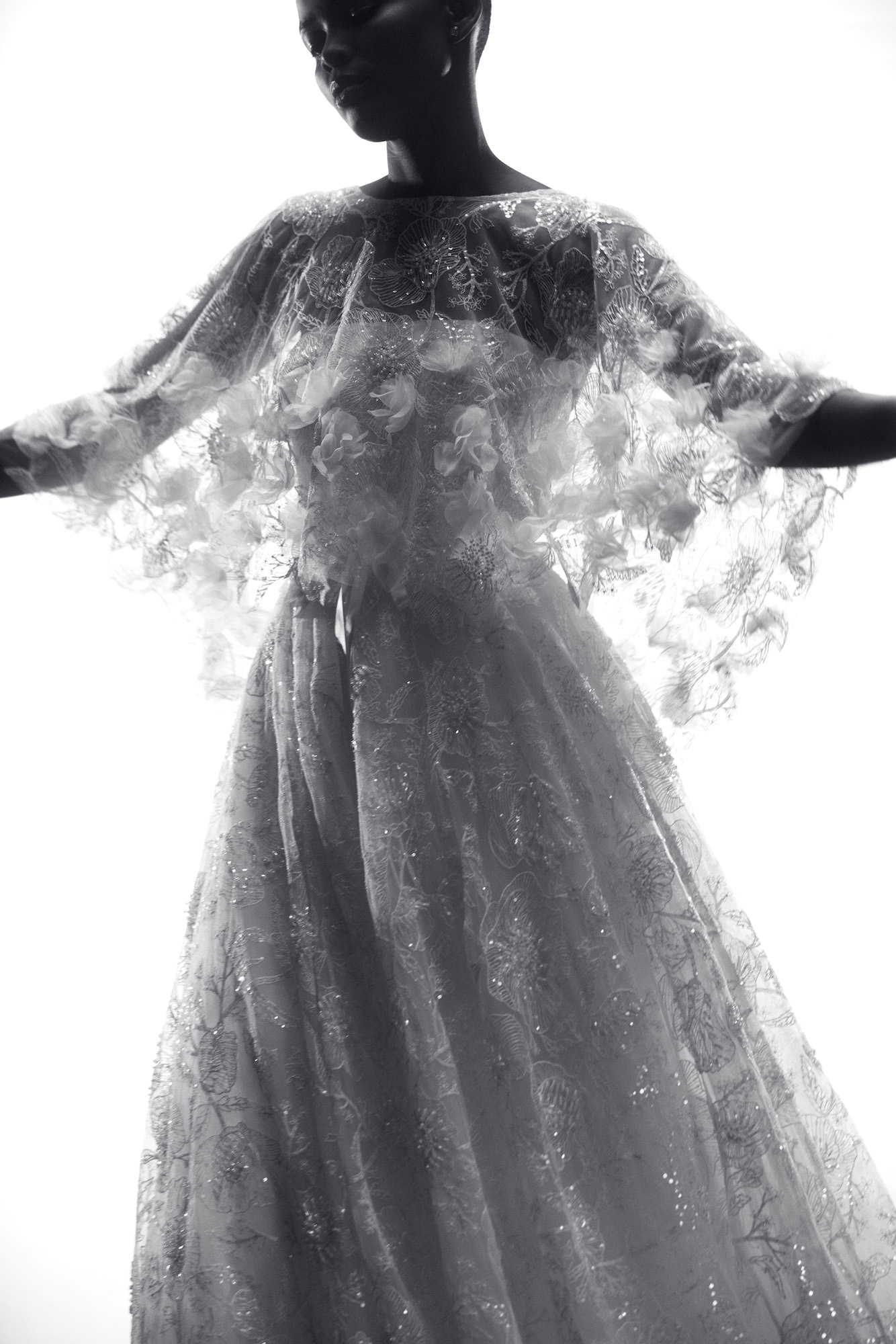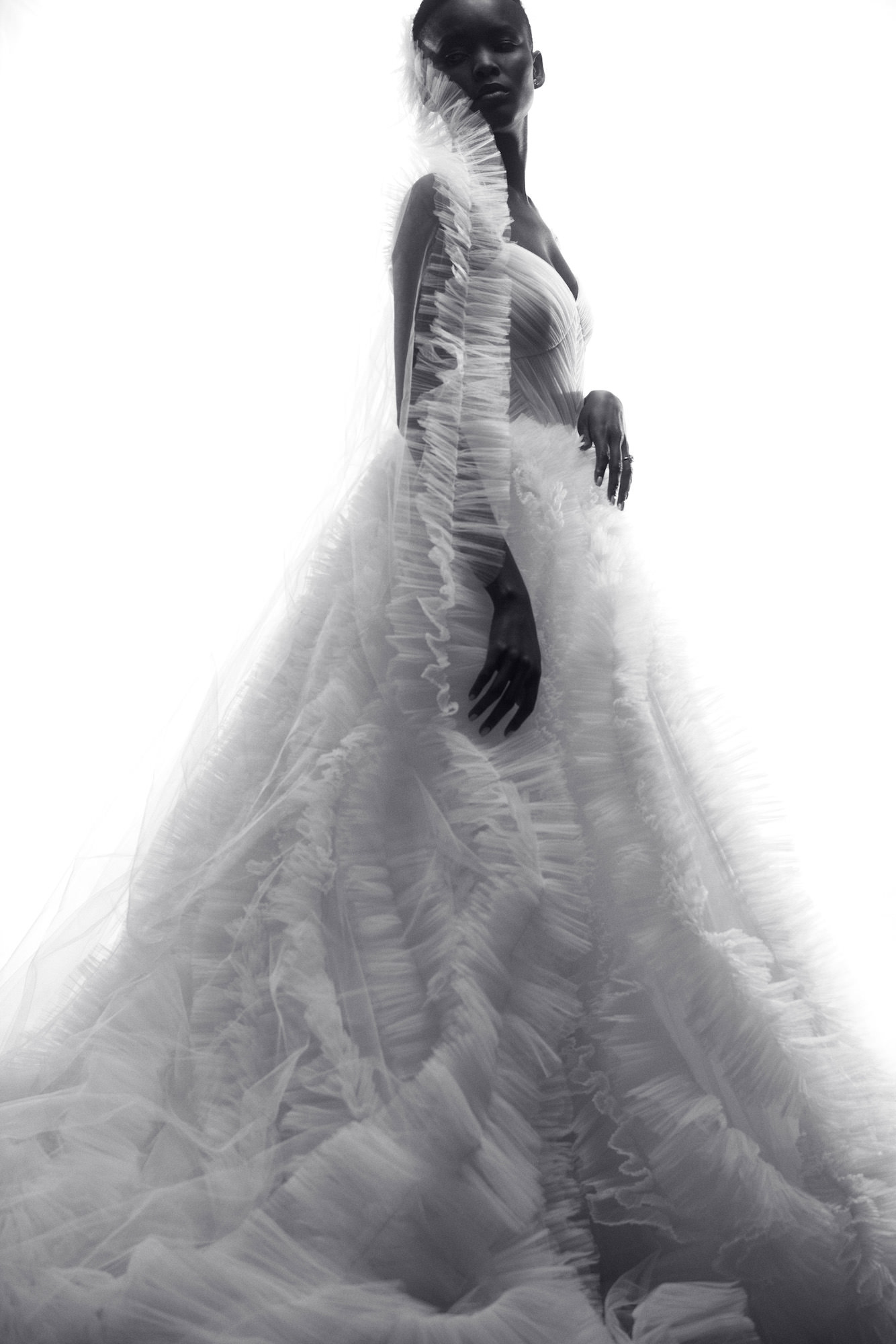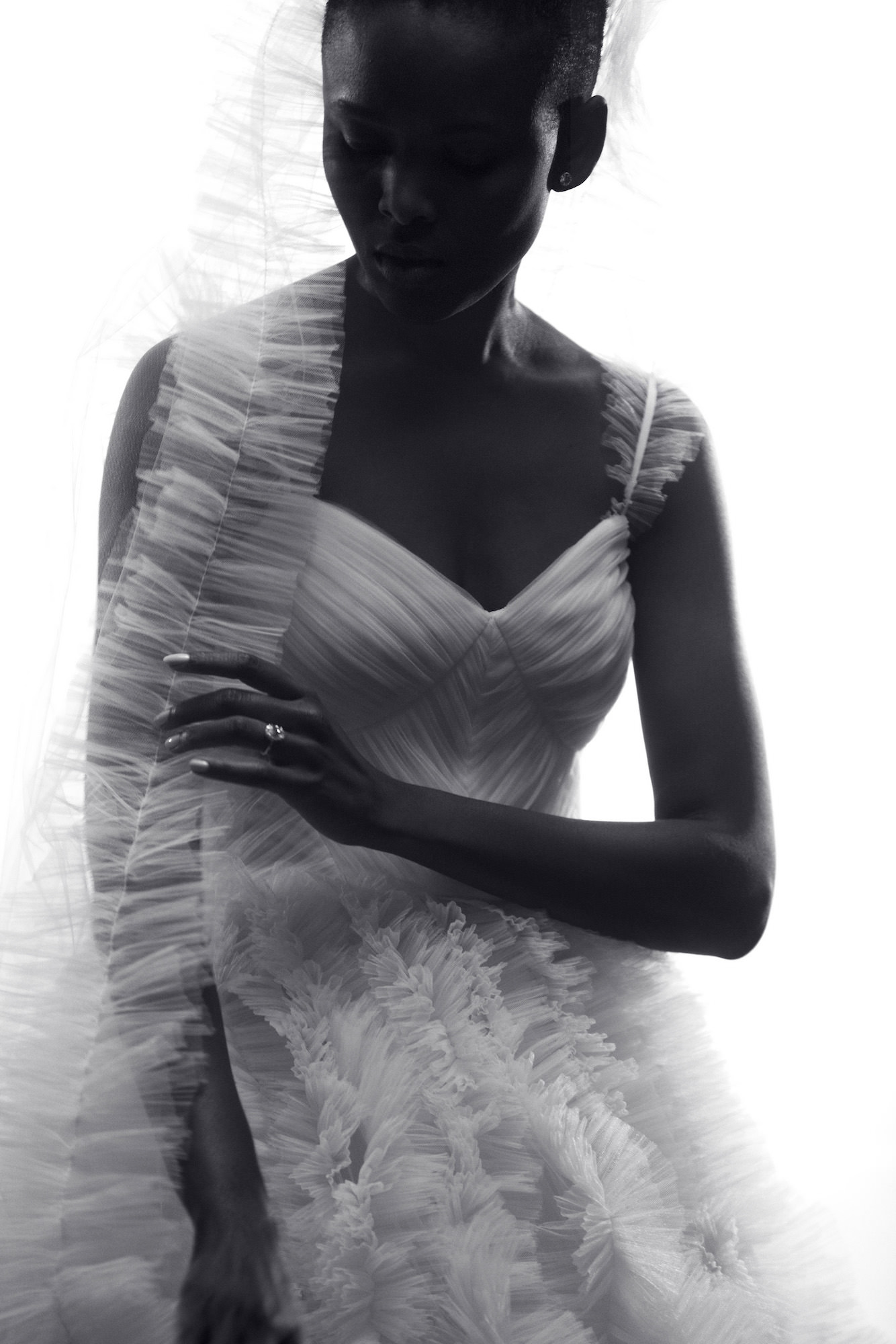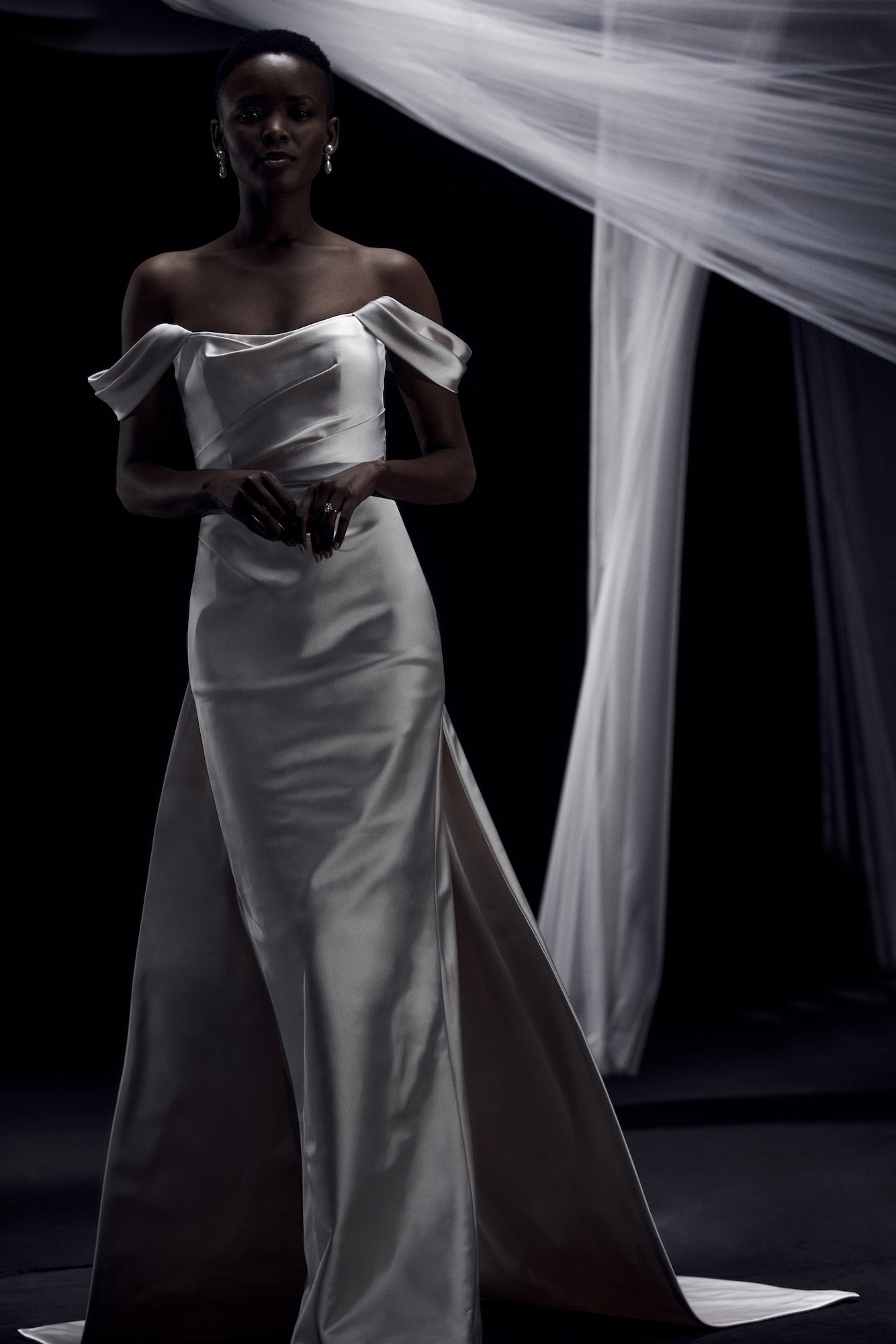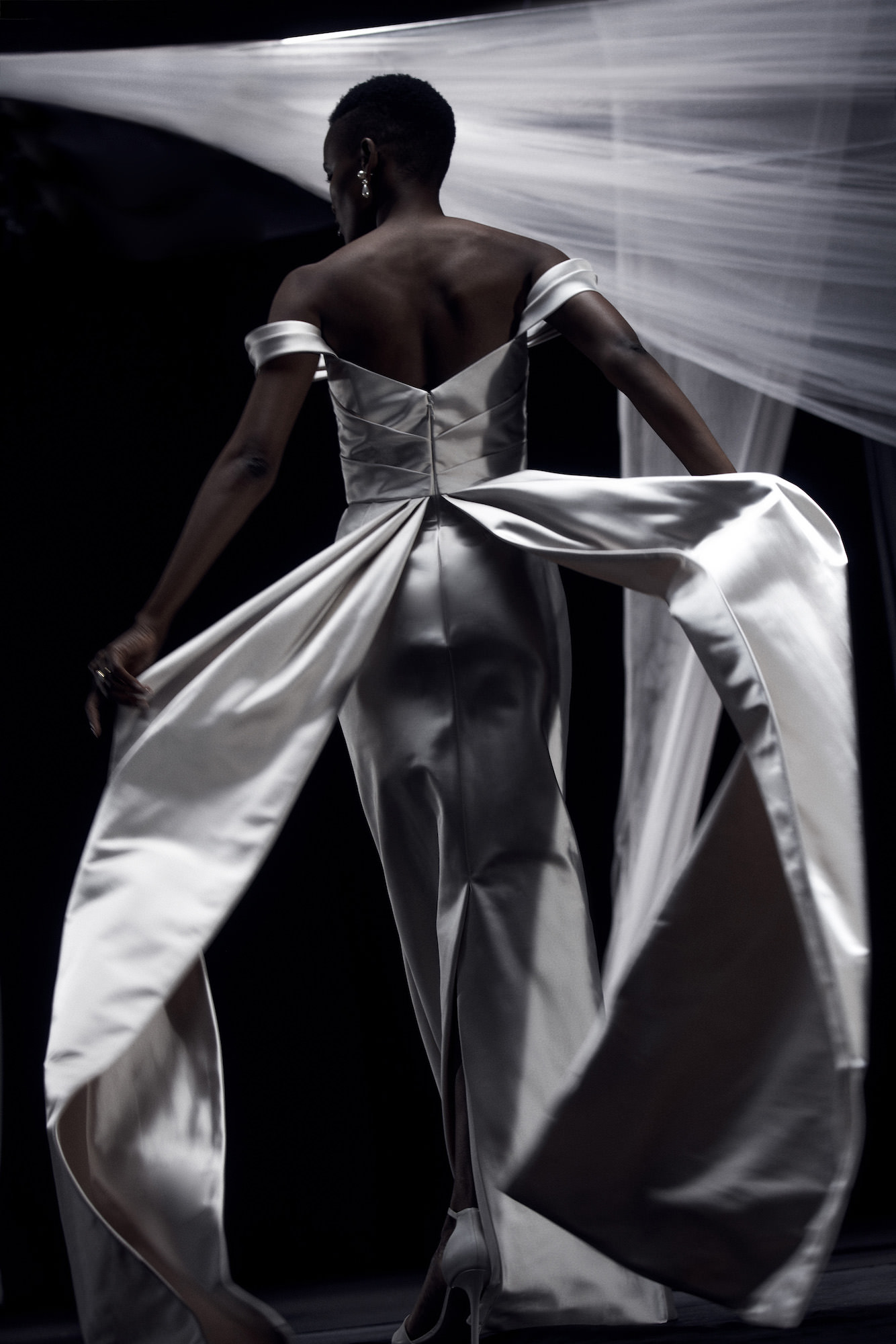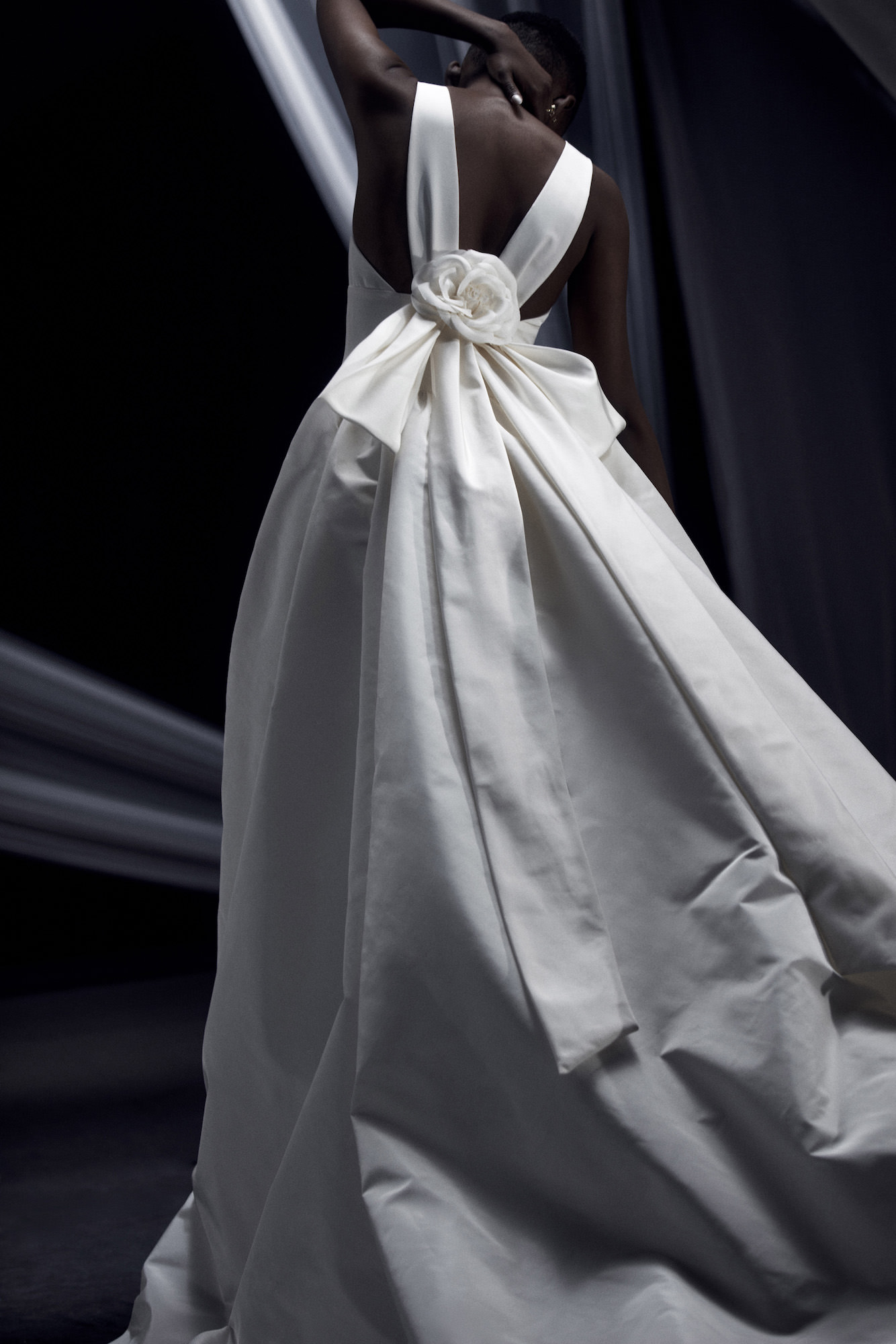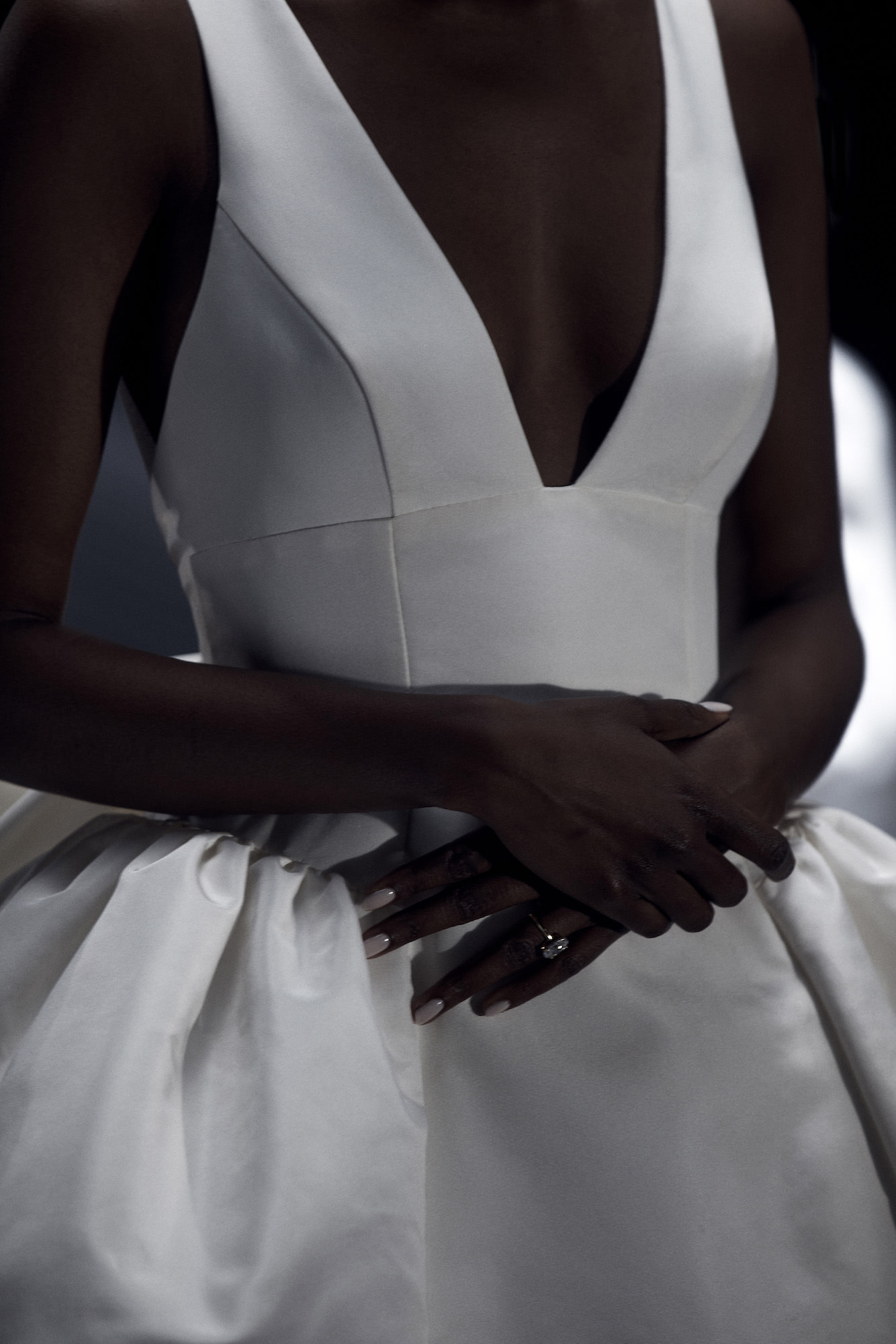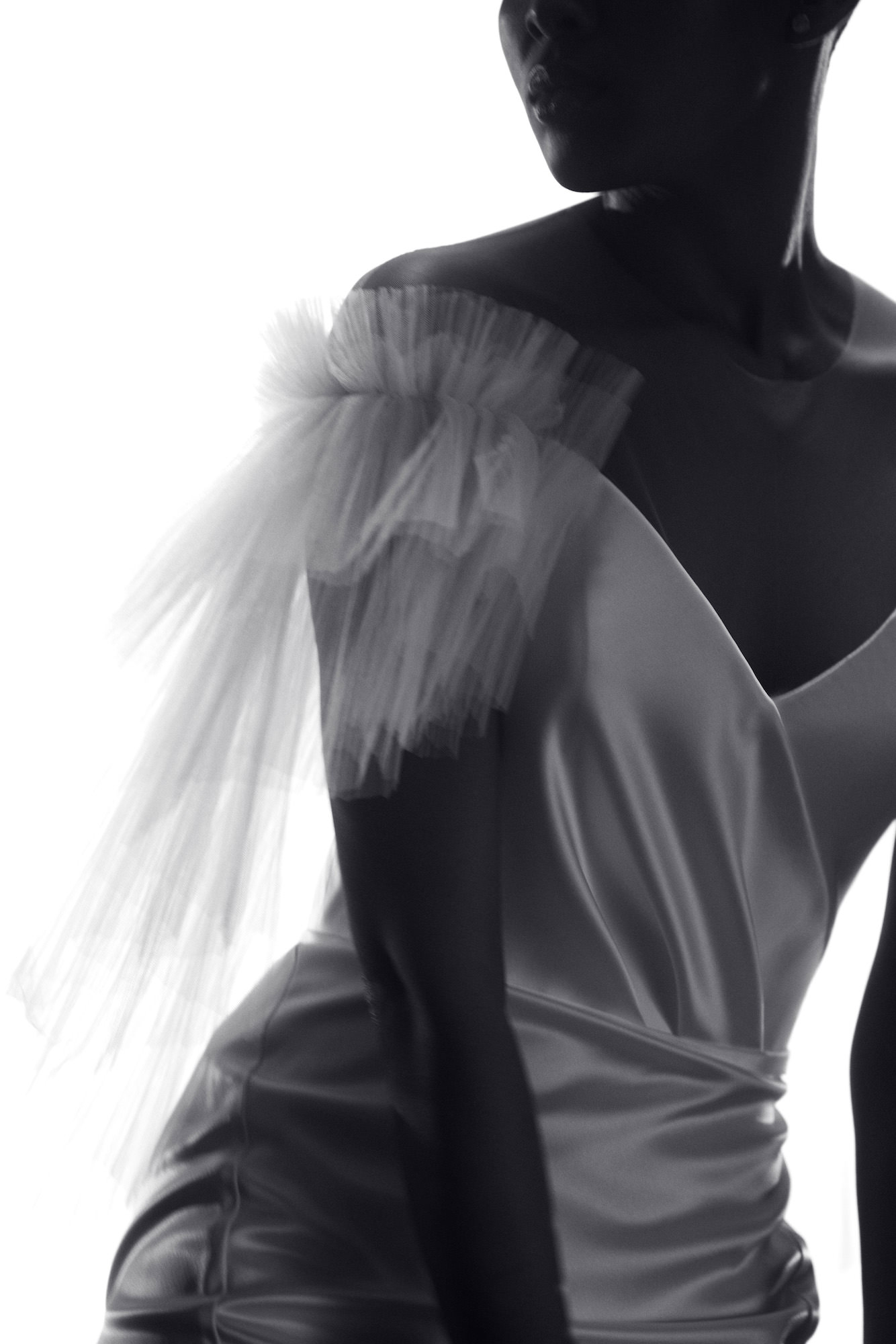 For Fall 2022, Cho's imagination was sparked by the hidden world of forest streams where life is nurtured and renewed amongst lush mossy banks. Sweeping architectural lines found in the silhouettes are reminiscent of the graceful carvings along the stream bed left by decades of gently flowing water. Branching patterns worked into the embroideries reflect the climbing flora that bloom along mossy pebbles. The lamella of rare aquatic mushroom caps inspired ribbed threadwork embellishments, while butterfly koi transform into romantic trains and skirts of pleated tulle. In contrast to the romantic natural world, Cho was also influenced by the old world of the Mediterranean region, where artistic bas relief designs carved from precious stone and sculpted from plaster adorned the architecture. "After more than a year of uncertainty and harsh realities in the wake of the pandemic, I wanted to bring to our brides a hopeful vision of renewed life and reinvigorated romance, like seedlings budding into a new world," Cho says.
AMSALE's first major rollout since before the pandemic, today's launch included all ranges within the bridal house: AMSALE, Nouvelle Amsale, Little White Dress, Amsale Bridesmaids and Amsale Evening.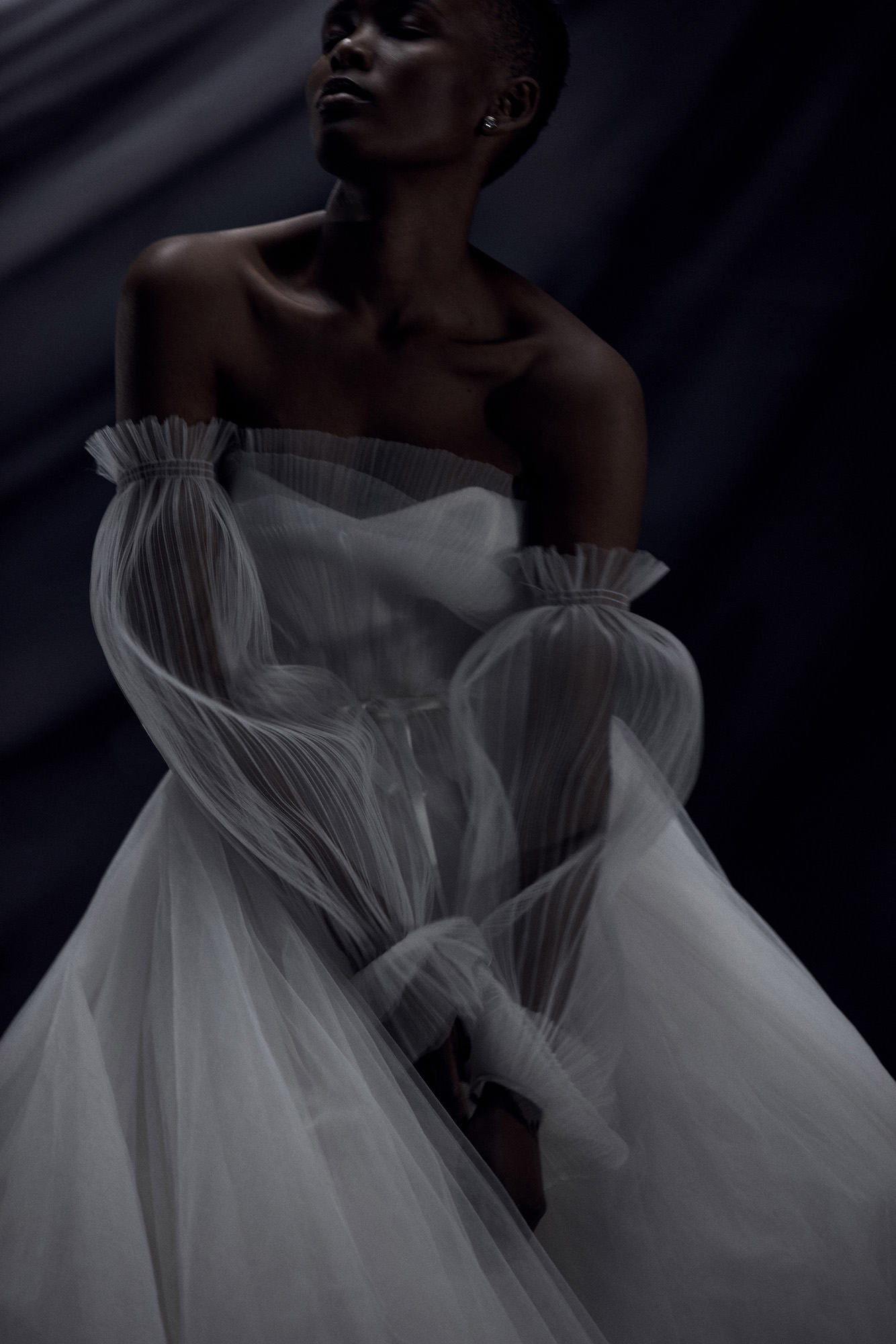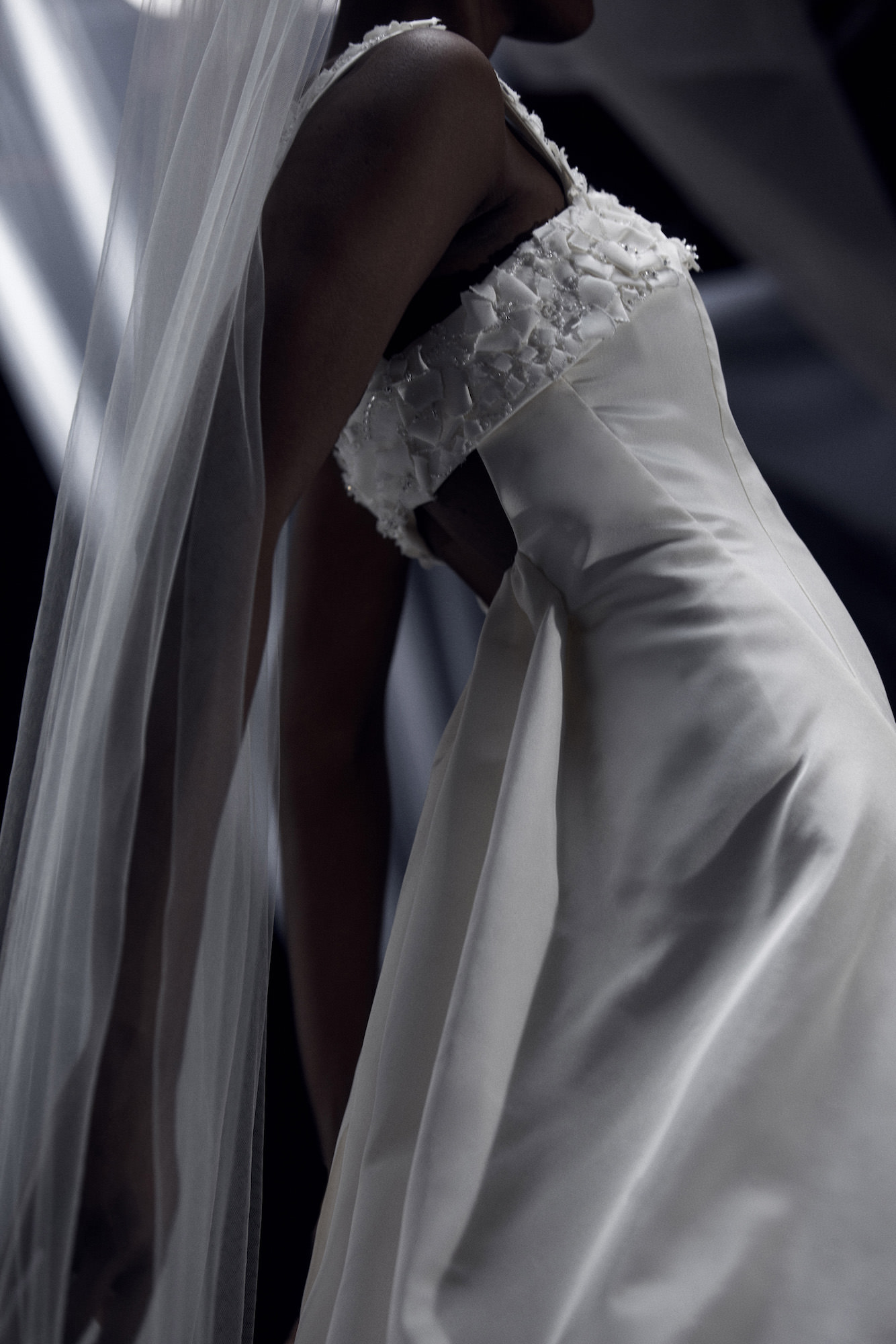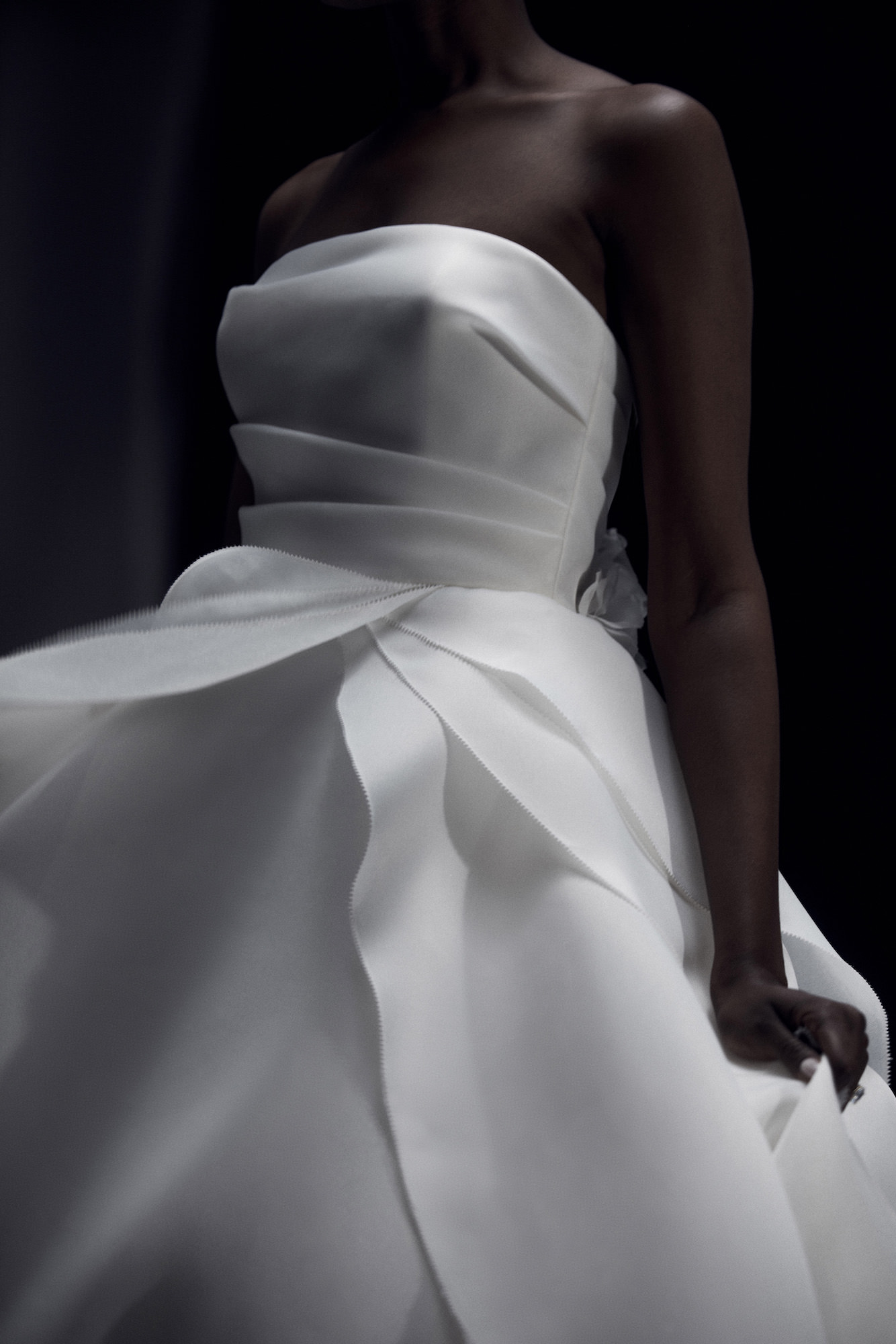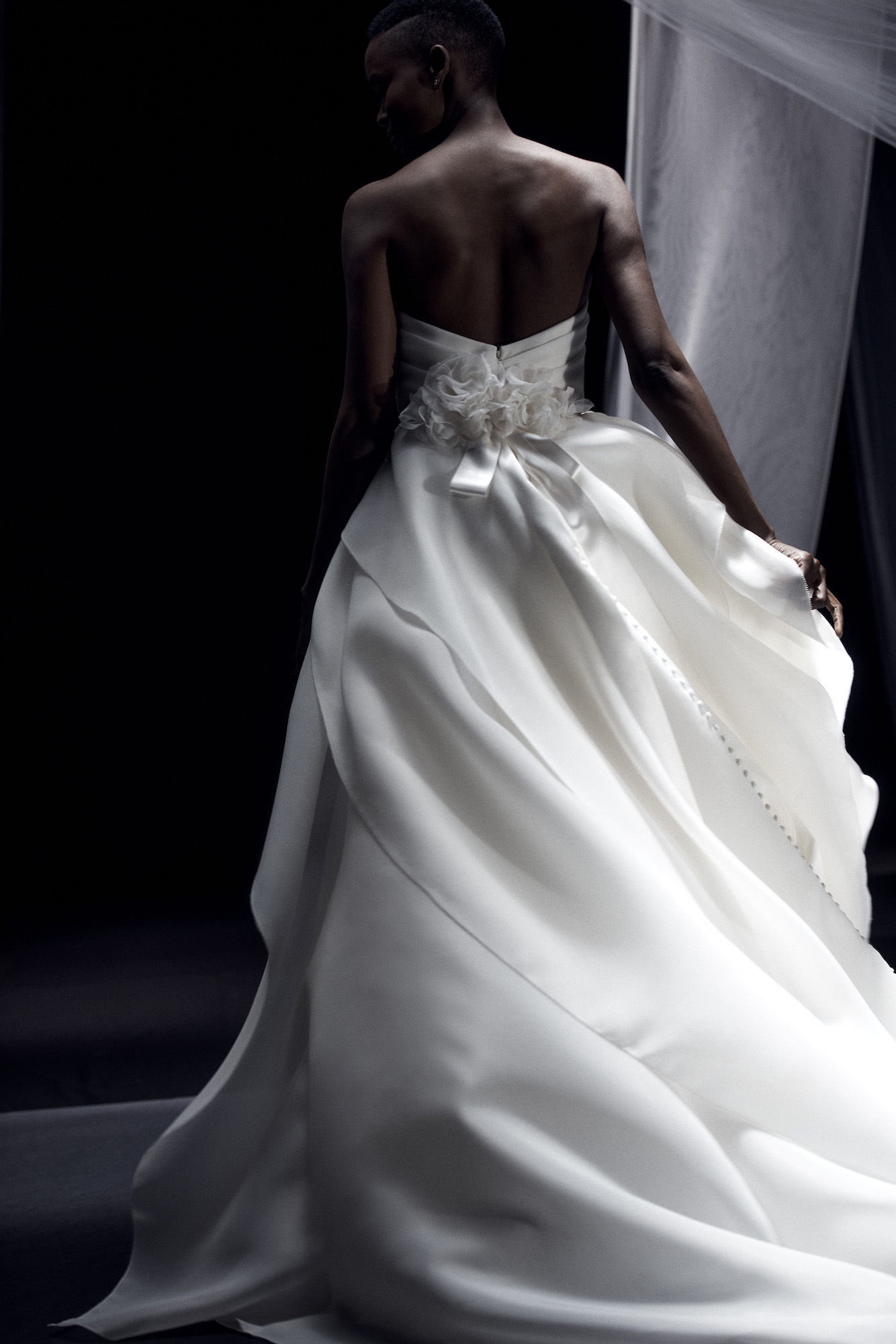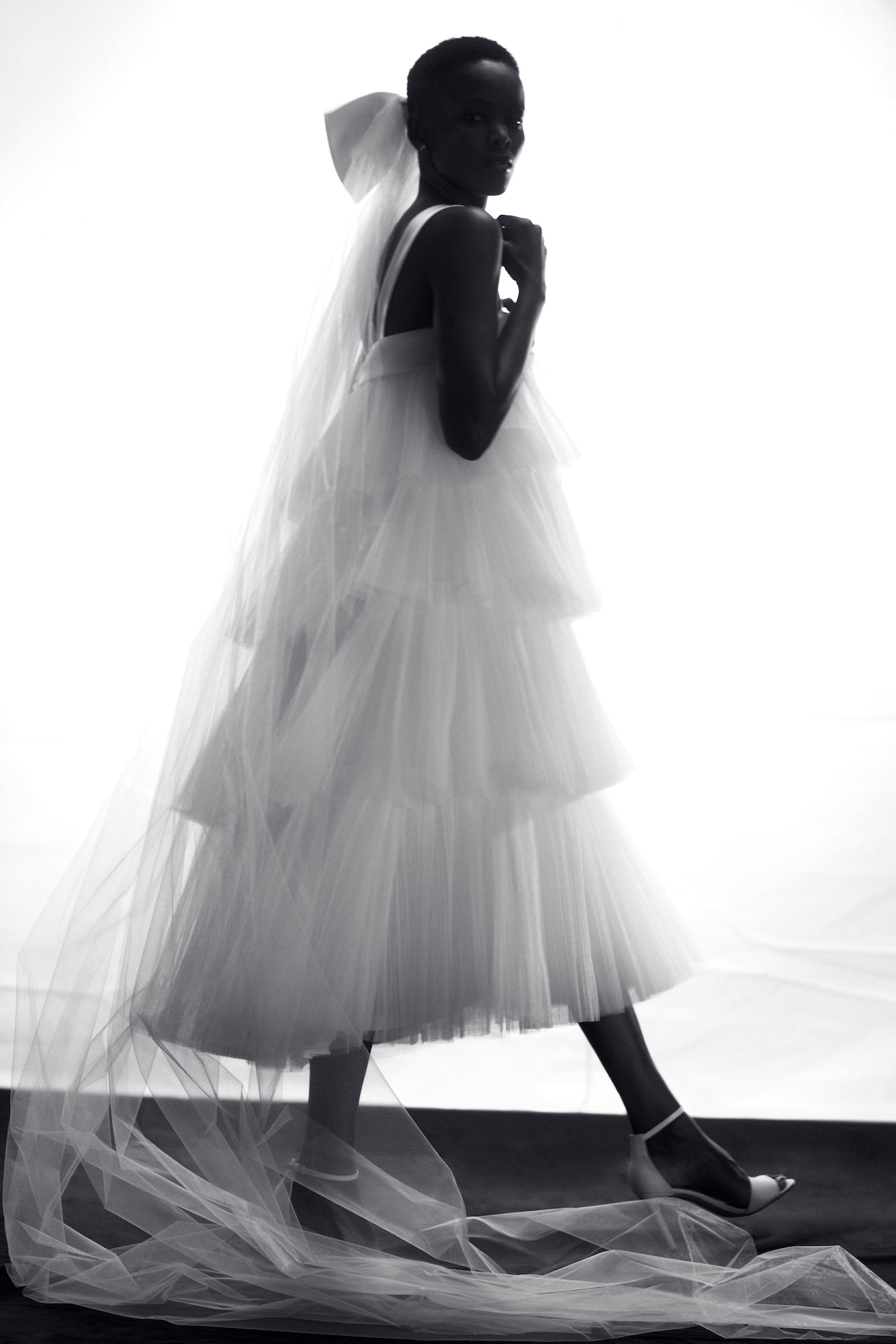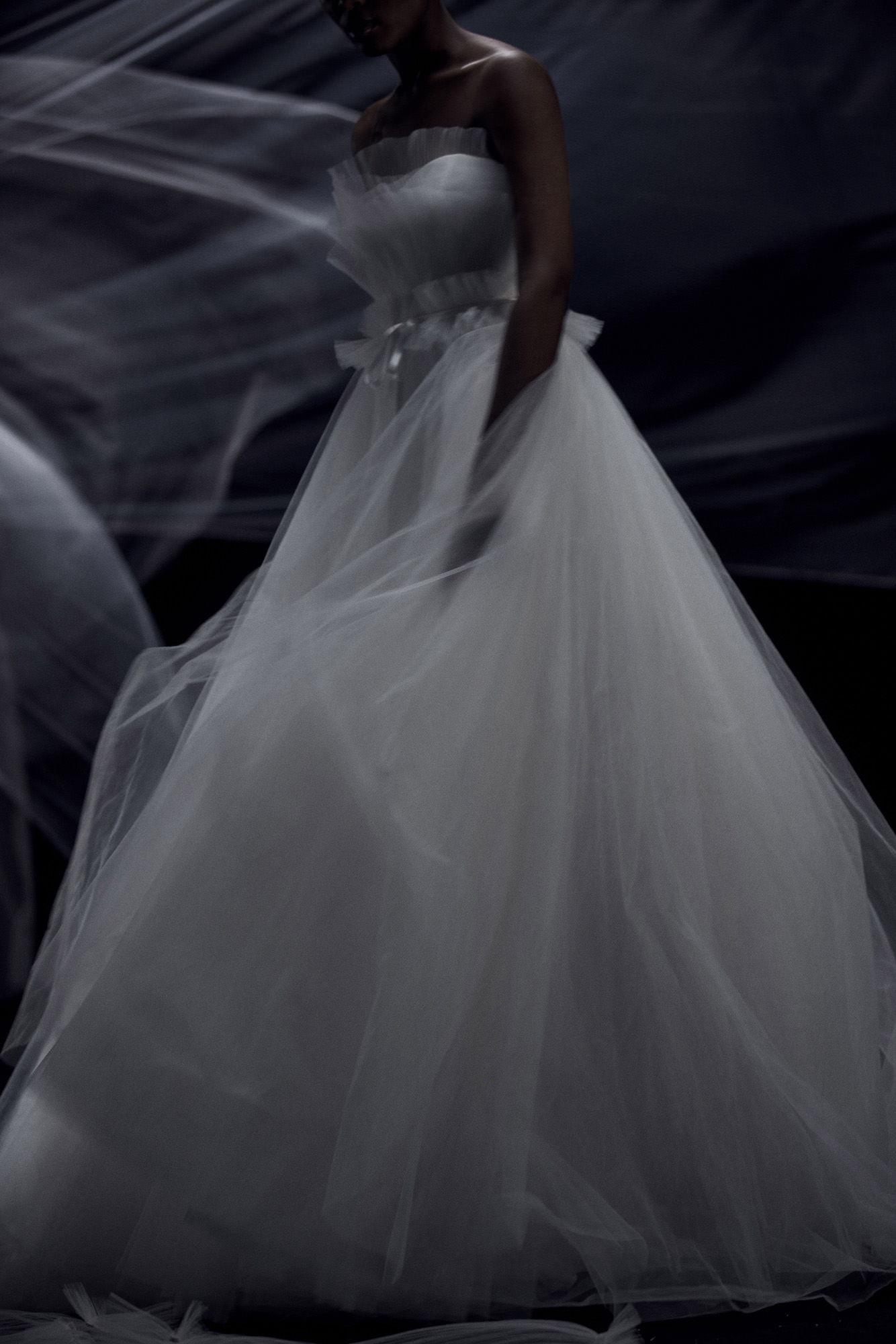 AMSALE
The namesake collection blends contrasting textures, intricate details and structured silhouettes in 19 incredible gowns. Cho used innovative couture techniques for details rarely seen in today's bridal industry, such as floral embellishments etched from milky plexiglass, custom fishtail-like pleated tulle finished with hand-fluted edging, and lightweight corsetry constructed with stretch organza. "In contrast to the sweeping architectural lines of bas relief design, we layered delicate
die cut flowers to create embroidered bouquets that gently shimmer as our brides glide down the aisle or dance under the moonlit sky," Cho says. "By mixing delicate fabrics like tulle with thicker fabrics like silk faille, we sought to mimic the interplay of light and shadows seen within the ethereal atmosphere of the deep forest."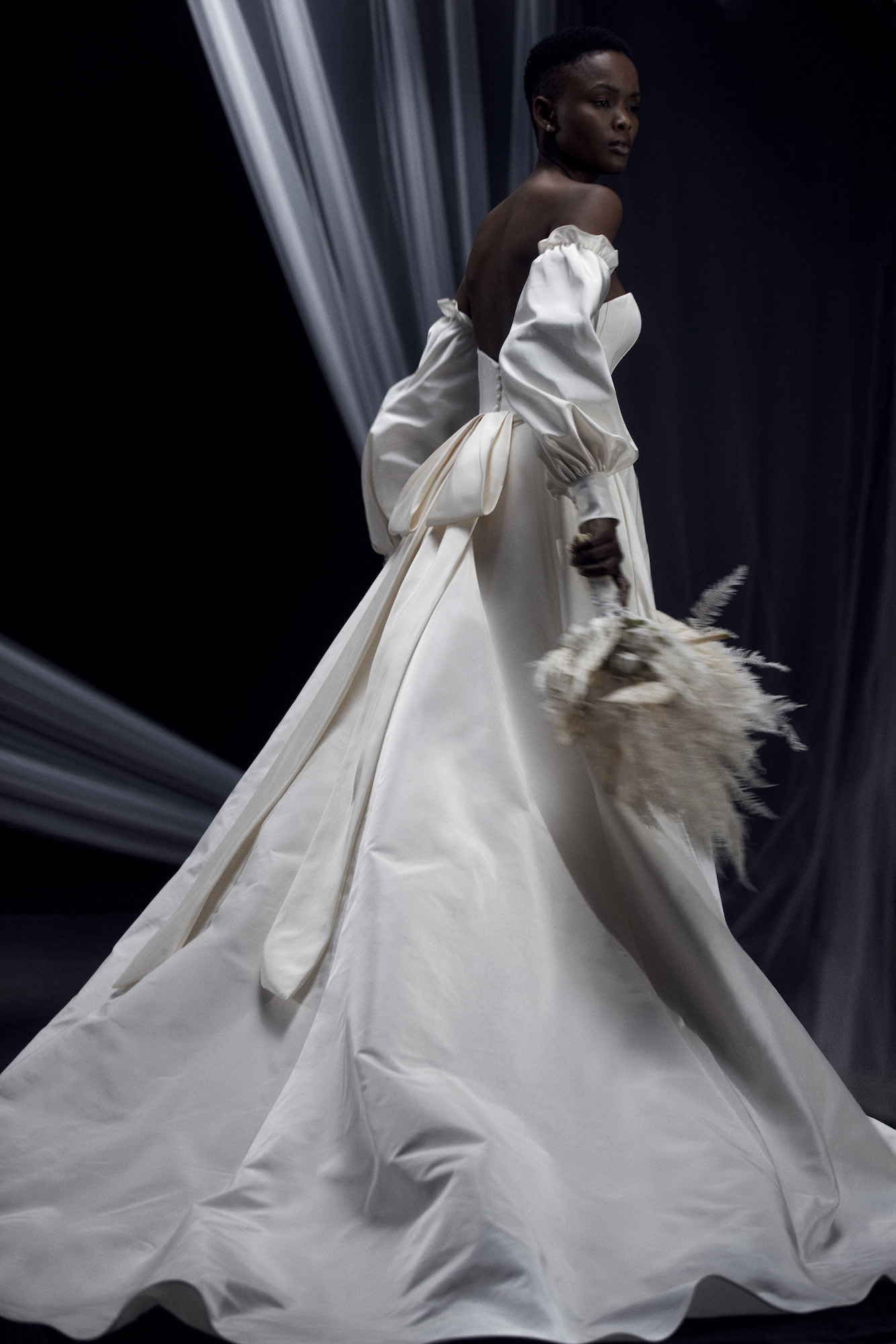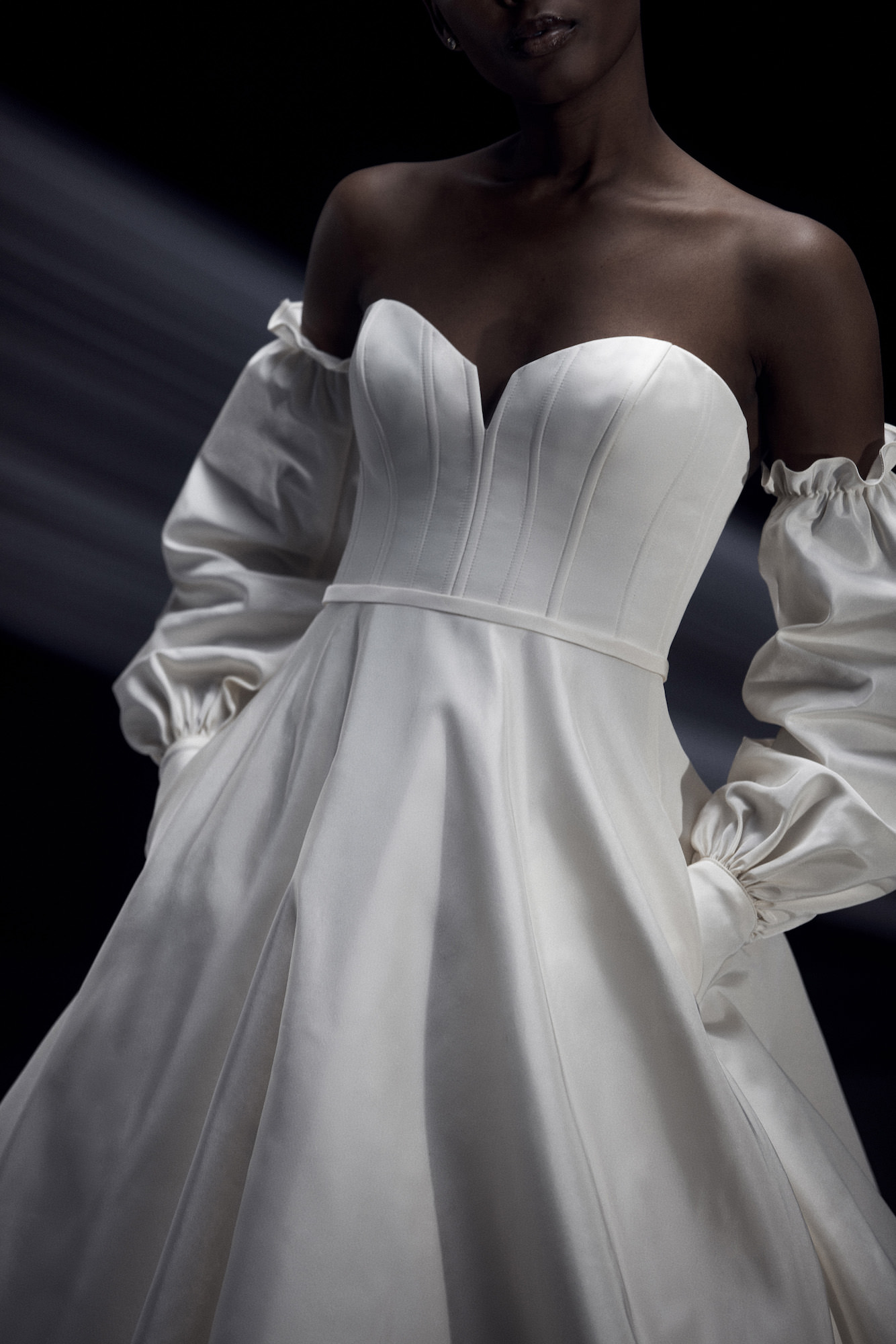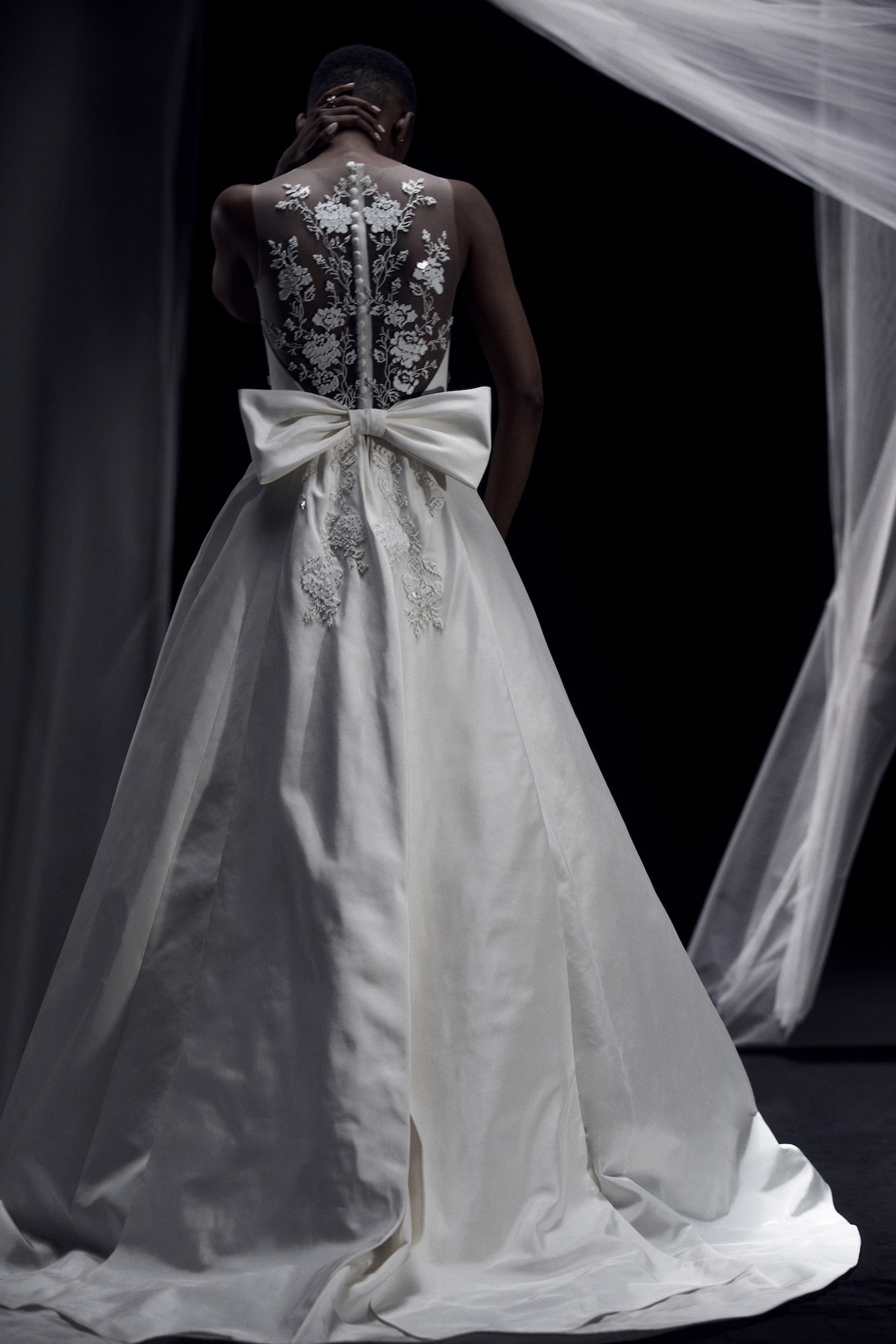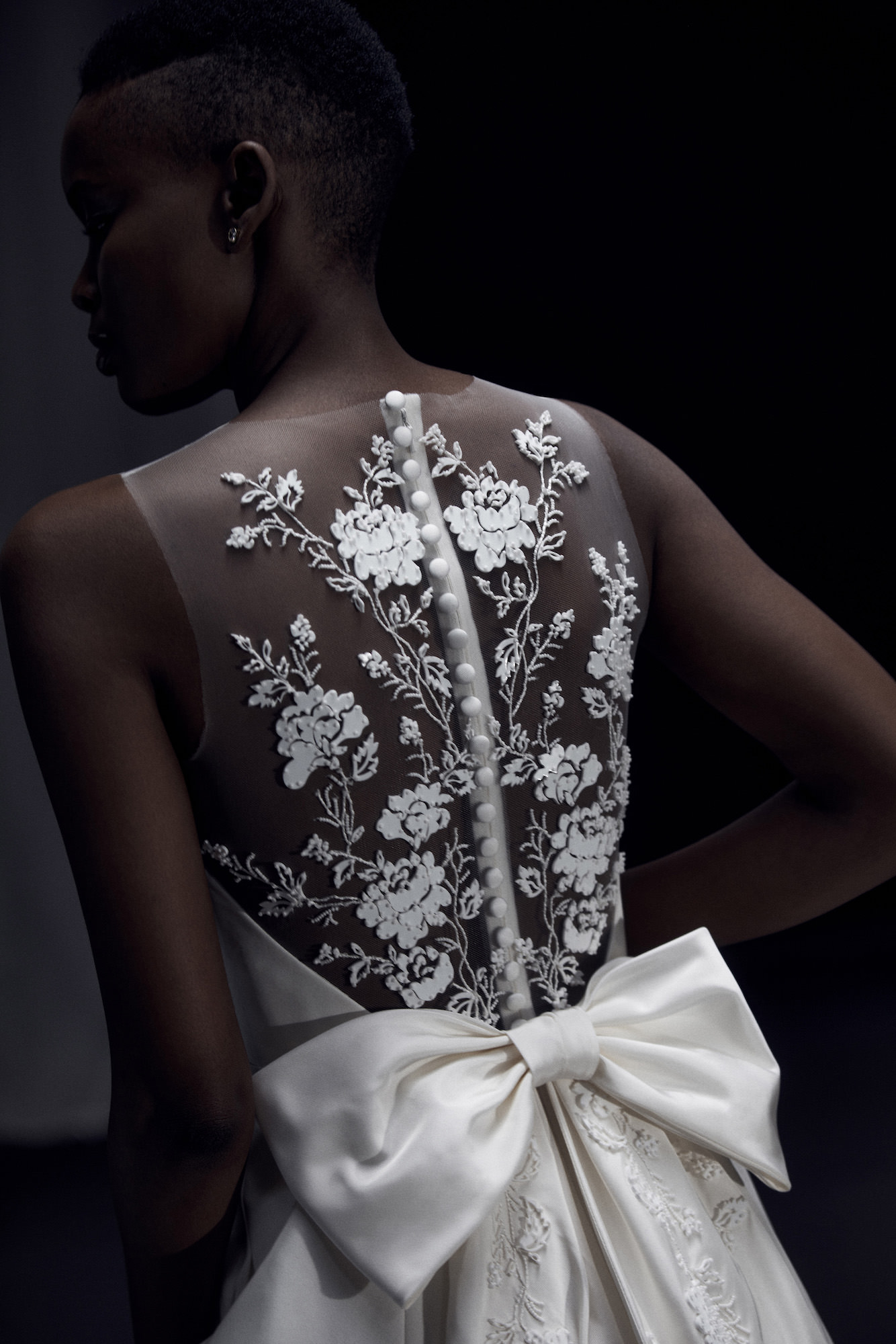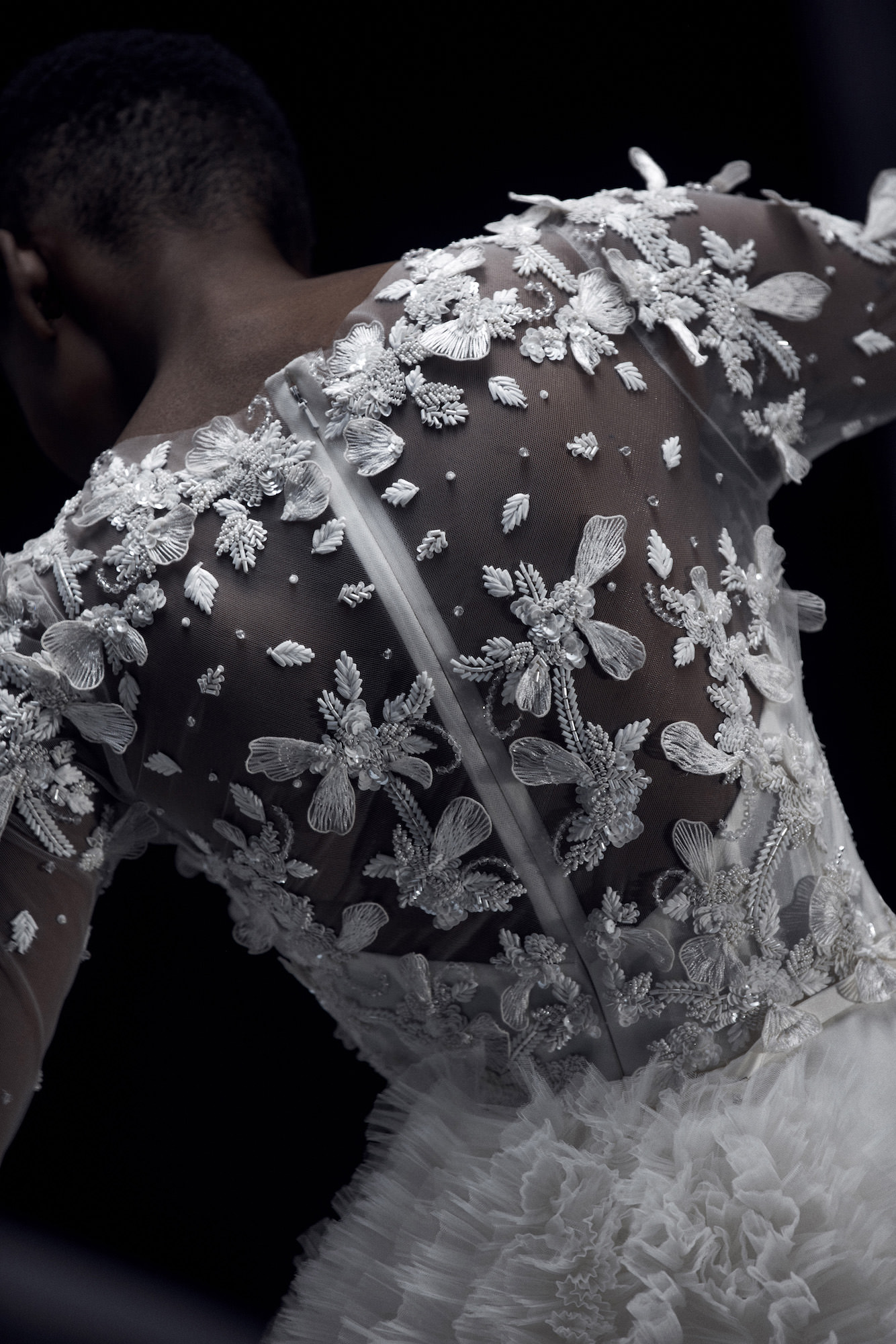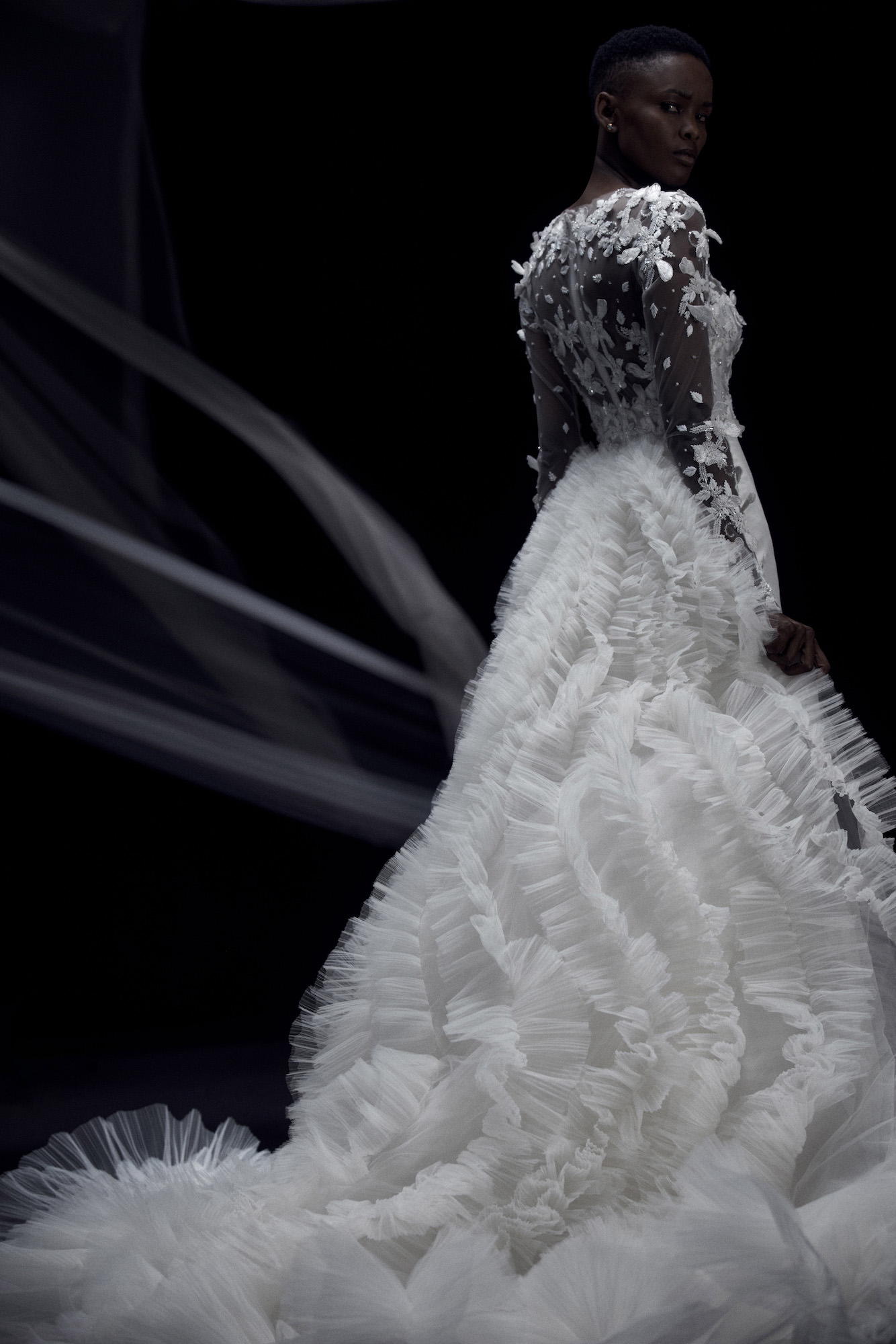 Nouvelle Amsale
The Nouvelle Amsale Fall 2022 bridal collection was inspired by historical elements to create gowns for the modern bride, putting a unique yet classic spin on 12 pieces. "We endeavored to capture the spirit of ancient sculptural techniques known as bas relief and haut relief, but through the modern lens," Cho says.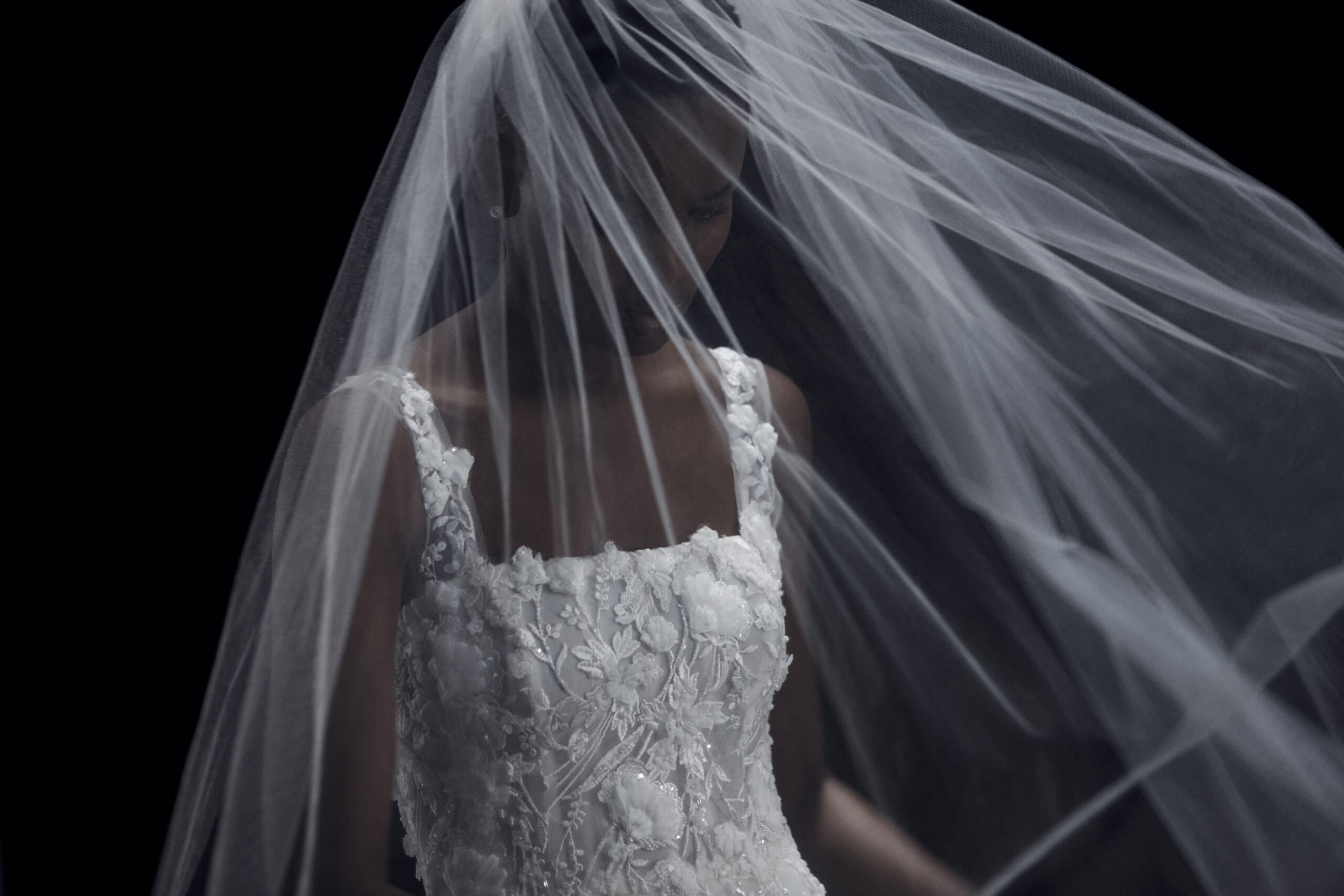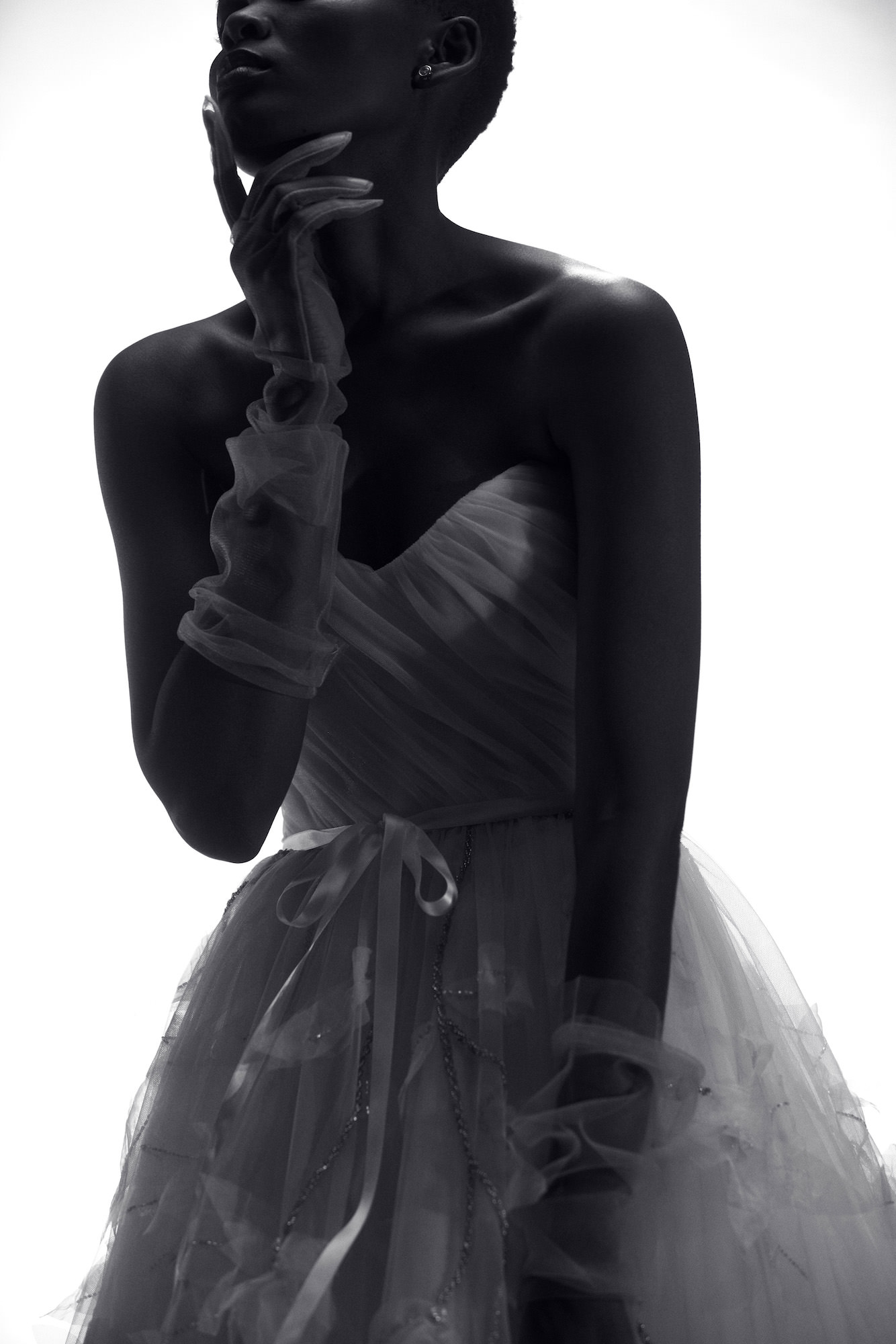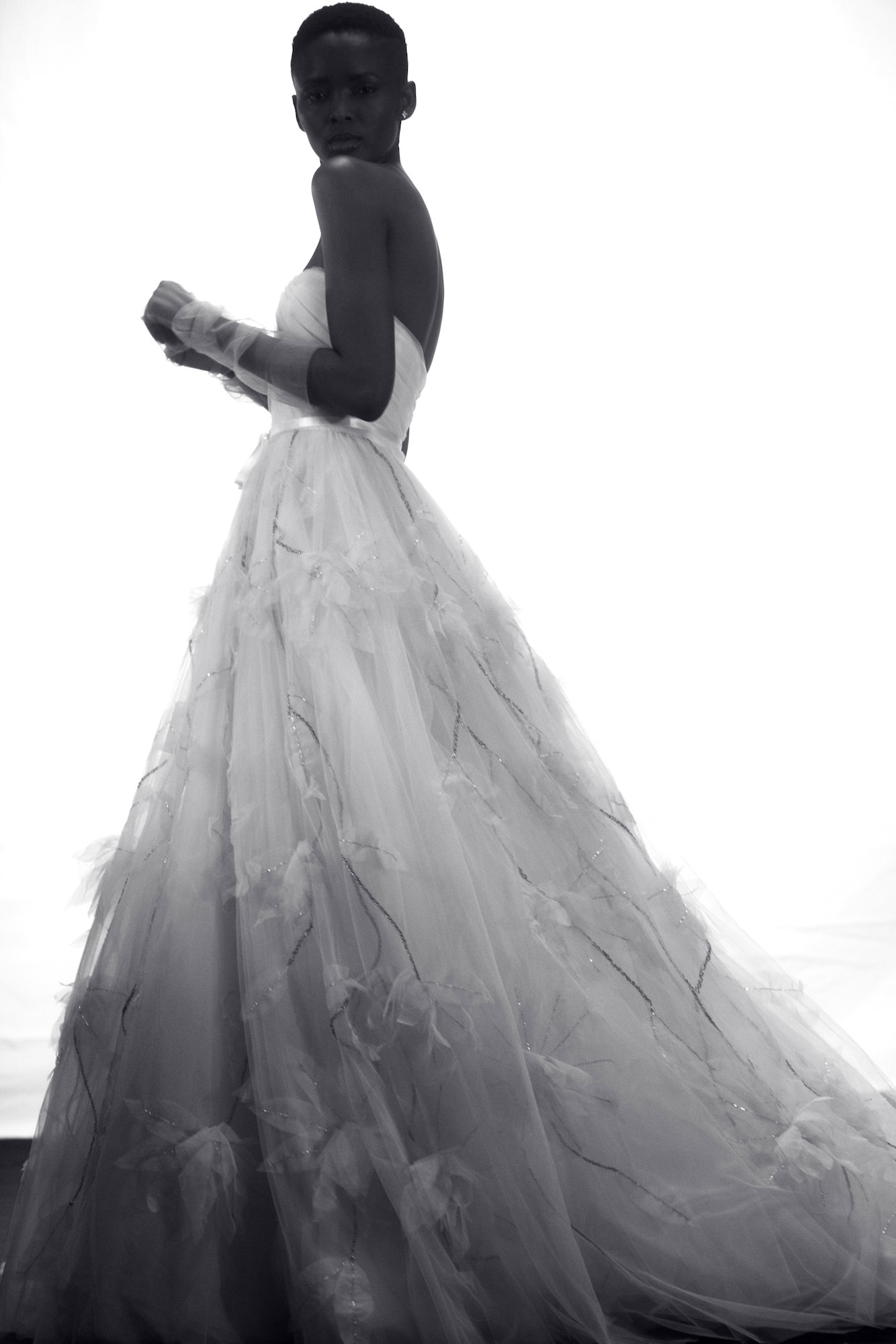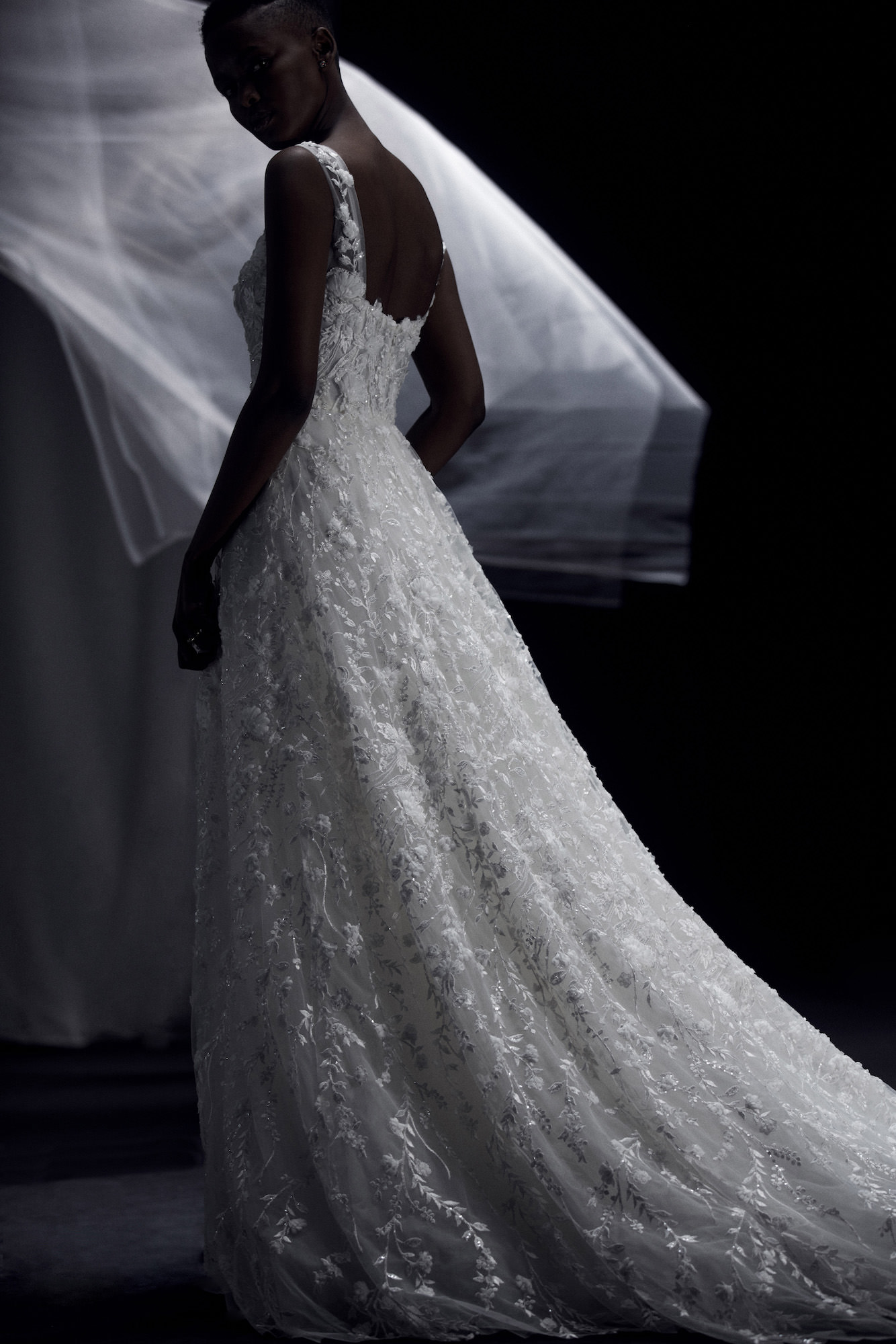 Little White Dress
The Little White Dress collection makes a high-fashion statement through material and detail, using taffeta adorned with texture through hand beading, three-dimensional petals and floral jacquards. True to LWD form, the silhouettes are playful, youthful and fresh.