Southern hospitality was in the Blue Ridge Mountain air as Eric and Danny hosted 50 friends at a 19th-century farmhouse for a wedding weekend captured by Kayla Coleman Photography that was filled with personal, DIY details. The cabin-clad property provided a retreat for the grooms and guests alike.
"It was exactly what we wanted. A fun destination wedding where our guests could spend the entire weekend celebrating with us," says Danny. Rocking chair ceremony seating, moonshine tastings and whimsical animal elements helped infuse the charm of North Carolina's high country into Eric and Danny's celebration at Mast Farm Inn.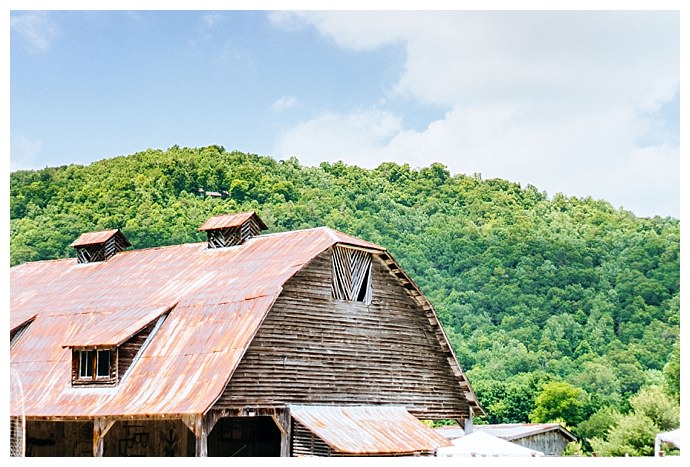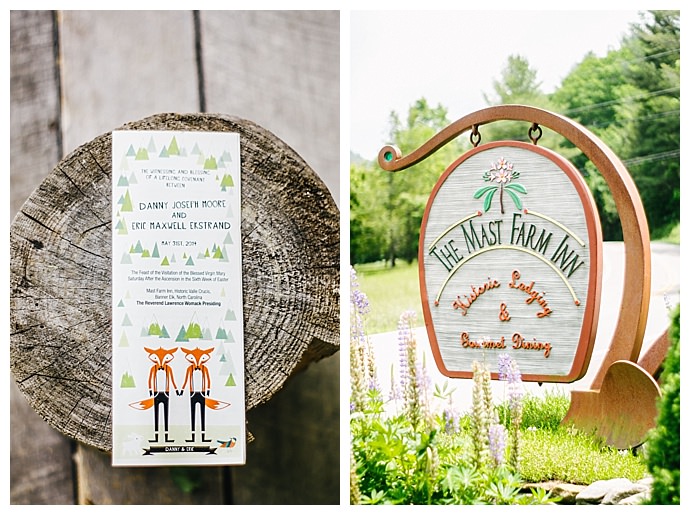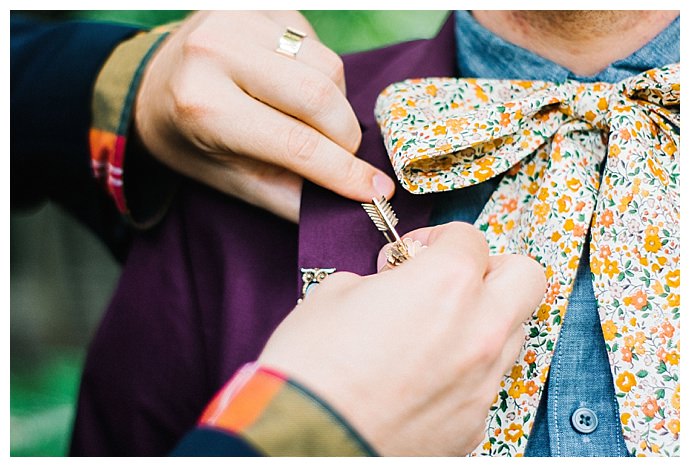 The Inspiration
Danny's art school studies (not to mention raw talent) came in handy when pulling together day-of elements. Whimsical illustrations of foxes and greenery embellished custom stationery in a handsome palette of navy, yellow, maroon and dark green, setting the day's eccentric vibe.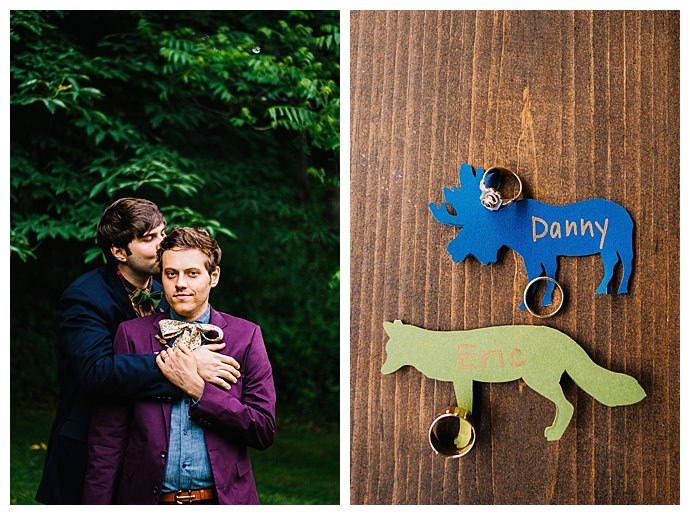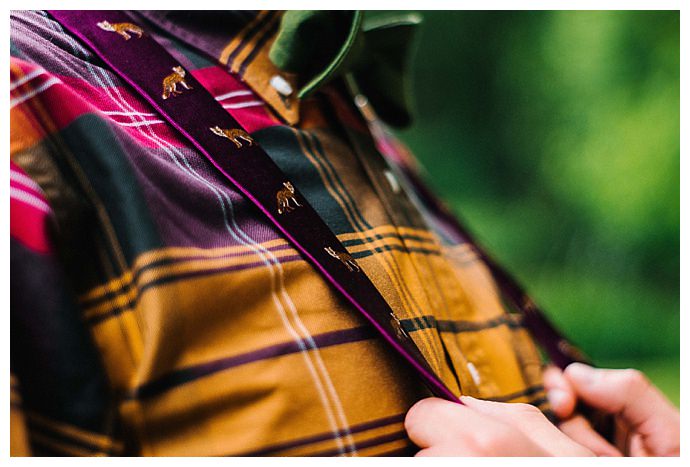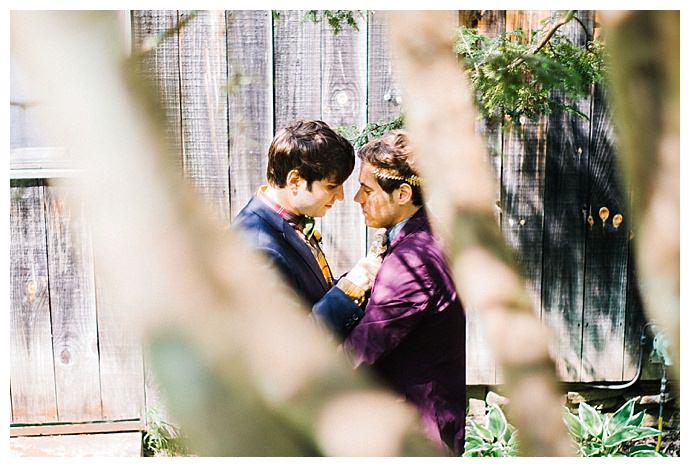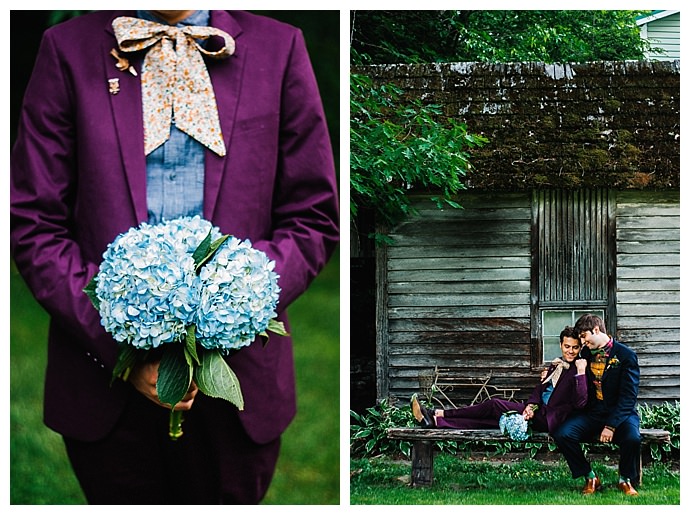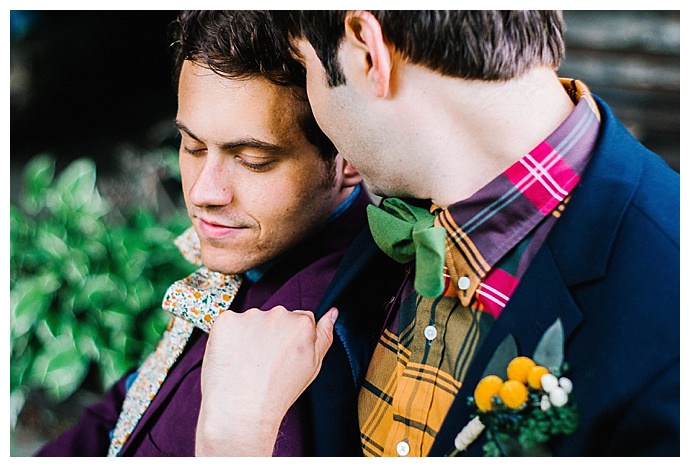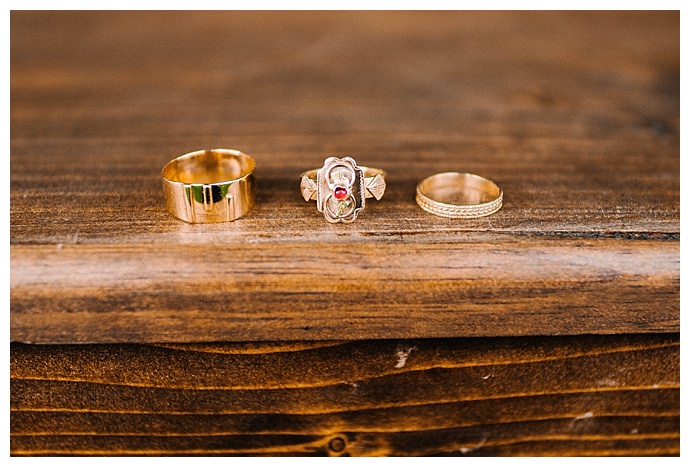 The Fashion
Not afraid of a little color, they let their personalities shine in their wedding day wardrobe choices. Eric donned a navy suit, plaid shirt and maroon suspenders adorned with foxes. Danny looked equally dapper in a maroon suit, chambray shirt accessorized with an oversized floral bow tie, a golden crown and two small pins — one of an owl, the other of an arrow, gifted to him by his soon-to-be husband.
The couple's eye for detail extended even into their jewelry. Danny's yellow gold wedding ring features a small wheat detail while Eric resized his mother's wedding band to fit, creating a treasured family heirloom.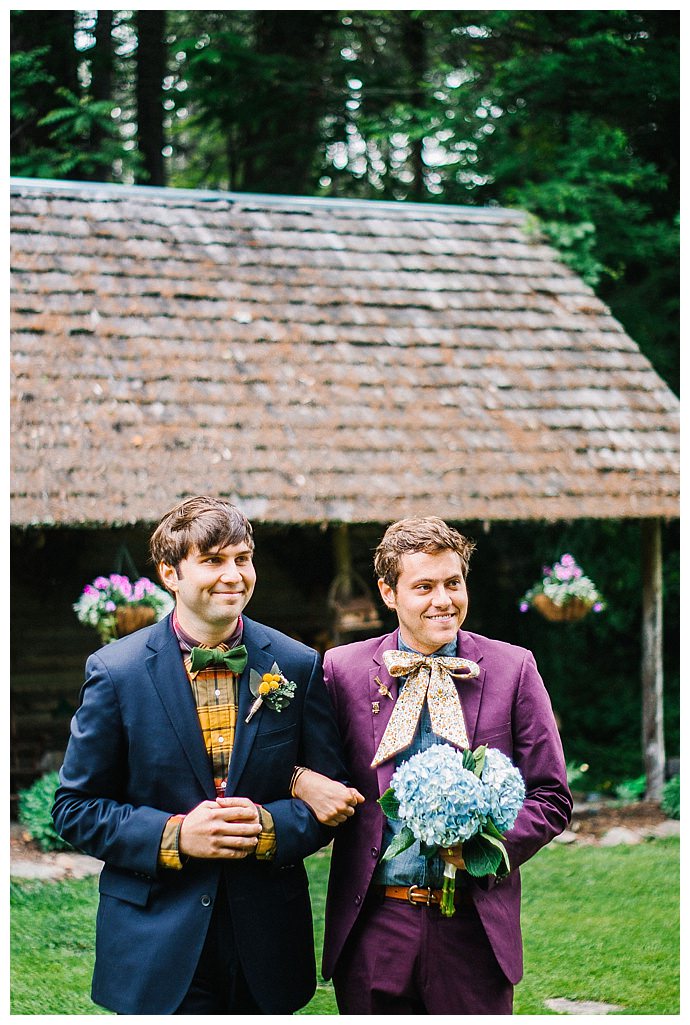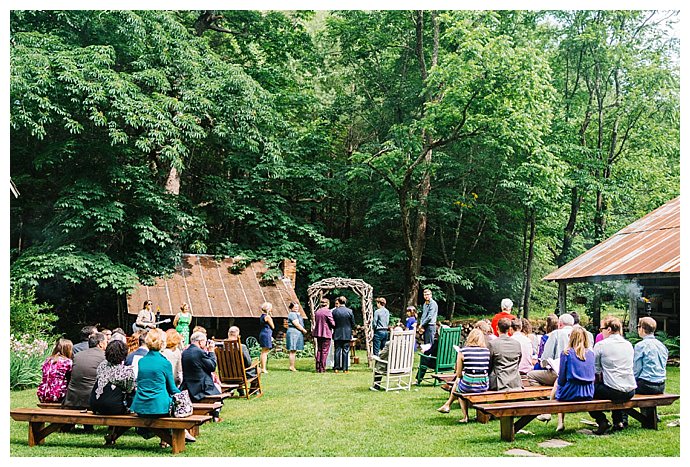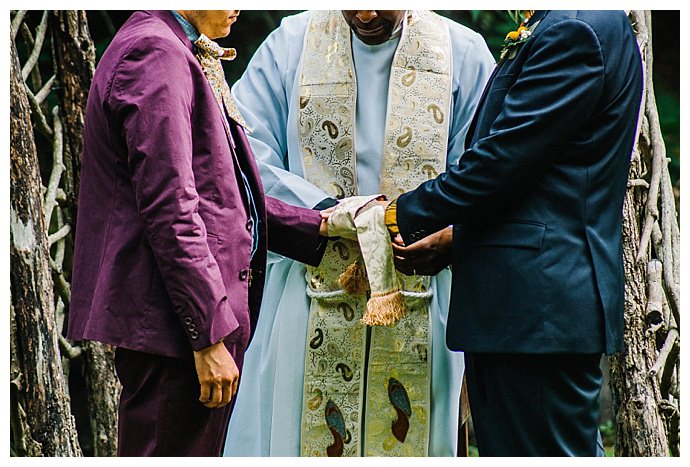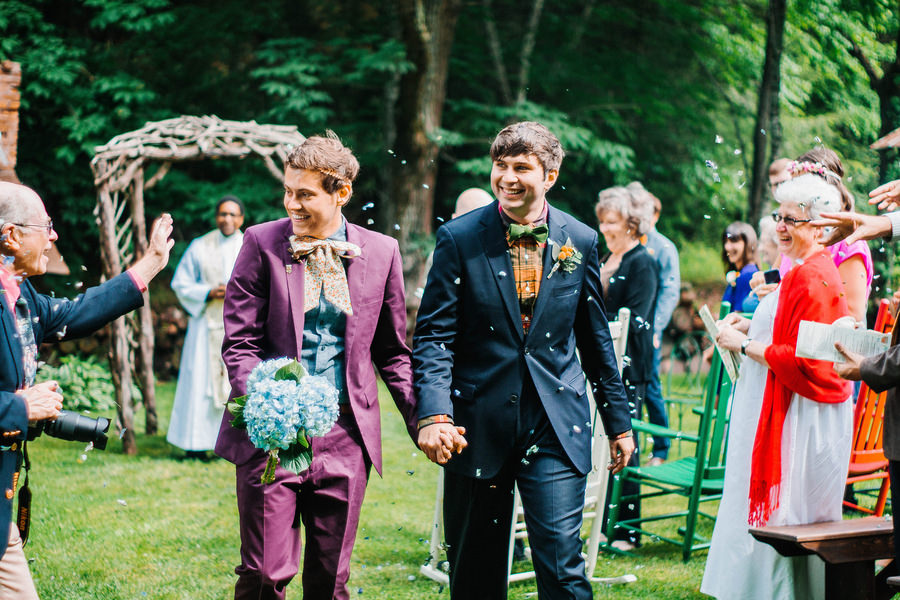 The Ceremony
Guests were directed with hand-painted signage toward the ceremony site and encouraged to sit a spell in rocking chairs set up on the lush lawn while the grooms exchanged vows under an arch made of intertwining vines.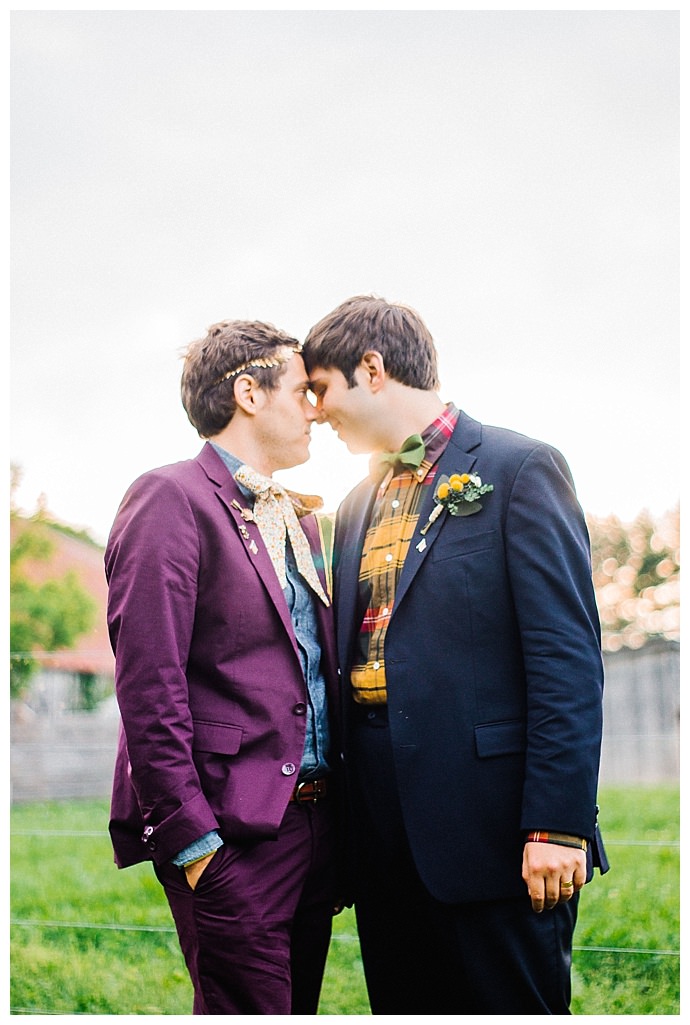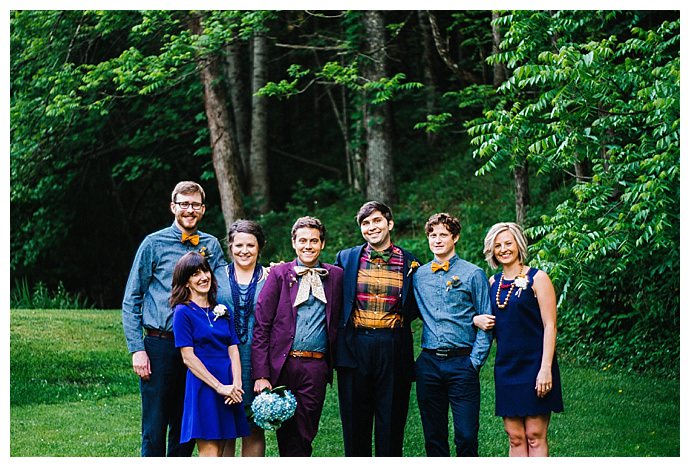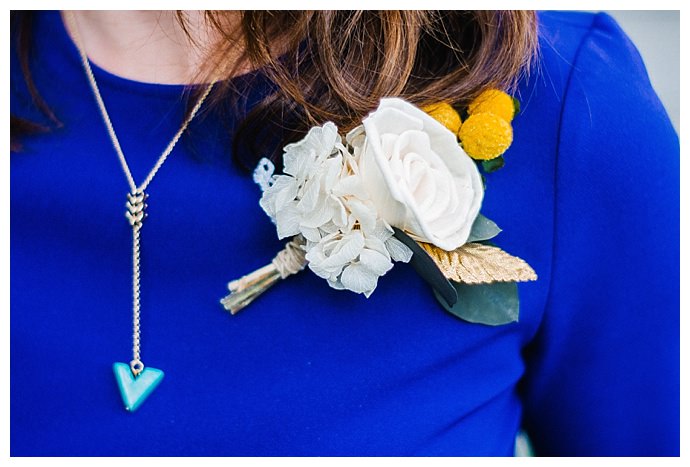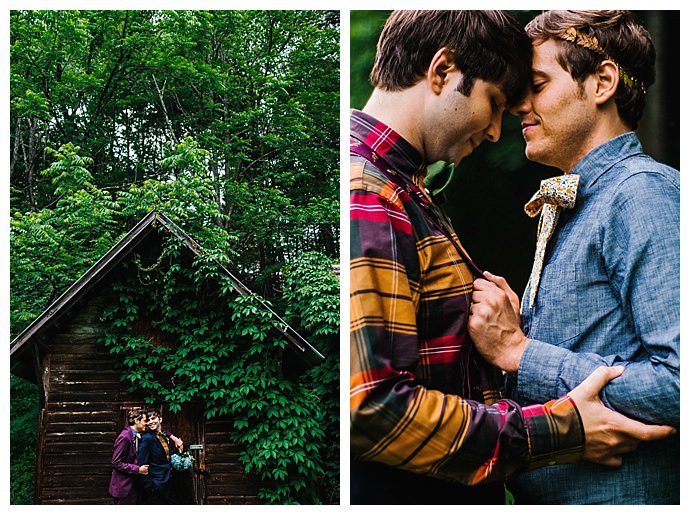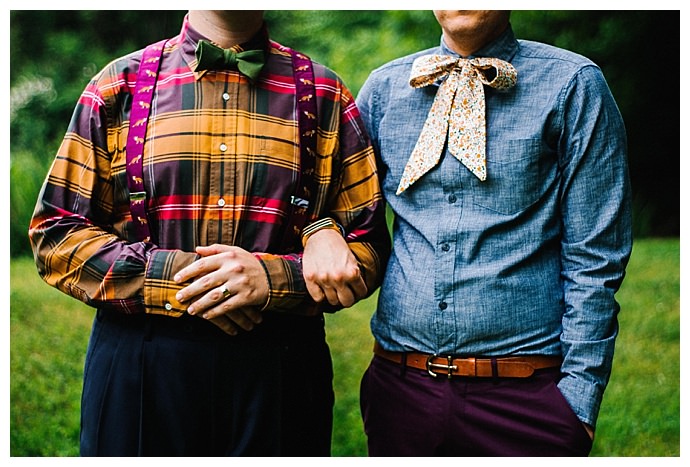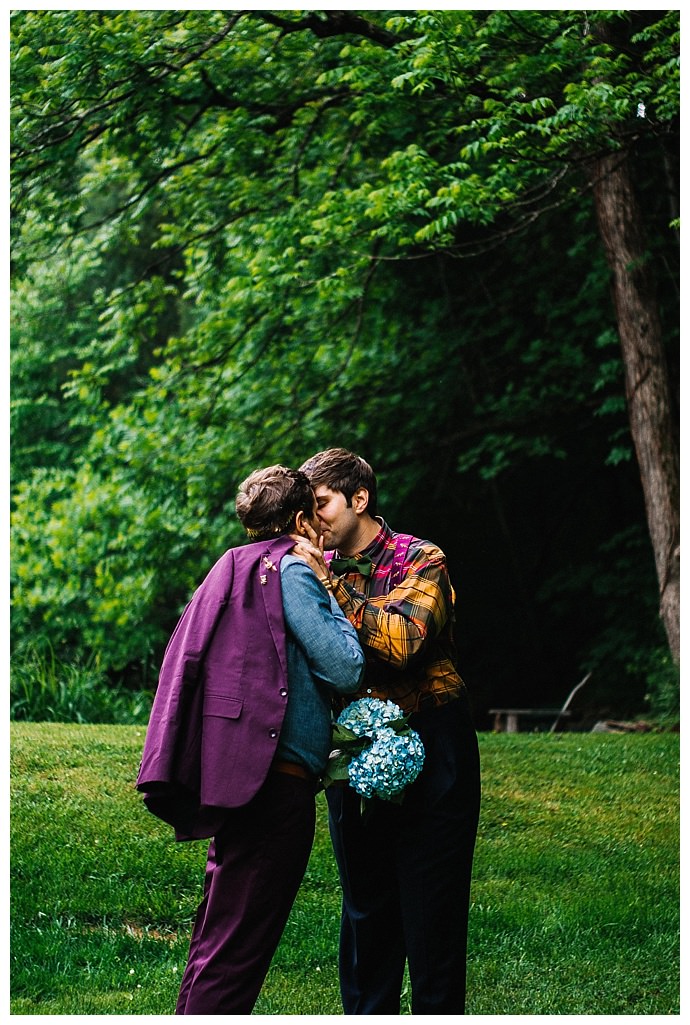 The Party
During the cocktail hour, guests sipped the of-the-moment spirit: moonshine. Thanks to a recent renaissance of the once backwoods, bathtub-produced whiskey, the grooms were able to include a tasting of several artisanal varieties from local distillery Midnight Moon, which was a hit.
Animal silhouette place cards pointed everyone to their seats as Eric and Danny swayed to a live music rendition of Brett Dennon's "Ain't Gonna Lose You" for their first dance. During the touching toasts, Eric's father read a poem aloud, written for the two of them by Eric's late mother, leaving no dry eye in the room.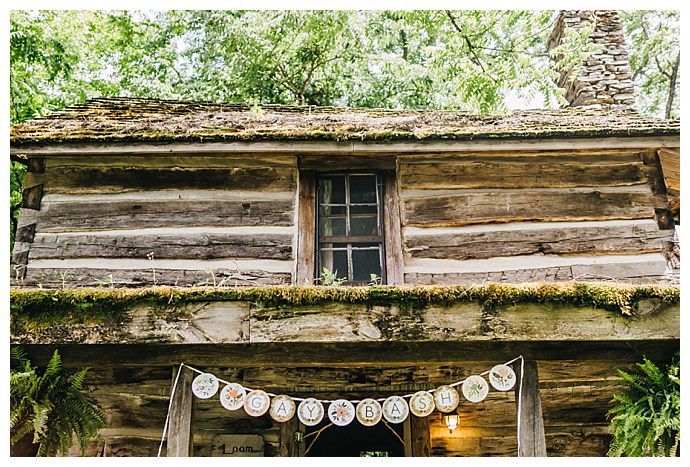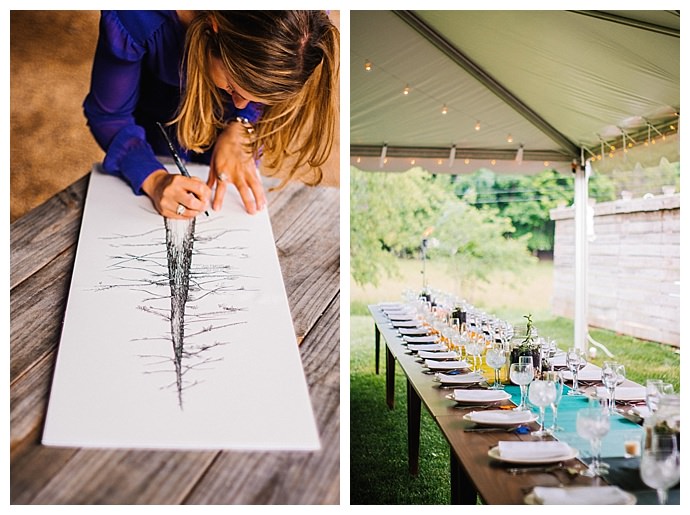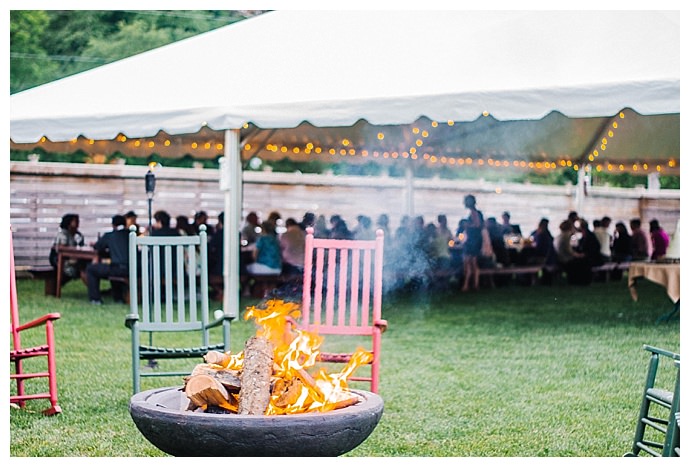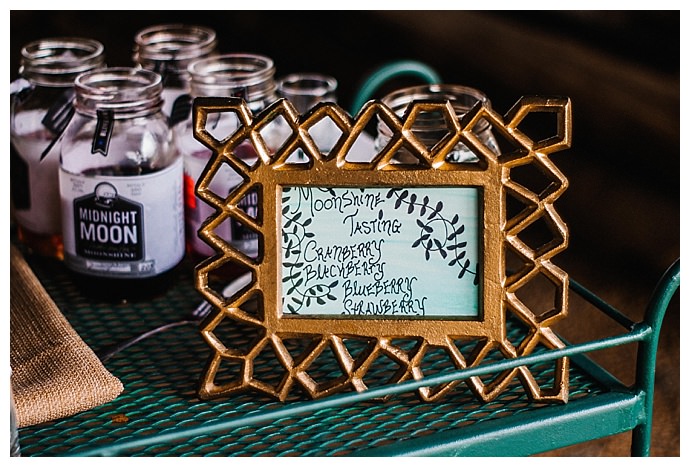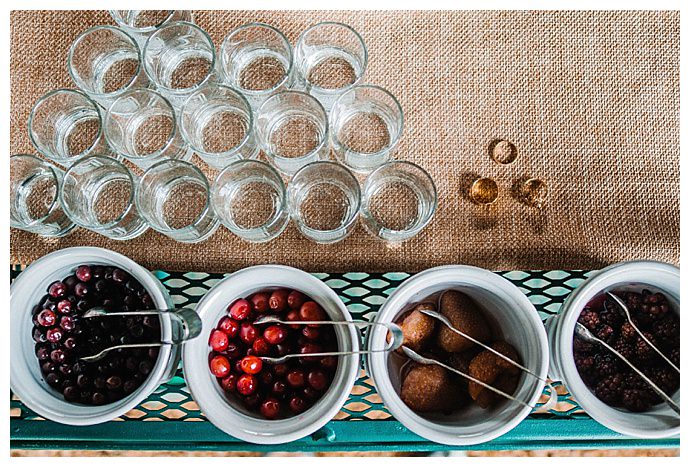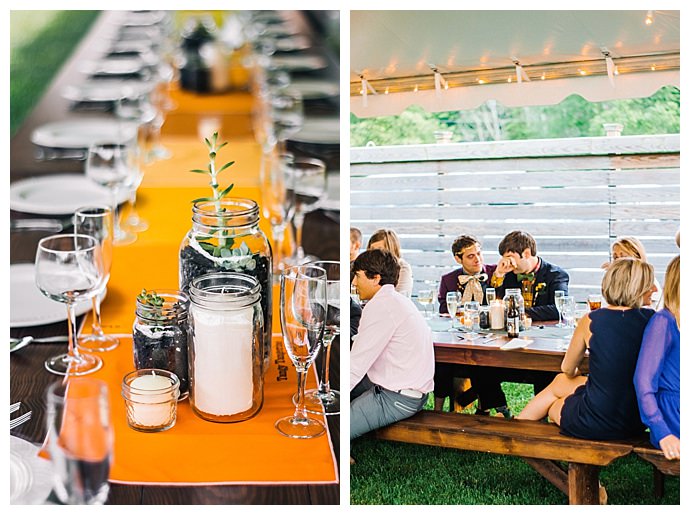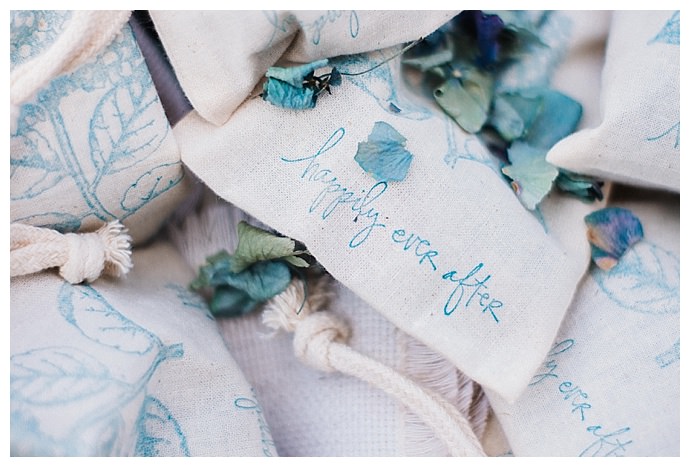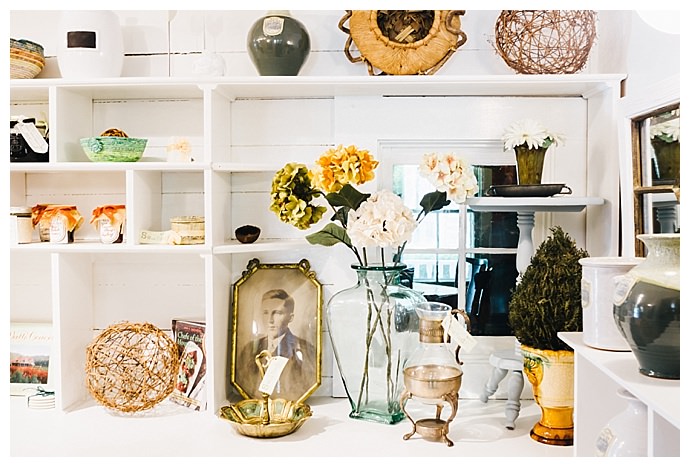 The reception meal was served up family style underneath an expansive tent and guests passed a hearty steak dinner down the long farm tables topped with terrariums and paint swatch-inspired tablecloths. Their cake was divided into fruit-filled and almond-filled tiers and accented with hydrangeas to match the groom's bouquet. A charming ceramic topper of a suited bunny and moose put the finishing touch to the dessert.
Resident goats joined along as the newlyweds partied with their loved ones long into the night. As the evening came to a close, small journals were handed out as a token of the grooms' appreciation. "[The journals] had a drawing of the Appalachian Mountains on the front, then we tied pencils with quotes from 'The Princess Bride' onto them with green twine," explains Eric.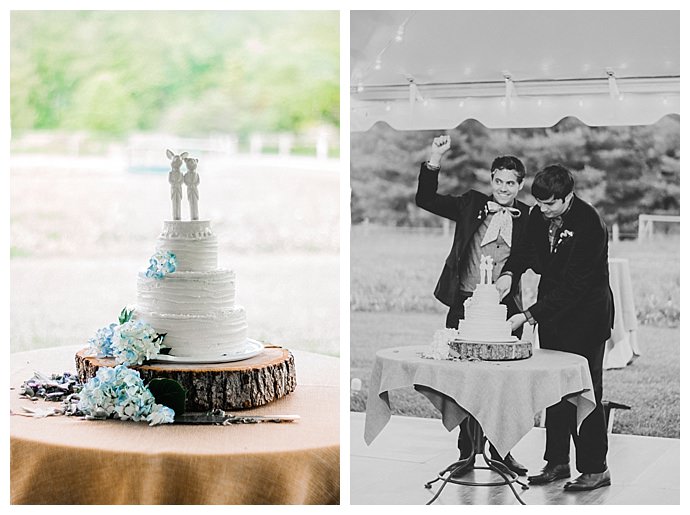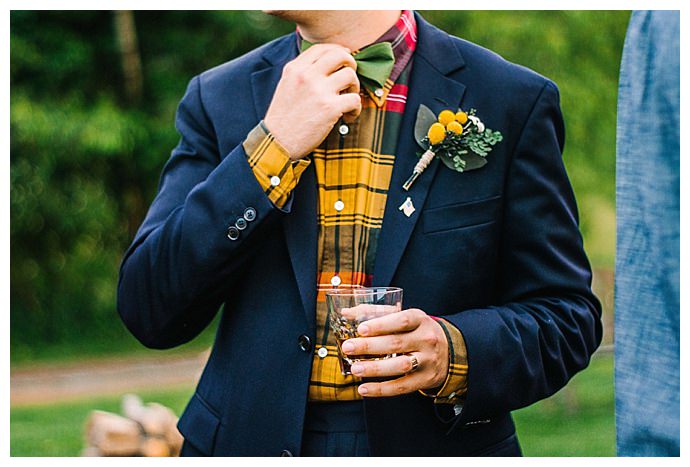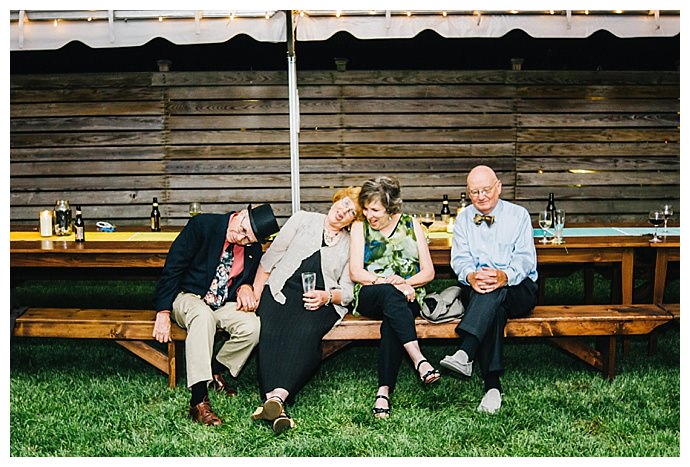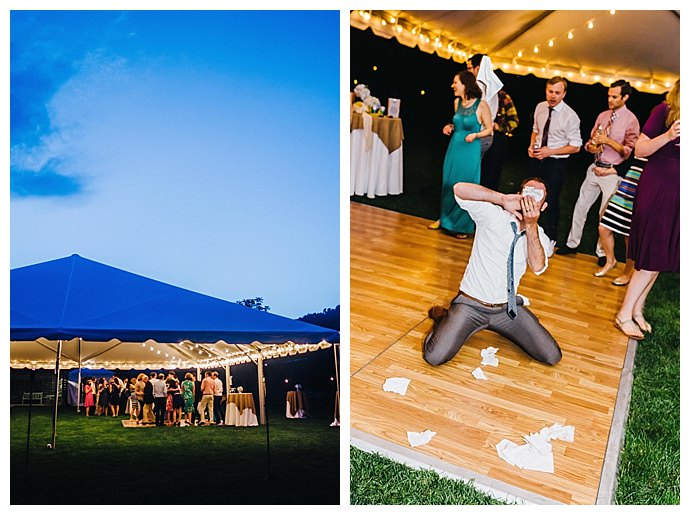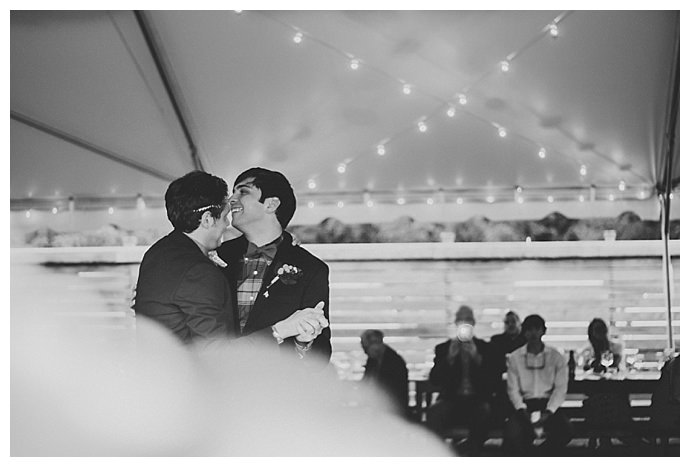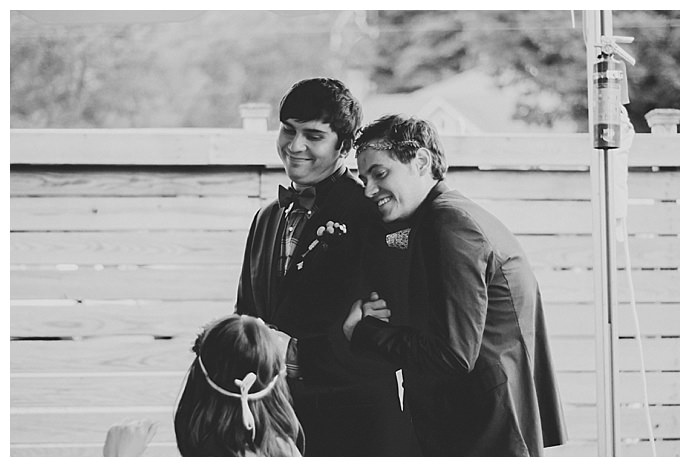 Team of Talents
Photography: Kayla Coleman Photography
Venue: Mast Farm Inn
Stationery: 3Eggs Design
Suit Accessories: Fox & Brie
Moonshine: Midnight Moon
*Editor's note: This feature was originally published in Love Inc.'s V3 issue
*Editor's Note: This post contains affiliate links. Each time you purchase an item via our affiliate links, Love Inc. is receiving a small percentage of the sale, thus you are helping our small, equality-minded business grow and allowing us to provide more content for YOU! Isn't that just fantastic?