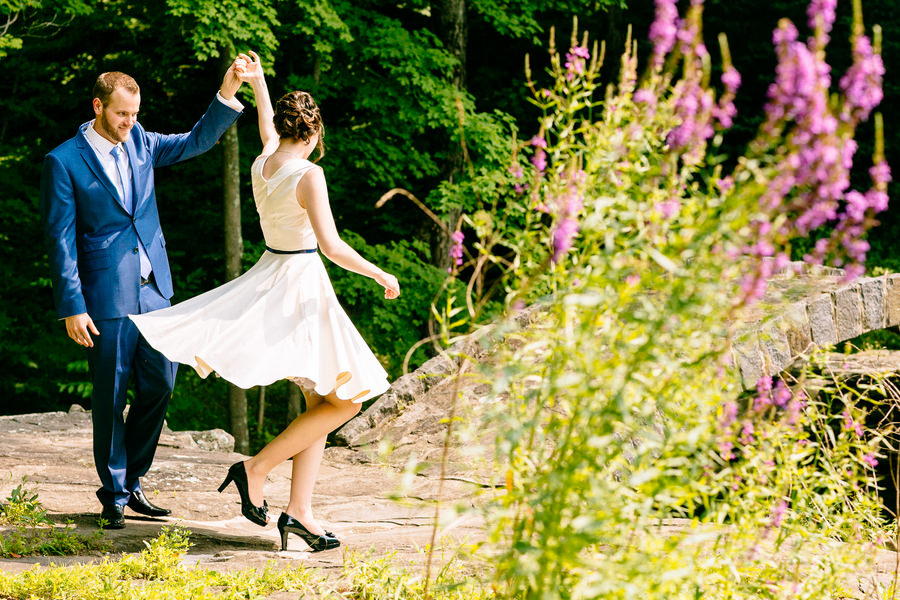 Emily and Adrian chose to get married in New York rather than their home country of Australia because marriage equality is extremely dear to their hearts. "We got married in New York because it is somewhere where the marriage equality law has been enacted. We believe that marriage should be about two people who love each other and want to be with each other – not about gender. Unfortunately, the same cannot be said in Australia, where marriage is legally defined as between a man and woman and where the marriage ceremony is legally required to emphasize that definition," says Emily of their choice. "As a heterosexual couple we are legally entitled to marry in Australia, but we did not want to have a wedding ceremony that marginalized some of the people who are most important to us."
Their intimate destination wedding consisted of 28 guests who witnessed their heartfelt ceremony at Buttermilk Falls Inn and later celebrated with an amazing dining experience, with a cheese wheel cake finale. "We wanted somewhere that could accommodate all of our guests without being a massive hotel that would feel overwhelming. We had four days together with our guests at the venue so we wanted somewhere that people would be comfortable spending some time."
We can thank Sarah Tew Photography for the beautifully captured emotion and details, from the bride's DIY-dyed blue crinoline skirt and gilded kangaroos to the emotional first look and carefree reception dancing.
The Love Story
The couple first met in 2001 when they were 16-years-old and briefly dated. "We didn't date long because I was young and very silly. I broke up with Adrian via email! He keeps saying he still has a copy – I really hope he doesn't because I don't remember exactly what I wrote but I am sure it is horrifying!" laughs the bride. As years past, they eventually began talking again as friends, which turned into an incredibly deep friendship.
The ah-ha moment for Emily came after a particularly terrible date years later. "The guy was nice enough but we had nothing in common and I remember I was sitting in this pub watching some band play and I kept texting Adrian about how bad the date was. At some point something clicked for me and I thought, 'Oh, maybe I should be on a date with the guy I keep texting about the date instead of this random guy!'" The next time they were together, something shifted, and they both knew that a relationship had formed. "We didn't really have a first date because we'd known each other for so long and at that stage he was already one of my best friends. That was in 2006 and we've been together ever since."
The Style
The bride's swing-style dress was from Modcloth and she added a crinoline skirt that she dyed blue, creating incredible photo ops every time she twirled.  Her groom looked dapper in a blue tailored suit. 
The Ceremony
Emily's mother walked her down the rose-petaled aisle and Christopher Kelley of Illuminating Ceremonies guided them through their I Dos, that also included readings. Emily and Adrian enlisted in the services from Christopher Kelley of Illuminating Ceremonies to conduct the ceremony. "My friend Ashleigh read a poem by Neil Gaiman — The Day the Saucers Came — and Adrian's friend Simon read a poem Adrian had written for me. We've both known Ashleigh and Simon for most of our lives and they are actually how we met each other so it was really special to have them involved."
The Party
Their savory menu was served family style, over a table that was simply designed with white dahlias and terrariums. "Luckily because there were so few guests we got to really relax over dinner and still get to speak to everyone."
Their wedding cake was a literal cheese cake — wheels of different cheeses stacked on top of each other. "I worked with a Saxelby Cheese, a cheese monger in New York City,  to choose the cheeses and then the staff at Buttermilk Falls Inn put it together for us on the day. Everyone got to eat some amazing cheese on the night and then we all had more to eat for the rest of the week."
"The biggest challenge was organizing everything internationally. We had one wedding planning trip where we saw the venue and met our photographer and celebrant but apart from that everything was done by email or Skype. We were really lucky that our vendors were so fantastic and really took care of us. Looking back I don't think there is a single thing I would have changed or done differently – so it really paid off for us."
Team of Talents:
Photography: Sarah Tew Photography
Venue: Buttermilk Falls Inn
Catering: Henry's at the Farm
Officiant: Illuminating Ceremonies
Floral Design: Linda Baldwin Flowers
Stationery: Minted
Cheesemonger: Saxelby Cheese
Dress: Modcloth
Bridal Shoes: Shoes of Prey
Hair/makeup: Studio One
Suit: Travellers Apparel