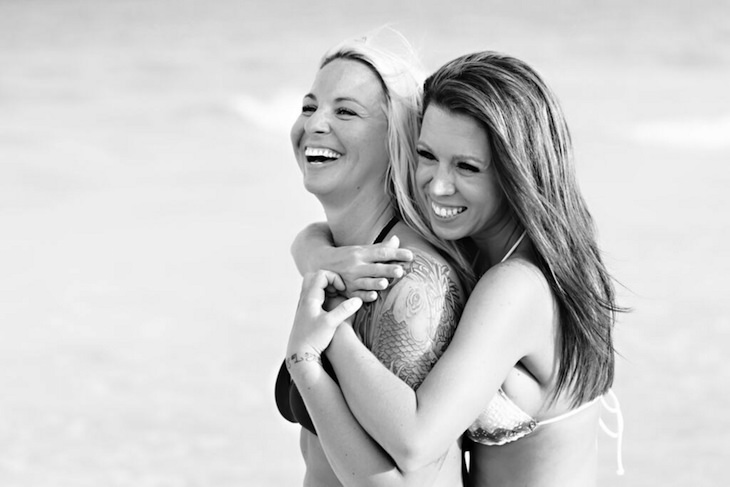 With a trip planned for paradise, Brooke just so happened to book a photo shoot with her love, unbeknownst to the fact that Melissa was planning on popping the question during vacay.
"I knew we were taking a trip to Mexico and I wanted it to be special so I decided I would do it while we were on vacation. She then brought it to my attention that she scheduled us to have a photo shoot while we were there. SO WIN-WIN for me!" exclaims Melissa. "Not only could I ask her to marry me in Mexico but I could ask her in the middle of our photo shoot. I love pictures and now one of the most important things to me would be captured."
May 12th was already an emotional day for Melissa and was the reason for the trip. "I timed the trip over the anniversary of her father's death. That date has always been very hard for her and I wanted to give her something to look forward to versus being such a sad day. I hired Quetzal Photo to do a fun photo shoot on the day of the anniversary. Melissa loves pictures. I am a photographer myself, so I tend to just skip over photos of myself. However, this was important to her," says Brooke.
"We were at our third location — the beach — playing in the water. I couldn't figure out why she wouldn't have fun and splash around. I'm the serious one and she's the fun one! She was driving me crazy. Our photographer told us it was time to change into our bathing suits for the last set of images. Melissa grabbed my hand and told me to wait just a second. In one quick instant, I knew exactly what she was doing and it was so incredibly sweet. She's not sentimental or emotional and, wouldn't you know it, she couldn't hardly get a word out. She asked me to spend my life with her, she asked me to love her forever … maybe not so many words, but I knew what she meant to say. I knew what she was saying in her heart. This moment, was so completely her. Not the fairy tale proposal that little girls dream of, but perfectly her. A few words, a lot of love, and a great big smile across her face … just as it was intended to be."
"And on that beautiful beach in Mexico I asked her to marry me," says Melissa. "May 12th had a new meaning to me. It was no longer just the day I had lost my dad many years ago, it would also be the day that I asked the love of my life to marry me."