Think beyond the band with specialty acts that brings the "wow" factor.
Entertainment is one of the pillars to a great party, and while you can never go wrong with a great DJ or band to pack the dance floor, more couples than ever are seeking alternative options, in addition to the reception music.
When dance floors had to be cancelled due to COVID, couples had to think outside-the-box, and specialty entertainment quickly became a prominent option for socially distanced weddings. Now that we've (thankfully) moved to post-pandemic celebrations, couples are having their cake and eating it, too, when it comes to entertaining guests.
"In the last few years, the 'Immersive Entertainment' division of our company has seen a 400% increase in revenue," says Darren Olarsch, president of On the Move Entertainment, which has been fueling the New York event industry with top performers for nearly three decades.
Wedding planner Michelle Oley of Michelle Elaine Weddings agrees. "I think the pandemic has changed the way couples are going to plan their weddings forever," notes Oley. "Many couples have been more interested in adding multiple elements of 'wow' and surprises for their guests. They truly care about the guest experience now more than ever, and specialty entertainment changes the game."
But, Olarsch points out, the DJ and band aren't going anywhere, "Specialty performances should never take the place of musical entertainment. It should complement it."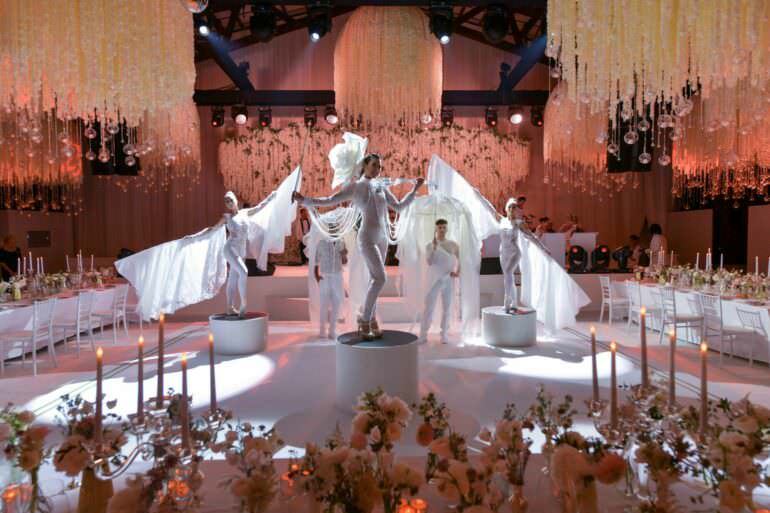 He recommends meticulously weaving in the talent throughout the night, starting with the arrival. "Setting the tone upon arrival to a celebration is one of the most common ways to incorporate specialty performers. Greeters at the entrance is a no-brainer. But we're more inclined to advise our clients to layer in talent, in sporadic, unexpected ways, throughout the night, to keep guests pleasantly surprised. It's a great way to keep infusing energy into a celebration."
Popular talents include themed greeters, fire dancers for beach celebrations, photo booth experiences, living statues, live event painters ("which are making a comeback!" exclaims Oley), musical enhancements and even acts such as magicians.
To keep it from feeling forced, timing is key. "You don't want any part of your wedding day to feel off, it should flow seamlessly from one thing to the next," says Oley, who recently had a maid of honor hire a gospel choir as a surprise at the end of her speech. "We made sure she was speaking last so it would get everyone not only surprised, but it truly kicked off dancing for the rest of the evening. Had the choir came in too early into the dinner it would have been potentially awkward." Oley recommends viewing the day as a whole—and all of the potential scenarios—before deciding when to schedule a performance, and day-of make sure someone (not you!) is keeping tabs on their arrival and setup. "The last thing you want to worry about is them showing up late or too early and throwing off the flow," Oley adds.
Whether you're adding a short side act to entertain guests at cocktail hour, or creating an entire production mid-reception, specialty acts are guaranteed to add energy to the party.
"I think we're really going to see so much entertainment used than we've ever seen before," says Oley. "Couples want to make their wedding more than just 'dinner and dancing,' they want their guests to have a full experience from beginning to end with memorable moments throughout and I'm here for it!"
HOW TO HIRE
Always ask to see recent samples of their work.
Check their social media and see where and with whom the company is working. "Great companies always work with great planners and venues," notes Olarsch.
Confirm guidelines and details to ensure what they require is allowed by your venue.
Ask their day-of needs ahead of time (and budget appropriately) so that you accommodate them (green room/tent, snacks, special lighting, mirrors, tables, chairs, etc.).
Written by Brittny Drye for Love Inc. V7 | Cover Photo by Olli Studio; second photo by John Labbe