A solid dance party makes for a good wedding, but there's no shame in the slow-dance game, either. Choosing the right tunes to snuggle up and sway with your honey can be a little tough, especially if you're intent on incorporating a solid mix of slow and upbeat during your wedding. But, being the diligent and dedicated bloggers we are, we've done the legwork and rounded up 30 beautiful songs you can slow dance to during your wedding. Whether they're used for your first dance, last dance or any dance in between, these songs will likely bring out the sappy romantic side in everyone at your celebration. From du-wop to rock classics to beautiful piano ballads by contemporary artists, there's a huge range of swoonworthy songs on this list … plus a few stellar gems for you '90s kids.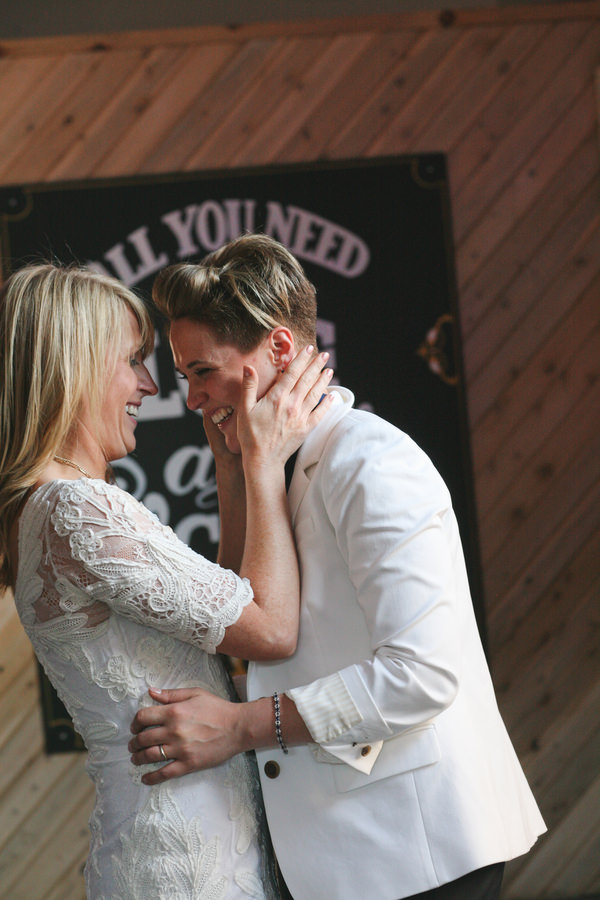 Photo: Brett Alison Photography

1. Shining Star by The Manhattans
2. Just the Way You Are by Elton John and Billy Joel
3. This Year's Love by David Gray
4. Have I Told You Lately That I Love You by Van Morrison
5. Fade Into You by Mazzy Star
6. Fooled Around and Fell In Love by Elvin Bishop
7. At Last by Etta James (I really debated on this … but it's so good and it's such a staple)
8. Truly Madly Deeply by Savage Garden
9. Kiss Me by Sixpence None the Richer
10. I'll Be by Edwin McCain
11. Tale Old As Time from "Beauty and the Beast"
12. Perfect Day by Lou Reed
13. Earth Angel by The Penguins
14. Little Darlin by The Diamonds
15. Time After Time by Cyndi Lauper
16. Can't Help Falling in Love by Elvis Presley
17. Wonderwall by Oasis
18. More than Words by Extreme
19. Wild Horses by The Rolling Stones
20. If I Ain't Got You by Alicia Keys
21. 2 become 1 by The Spice Girls
22. Sea of Love by Cat Power
23. Iris by The Goo Goo Dolls
24. I Will by The Beatles
25. Come Away With Me by Norah Jones
26. Forever by Ben Harper
27. Open Arms by Journey
28. I Will Follow You Into the Dark by Death Cab for Cutie
29. Lucky by Jason Mraz and Colbie Caillat
30. All of Me by John Legend
Are you including any of these on your wedding playlist? Share your favorite slow dance jam in the comments!