The best engagement shoots infuse the couple's personality and incorporate activities that they love to do together. That's why we adore everything about this craft brewery engagement shoot that took place at Proof Brewing Company in the heart of Tallahassee, Florida. Currie and Rebecca recently moved to Florida, and for two craft beer buffs, they couldn't have picked a better home.
The soonlyweds had the brewery to themselves that day, allowing Staci Addison Photography to capture their genuine connection as they snuggled close between barrels of beer and shared a special release beer fresh from the tap out in the sun drenched beer garden. After a few cold brews Currie and Rebecca headed over to a nearby playground for a quick whirlwind on the seesaw, a perfect way to end an engagement shoot for two adventurous souls.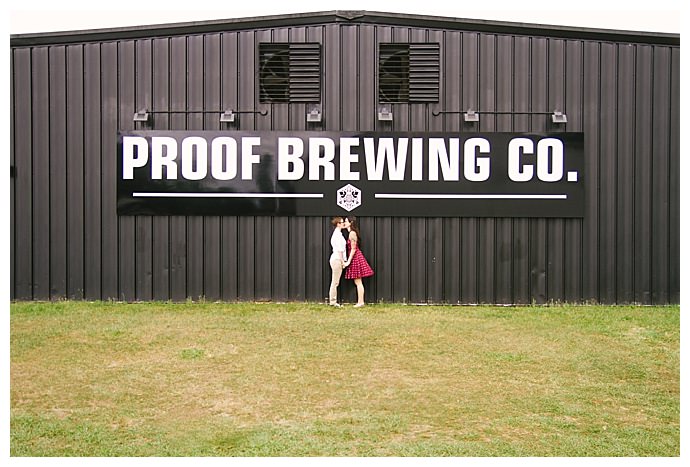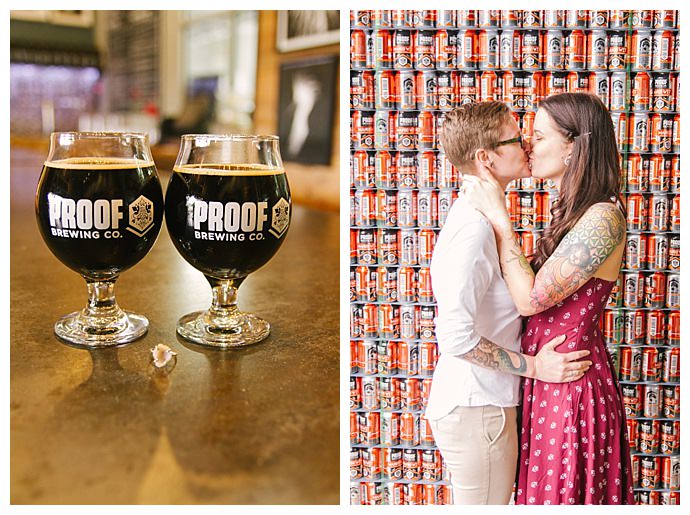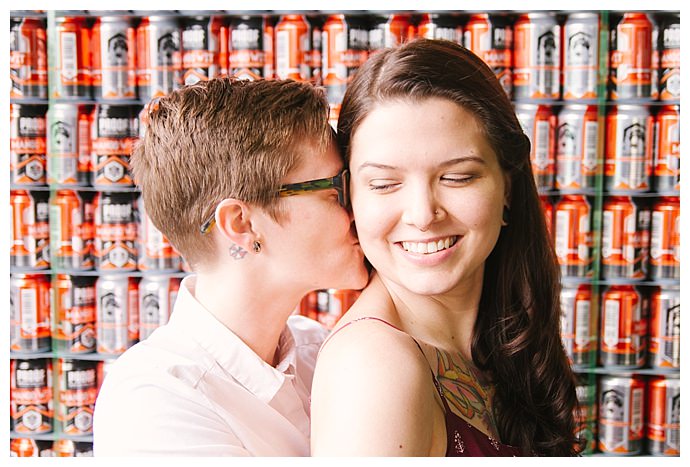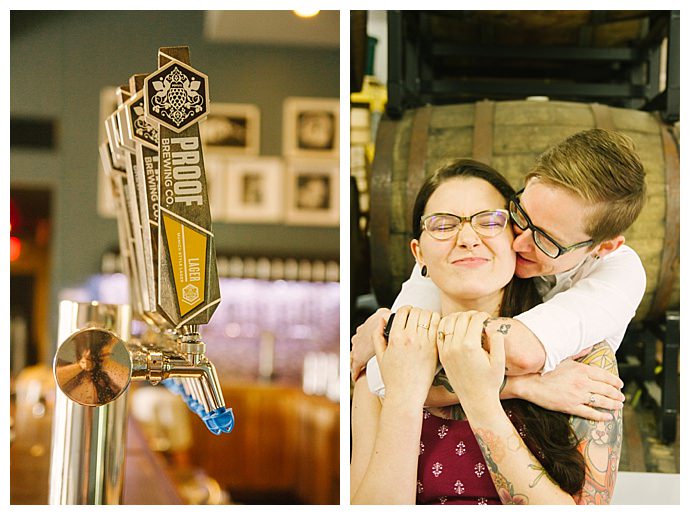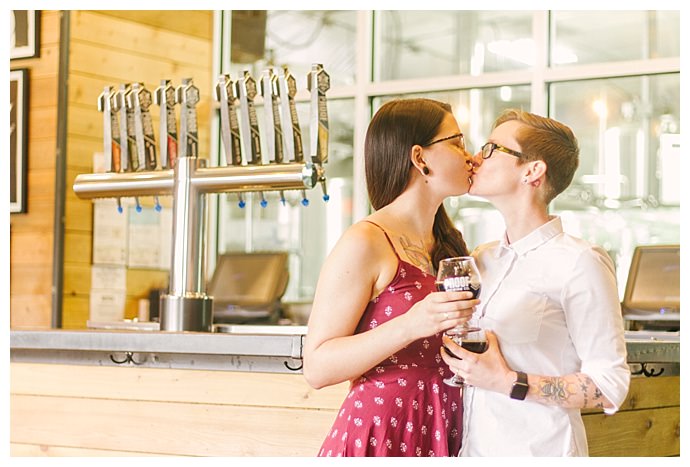 The Love Story
Currie and Rebecca were introduced through mutual friends at a gay Thanksgiving gathering nearly four years ago. Not long after they met, Currie and Rebecca started a Sunday tradition where they spent afternoons exploring breweries and enjoying craft beer together. Currie says, "When I realized I could spend the rest of my life with this human collecting cats and drinking craft beers," she knew it was time to propose.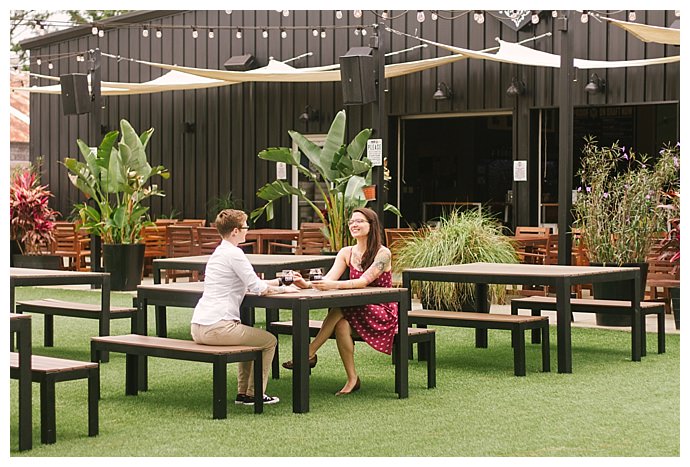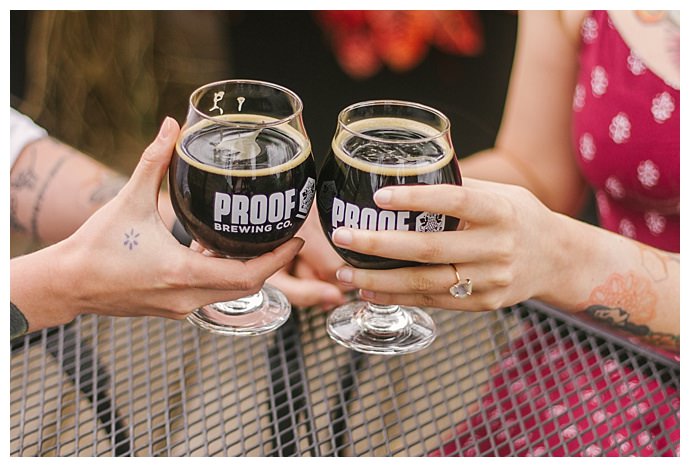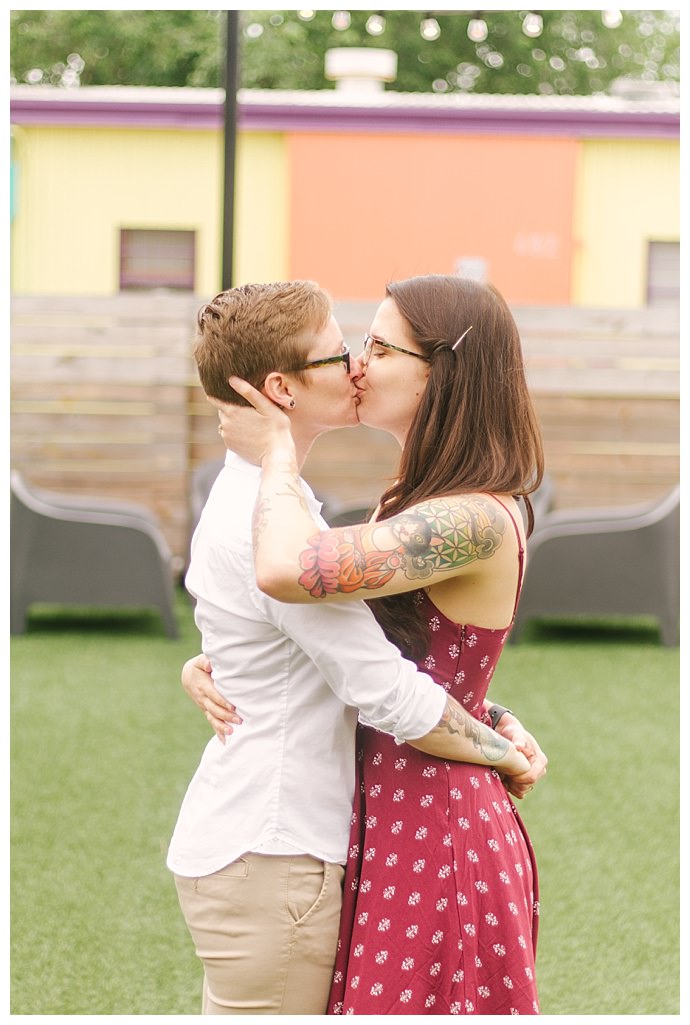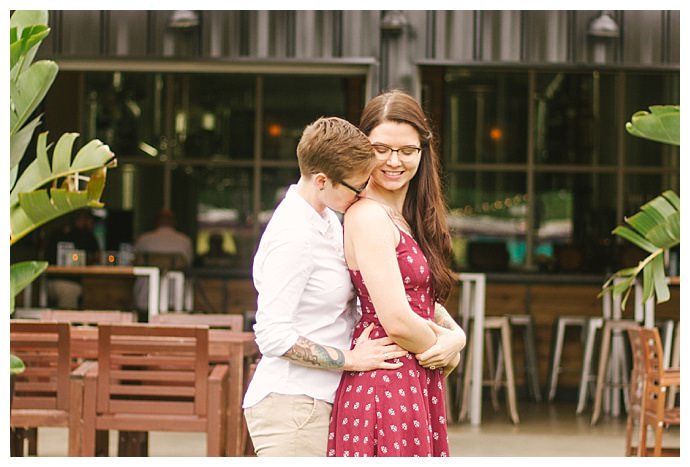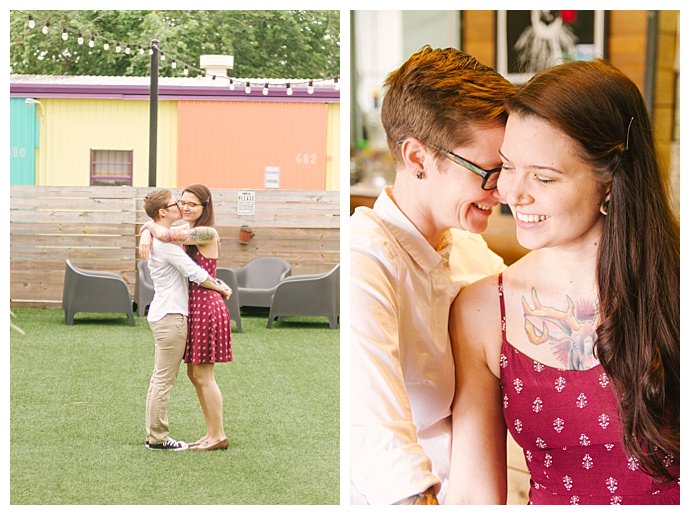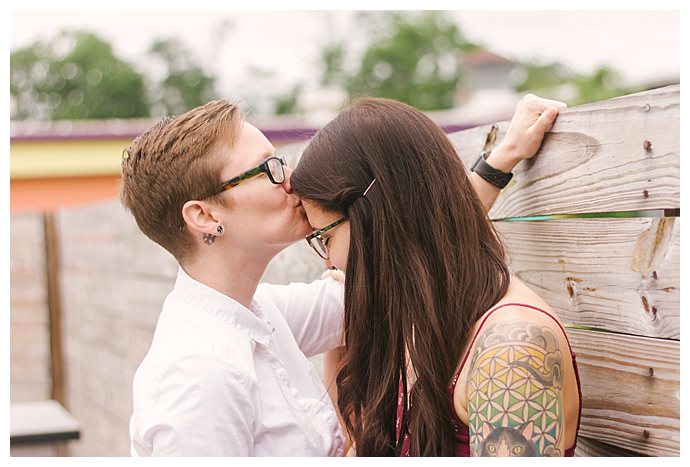 The Proposal
Currie and Rebecca had left their hometown of Newnan, Georgia, and moved to Tallahassee. But knowing how important family is to Rebecca, Currie wanted to get down on one knee where Rebecca could share the special moment with her family. "I asked her parents for their blessing and had the ring shipped to their house in Georgia," she says. And on their next visit home, Currie made sure Rebecca's best friend was over and encouraged them to FaceTime Rebecca's sister who had recently moved to Washington.
"I said I was going to grab a beer, and I came out with the ring," Currie says, noting she made a grand entrace into the room with a smoothly delivered Kanye West-inspired opening line of "I know you're on the phone with your sister, and I'm going to let you finish, but…" And then she asked Rebecca to marry her. "I realized that everyone in the room was staring at me," Rebecca remembers. "When she told me she wanted to spend the rest of her life with me, I joked and said, 'no you don't; I'm terrible!' Then I started crying, and then I obviously said yes."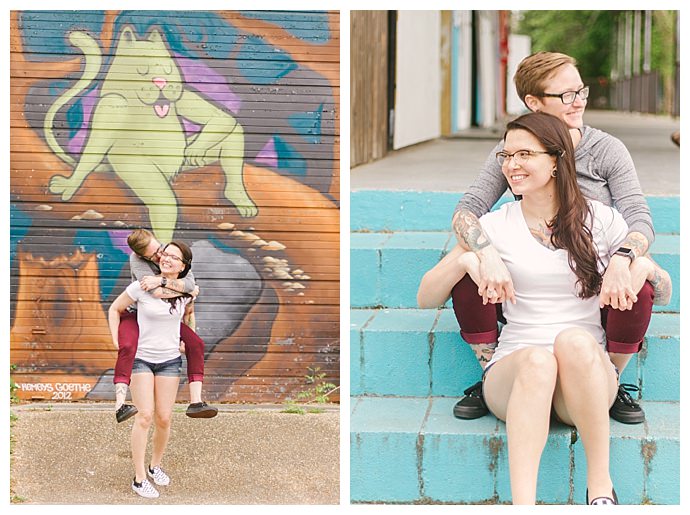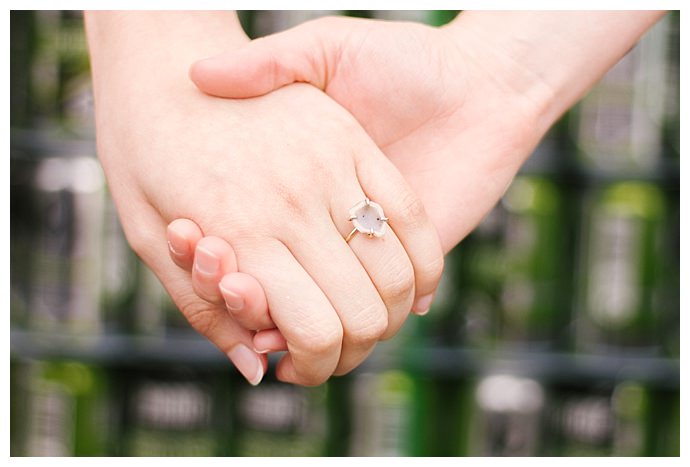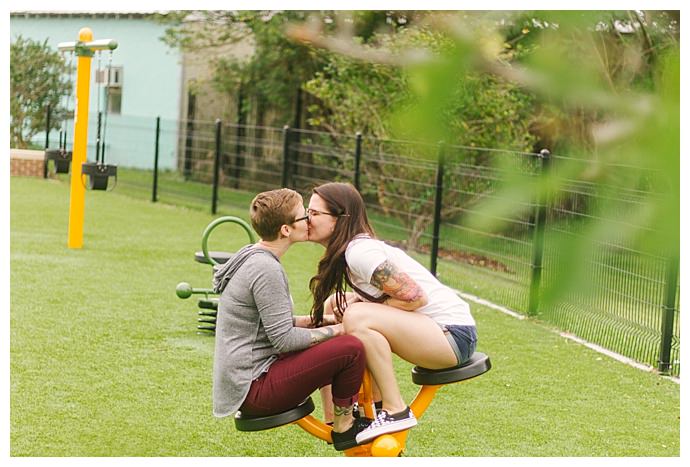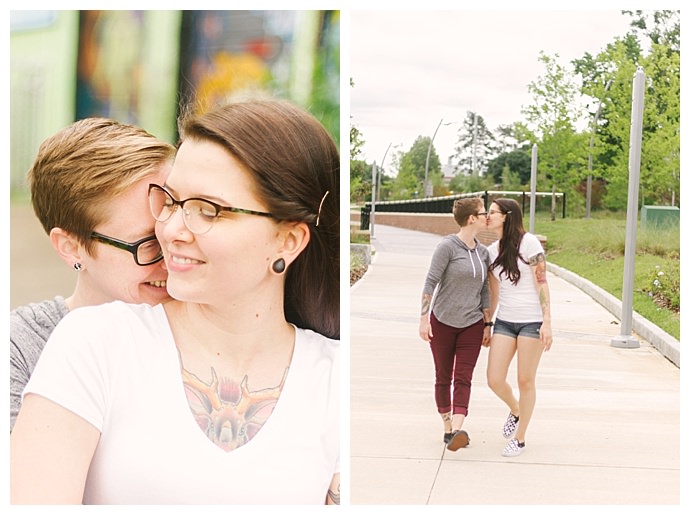 The Ring
"Rebecca isn't a huge fan of diamonds and she likes to collect crystals, so I went with a white quartz druzy on a petite gold band," Currie says.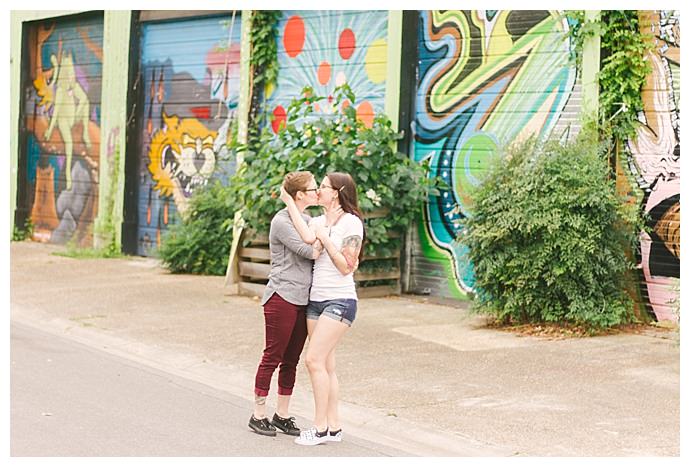 The Wedding Date: October 20, 2017