When it's cold outside, there's nothing better than cozying up to the one you love. That's why we love this engagement shoot from a winter day in Vancouver, Washington. Branch and Twig Photography ventured out into the cold for Brooke and Elizabeth's incredibly romantic, snow-filled engagement session where their charismatic connection warms us right up. These two moved halfway across the country for each other and share a passion for politics and community justice. And just recently, when Brooke and Elizabeth were participating in protests at Portland International Airport in response to the Muslim travel ban, Brooke was reminded of why she wants to spend the rest of her life with Elizabeth.
"I had climbed a pillar and was leading the crowd in a chant: When human rights are under attack, what do we do?" Brooke says. "And I look up and see Elizabeth on the second floor shouting in response: Stand up, fight back! She couldn't see me from her spot, so I felt like I was observing her in her natural element. In that moment, I was reminded that she is the one. She is the fiercest woman I know."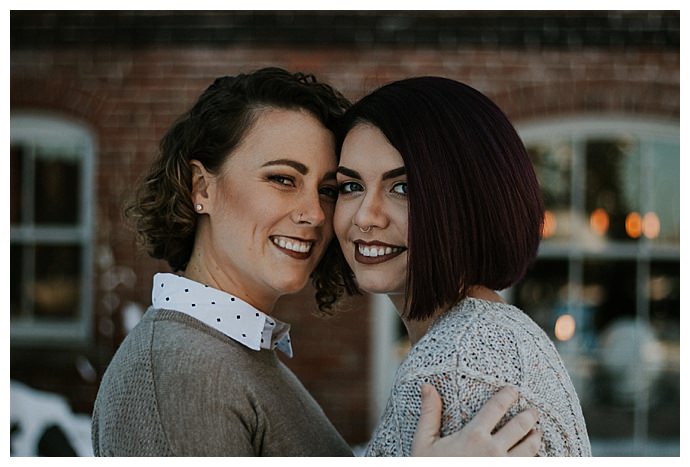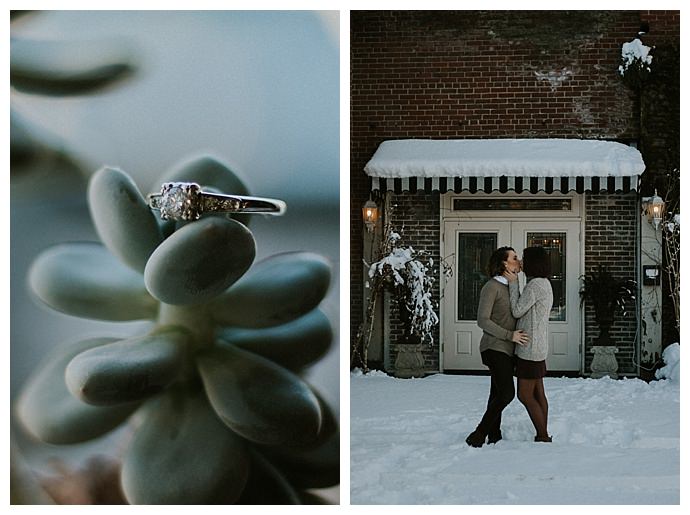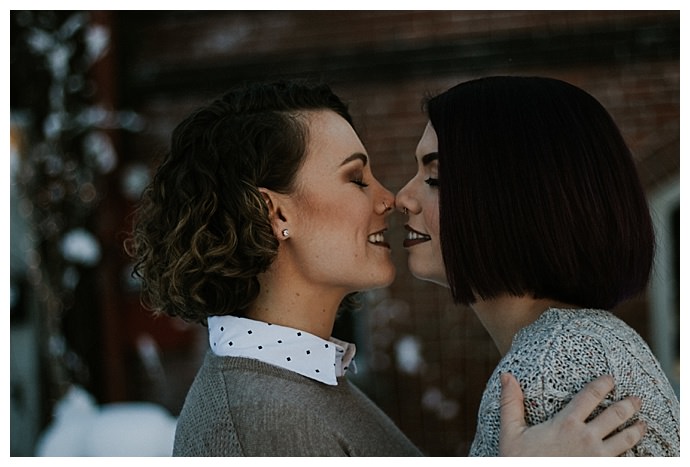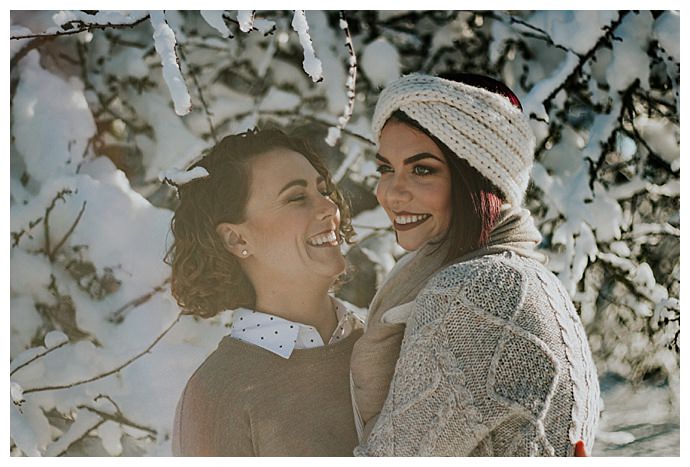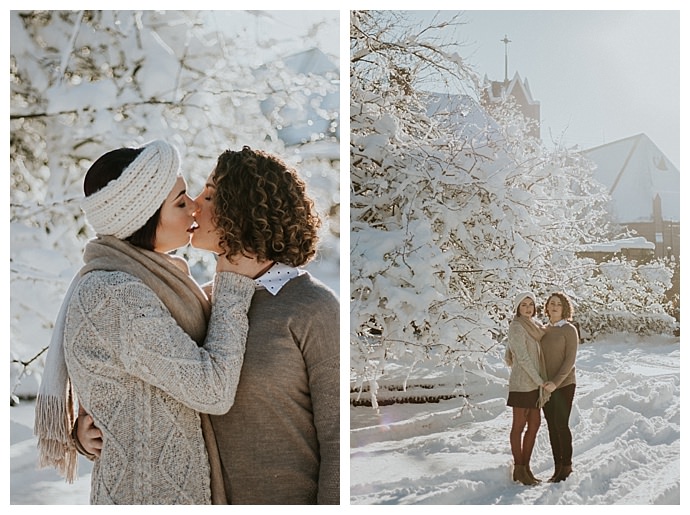 The Love Story
Sometimes you find the best things when you aren't looking for them. That's what happened when Brooke and Elizabeth were introduced by a mutual friend. "Both of us were making significant life plans and weren't ready to start a new relationship," Brooke says. "But at the insistence of our mutual friend Leah, we agreed to go on a friendly hike. A couple of hours later, we were seriously lost in the depths of backwoods Missouri forest. There's truly nothing like looking a first date in the eye and saying, 'We've got to make this work.'" Luckily, they found their way back to Elizabeth's Jeep, and with the top down and sun on their faces, they danced and sang along to alt-J's "Lovely Day." "After burgers and beer in the local gayborhood, our hearts were both in trouble," Brooke says.
As the end of summer neared and Elizabeth was preparing for her move to Portland, Brooke realized she didn't want to live without Elizabeth. Unable to find a job in Portland, they settled for the same coast, and Elizabeth moved to Portland while Brooke moved to Seattle, and instead of being 2,000 miles away, they were only separated by one state. Long-distance was their fate, but it wouldn't keep them apart for long.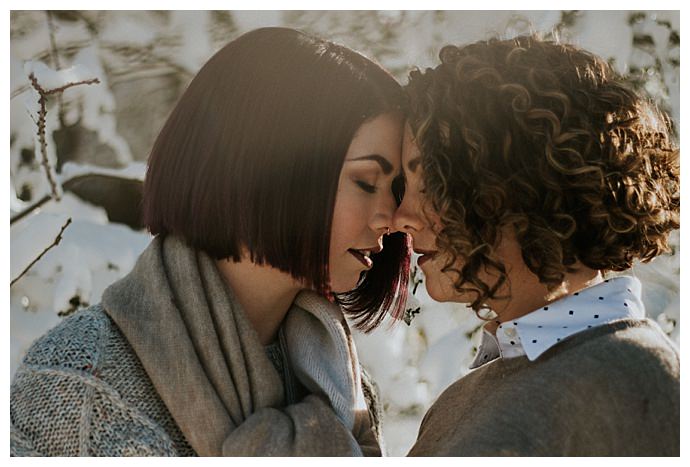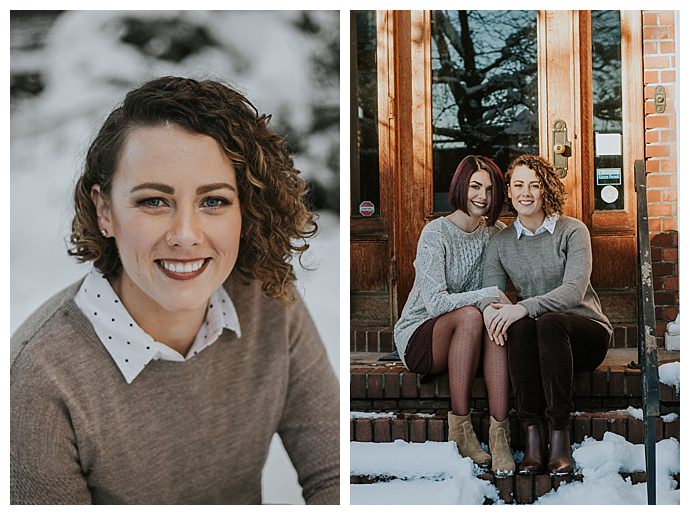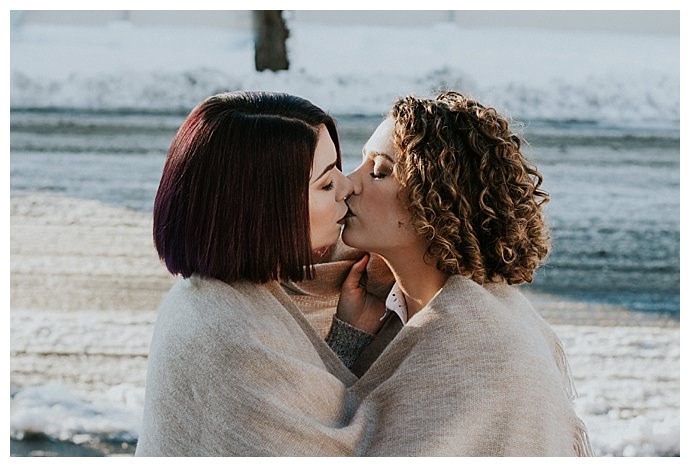 The Proposal
For a Valentine's Day getaway, Brooke and Elizabeth headed to New York City to see "Fun Home" on Broadway and spend a romantic weekend together. After a delicious brunch, the lovebirds ventured to Brooklyn to check out Elizabeth's favorite vintage jewelry designer, Erica Wiener. Elizabeth started trying on rings, and Brooke took notice of one that she really seemed to like. When Elizabeth ran across the street to use the restroom, Brooke quickly purchased the ring and buried it in her pocket before Elizabeth's return. "Once I had the ring in hand, it was time to spring into action," Brooke says. "I arranged for Elizabeth to get a manicure because I know she would want her nails to look great when I proposed." Brooke feigned exhaustion, and while Elizabeth was being pampered, she called Elizabeth's mom, sisters and grandmother. "She comes from a powerful line of matriarchs, and I wanted to honor them by calling and telling them how important Elizabeth was to me and how I wanted to join their family," she says. "They were each unique in their response and joyously welcomed me to the family and gave me their blessings."
Brooke then shared her plans to propose with the hotel's concierge and arranged for their room to be cleaned and champagne and strawberries to be brought in later in the evening while they were out. After an incredible dinner, the girls went to see "Fun Home," and Brooke brought Elizabeth back to their room where she was planning on a clean room and champagne to set the stage for her proposal. But as they opened the door, she discovered the room had been left untouched. Brooke did her best to hide her anger as to not spoil the proposal and quickly slipped down to the front desk to sort everything out. After another plan had been put in place, she brought Elizabeth down to the lounge for a complimentary glass of champagne. "The staff were extra kind, so much so that Elizabeth kept asking me what kind of fit I threw because people aren't normally as accommodating as they were being to us," Brooke says. "Once I received the hand signal from the manager, I took Elizabeth back up to the room where she was pleasantly surprised by the treats awaiting her."
Finally back in their corner room lit up by the bright Times Square lights below, Brooke asked Elizabeth to marry her. "All I remember from that moment is that I was crying, confessing my undying love for her and asking her to marry me," Brooke says. "She said yes and pulled me back up to my feet for the sweetest kiss I've ever received. It was magic." The newly engaged couple enjoyed champagne and FaceTimed Elizabeth's mom. Even though it was nearly 2 a.m., her mom woke up her sisters and they all got to enjoy that special moment together.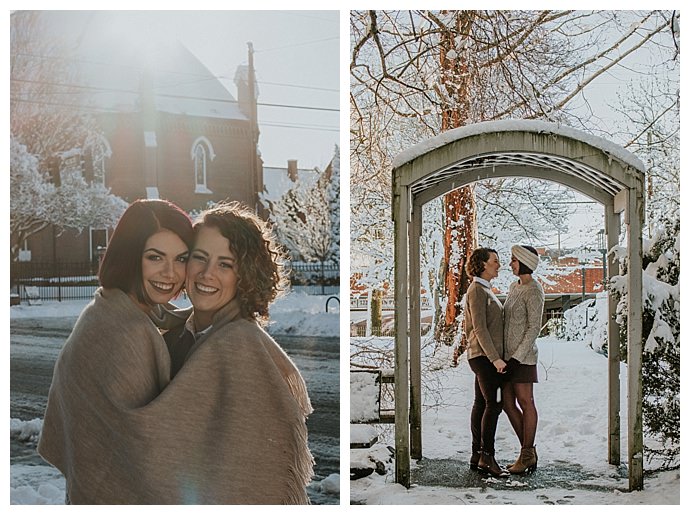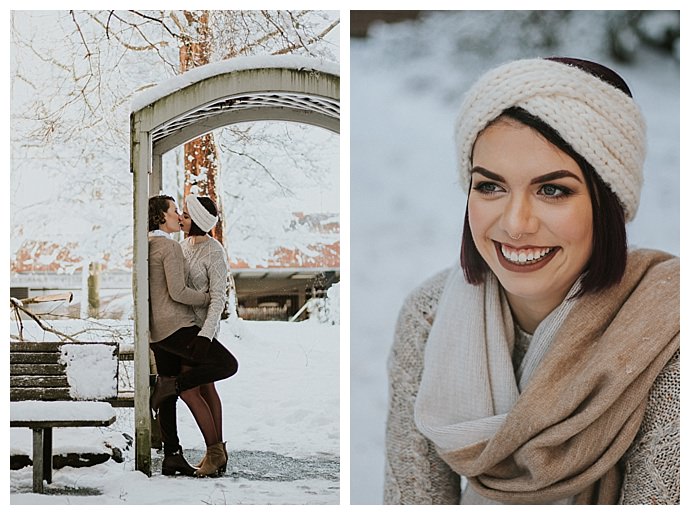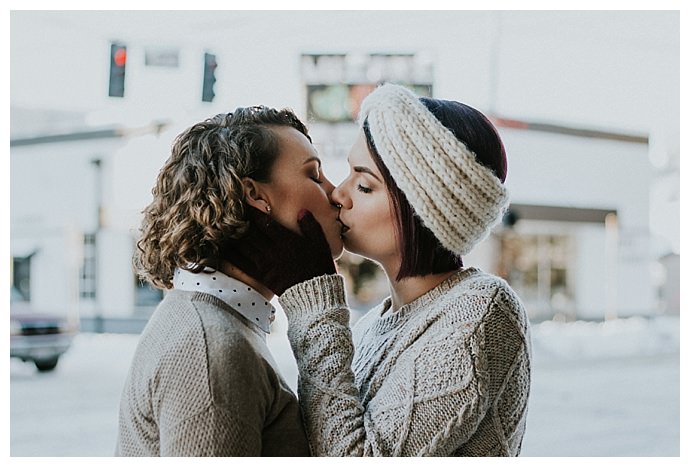 The Wedding Date: October 20, 2017