While most couples elect to spend the morning of their wedding quietly relaxing with champagne in hand, Austin and Jennie set out on a treacherous hike. But it wasn't just any hike — it was a hike to the foot of Machine Falls in Tullahoma, Tennessee, where they planned to elope, exchange vows and commit the rest of their lives to each other.
Ten of their friends and family joined Austin and Jennie for the excursion and looked on lovingly as the they said "I do" on a heart-shaped rock, like a giant ring box, in the mist of the waterfall. After the ceremony, The Modern Palm captured some amazing photos of the blissful newlyweds in the water that are nothing short of pure romance.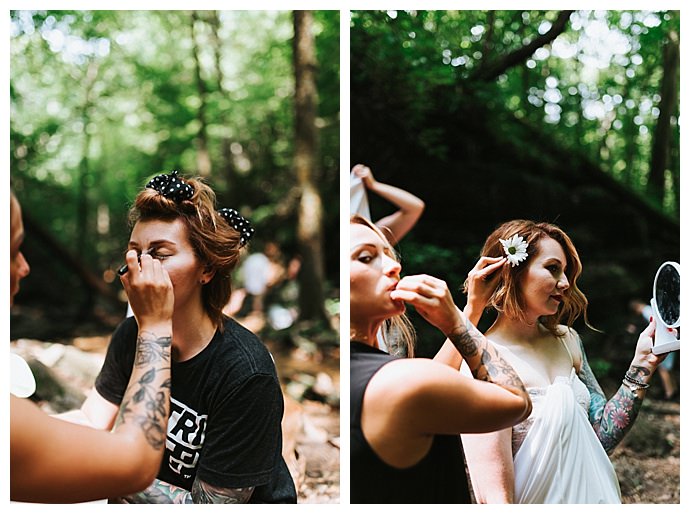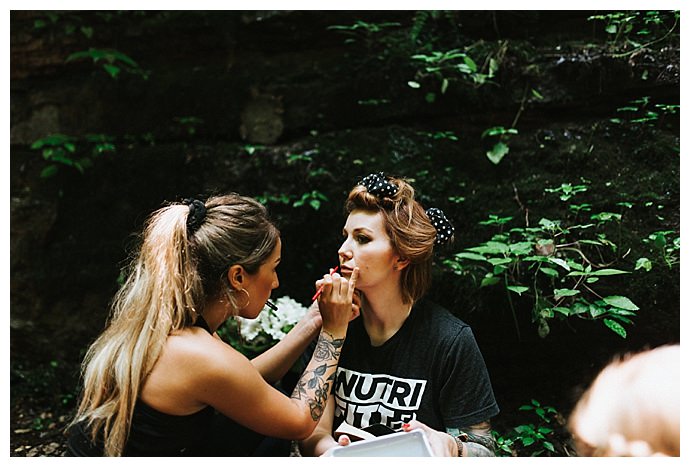 The Love Story
The first Jennie heard of Austin was from a friend at work who told her they'd certainly hit it off. After she saw his Facebook profile and noticed how attractive he was, she told her friend to give him her number. "We started talking through messenger, and he ended up calling me that evening," Jennie says. "After that, it took, we'll call it persuasion, and a good amount of time to get me out on a date. Thank God this man did not give up on the idea of taking me out!"
Austin and Jennie spent the next several weeks conversing via messenger, snapchat and text until Austin was eager to meet up. Because they had such opposite work schedules, Jennie suggested a FaceTime. "When my phone started ringing, I hit the little green phone to answer, and whoa, this man is gorgeous!" Jennie says. "And something happened that I've never experienced over a video or phone call before. I felt warmth and comfort. It was as though I was talking with my best friend whom I hadn't seen in years." After three hours on FaceTime, Jennie was dying to meet Austin, but they wouldn't be able to meet up for another week. But after two days, Austin simply couldn't wait any longer. He texted Jennie to let her know he'd driven to Nashville to pick her up after work for a drink. "I'm a trauma and emergency room registered nurse in Nashville and work 12 plus hours a day on my feet partaking in activities that leave me sweaty and potentially covered in unknown bodily substances," Jennie says. "It's not a let's-go-out-after-work kind of job. But this man, after I make my physical state very clear, urges me out."
They clicked immediately, and from that very first night together, Austin knew she was the one. "It's not every day you find someone that makes your heart scream every time you see them," Austin says. "This was how I felt the very first time I laid my eyes on Jennie. There's no one else on earth that I would want to grow old with besides her."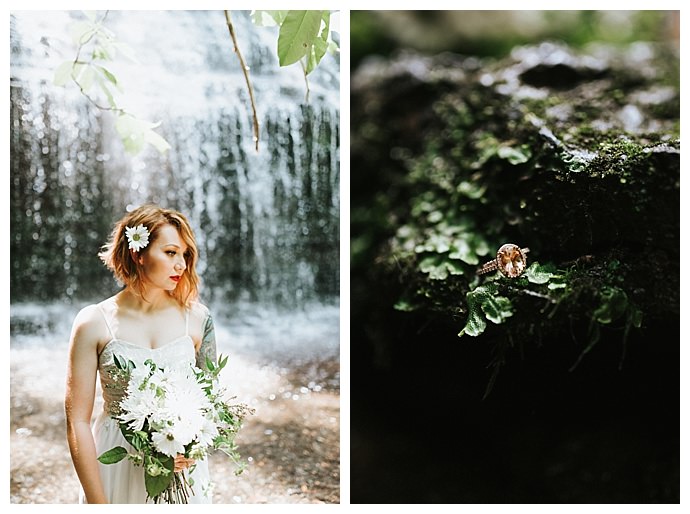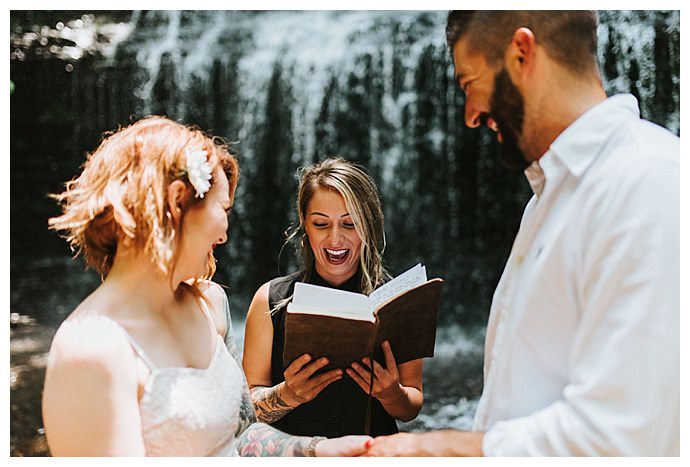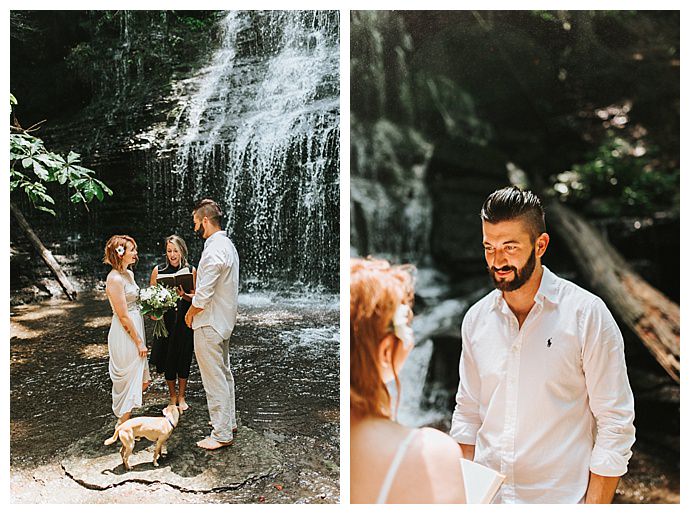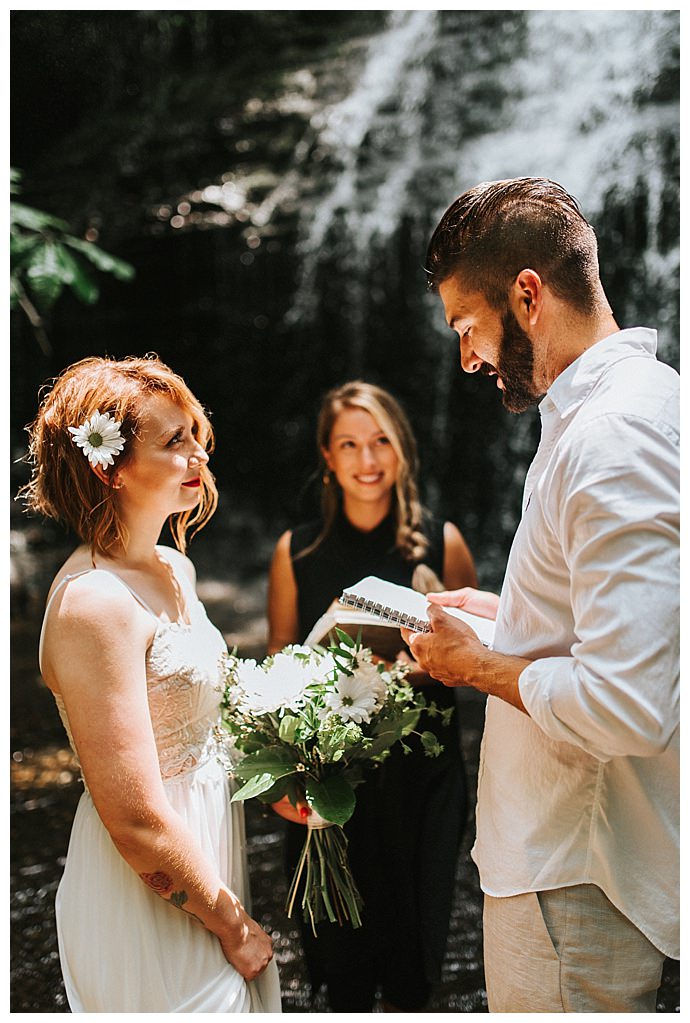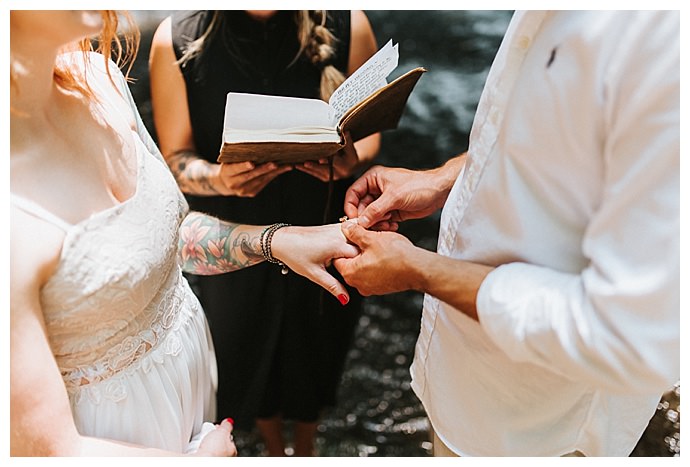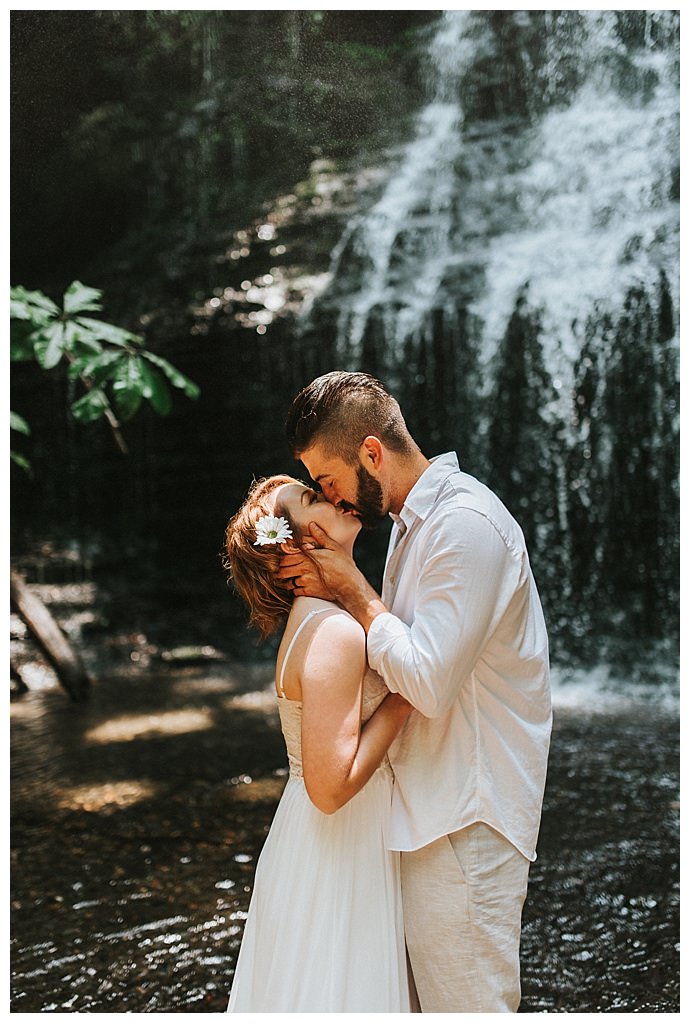 The Ceremony
Eloping hadn't always been the plan for Austin and Jennie, but after they visited the venue they thought was the one, they had a change of heart. "We originally planned our ceremony at a venue in east Tennessee after driving over five hours to visit there," Austin says. "While this place was gorgeous, we continually felt pulled to do something that was more true to ourselves and out of the ordinary for what a wedding should be. We are both very adventurous people and fell in love with the idea of an outdoor wedding but wanted it to go a bit further!"
When they finally came across Machine Falls, a remote waterfall in Tullahoma, Tennessee, they knew they had found the place. After an advanced 30-minute hike, Austin, Jennie and their crew finally reached the falls. "We were married in the front of the falls on a heart-shaped rock that stood above the water just enough to barely keep our feet dry while slightly being kissed by the cool mist from the water," Austin says. "Jennie's best friend Courtney was our officiating minister, and she did an amazing job. We both wrote our own vows, which is something we had always wanted to do." After they were officially pronounced husband and wife, the newlyweds celebrated with champagne that they shared with their friends and family who had gone through so much to be with them on their special day.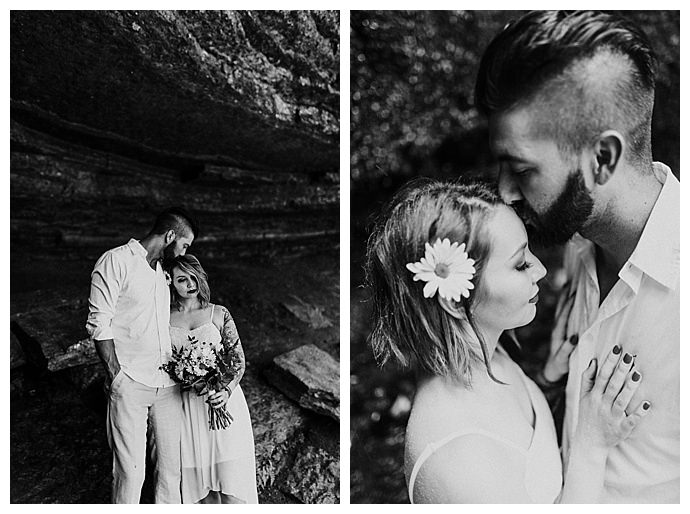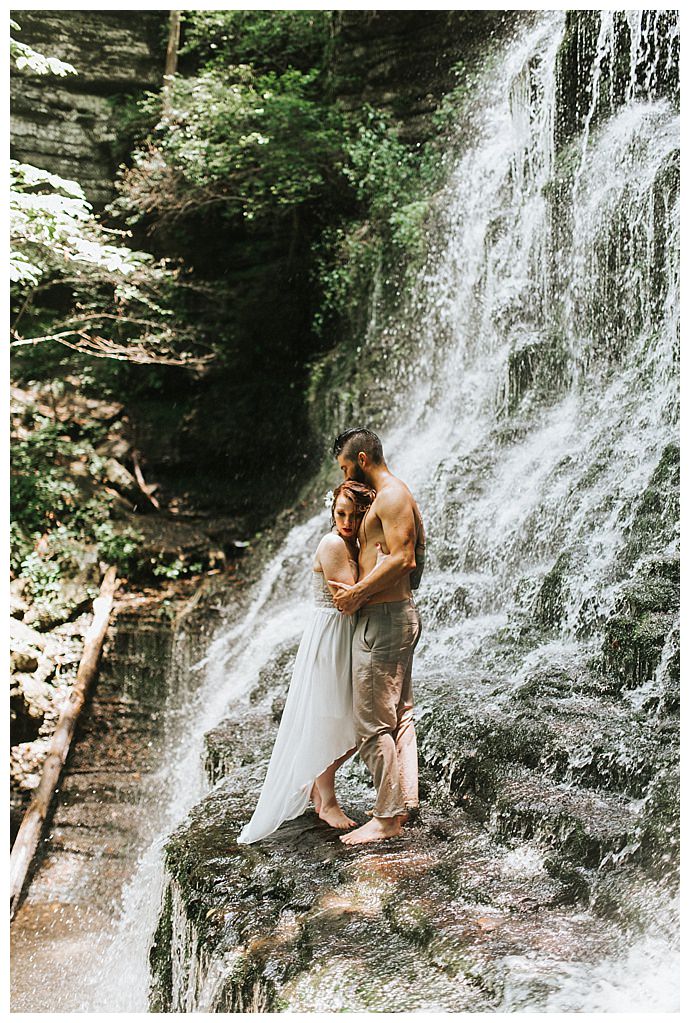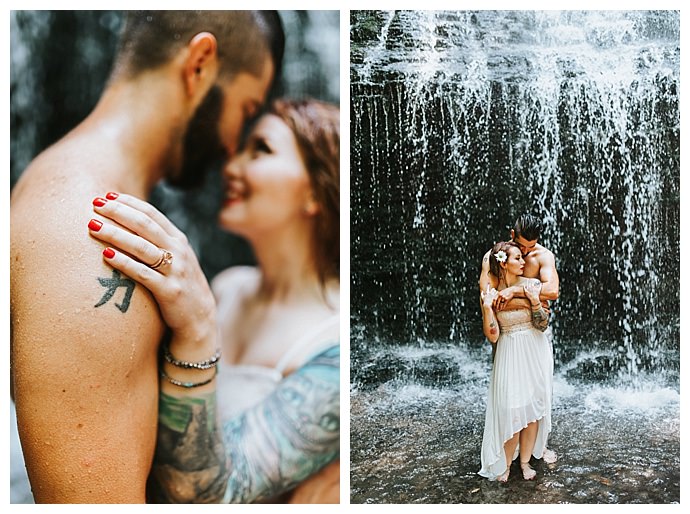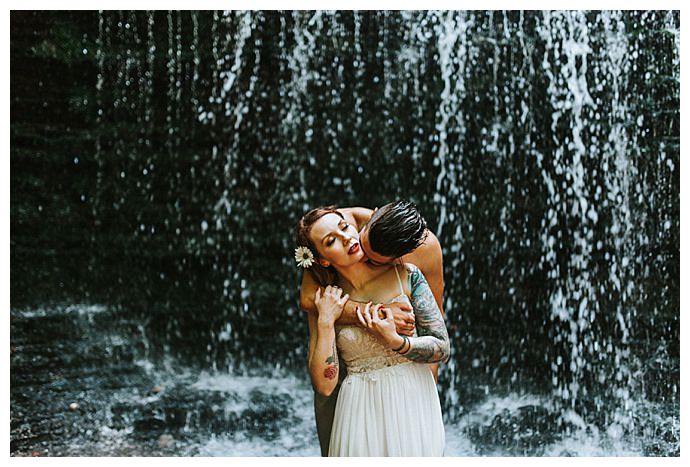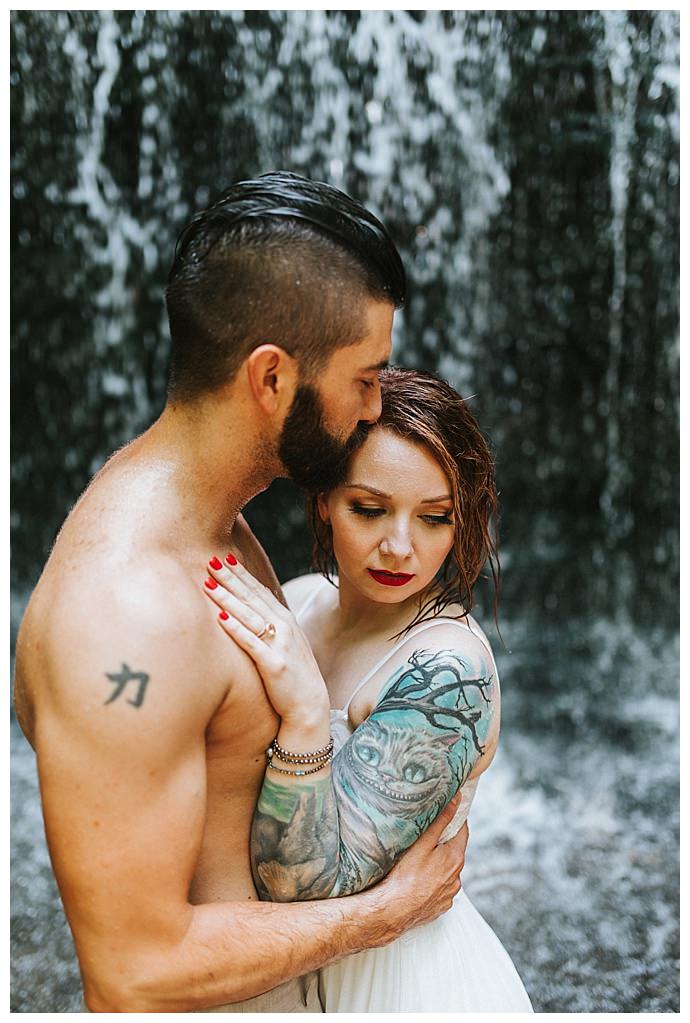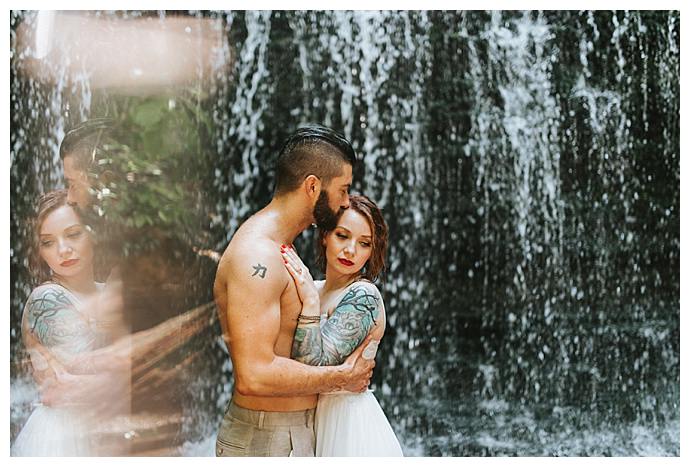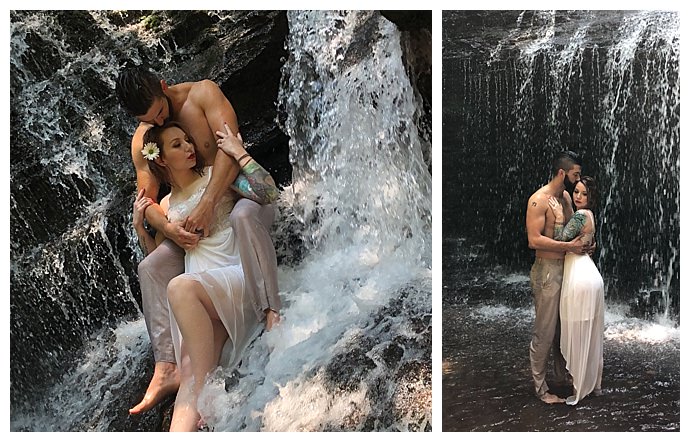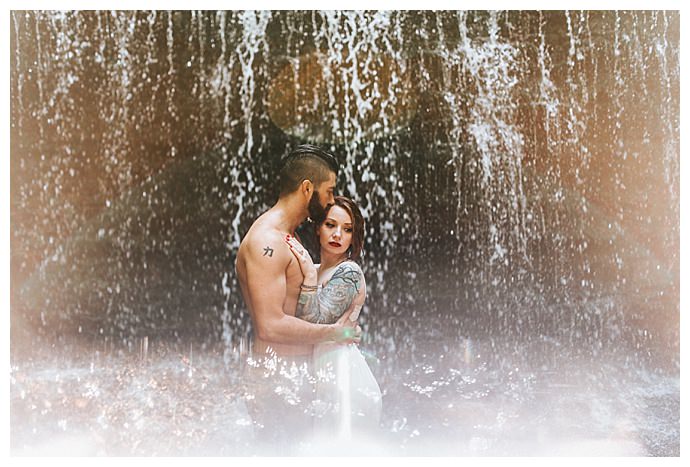 Memorable Moment
"For me, it was definitely the walk up to Jennie and looking into her eyes during the ceremony," Austin says. "Our photo session afterwards was extremely intimate as well and is something I'll never forget."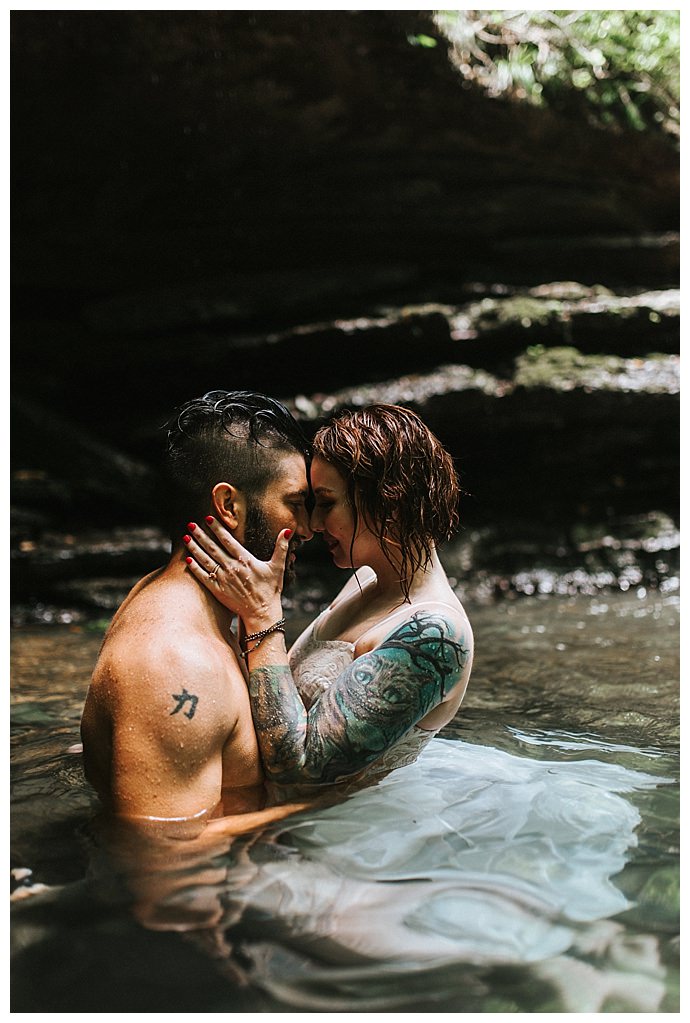 Written by: