Weddings are ripe with tradition (some great, others not-so-great), but so many of these traditions are tied to cultures and can be a beautiful nod to the individual roots of the soonlyweds. For many couples, this may include a longstanding tradition that has started to grow once again in popularity: Jumping the Broom.
"Over 15 years ago, I was asked to create a ceremonial wedding broom for a former colleague. Of course I've heard of Jumping the Broom but I didn't think anyone still carried out the tradition. I soon after developed a sincere interest in the history of wedding jumping brooms and a passion for offering this to wedding couples grew," says Marayah Lane, owner/designer of Brooms Baubles 'N' Brides. "Today I see more couples wanting to acknowledge the resilience and beauty of our ancestors and I want to help them carry out that tradition."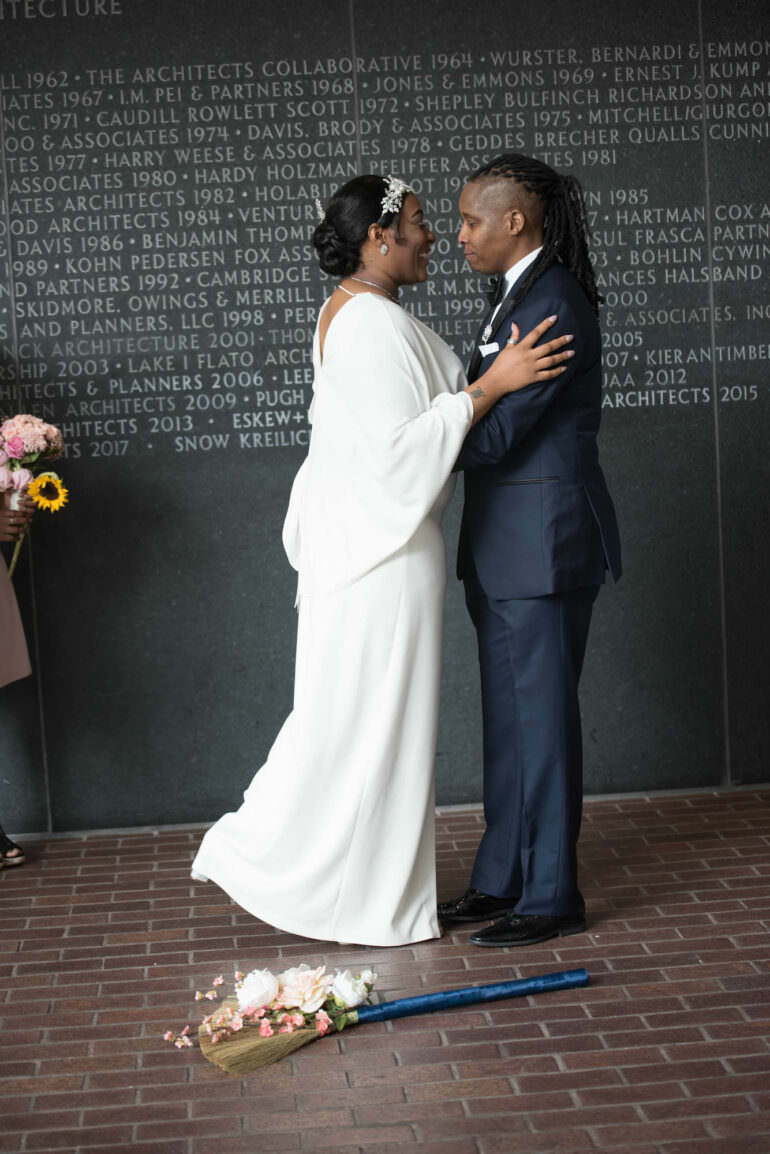 What Exactly is Jumping the Broom?
Jumping the Broom is an historical wedding tradition among African-Americans. After saying "I do," and the officiant pronounces the couple married, the newlyweds hold hands while jumping over a broom to seal their union. While many people may be familiar with the tradition, the broom has multiple means based on culture. In most ceremonies, the broom handle is a representation of God, the bristles of the broom represent the families of the couple, and the ribbon on the broom are the ties that bind the couple together.
Designer Candace Williams of Pretty Prints Etc., who creates custom brooms for weddings, encourages couples to make their brooms a reflection of their day. "If they are getting married in the tropics, then let us know and we'll use tropical floral. If you are having a goth-inspired wedding, we can reflect that too; it can be something as simple as saying that it is important that a certain type of flower end up in the broom."
"I recently designed a wedding broom for a lovely couple and during their ceremony; they along with their children each tied a ribbon on the handle of the broom symbolizing family ties and bond. Very touching," adds Lane.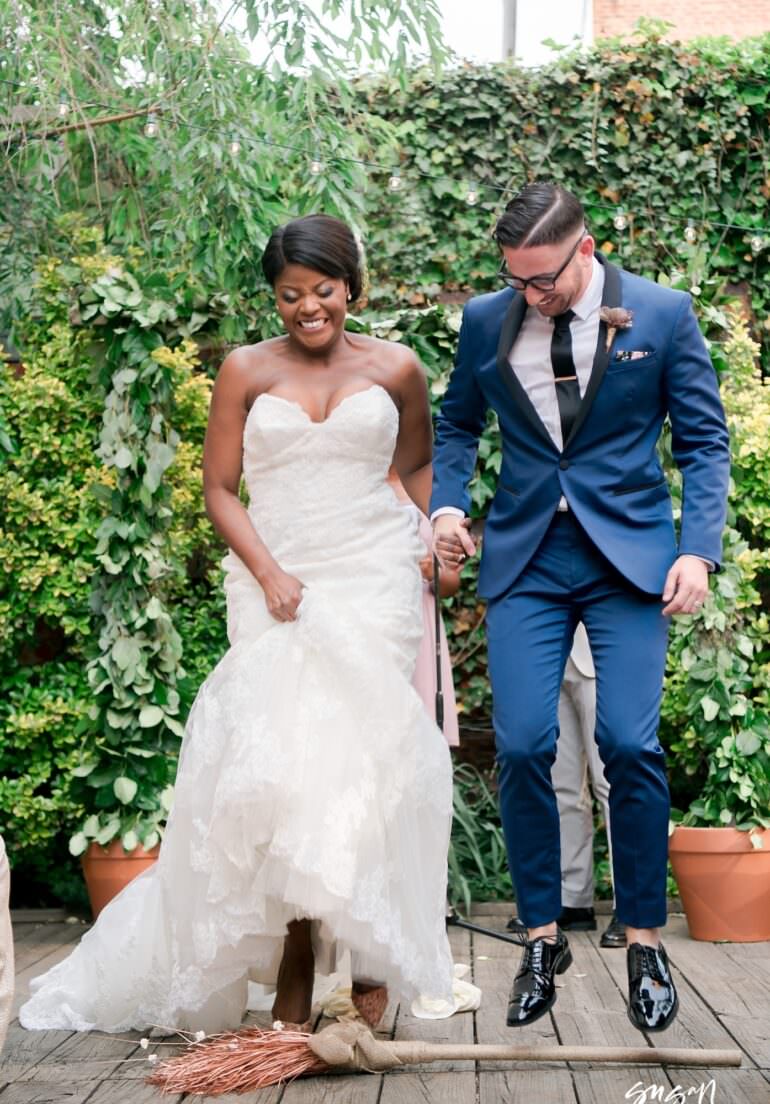 The History Behind Jumping the Broom
There are varying accounts of exactly where this tradition started. Some say it started in West Africa and used to ward off evil. There are also stories that this began in Wales, representative of the "Besom Weddings," where marriages were not recognized by the church in Roma. This tradition can also be tied back to Scotland.
In modern U.S. history, Jumping the Broom was prevalent during slavery, where couples would jump the broom as part of a wedding ceremony to recognize a union. There are other accounts that this was how slave owners forced the slaves to get married. Although slavery ended, this tradition often carries on in the Black tradition, being revived once again in 1976 when Alex Haley's novel "Roots: The Saga of an American Family" was released.
Wedding Brooms are Alive and Well
Ceremonial brooms tend to have a more traditional aesthetic, but there are some designers, like Lane and Williams, who are creating designs that are more in-line with the modern couple.
"Wedding brooms are a very niche item, steeped in tradition. I believe the makers of most brooms are from an older generation, and are mainly replicating what they've seen our ancestors do for generations," notes Williams, who fell into this business after creating her own wedding broom in 2014. "No one in my immediate family had ever jumped the broom, so there was no heirloom that I was competing with … and I had no visual influences. I just created what I felt we would love and I continue to create using that same vision for my clients."
Lane agrees. "Sometimes when people think of past tradition, they feel they have to copy the exact visual aesthetic to convey the connection," notes Lane. "When I think of tradition, I think of the essence and the meaning behind it, and that fuels my creativity. So, in modern times, we may use chiffons, luxe faux flowers, pearls and all things that sparkle and shine but the essence of the love, tenacity and strength that our ancestors embodied during such a dark time in history is still in every broom, every leap, every committed heart."
Check out some of our favorite modern ceremonial brooms, all heirloom-worthy to pass on for generations: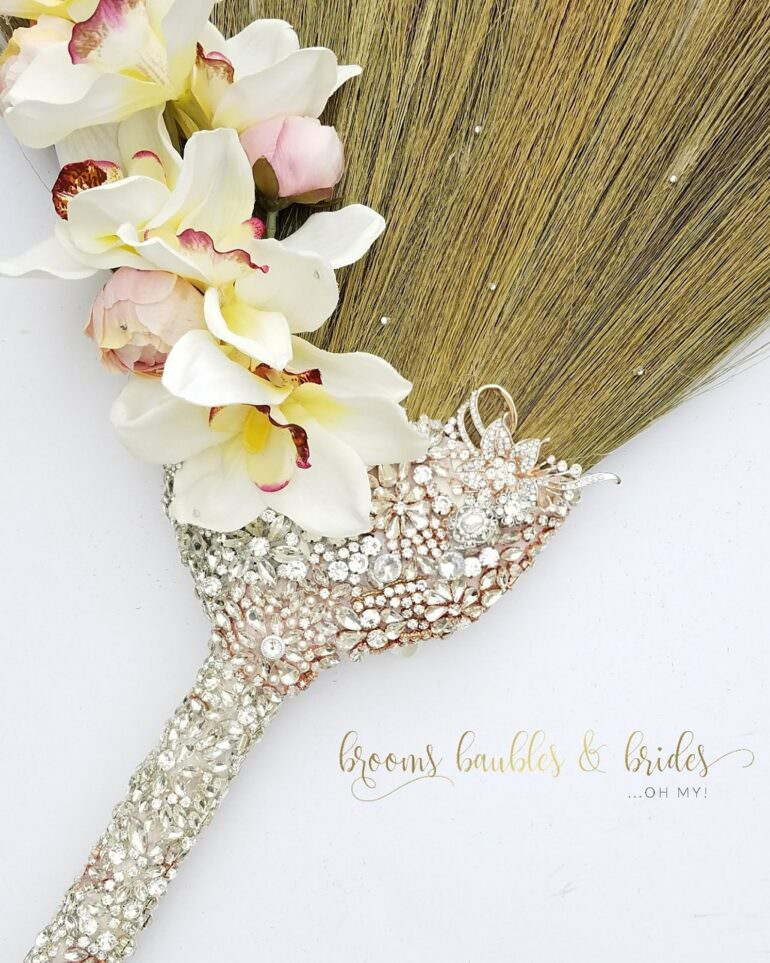 Jewel & Sparkle Wedding Broom; Brooms, Baubles 'n' Brides, $162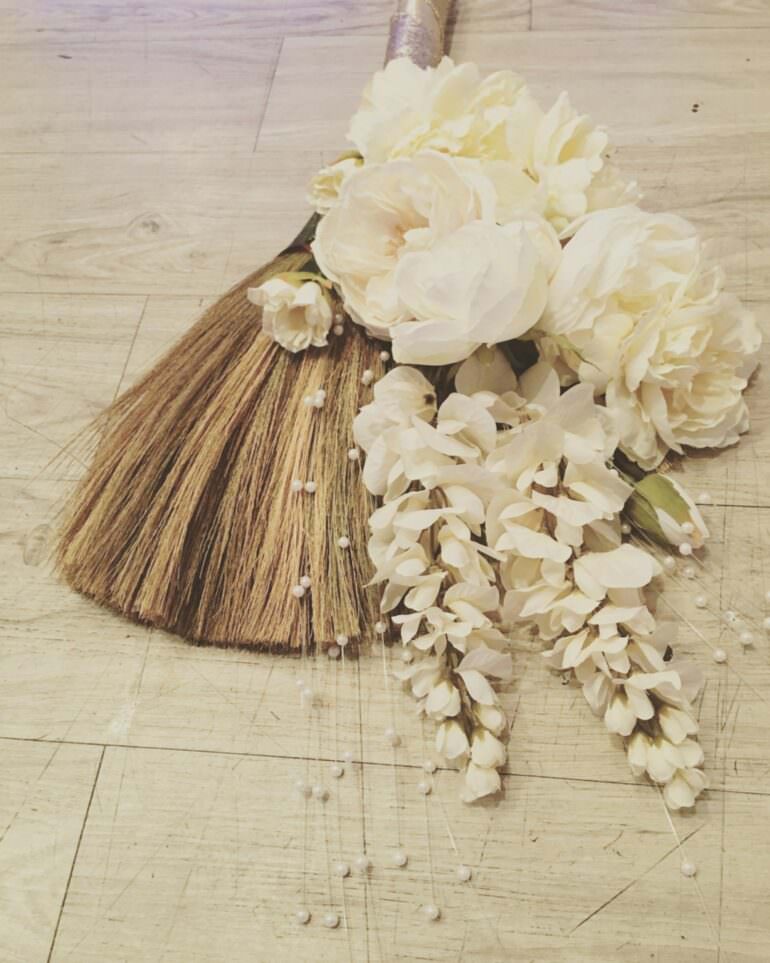 Signature Wedding Broom; Pretty Prints Etc., $110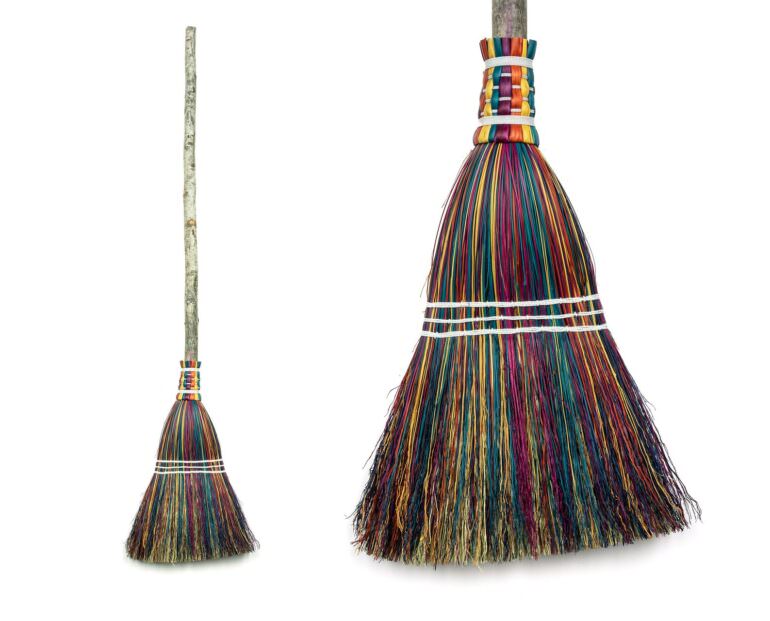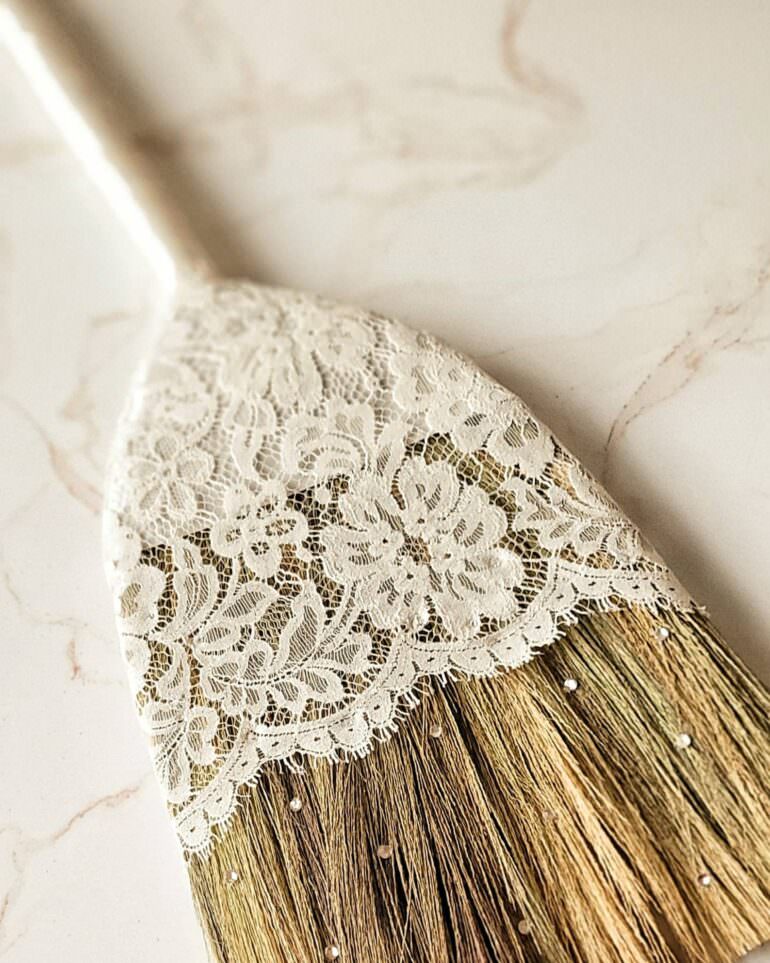 Lace Wedding Broom; Brooms, Baubles & Brides, $78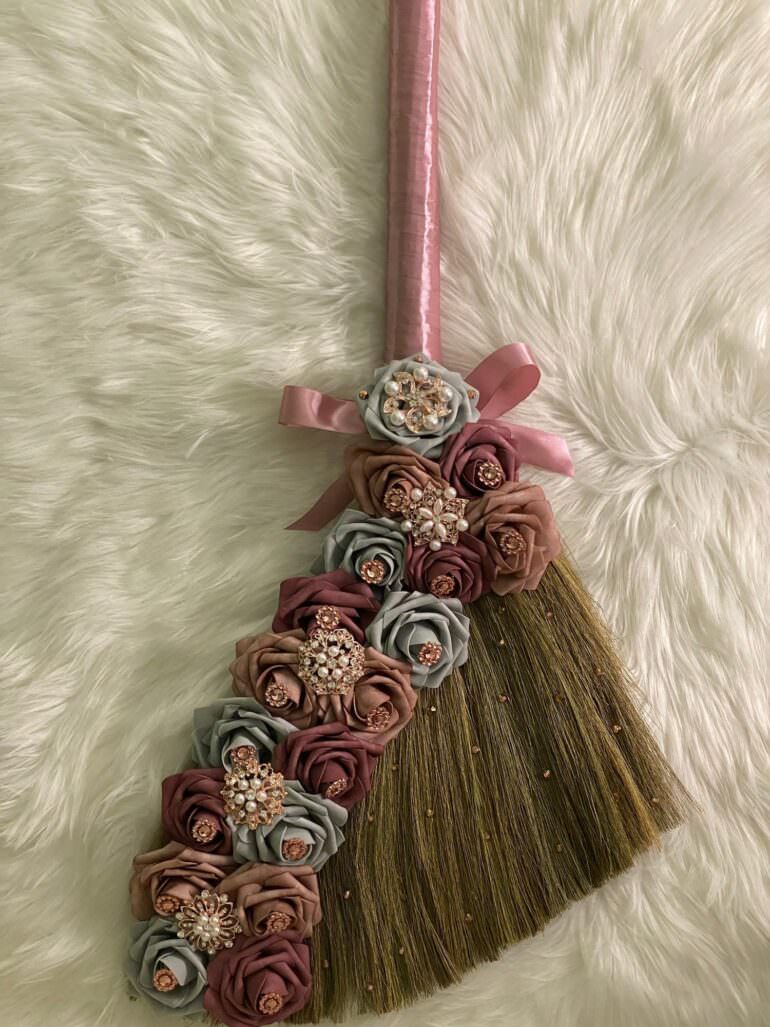 Custom Wedding Broom, Etsy $85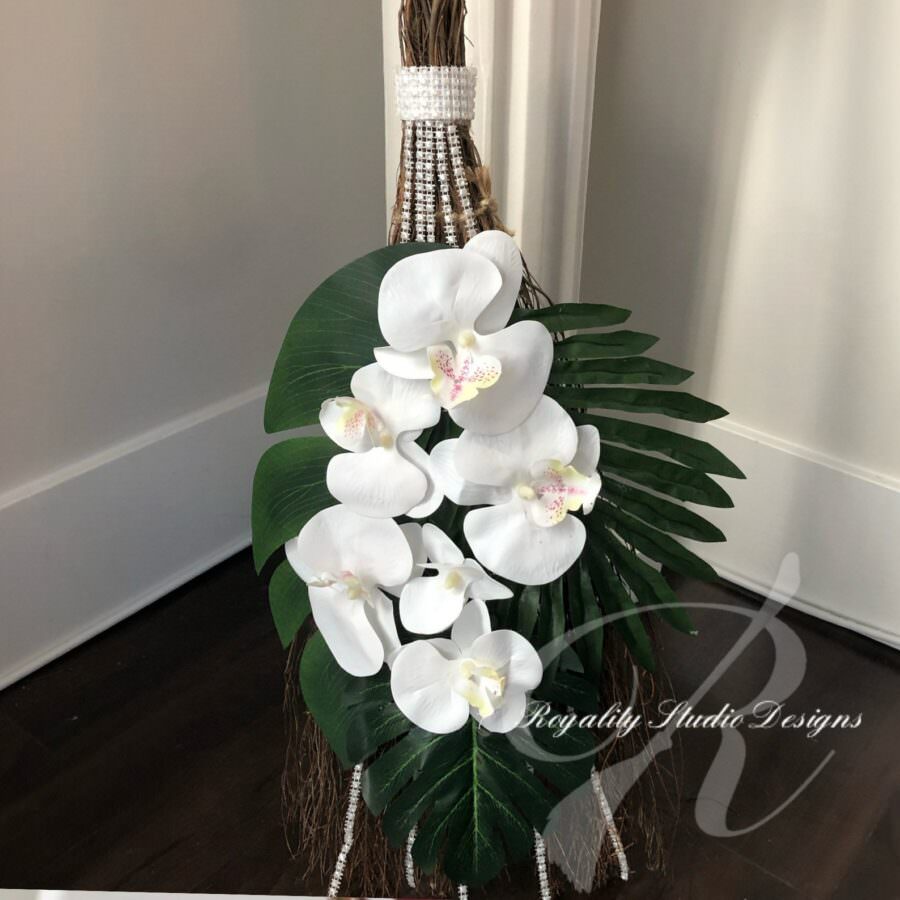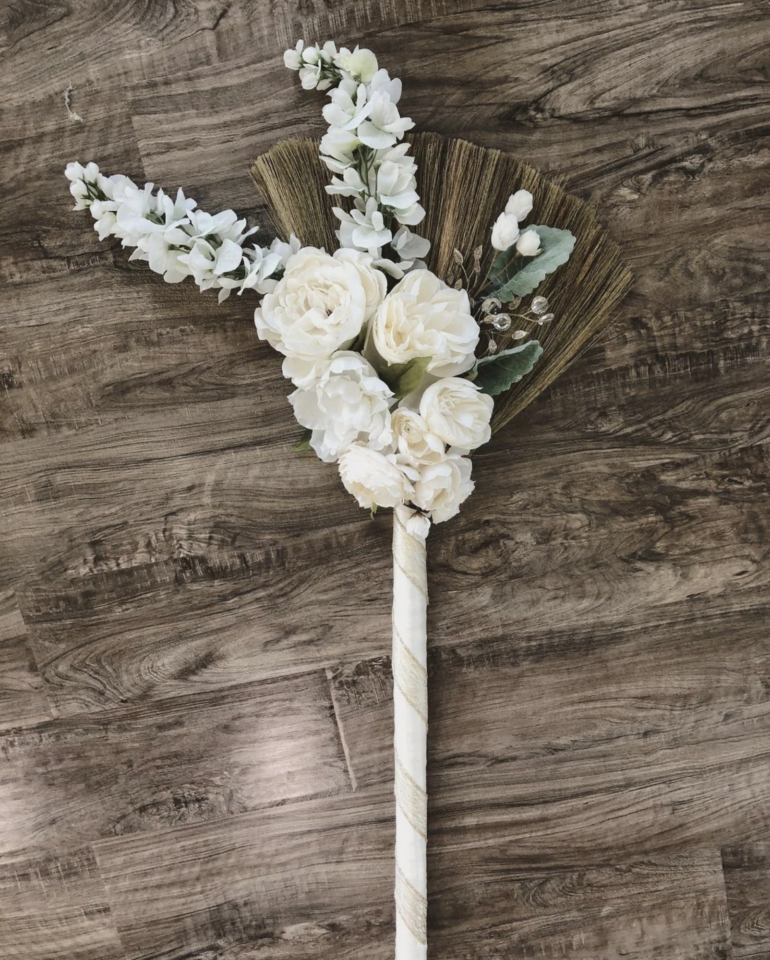 Modern Ivory Wedding Broom, Etsy $110
Written by T. Allaire Williams
Photo credits: Raven Shutley Studios; Charmed Life Photography; Susan Shek Photography from Astin and J's Wedding