Fall is near, you guys. Photos of pumpkin spice lattes are already buzzing on social media, reminding us that it won't be long before crisp air, crunchy colorful leaves and cozy sweaters replace the hot, humid days we've been suffering through this summer. But just because you'll be slipping your toes into a snug pair of riding boots instead of strappy sandals doesn't mean your feet don't deserve a good pampering along with your nails! For one of the most colorful times of the year, here are five festive mani/pedi combinations for you to try this fall!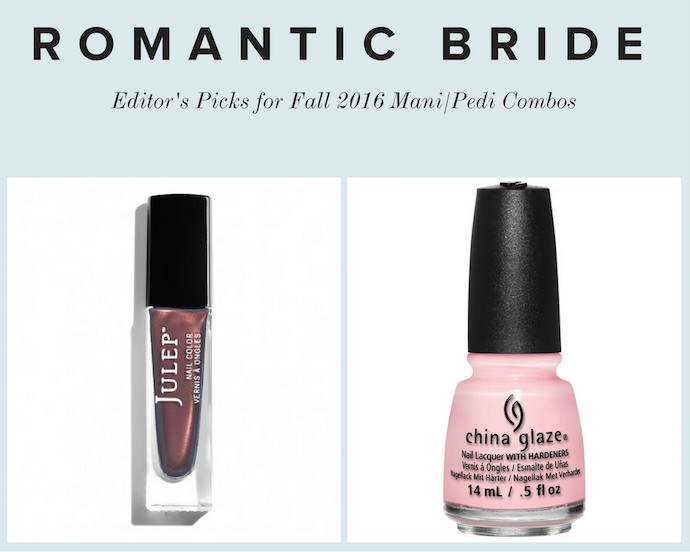 Romantic Bride
FINGERS
Peggy by Julep: If you could capture fall in a bottle, this would be it. When you step outside as leaves crunch under your feet, the way the light catches the soft rose shimmer on your fingers will bring a warm smile to your face.  Available at Julep for $14
Toes
Fresh Princess by China Glaze: This pale pink is the perfect shade for brides to rock year round, but we especially love it as a transition shade for those who aren't quite ready to let go of those warm summer days. Wear it on your toes to show off your glowing, sun-kissed skin. Available at Ulta for $7.50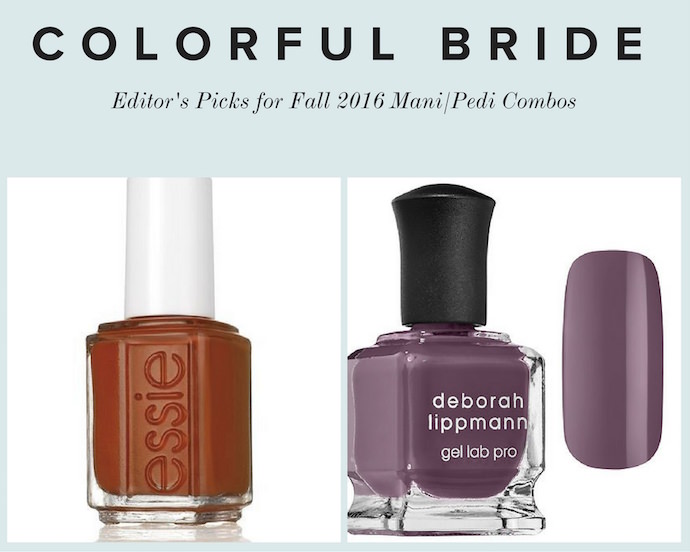 Colorful Bride
Fingers
Playing Koi by Essie: Orange can be an intimidating color, but don't be afraid to flirt with this blissful autumn shade. Its rusty hue has us dreaming of pumpkins and cozy nights by the fire wrapped up in a blanket with our loved ones. Available at Target for $8.99
Toes
Love Hangover by Deborah Lippmann: Some are born in the purple, and some are born to wear purple. Either way, this divine mauve-y plum will make you feel like royalty as you say "I do." Available at Sephora for $20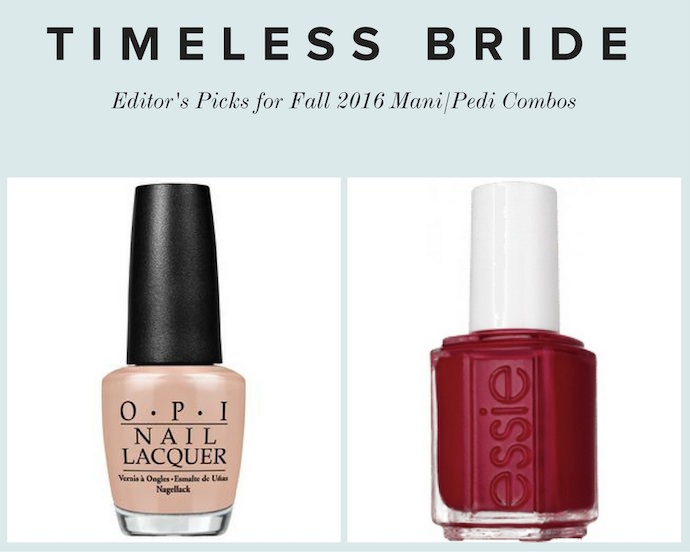 Timeless Bride
Fingers
Pale to the Chief by OPI: There's so much to love about this delicate color; you can pair it with just about anything for a clean, elegant look that stands the age of time. But don't be fooled, this nude tinge is far from average. A lovely soft shimmer sets it apart, creating the perfect canvas for your new ring to steal the show. Available at Sally Beauty for $9.99
Toes
Maki Me Happy by Essie: Wine is always a good idea, and we aren't just talking about pinot. This delicious deep berry is extra sweet when paired with a skin-toned polish. They form the perfect pair, which is why it's the only combo to wear as you marry yours. Available at Target for $8.99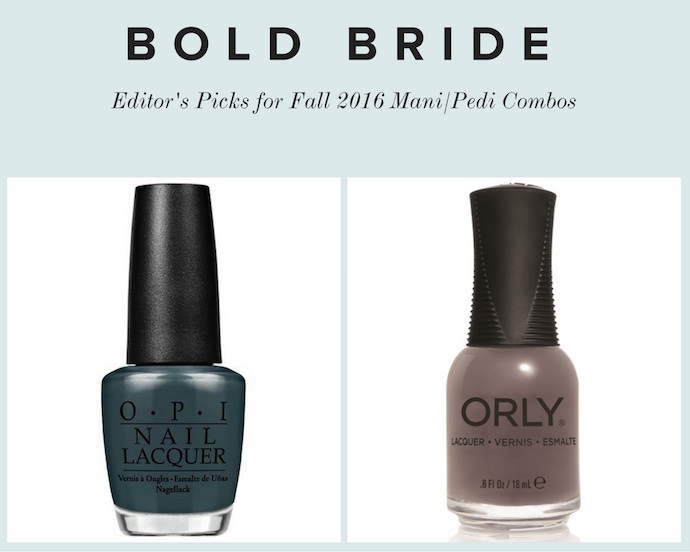 Bold Bride
Fingers
CIA = Color is Awesome by OPI: Dark-colored polishes are a daring choice for most brides, but this trendy blue with gorgeous green undertones would make a great wedding accessory. Especially for those who love black polish but want to tone it down, this beautiful dusky blue is the color for you. Available at Sally Beauty for $9.99
Toes
Mansion Lane by ORLY: You can kick any stereotypes about the color gray to the curb because this lively hue is anything but dull. Shades of gray will be everywhere this fall, and you'll be surprised how much you love rocking this color on your toes. It won't be long before this polish makes its way into your staple collection. Available at ORLY for $8.50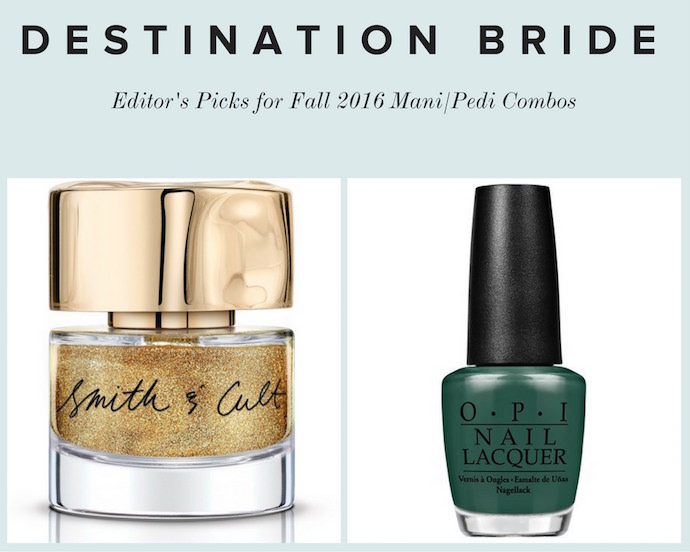 Destination Bride
Fingers
Bridge and Tunnel by Smith & Cult: As you jet off to somewhere warm and sunny, you will be shimmering with delight in this sparkling gold polish. Everyone wants to feel their best on their wedding day, and you'll feel like a million bucks when your fingers are dipped in gold. Available at Smith and Cult for $20.
Toes
Stay Off the Lawn by OPI: This lush polish has us dreaming of somewhere tropical. With a vibrant green color on your toes, you'll be itching to get your feet down the aisle and into the sand where you can relax with your newlywed and celebrate in style.  Available at Sally Beauty for $9.99.
*Editor's Note: This post contains affiliate links. Each time you purchase an item via our affiliate links, Love Inc. is receiving a small percentage of the sale, thus you are helping our small, equality-minded business grow and allowing us to provide more content for YOU! Isn't that just fantastic?