There's something magical and symbolic about a wedding send-off. Whether it's capturing the look of joy on the newlyweds' faces as they say farewell to their friends and family or ending the evening with a memorable bang, the send-off has become an important element of the wedding celebration. What used to be a low-key adieu has now turned into an epic nightcap, featuring fiery sparklers, a shower of bubbles or a burst of confetti, which, in the era of "do it for the gram," produces some incredible photos. Although sparklers seem to dominate the send-offs these days, there are so many different ways to make your ceremony exit or send-off unforgettable. So we've rounded up 11 of our favorite ideas — from mini beach balls to colorful balloons — to create a fun send-off that you and your guests will love.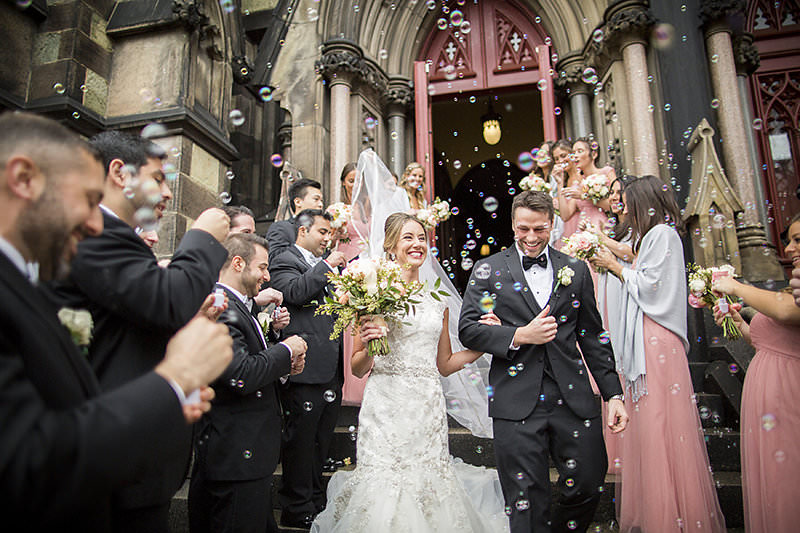 Bubbles are simply euphoric, which makes them the perfect addition to a wedding celebration. You can't not smile when bubbles are floating through the air, as evidenced by this joyful ceremony exit! | photo by Anna Schmidt Photo | via United With Love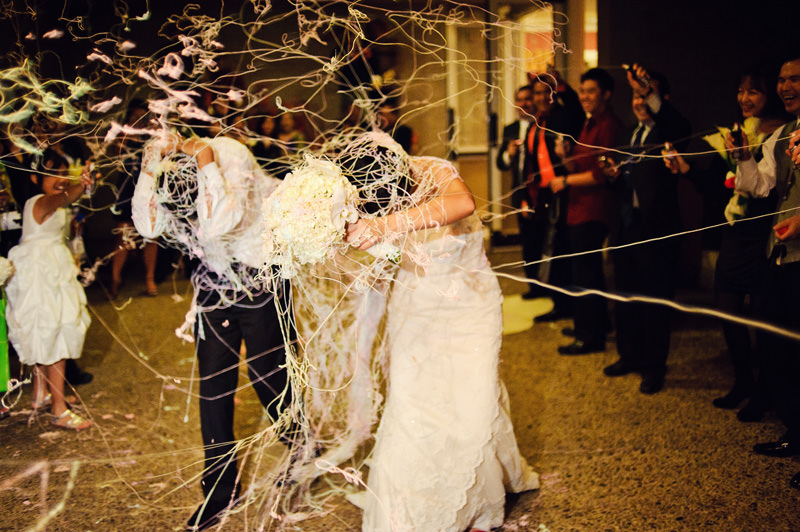 This silly send-off idea is for the fun-loving couple who won't mind pulling sticky strings out of their hair for the next two days. But what's more fun than being tangled in silly string with your love after you've said "I do?" | photo by Life As Art Photography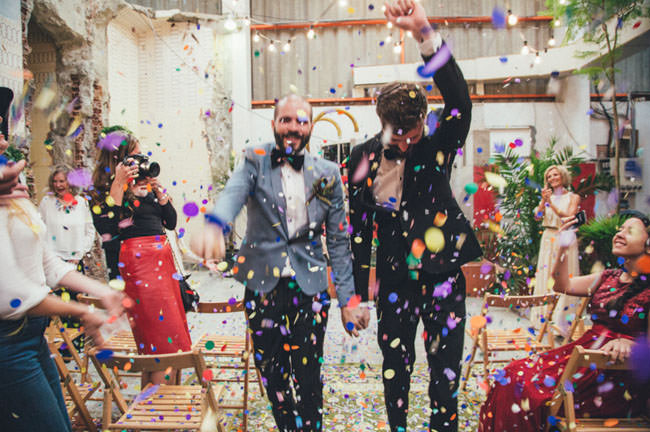 Confetti is a no-brainer for a ceremony exit or end-of-the-night send-off. It's fun, it's easy and not as hard to clean up as you might think. Look for ecofetti or a biodegradeable confetti that dissolves when you hose it down. Trust us, your venue will thank you! | photo by Gore Vásquez | via Green Wedding Shoes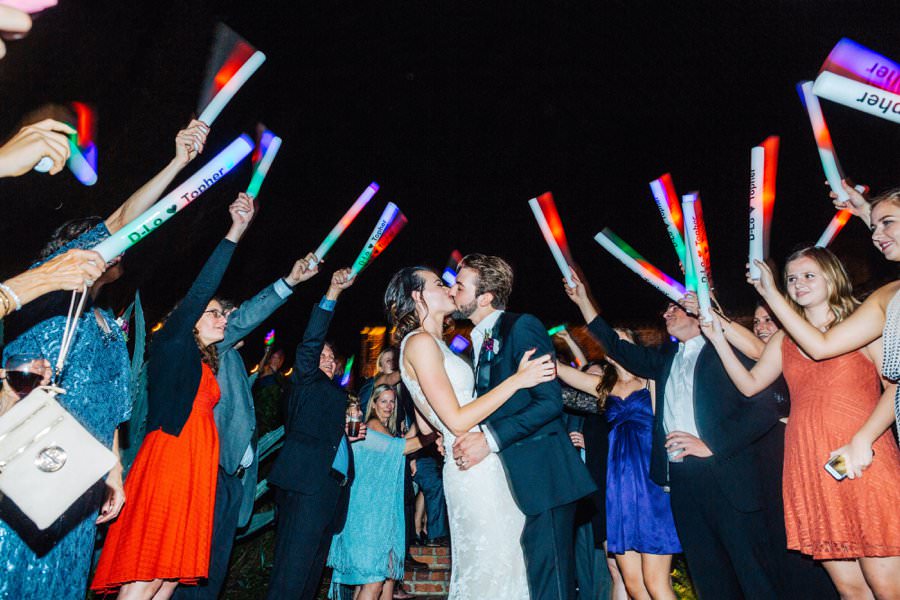 We're obsessed with this send-off because not only does it involve giant glow sticks, but also a personalized inscription with the bride and groom's name that doubles as a wedding favor! | photo by Nate + Lori | via Every Last Detail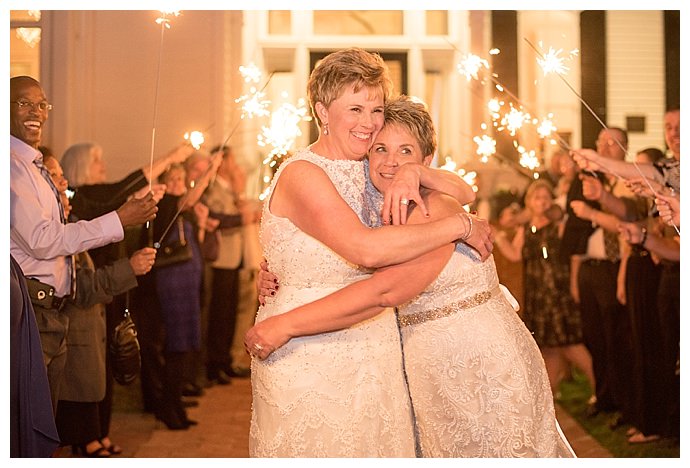 Sparklers: because what's more romantic than starting married life running through a tunnel of fire created by guests who have spent all night enjoying the open bar? Just kidding. Of course, this heartwarming capture proves why sparklers are the reigning champion of send-off rituals. | photo by Mikkel Paige Photography | via Love Inc.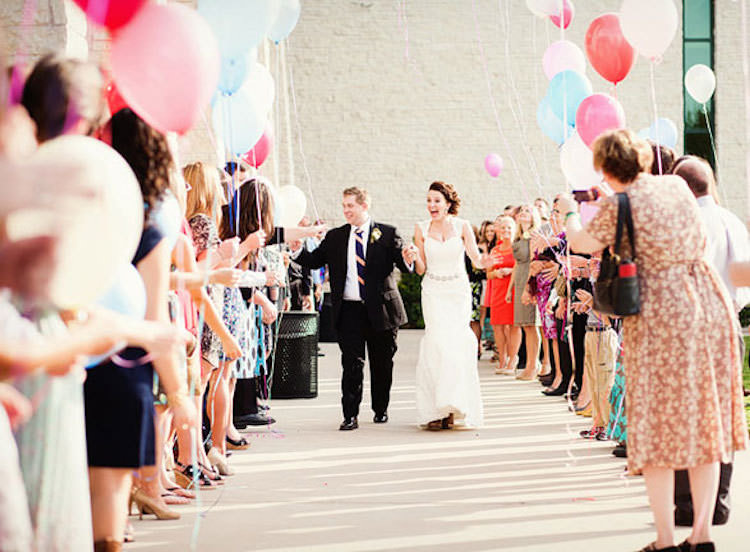 If weddings are nostalgic in nature, colorful balloons are the perfect ingredient for a memorable send-off. Give each guest a balloon and bask in the ceremonial feeling of watching them float into the air as your embark on a new beginning. | photo by Allison Davis Photography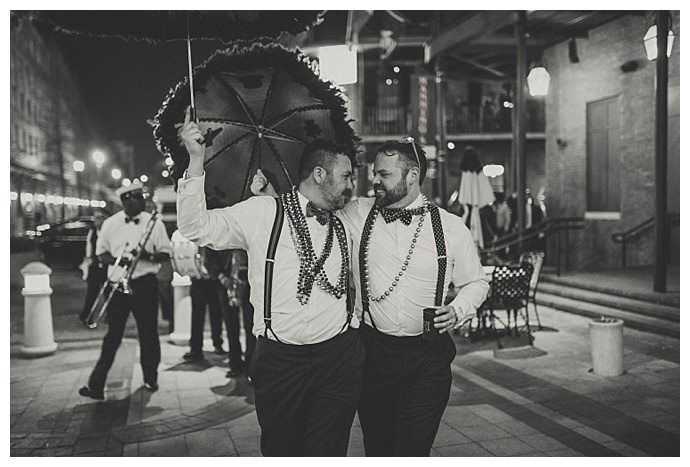 Borrow an epic idea from a New Orleans wedding tradition and end the night with a second line parade. Often led by a brass band, the happy couple, wedding party and all their guests parade through city streets mardi-gras style with umbrellas, beads and plenty of cheering. | photo by Dark Roux Photography | via Love Inc.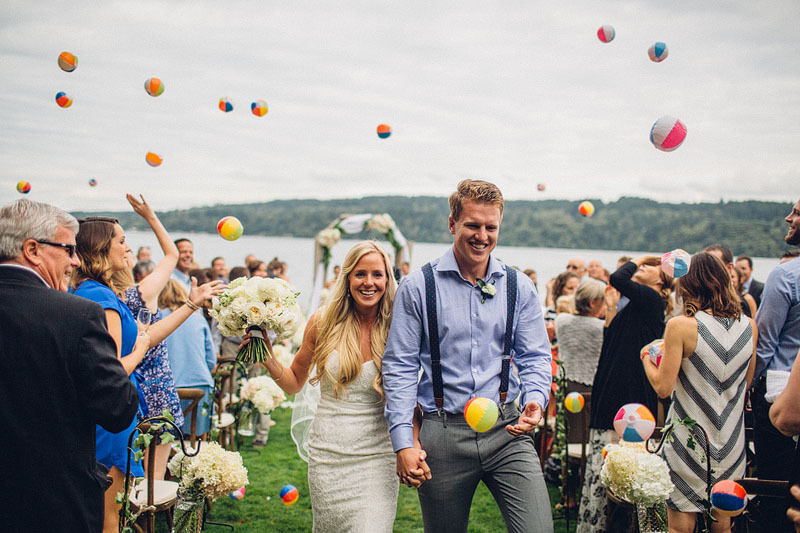 How fun is this ceremony exit with mini beach balls flying through the air? For a lakeside ceremony or beach wedding, everyone can get it on the fun with this music festival-inspired exit idea! | photo by Mike Fiechtner Photography | via Borrowed and Blue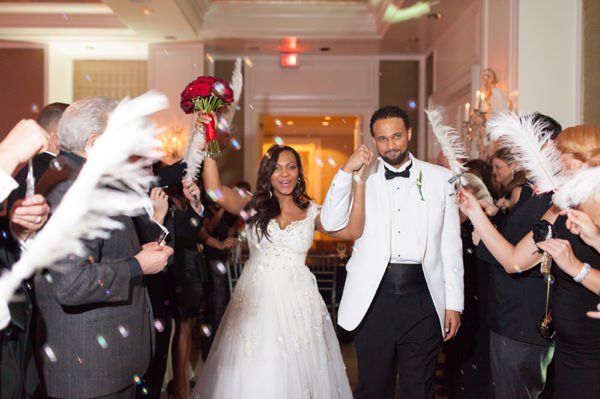 Feathers were everywhere at the latest Bridal Market, proving this whimsical decoration isn't going anywhere. We love this unique use of feathers for a fluttering send-off that's both trendy and fun! | photo by Ben and Chrys Photography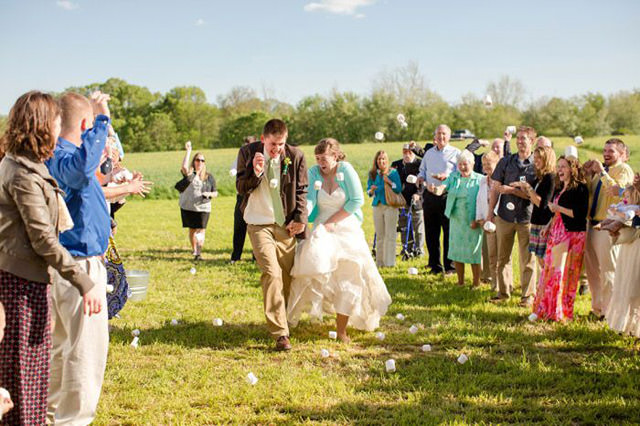 This has to be one of the most unique wedding send-off's we've seen yet, and we absolutely love it. Guests showered the newlyweds with giant marshmallows, which looks incredibly fun, maybe a tad painful, but totally worth it. | photo by Katelyn James Photography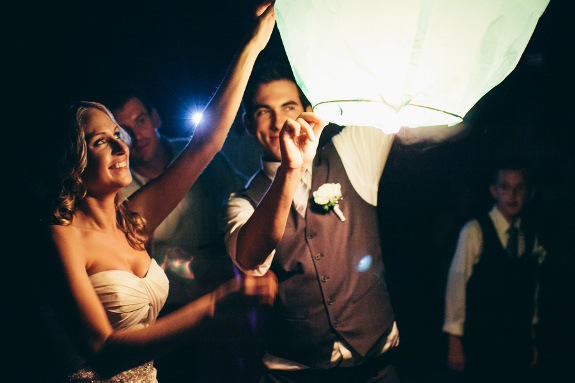 End the night with a little bit of magic and release lanterns into the air once the sun has set. For a personalized touch, have guests write well wishes on the lanterns before sending them into the night sky. | photo by Riverland Studios | via A Lowcountry Wedding