Choosing a wedding date can be a tough decision for anyone, but living in the heart of ACC Country where dedicated college football fans spend Saturdays cheering on their favorite team, Linda and Carla had more to take into consideration. The brides, who met for the first time just on the outskirts of North Carolina State University's campus, settled on a Friday for their big day.
On a beautiful fall October day, Mikkel Paige Photography captured the autumn-colored details and incredible moments of this wedding that was more than two decades in the making. The sky put on an unforgettable show as Linda and Carla walked down the aisle and celebrated a new step in their unbreakable journey.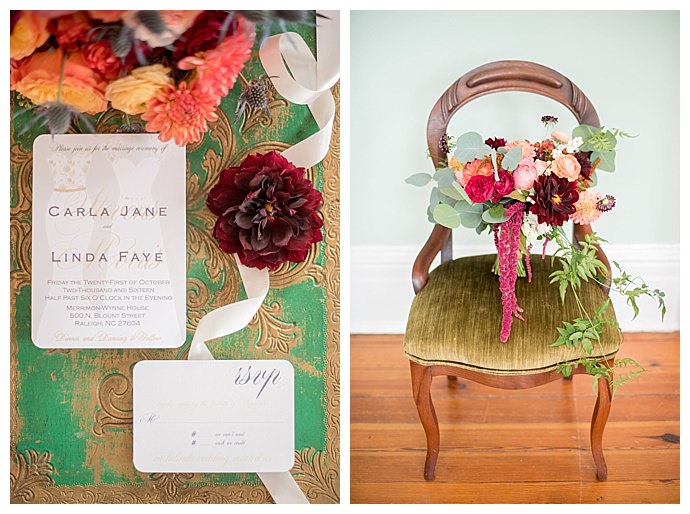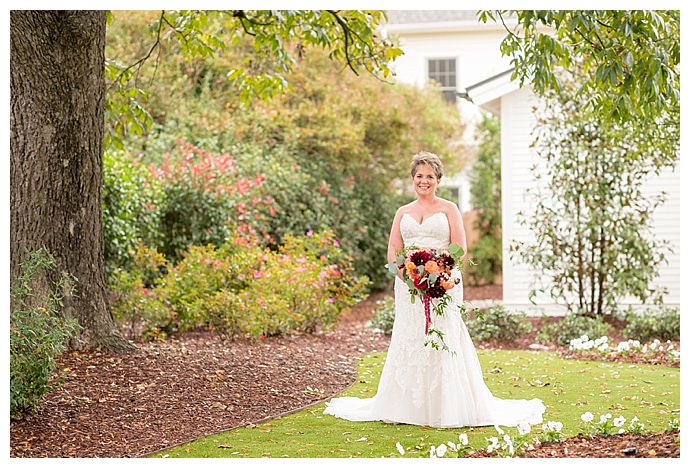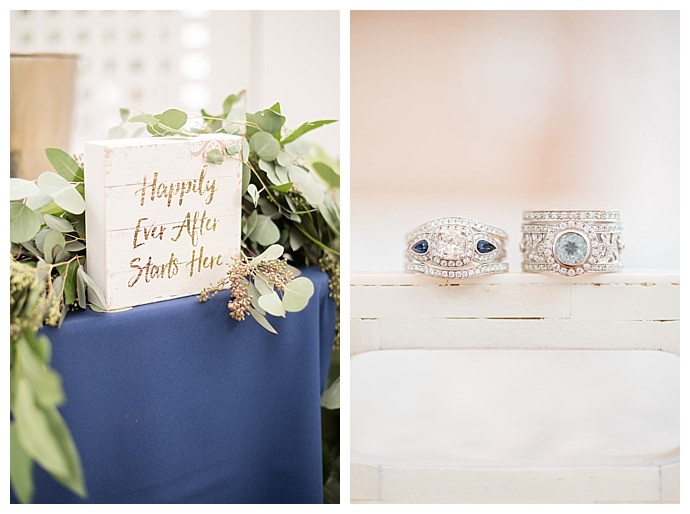 The Love Story
Carla and Linda have been lucky enough to spend 23 years together. They first met at East Village, a bar and grill across the street from North Carolina State University. Linda was immediately enamored with Carla and didn't think she'd have a chance. But it wasn't long before they went to see "Sleepless in Seattle" at the theater for their first date. The following month, Carla and Linda ran into each other at a local club. "While dancing to the song "I'm Gonna Get You Baby" opposite of each other on the dance floor, I turned and saw Linda pointing at me as if to say she was going to get me," Carla says. As the night came to an end, Linda and two of her friends were stuck without a ride. Carla eagerly offered to take them home, not knowing that from that night forward, they wouldn't spend another day apart.
After two weeks together, Carla told Linda that she would marry her someday, but because same-sex marriage was not yet legal, they would have to wait. So they traveled the world together, moved into their dream house and were there for each other through all of life's inevitable ups and downs. And on Linda's 50th birthday, Carla proposed during a special, celebratory dinner with a one-of-a-kind aquamarine ring. Two years later, they went to the same jeweler and picked out a ring for Carla. The night they returned home from a cruise, Linda hid the ring box under her pillow, and just as they were getting ready for bed, she asked Carla to marry her.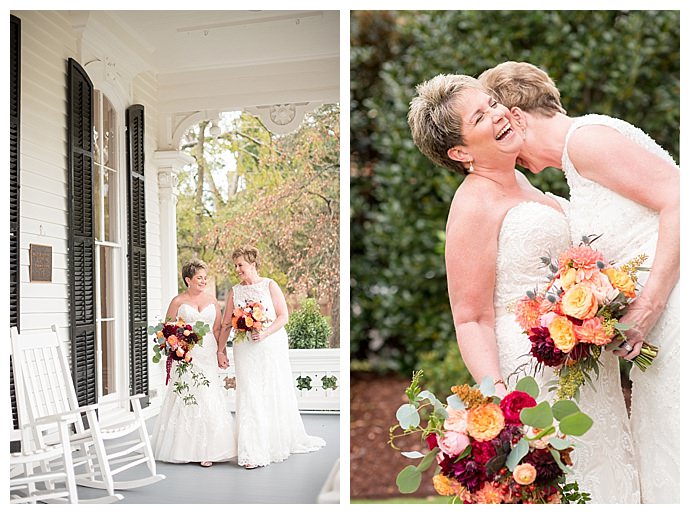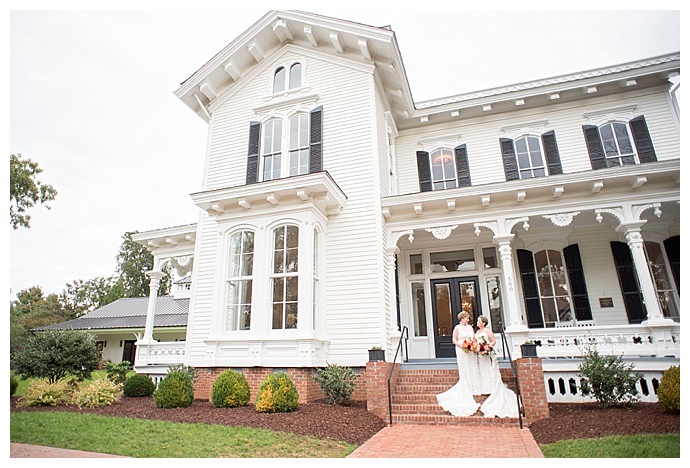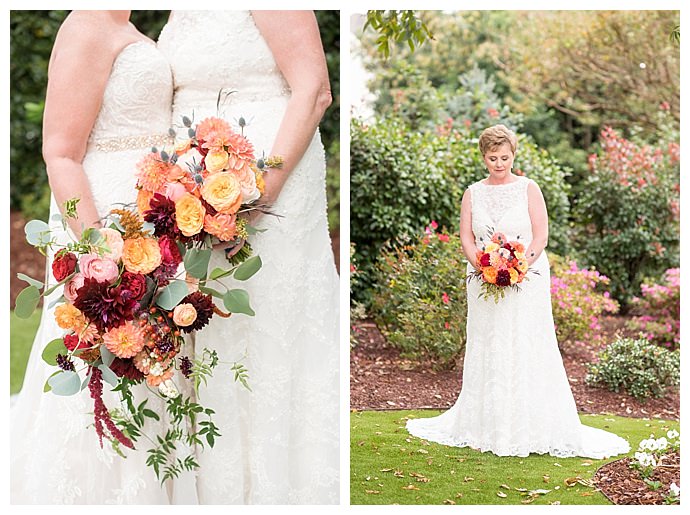 The Ceremony
At the Merrimon-Wynne House in Raleigh, North Carolina, where the chief justice of the North Carolina Supreme Court used to live, Linda and Carla wed in a gorgeous outdoor ceremony on a bright green lawn just as the sun was setting. It had rained just before the guests began to arrive, and as the brides walked down the aisle hand-in-hand to "Canon D," pinks and purples enveloped the sky.
The ceremony was led by a Baptist minister, who Carla says had a deep understanding of what their marriage as a same-sex couple meant, something that was especially important to both of them. Linda and Carla wrote their own vows and incorporated their guests into the ceremony by asking them to agree to support the brides in their new life and in their real and legal marriage, to which the guests then responded with a resounding "Yes!" And to thank them for their love and support over the years, Carla's nephew's fiance read a letter they had written, expressing their gratitude that their close friends and family was there to join them at the beginning of their new journey.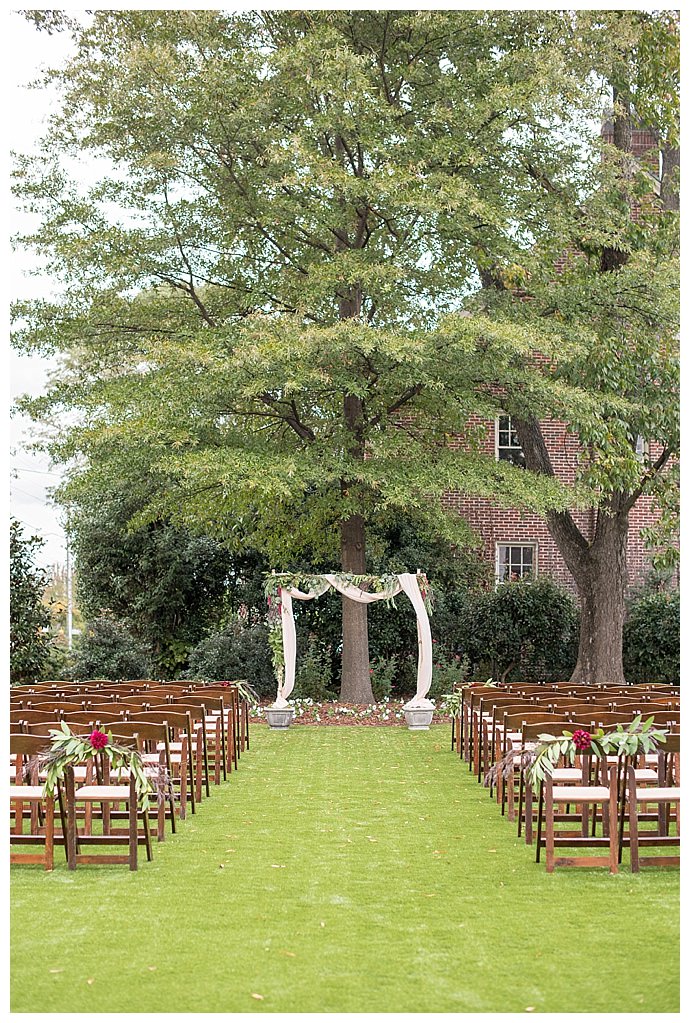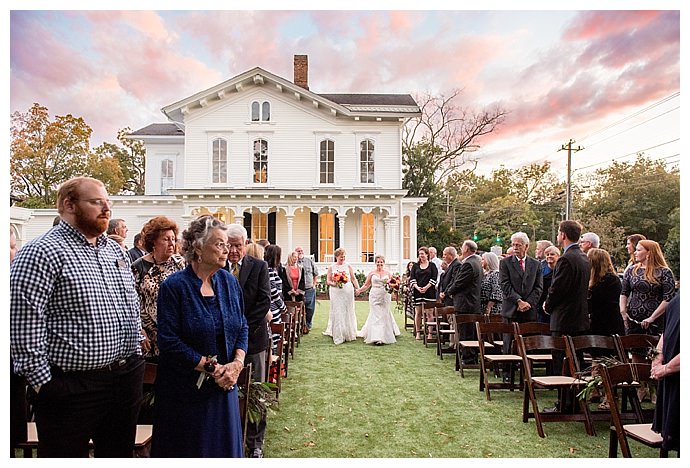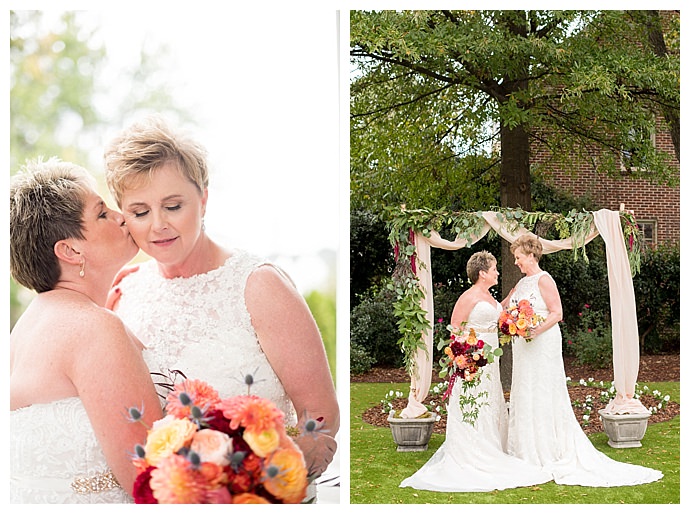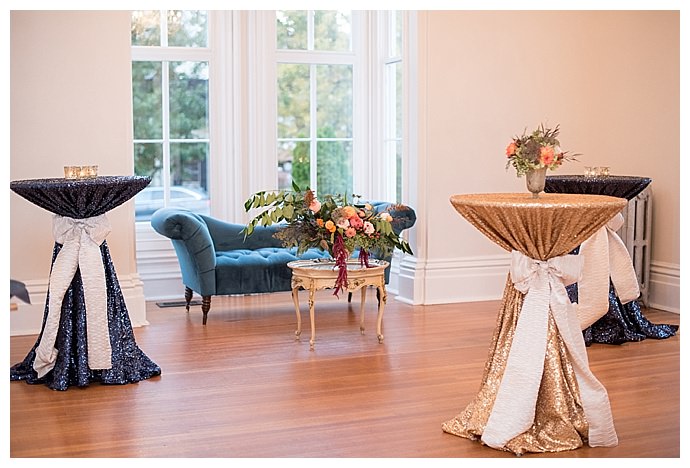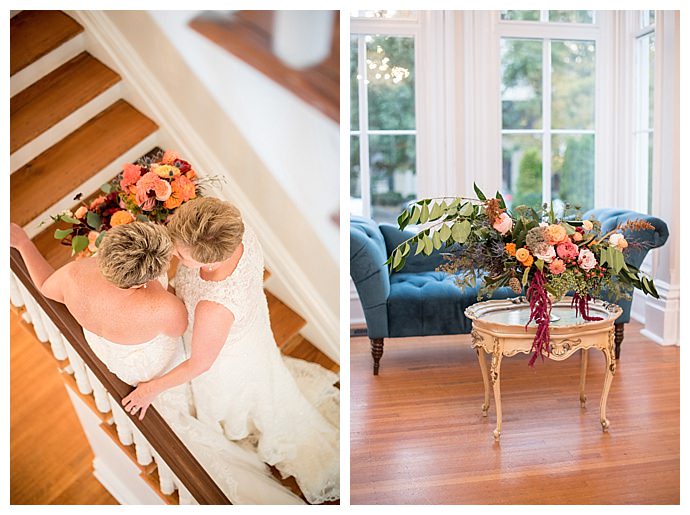 The Party
This gorgeous fall-colored wedding was almost a Caribbean elopement, but due to a conflict in scheduling, Carla got the big wedding of her dreams. Fall blossoms in burnt orange, pale pink and berry red filled the reception space where long rectangle tables were draped with garlands of eucalyptus leaves. Colored candlesticks were sprinkled in between gold place settings, and at the brides' table, two wooden Mrs. signs marked their places beneath a towering, lush floral centerpiece. During cocktail hour, crostini with cucumber and prosciutto and mini chicken and waffles stirred up an appetite for a dinner menu that included apple brandy chicken, beef tenderloin medallions with a madeira mushroom cream sauce and maple glazed Brussels sprouts with roasted garlic mashed potatoes.
For dessert, the brides cut into a three-tiered white buttercream cake with soft ripples and floral accents in addition to chocolate, sweet potato and hummingbird cupcakes and pecan, apple and pumpkin pies. The glowing newlyweds shared a memorable first dance to "Over and Over Again" by Nathan Sykes and Ariana Grande. "Unfortunately, no one will forget our fall during our first dance," Carla says. "Linda took big advantage of the wine in our bridal suites before the wedding and did not stop there. She accidentally whirled me around and made me fall, and she fell trying to help me up."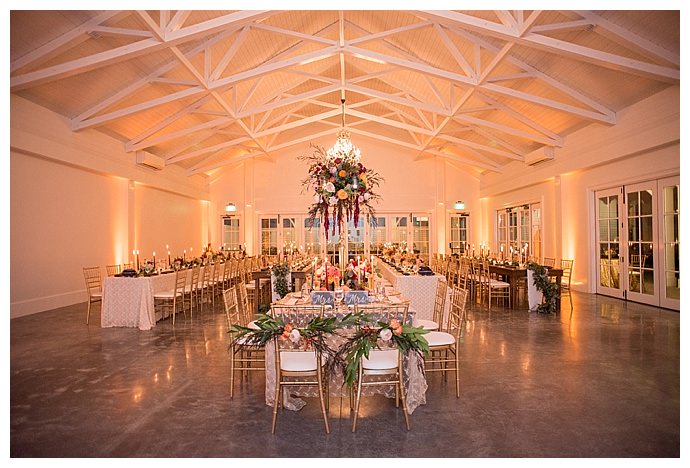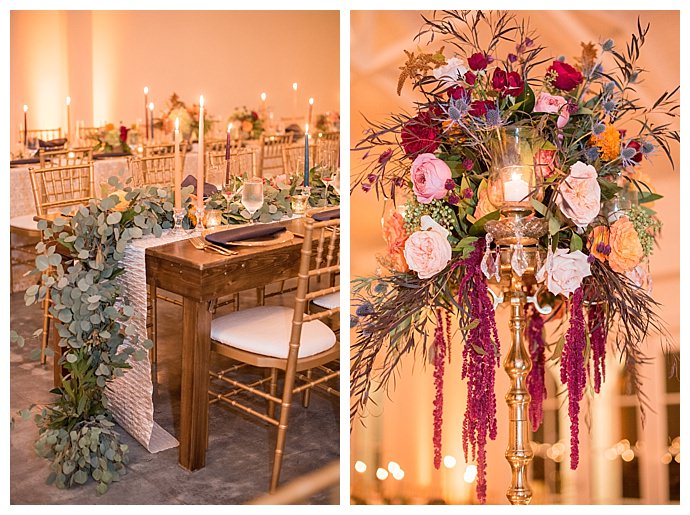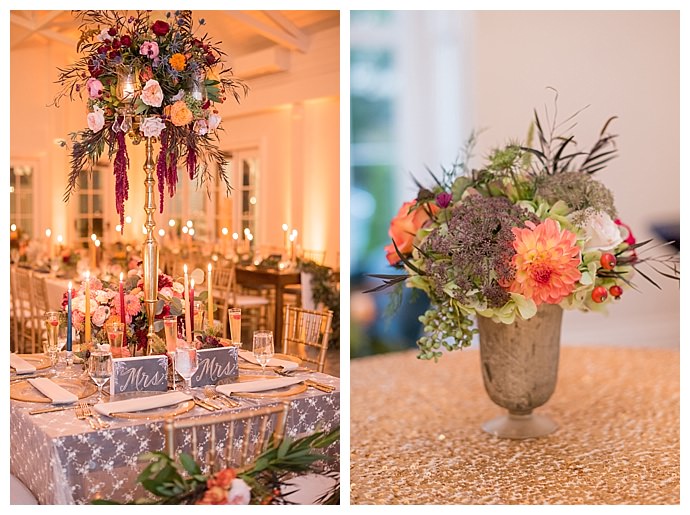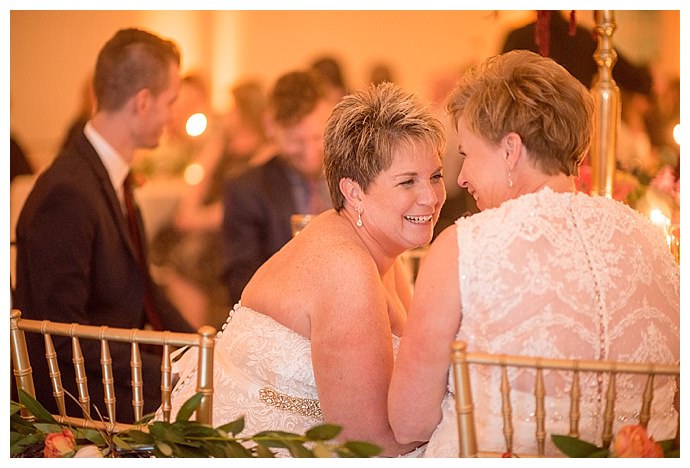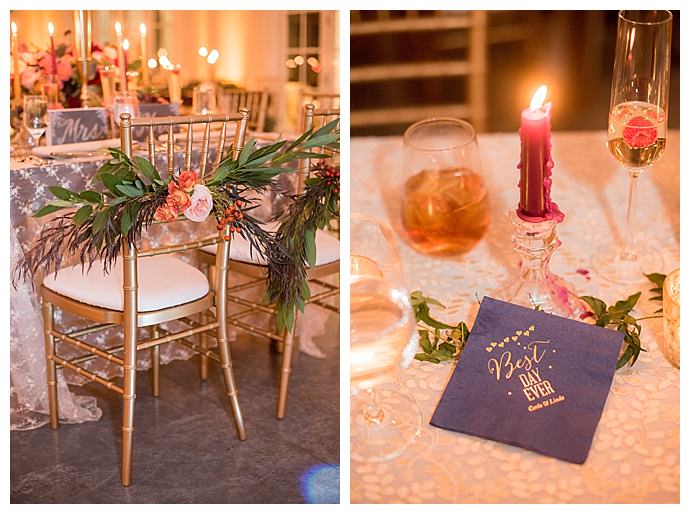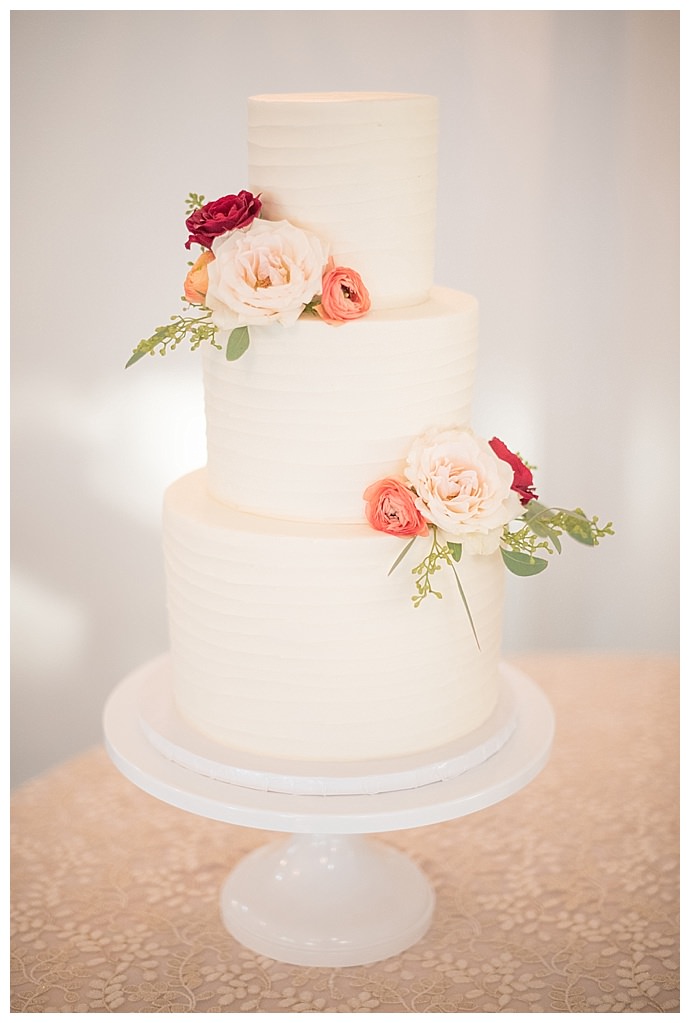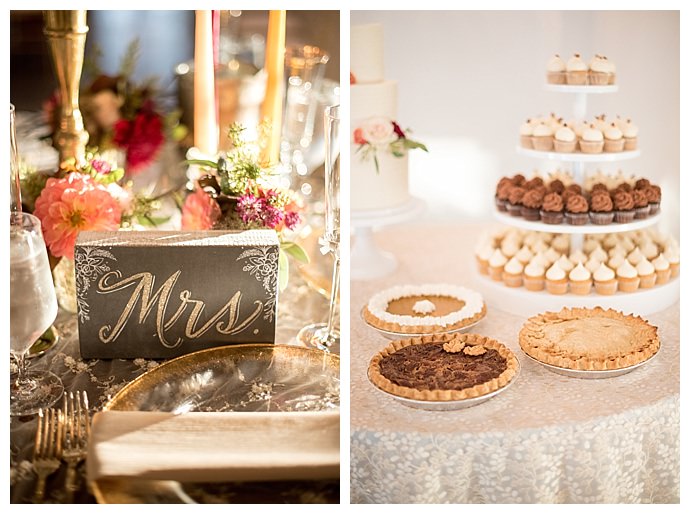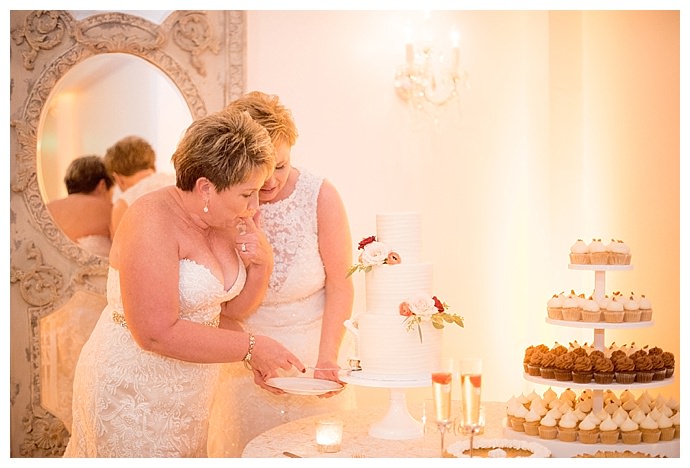 Memorable Moment
"Seriously the most memorable was our vows," Carla says. "They were true to our heart, and we both surprised each other of how well we captured our love."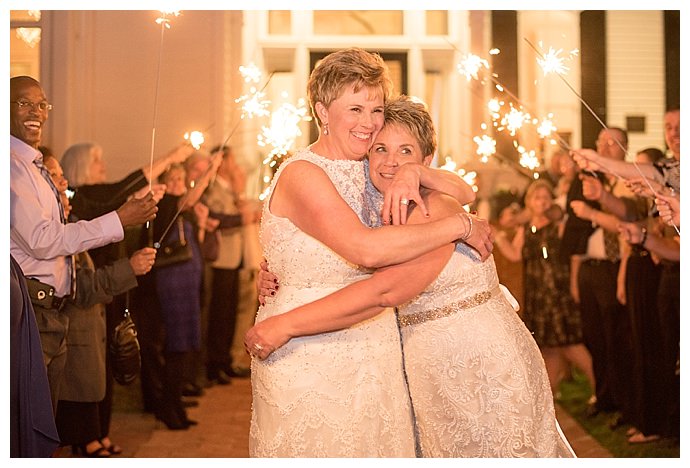 Team of Talents
Venue: Merrimon-Wynne House
Photography: Mikkel Paige Photography
Event Planning and Design: Viva L'Event
Floral Design: Meristem Floral
Officiant: Nancy Petty, Pullen Baptist Church
Rentals: CE Rental
Catering: Beau Catering
Cake Design: The Cupcake Shoppe
Desserts: Slice Pie Company, The Cupcake Shoppe
Wedding Dress: Maggie Sottero
Dress Store: RK Bridal
Hair Stylist: Salontology
Makeup Artist: Wink Hair and Makeup
Wedding Rings: Chad Allison, Sylvie Designs