Captured by Autumn Harrison Photography, Michelle and Courtney's summer wedding in North Carolina was colorful and overflowing with love. Because the brides met in Texas during college and later relocated to North Carolina, they knew they'd have a lot of guests come in from out of town for their special day. So they chose the serene venue at Hidden River Events, whose team helped orchestrate a beautiful day for the brides and their friends and family.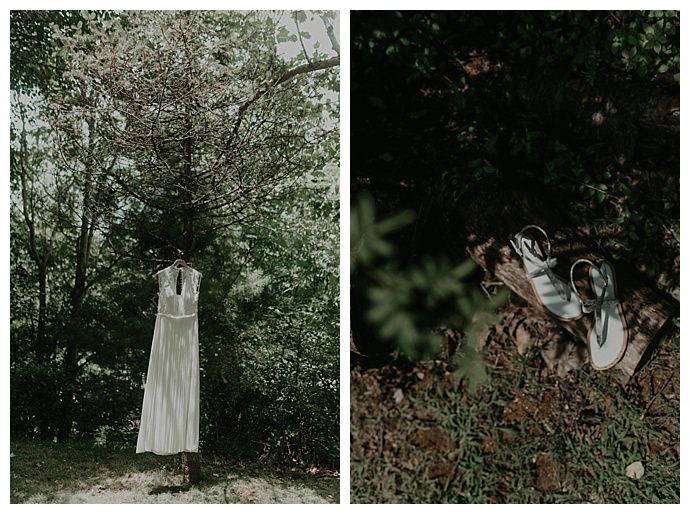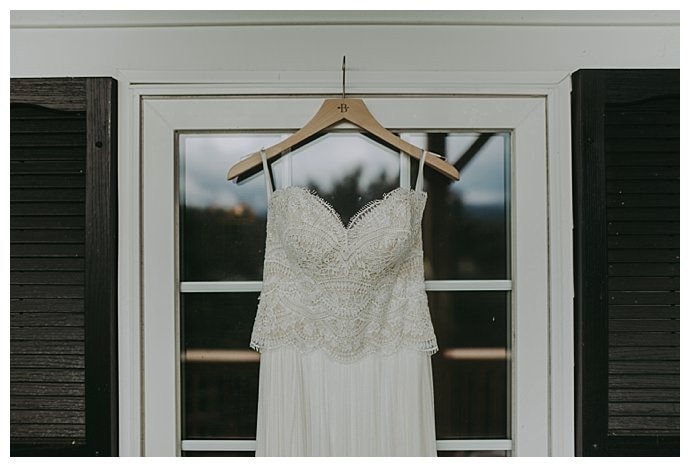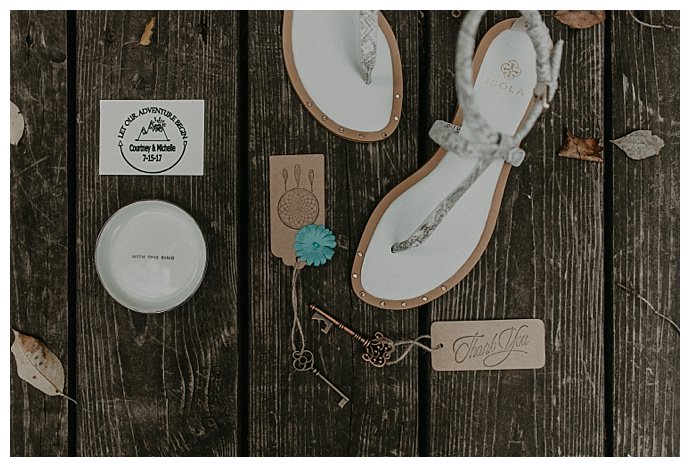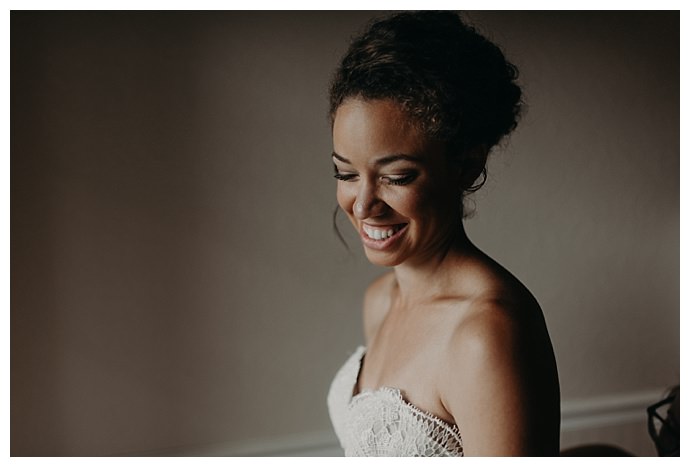 The Love Story
Michelle and Courtney were studying at separate University of Texas campuses but were connected through a mutual friend. Michelle's best friend, Jeni, played on Courtney's college softball team and introduced them. But with Michelle in Austin and Courtney in Dallas, they had no choice but to date long distance. But as we know, distance is no match for true love.
After college, Courtney and Michelle left the South and moved to North Carolina. After a few years in their new home, they both separately devised a plan to propose within only two months of each other. "We found out later that all our friends and family were super stressed out about keeping our plans secret," Michelle says. "Eventually, one of my friends spilled the beans to me about Courtney's plans. I already had a ring, so I proposed a couple days later at the Raleigh Rose Garden."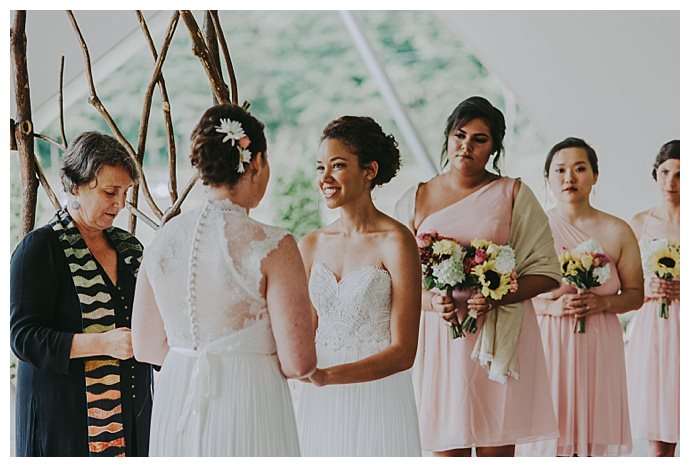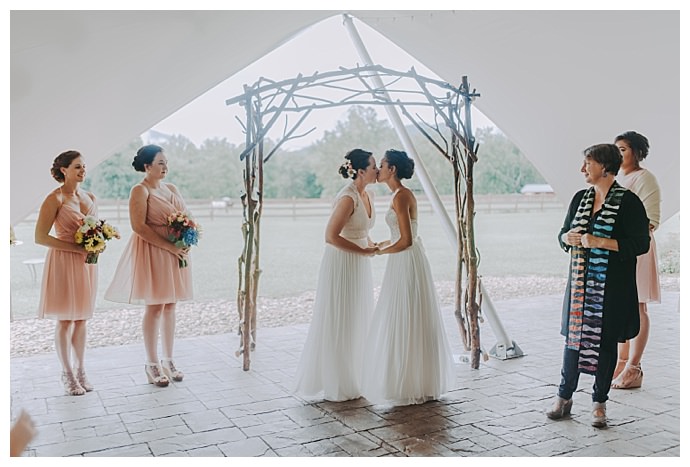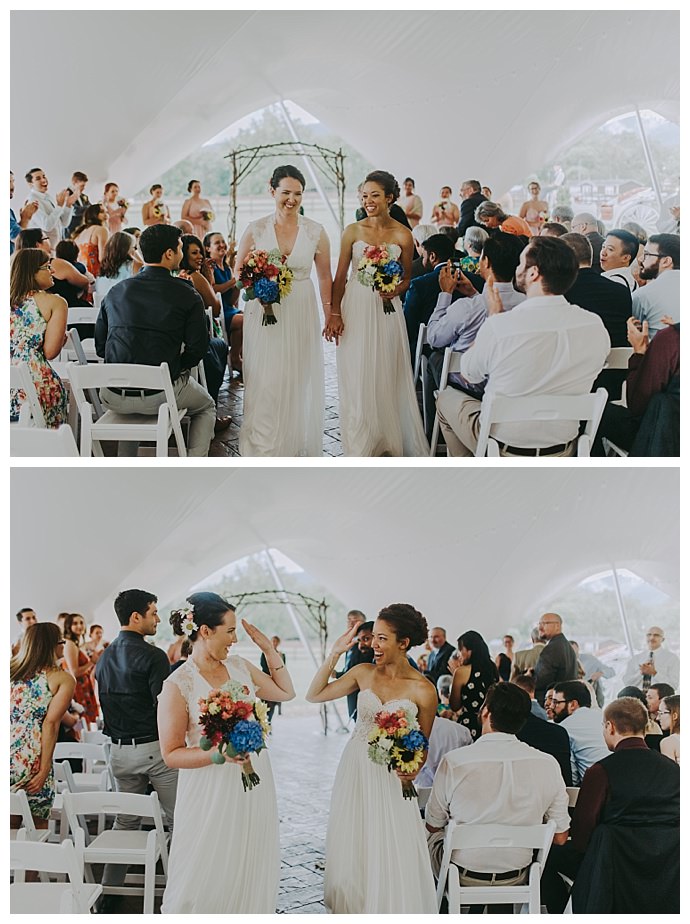 The Ceremony
With out of town guests traveling for Michelle and Courtney's soiree, the gorgeous landscape at Hidden River Events, which included lodging for their friends and family, was an ideal location for their wedding day. The brides chose beautiful gowns from BHLDN with matching skirts that complemented each other perfectly, and they completed their look with white sandals. But as Michelle and Courtney were getting ready, a storm rolled through, threatening to disturb their afternoon ceremony. "It cleared up just before the wedding," Michelle says. "But the sky was still cloudy and colorful. It looked amazing with the clouds and soaked mountains surrounding us."
With the sun shining, Courtney arrived to the ceremony in a horse and carriage, and her bride was at the end of the aisle waiting for her. Their ceremony was short and sweet and included readings from Ruth and a poem by Pablo Neruda before Courtney and Michelle exchanged heart-shaped river rocks that they keep next to their beds as a symbol of the promise to never turn their backs on each other. After a sweet smooch and the recessional, the newlyweds shared a high-five at the end of the aisle. They did it!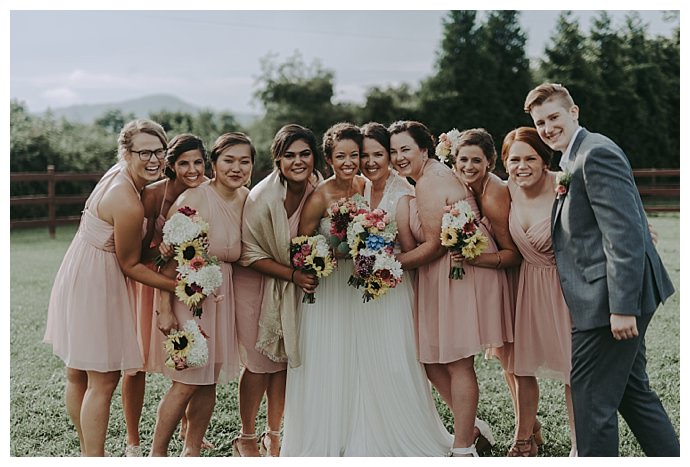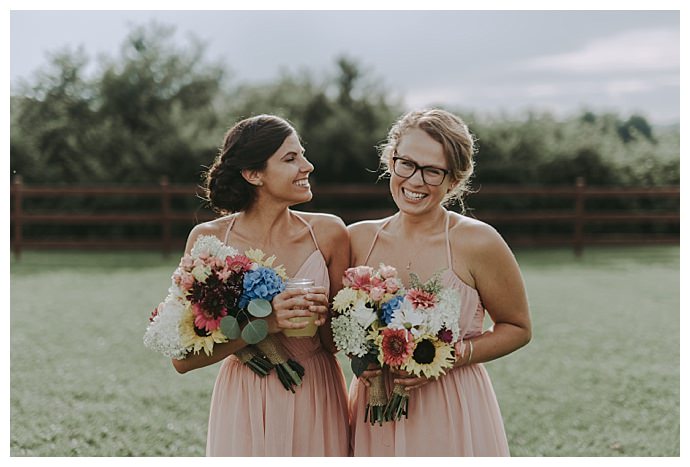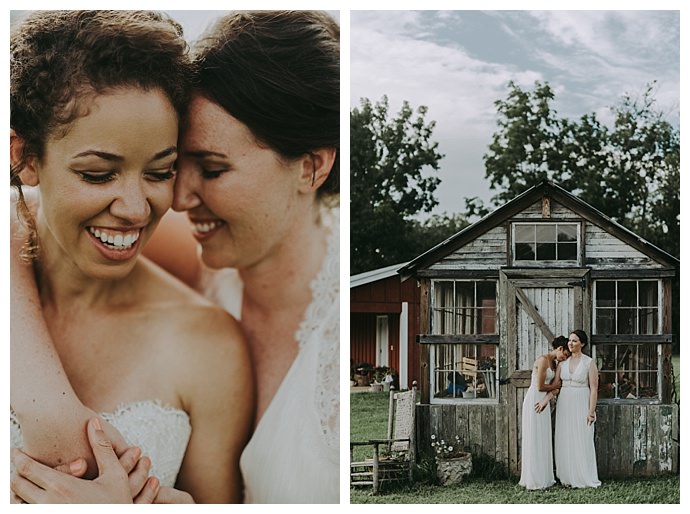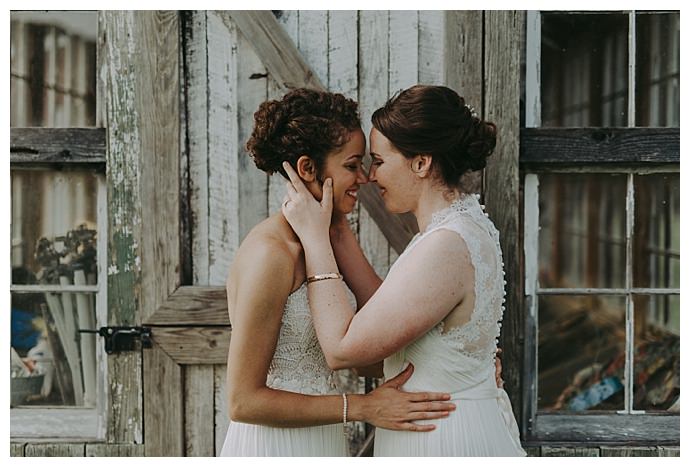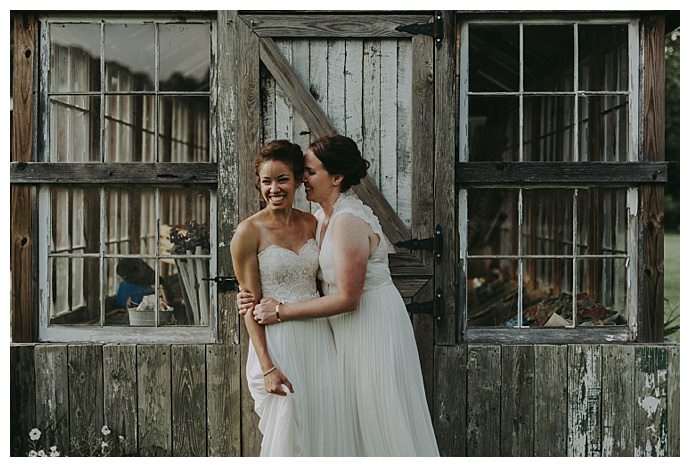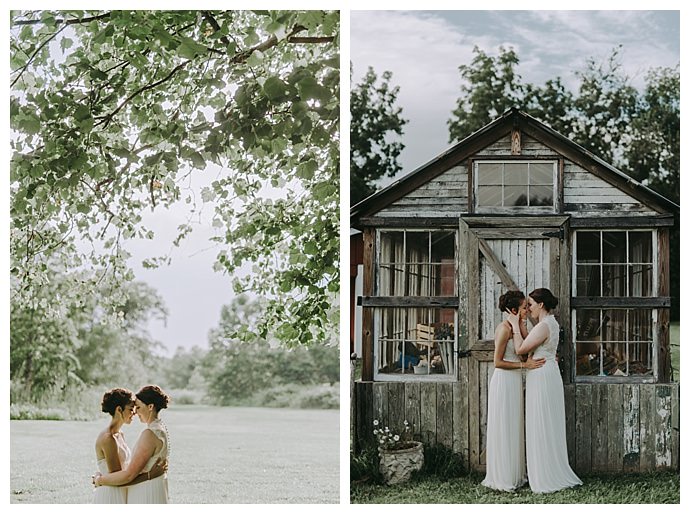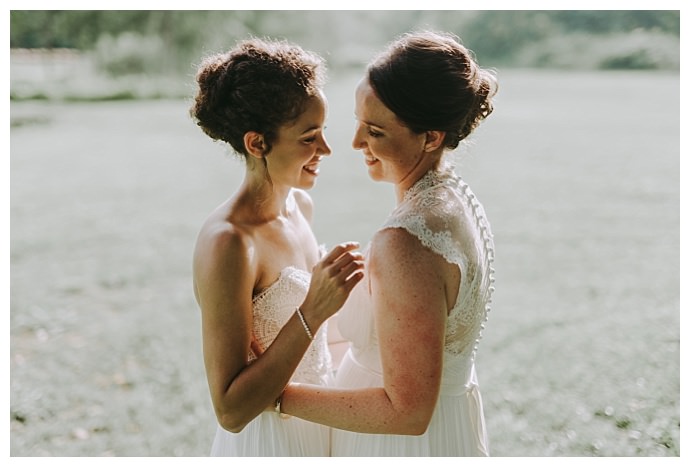 The Party
Underneath a 6,800-square foot tent, round reception tables were decorated with colorful flowers plucked from the garden of Hidden River Events' breathtaking property. Surrounded by open fields, lawn games and corn hole were set up for guests to enjoy in between dinner, dancing and dessert. Michelle and Courtney's guests found their seating assignments on escort cards, which were placed in the copper Moscow Mule mugs that doubled as wedding favors.
For dinner, a buffet of Tuscan chicken and roasted potatoes was served, and after the brides cut into their ruffled wedding cake topped with blue hydrangeas, cupcakes were a treat for dessert. "Our first dance was to a cover of 'This Must be the Place (Naive Melody)' by Iron & Wine and Ben Birdwell," Michelle says, noting that one of the most memorable moments of the night was, "drunkenly signing 'Party in the USA' with all our college friends."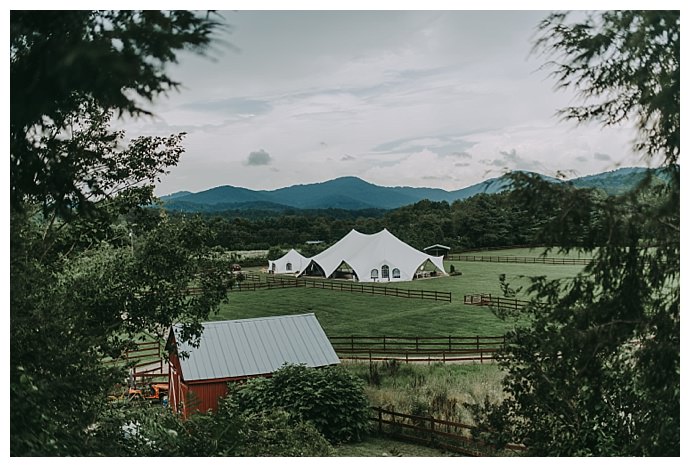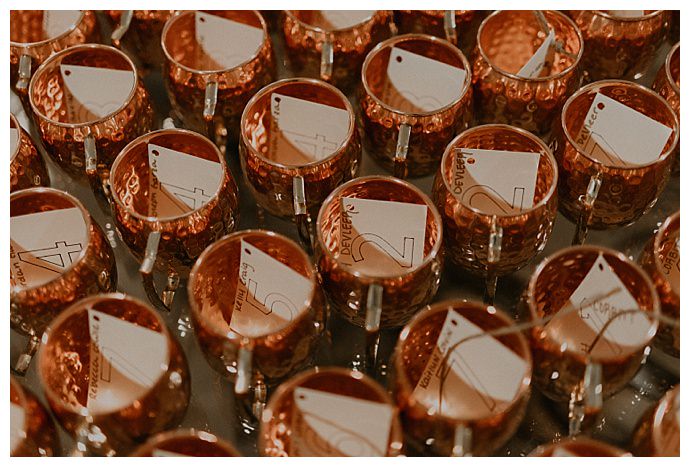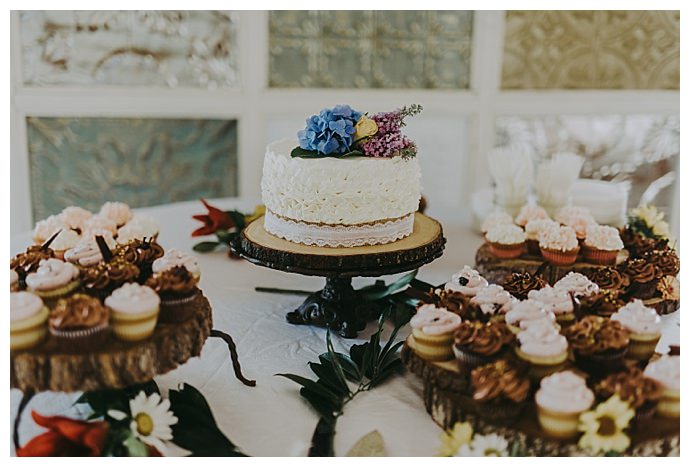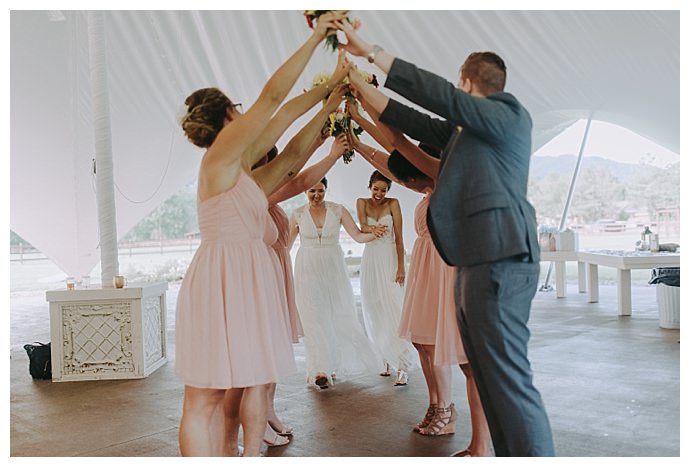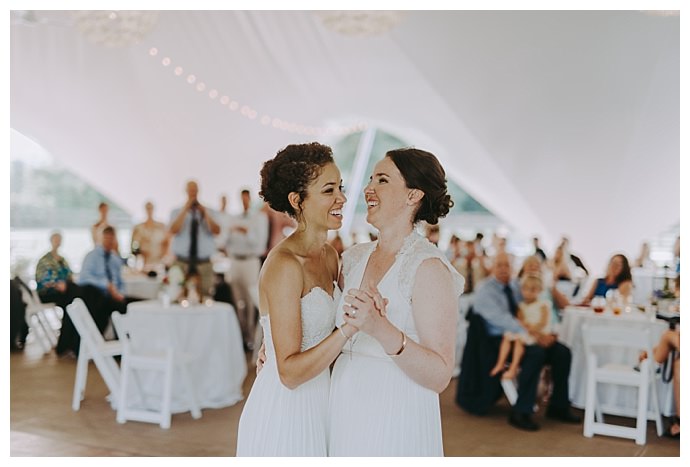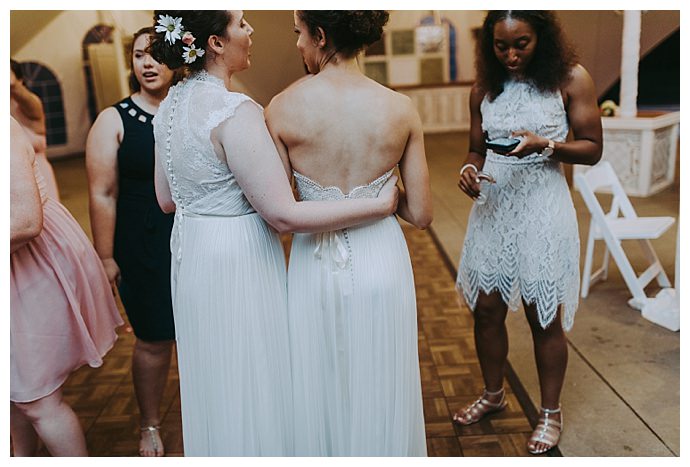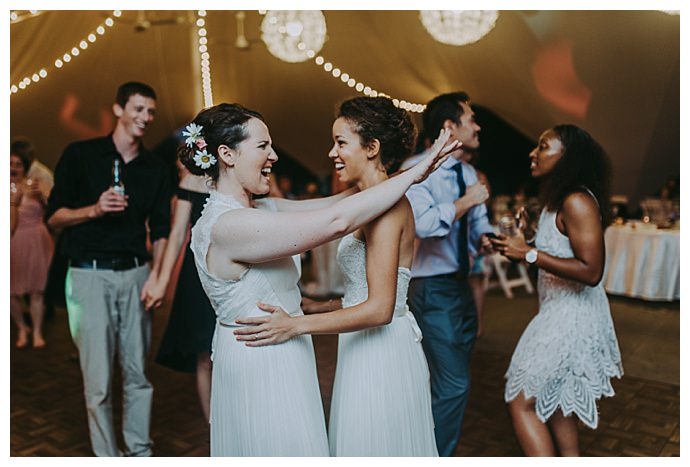 *Editor's Note: This post contains affiliate links. Each time you purchase an item via our affiliate links, Love Inc. is receiving a small percentage of the sale, thus you are helping our small, equality-minded business grow and allowing us to provide more content for YOU! Isn't that just fantastic?