You've set the date for your big day: now it's time to spread the word. Before mailing a formal invitation, give your guests a heads up by sending out save-the-date cards.
This card, a symbol of your love, could be prominently placed on the fridges and mantels of your closest friends and family. If you're an LGBTQ+ couple and are finding it difficult to select options that represent your love, you're not alone. Stationery options with LGBTQ+ imagery are frustratingly limited, so to help you save time and energy, we've hand-picked the most stylish LGBTQ+ save-the-date cards on the market. All you have to do is pick your favorite out of these top ten picks.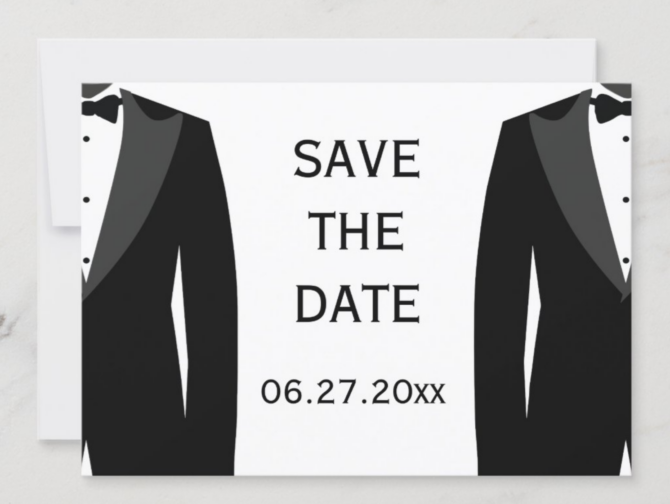 A black-tie affair
Plan on having a formal wedding? This elegant black-and-white card features side-by-side tuxedos, hinting to your guests they should expect something more upscale for your wedding day. If you like this design but won't be wearing a tuxedo, Zazzle has options with blue suits or rainbow bowties to better nail your wedding style.
Black and White Save the Date by Zazzle, Prices starting at $2.96 per card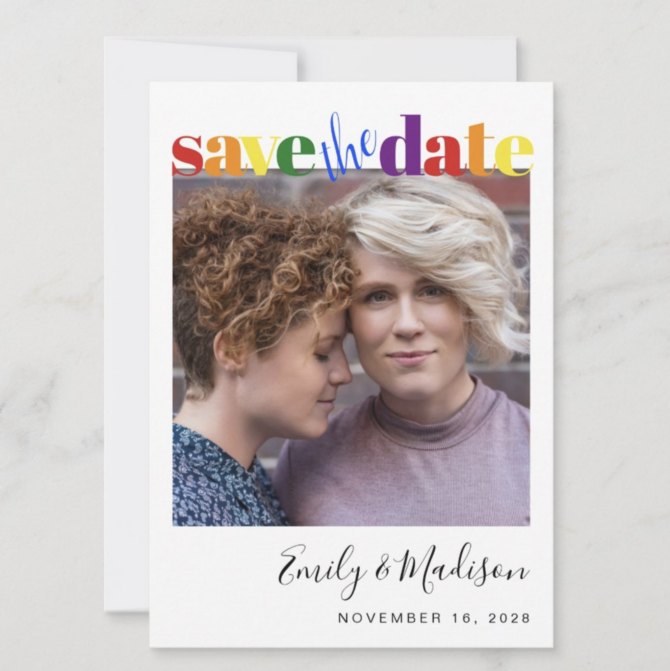 Share your favorite photo together
You and your partner will be the stars of your big day, so put yourselves upfront and center with this save-the-date. Along with your favorite photo, this delightful card uses a fun rainbow font. On the reverse side of this postcard you can share additional information with your guests.
Rainbow Save the Date by Zazzle, Prices starting at $2.86 per card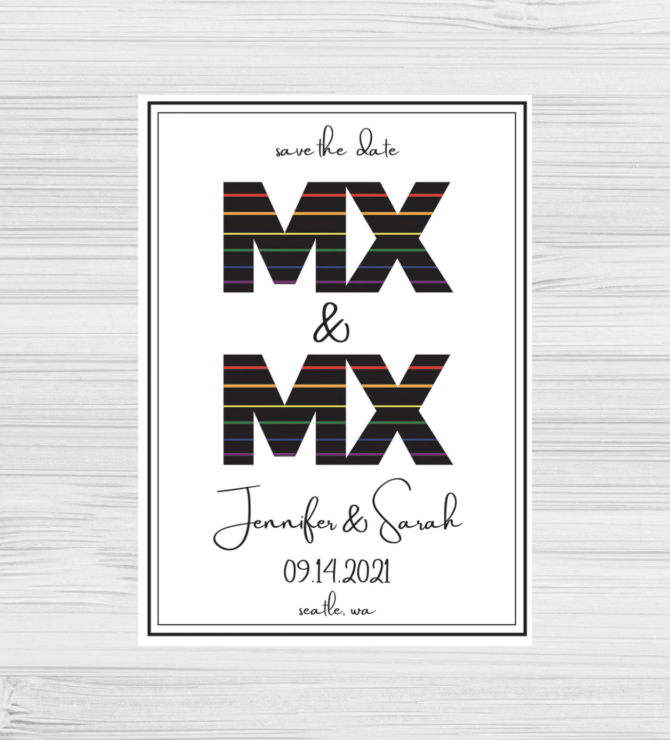 For the future Mx. and Mx.
Navigating the world of brides and grooms can be challenging for nonbinary folks, but this save-the-date has you covered. This stationery set has a vibrant design that will prominently display the dates of your future wedding. Dash of Pride has similar designs for couples that have an individual who identifies as male or female.
Mx & Mx Rainbow Save the Date by Dash of Pride, Prices starting at $59 for 25 cards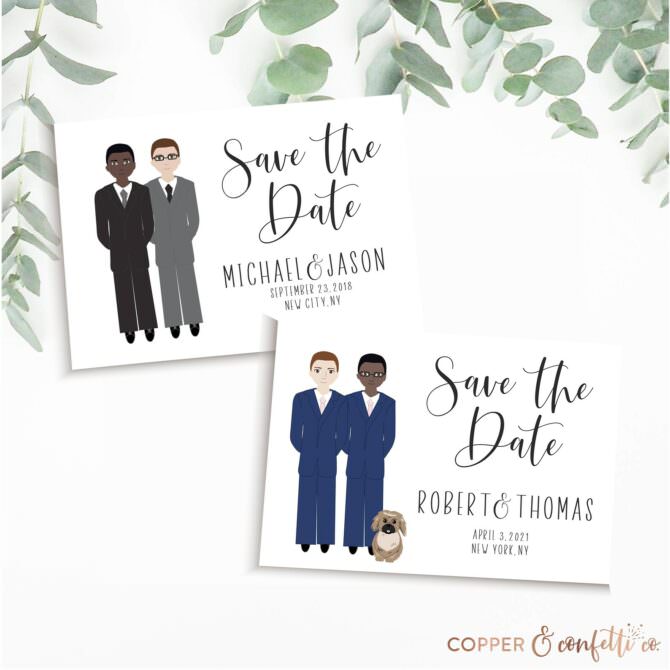 Don't forget your furry friends
Whether your dog people or cat people, this customizable card is perfect for gay couples with a pet or two. Both you and your significant other can create perfect replicas of what you'll look like on your wedding day, from skin color to hairstyle to clothing. And while you don't have to add your fur babies, it's a fun way to include them on this big day.
Illustrated Gay Portrait Save the Date by Etsy, Prices starting at $30 for a digital file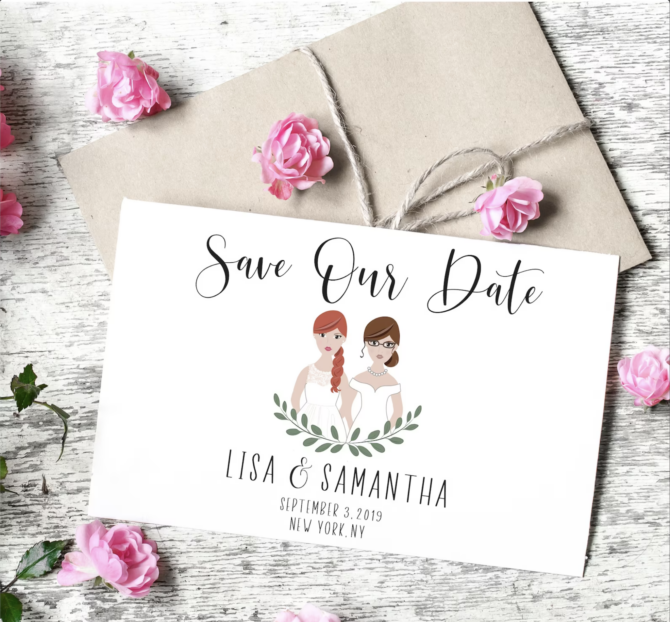 An elegant illustration for the brides
Give your guest a glimpse of your wedding look with this customizable card from Etsy featuring two brides. Pick which wedding gown or suit matches what you'll be wearing down the aisle, choose your hair and eye color, and select the flower detail you want bordering the card. If you want a customizable option that includes your pet, the seller has options similar to the grooms' card above.
Custom Lesbian Save the Date by Etsy, Prices starting at $52.50 for 10 cards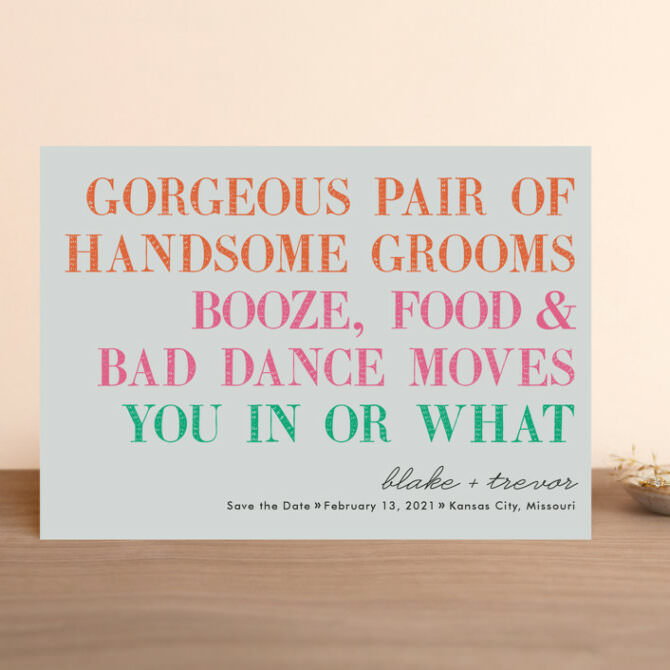 Let your personality shine
Handsome grooms and bad dance moves, who wouldn't want to attend this wedding? This fun message can be customized with different color schemes, card styles, and card shapes. You could even send it as a magnet for the fridge. No matter which option you choose, your guests will know they're in for a party on your big day. And all first-time Minted shoppers can use code LOVEINC20 at checkout for 20% off!
You In or What (Two Grooms) by Minted, Prices starting at $1.62 per card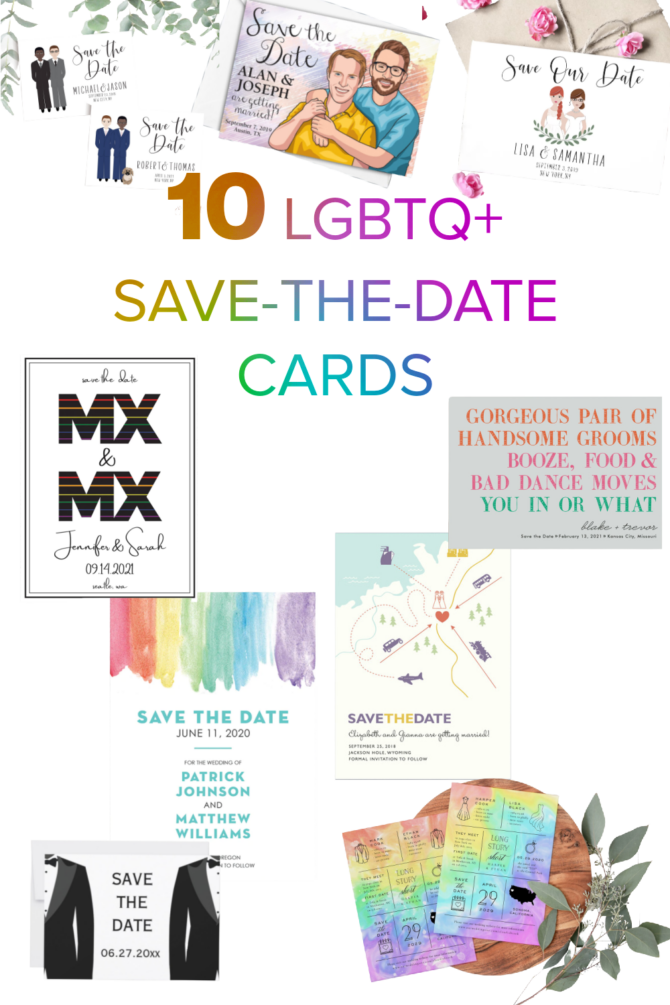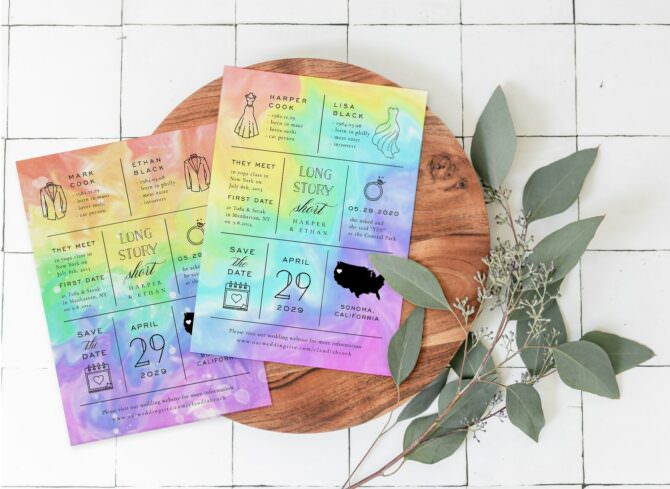 A card that's both cute and informative
Rainbow, tie-dye, and filled with everything your guests want to know, this save-the-date card is sure to be a hit. Share some tidbits about you and your significant other, tell your love story, and detail when and where guests can expect the wedding. All you have to think about is what fun facts you want to share with your guests.
Pride Wedding Infographic Save the Date by Etsy, $13.99 for the template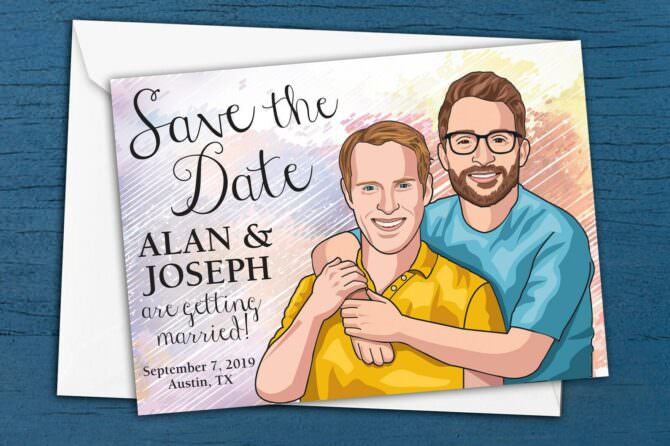 Show off your love with a caricature
Rather than customizing art to look like you and your partner, why not have a professional artist sketch something based on your favorite photo together? This colorful and cheery card is a fun way to spread the word about your upcoming nuptials. You can even add in a pet for an extra $20.
Save the Date Caricature by Etsy, Prices starting at $70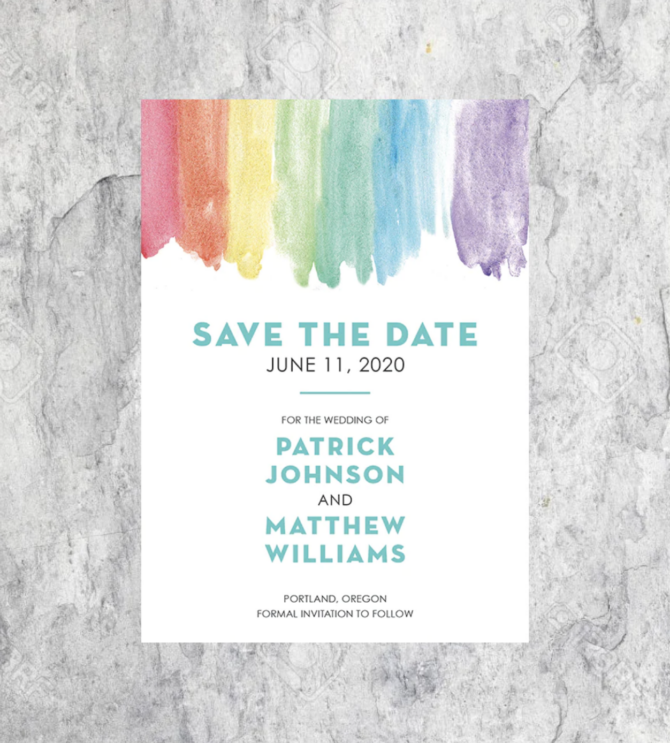 Sprinkle in some color
This sleek and simple design is classy and cute without being boring. Paying homage to the rainbow flag, the card features a colorful watercolor detail along the top border. They even have matching invitations and RSVP cards to carry on the theme for all your wedding mailing needs.
LGBTQ+ Watercolor Save the Date by Dash of Pride, Prices starting at $59 for 25 cards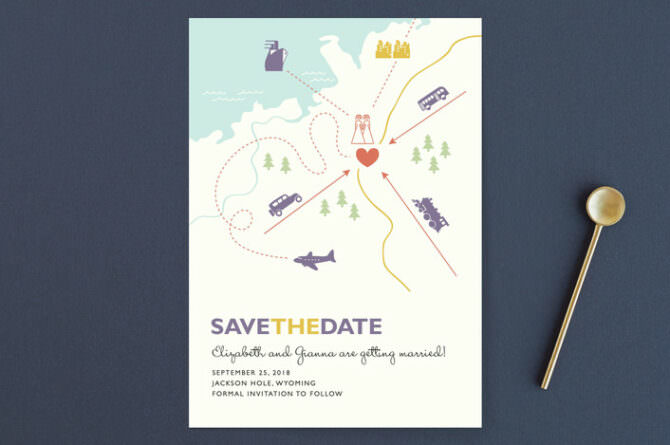 Fly off somewhere special
For two brides planning a destination wedding, these are the cards for you. Whether it's by plane, train, or automobile, your guests will know to expect some traveling when attending your wedding. These cards can also be customized for any gay or nonbinary couples that want to spread the word about their destination wedding.
Two Brides Destination Save the Date by Minted, Prices starting at $1.62 per card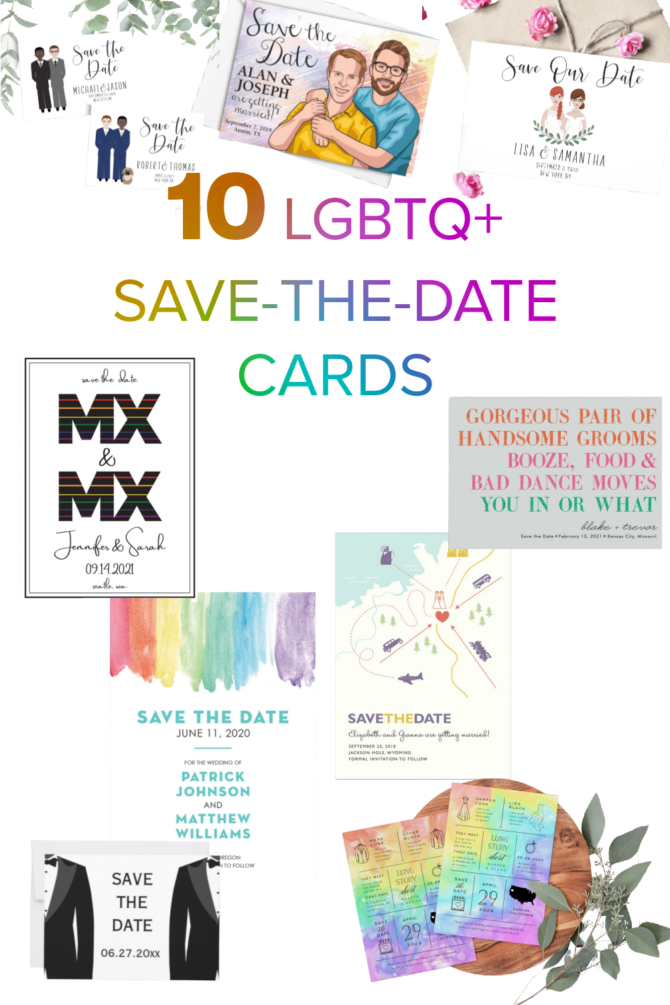 Editor's note: Some of these links are affiliate-based, which means we earn a small commission when you purchase from these links (and helps our small business keep providing free equality-minded® wedding content to you!)
Written by Rebecca Rovenstine | Photography by Chelsea Warren Photography featured in Cozy Romantic Winter Wedding Inspiration