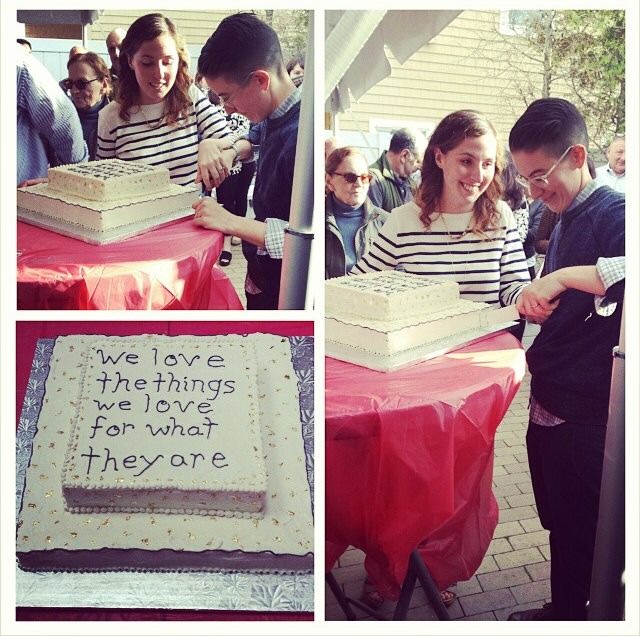 Nearly five months after we got engaged, my fiancee and I had an engagement party. I don't know if there is a standard or typical wait time between getting engaged and celebrating that engagement, but I do believe in doing what feels good. And it felt good to be engaged for a while and to give ourselves some time to come up with some answers for the inevitable questions about our wedding—where, when, what will you wear?
My people—my aunt, uncle and grandmother—have a tradition of being hosts, so they happily volunteered to have the party at their home out on Long Island. We had it on my aunt and uncle's anniversary, which was something my aunt and I decided was romantic and a good omen for my own marriage. I'm an ENFJ—emphasis on extroversion and feeling—but was overwhelmed by all of the goodwill and love happening in the backyard of my family's house that afternoon. When my fiancee and I were about to cut our cake together, and were gazing out at approximately 70 our loved ones who were all gazing back at us, I had a hard time saying what I felt. I know that I said thank you and we love you. I wish I could have made a toast to my aunt and uncle for their anniversary, and to my future mother-in-law for making an epic two-tier cake with a Robert Frost quote on it.
Having an engagement barbecue a year in advance of our wedding barbecue was really good practice. We learned about ourselves (what kind of nerves we experience) and our friends (how many are vegetarian or vegan). We also learned first-hand what seems to be the reality of engagement parties and weddings: you're not really going to have time to finish anything—a conversation, a drink or a plate of food. You're not going to remember to sit down. Even with attentive guests and a thoughtful partner all encouraging you to eat or sit, you may forget to do these basic things. The day after our party, my aunt told me she felt like she got hit by a train (understandably because she was the one who planned the whole thing—the catering, the keg, the rented linens, tables and tent), and one of my friends told me she felt like she had been hit by a bike. My fiancee and I felt like something between those two.
These are all things to remember as we start to plan our wedding, and something for anyone out there who's engaged to consider when deciding whether they should have an engagement party or not. While we're planning to have what might be considered a small wedding, it's still going to be bigger than our engagement party. I'm happy to have had a little practice, and thankful to have learned these things before our wedding.
By Rachel Tutera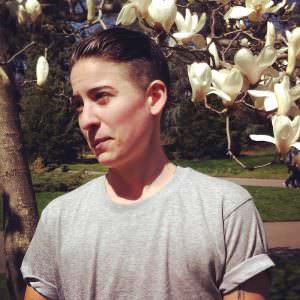 I write The Handsome Butch and work as a clothier for Bindle & Keep. I've measured all kinds of folks for wedding suits, and recently got engaged myself, so I spend a lot of time thinking about weddings. I live in Brooklyn with my fiancee and our tiny dog.