Just before sunset near the edge of a small cliff overlooking the beautiful water of Kapalua Bay at the Montage Resort in Maui, Scott and Dara exchanged vows in front of their closest friends and family – and their adorable furry ring bearer! Anna Kim Photography was there to capture the beautiful cobalt blue details of their ceremony and gorgeous reception, complete with an HD video dance floor and a surprise that brought tears to Dara's eyes.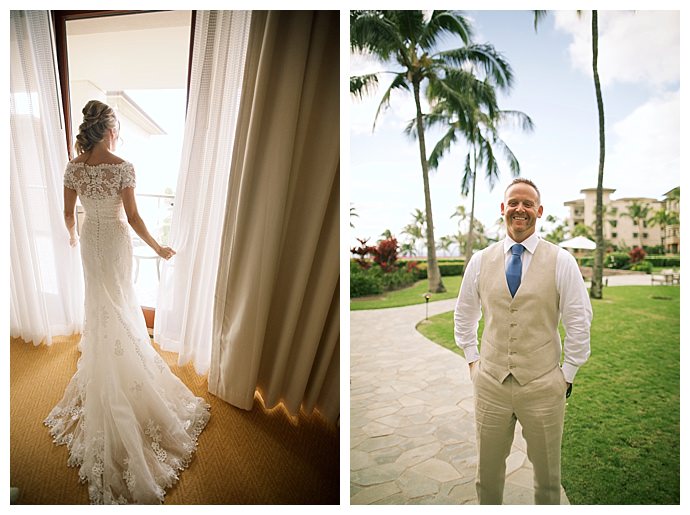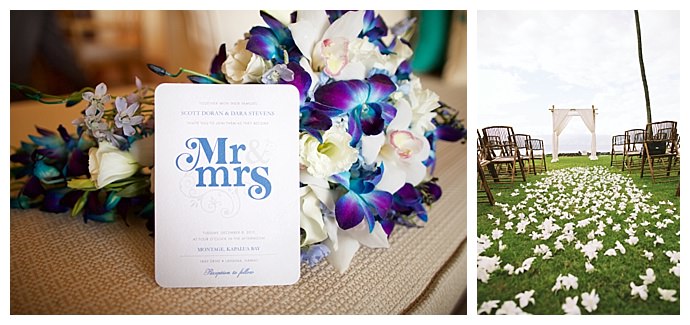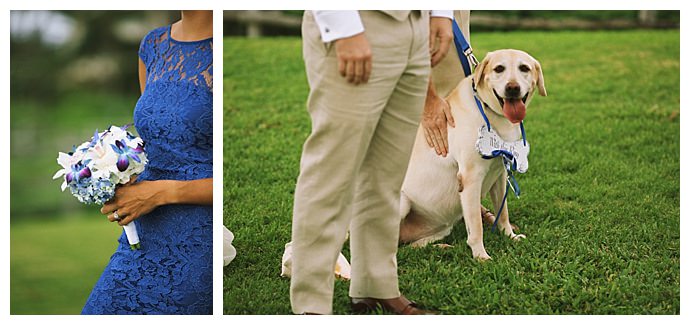 The Love Story
Scott and Dara's paths first crossed as they were both coming out of long-term relationships. Although a spark was there, the timing wasn't quite right, and they both knew it. Scott and Dara grew closer as friends for two years before they decided to give dating another shot. It was apparent early on that they had something special in each other. However, while Dara had always wanted to get married, Scott wasn't quite sold on the idea, something he would use to his advantage to surprise Dara later on.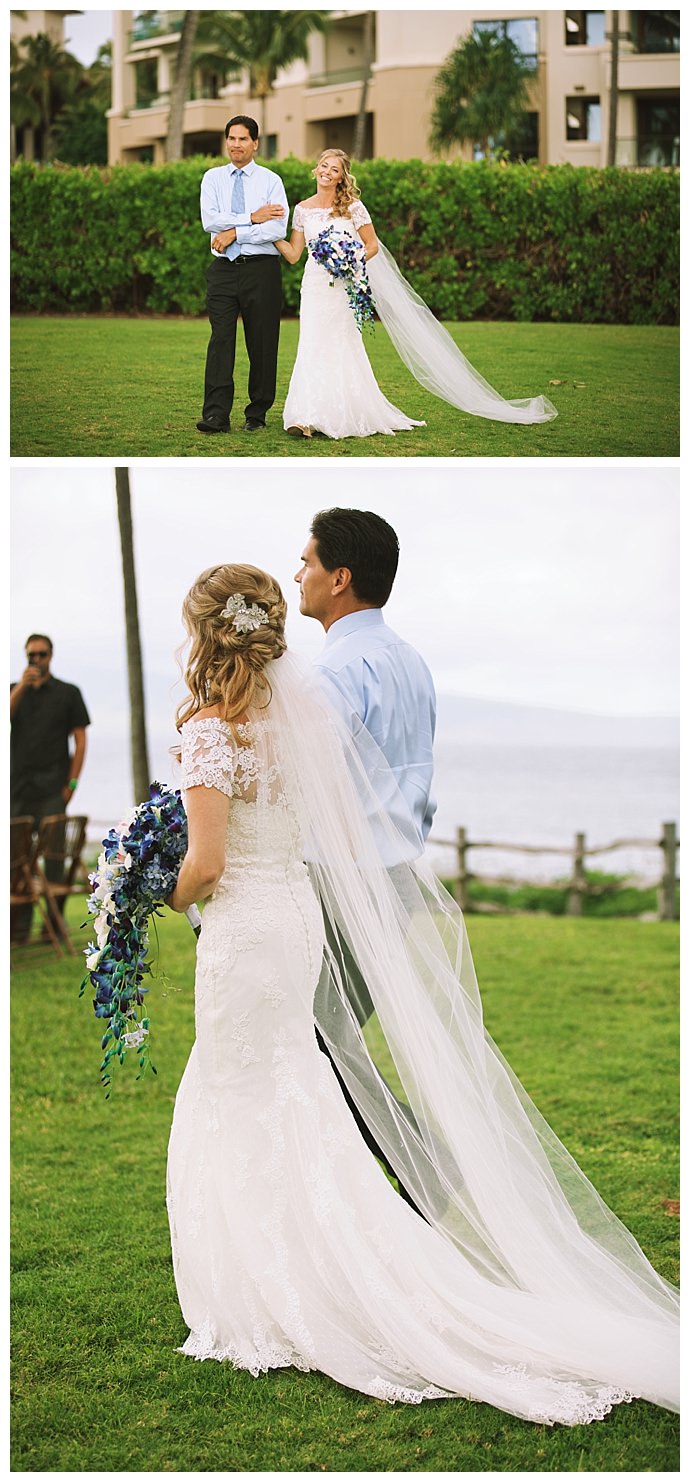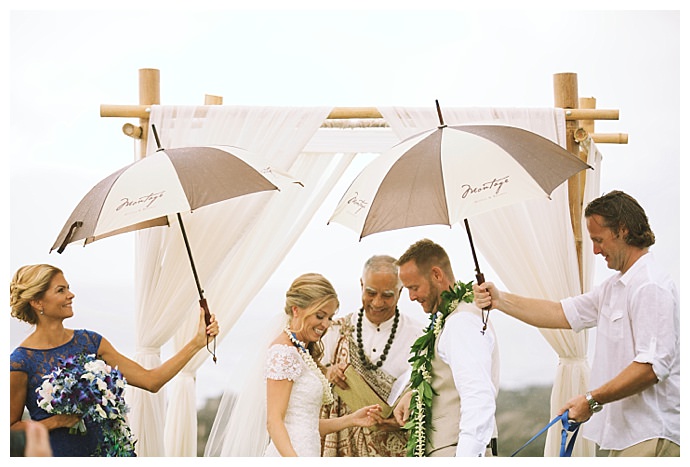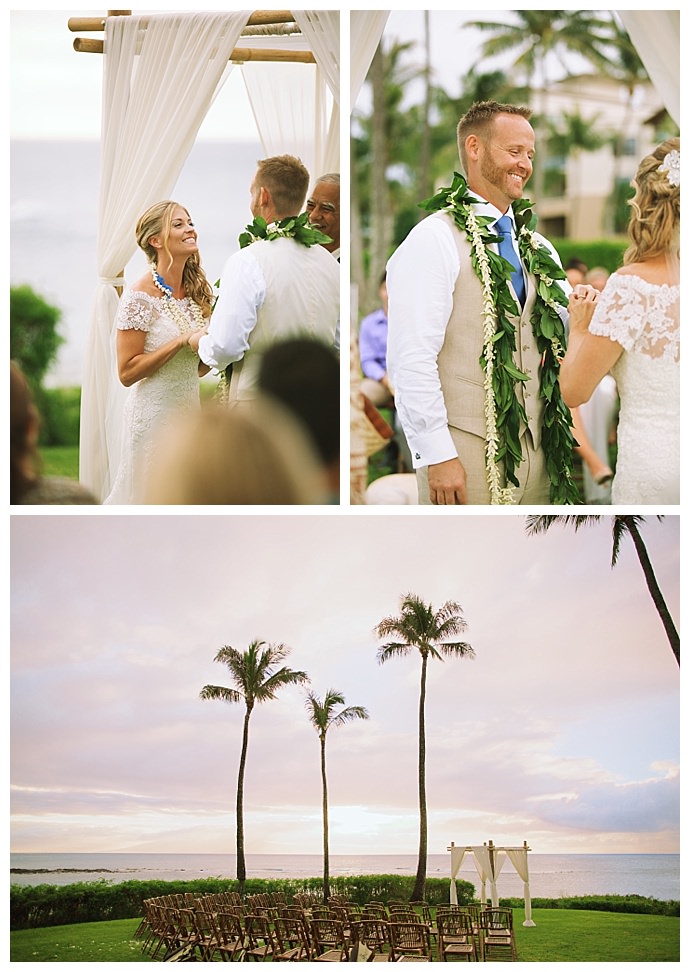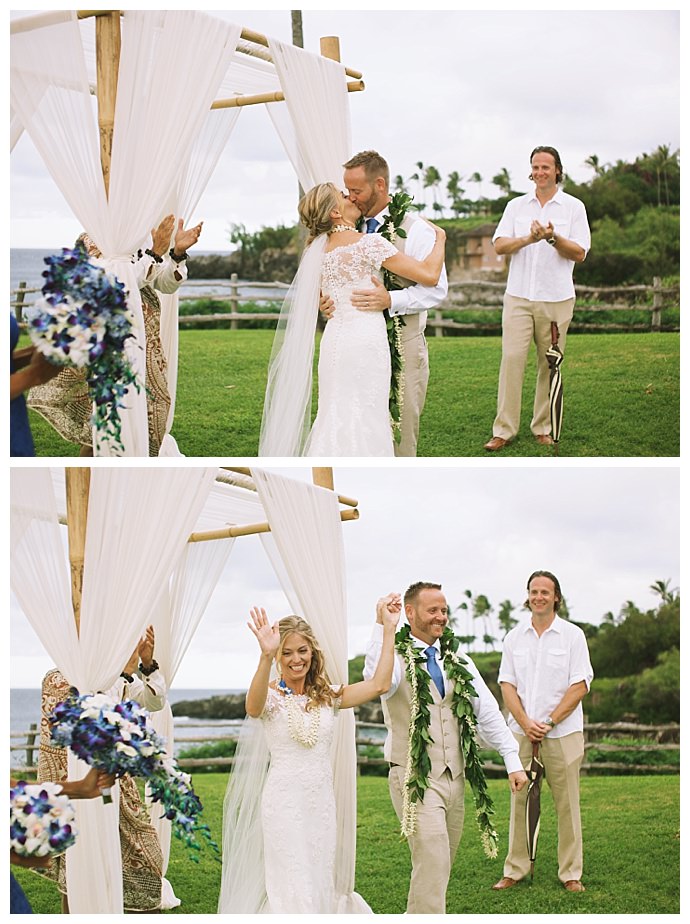 The Proposal
When Scott knew he wanted to propose, he wanted to design a custom ring for his soon-to-be bride but was unsure of Dara's ring size. A cleverly planned trip to visit Dara's sister in Oahu provided the perfect opportunity for Dara's sister to slip her finger into one of Dara's rings, and when they both had the same ring size, Scott knew he'd get to ask Dara to marry him with a ring that would fit perfectly.
Armed with the small box, Scott and Dara took off to Oregon for a romantic getaway along the coast. After a delicious meal in the fine dining restaurant of a charming bed and breakfast, the sun was setting along Cannon Beach when Scott got down on one knee in the sand. Still believing that Scott didn't want to get married, Dara was so surprised that she gave Scott the wrong hand to put the ring on. "She said yes, figured out which hand to put the ring on and we had the opportunity to relax and celebrate just the two of us for the rest of the week," Scott says.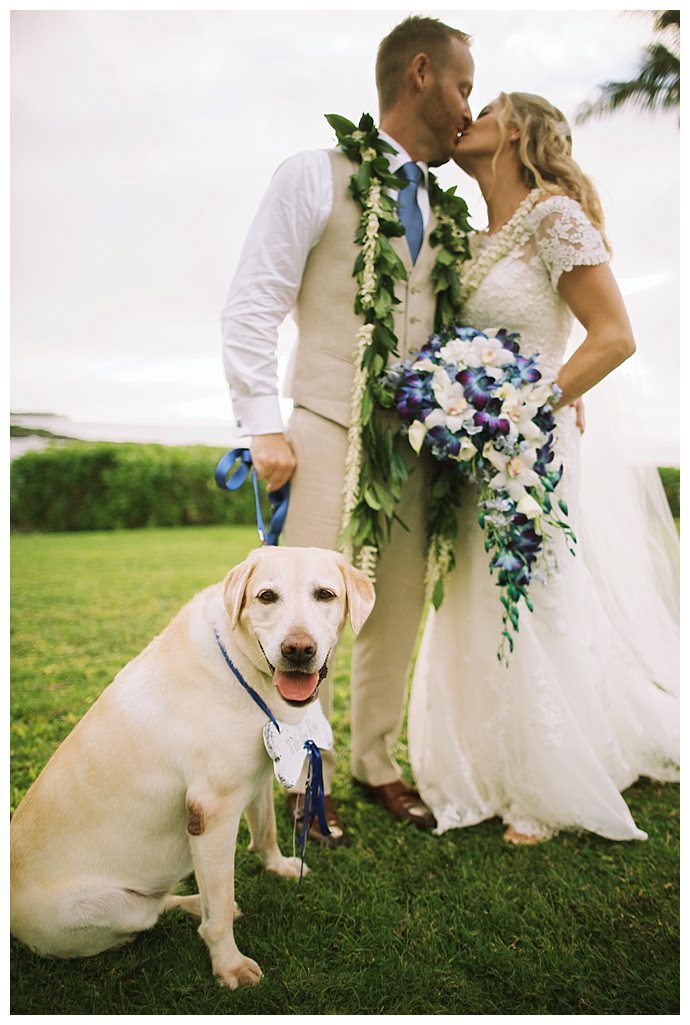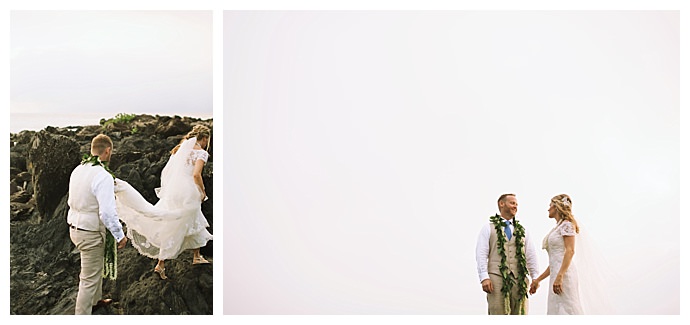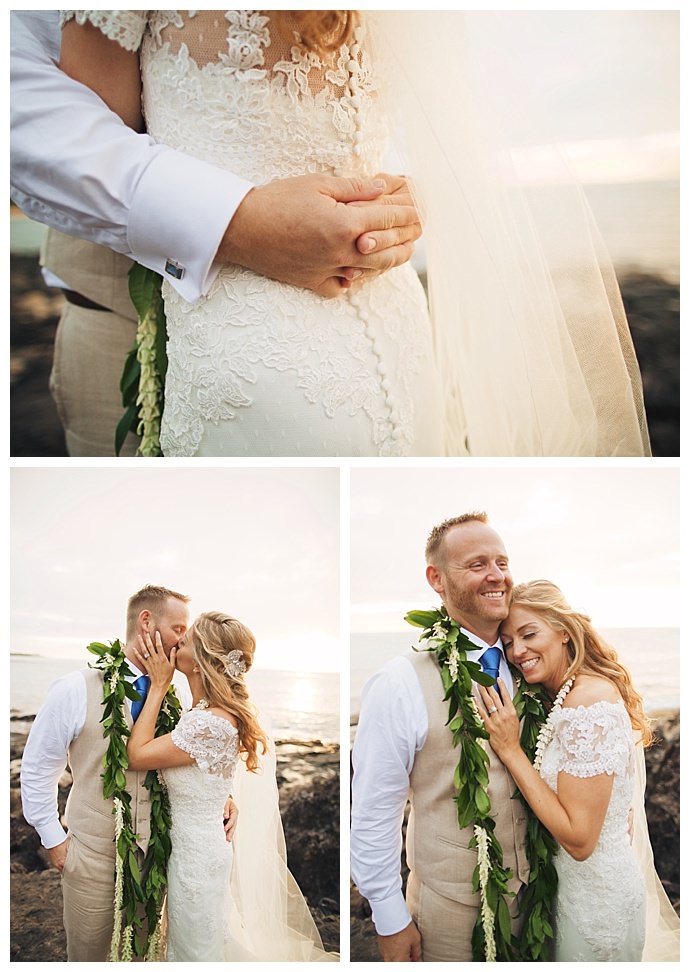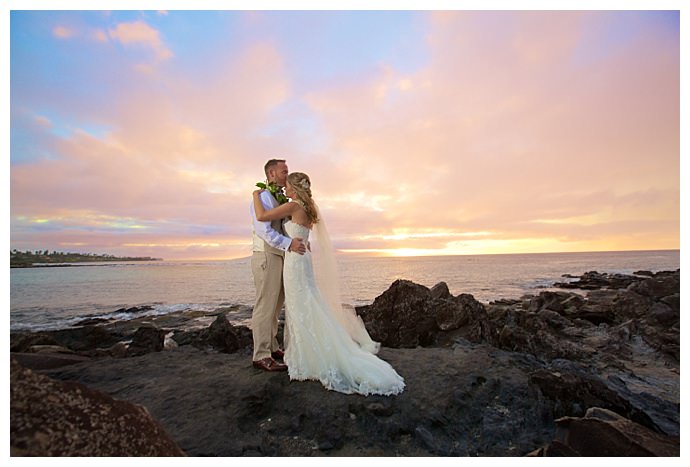 The Party
With most of their guests flying in for the wedding, Scott and Dara knew they wanted to host an epic reception with delicious food, fizzy cocktails and a night of music they would never forget. Hors d'oeuvres of lobster corn dogs with a saffron aioli, rosemary raisin compote, portobello bruschetta and peppered surfing goat cheese were passed around as guests sipped cocktails before dinner. The dinner menu consisted of a mixed vegetable salad with grilled avocado and a citrus vinaigrette, Hawaiian snapper saffron-fennel confit, and grilled beef tenderloin served with mushroom salad demi glaze sauce on baby bok choy.
After dinner, Scott had a big surprise in store for his new bride. Scott flew in Dara's favorite musician, Eric McFadden, to perform for their first dance. The astonishment of the surprise is written all over Dara's face as she realized that she not only got to see her favorite musician perform live in an intimate setting, but also would get to share the first dance with her husband swaying to the music that is so important to her. But the fun didn't stop there. After the reception, Eric McFadden and his band rocked the walls of the Hard Rock Cafe for an after party that capped a wonderful night off in the perfect way.

Scott & Dara from HVM on Vimeo.
Team of Talents
Venue, Catering, Cake Design: The Montage Kapalua Bay
Photographer: Anna Kim Photography
Videography: Hawaii Video Memories
Wedding Planner: The Perfect Wedding, LLC
Floral Design: Sunya's Flowers
Makeup: Plush Beauty Lounge
DJ: DJ Del Sol of Maui Wedding DJ
Wedding Dress: Casablanca