Cincinnati is known for its beer scene. With a large number of microbreweries, the city is crawling with trendy taprooms and delicious craft brews that have become a staple in Cincinnati culture. So when Sarah and Kate were in search of a nontraditional venue for their wedding, a brewery was right up their alley. Rhinegeist had everything they were looking for — exposed brick, wood beams, string lights and a rooftop patio for portraits — and it ended up being the perfect venue for their perfect day. With Emma McMahan Photography behind the lens to capture all the special moments between these two beautiful brides and the personalized touches that made their wedding memorable, Sarah and Kate's brewery wedding in Cincinnati was nothing short of magical.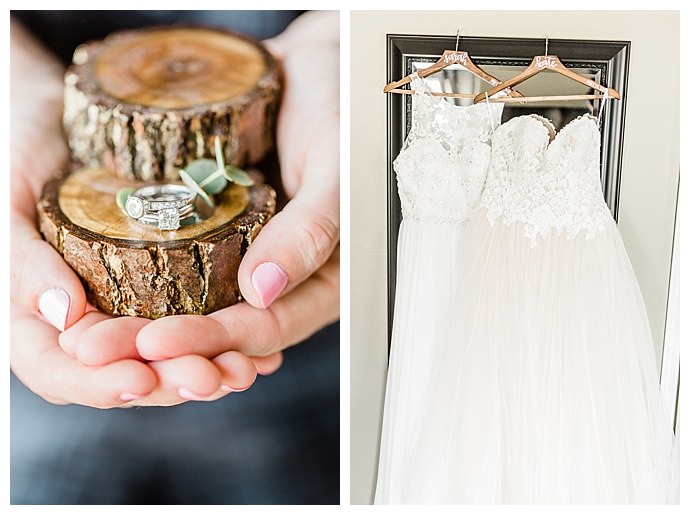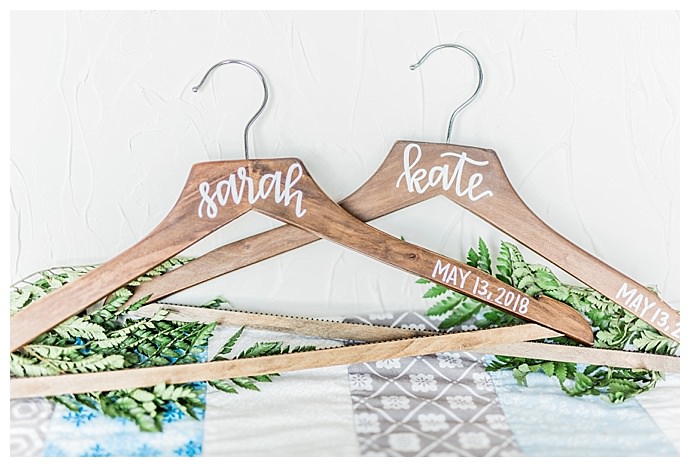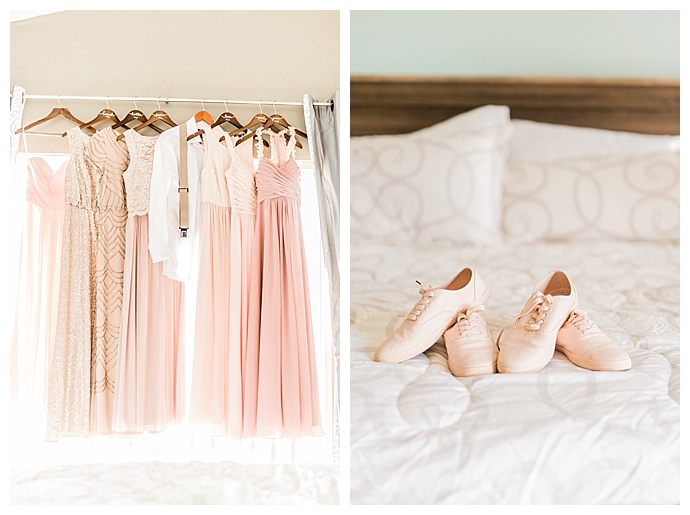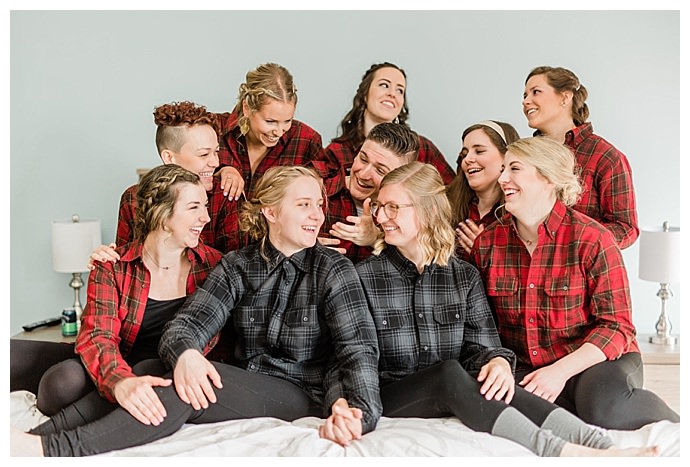 The Love Story
While Kate and Sarah were in college at Ohio State, they both got involved in the same organization and later learned that they lived in the same dorm. A friendship quickly formed, and it wasn't long before they were falling in love. Throughout the time that they dated, they would occasionally discuss proposals and who would go first. "I was the unlikely candidate for the first proposal, which is what made the proposal so perfect," Kate says. On a trip to Chicago to visit some friends, they all made their way to the famous bean in Millenium Park. "We were getting our picture taken when I turned to Sarah to begin to tell her how much I love her and do the whole proposal talk," Kate says. "She kept telling me how I was being rude and that our friends were taking our picture, so I ditched my speech and got down on one knee. She was so caught off guard and surprised, and we had beautiful pictures to remember the morning."
Three months later, Sarah planned a scavenger hunt around Nashville for Kate that ended with them at a concert for one of their favorite musicians. After the concert came to an end, Sarah took Kate to the top of a hill in Nashville that overlooks the city to pop the question. "The entire day was filled with a scavenger hunt to unscramble clues around the city where it ended in the sweetest, most private proposal," Kate says.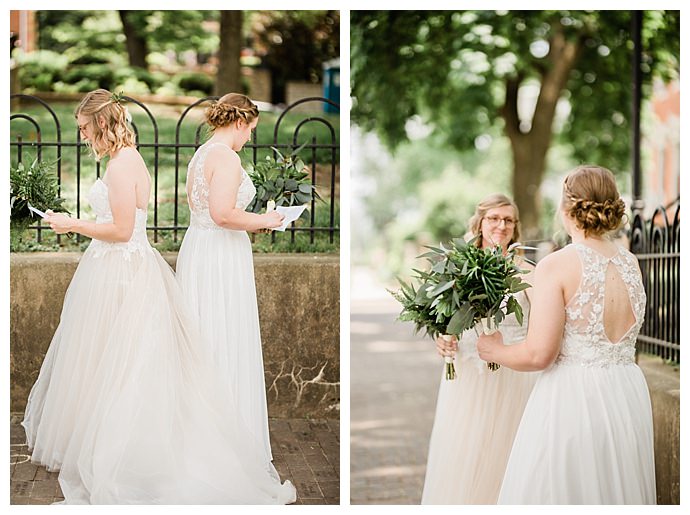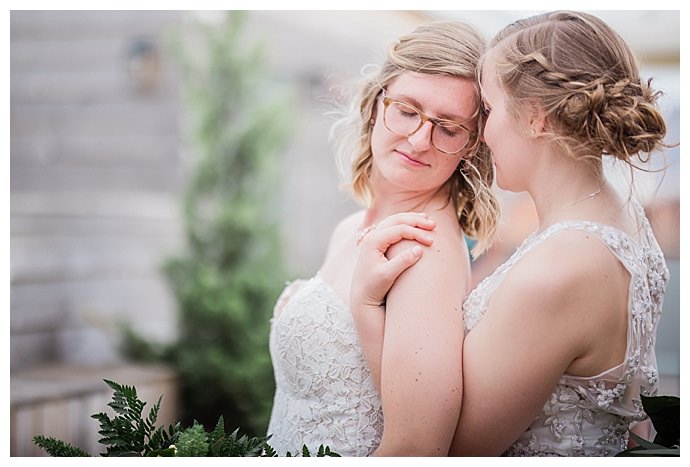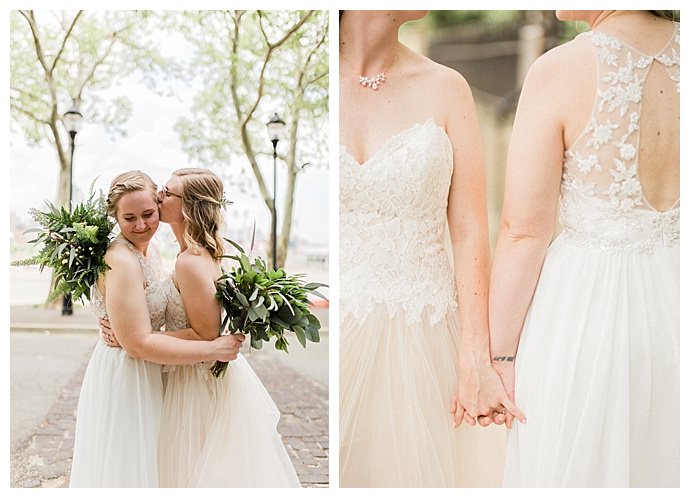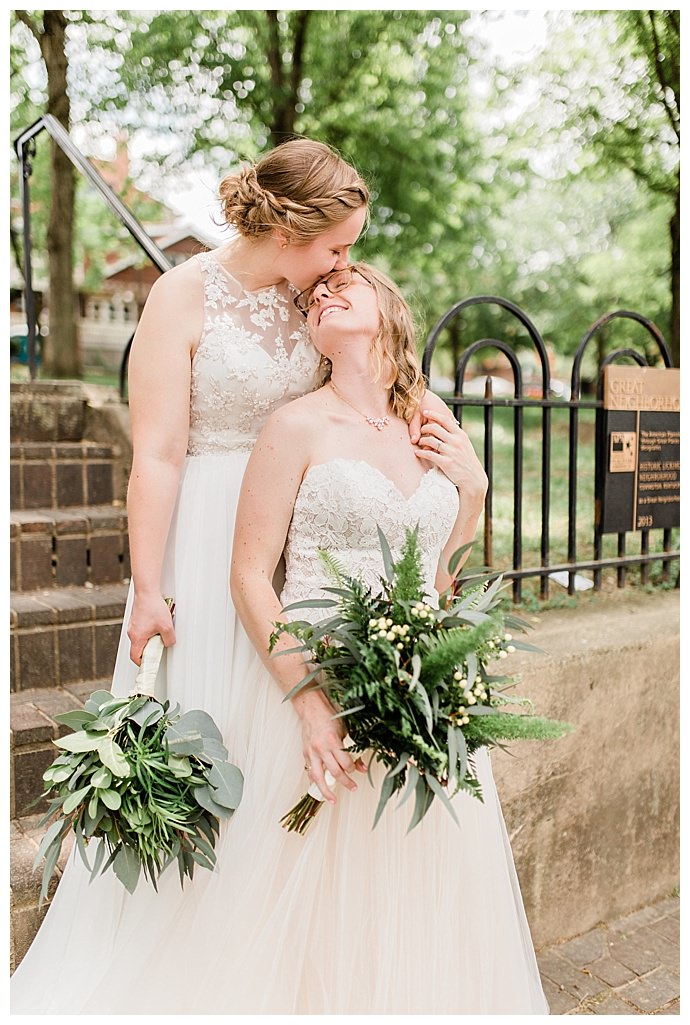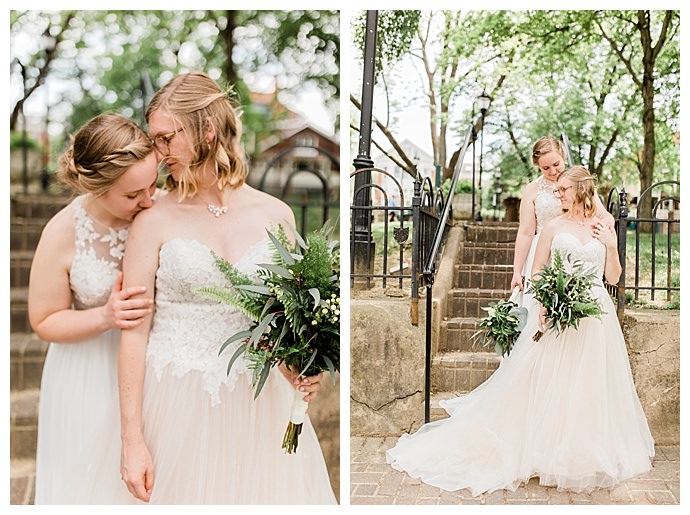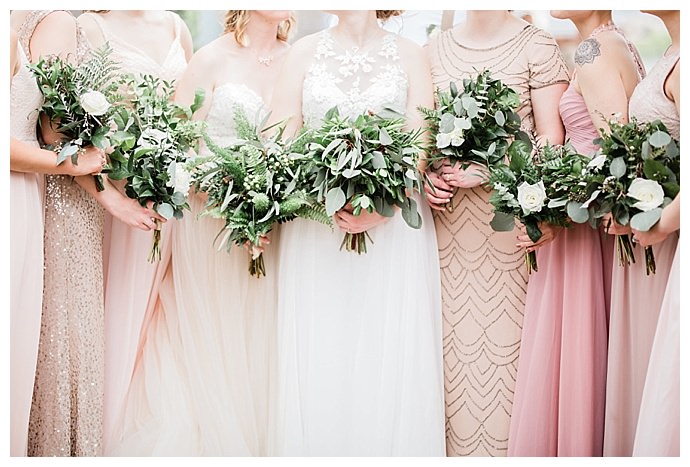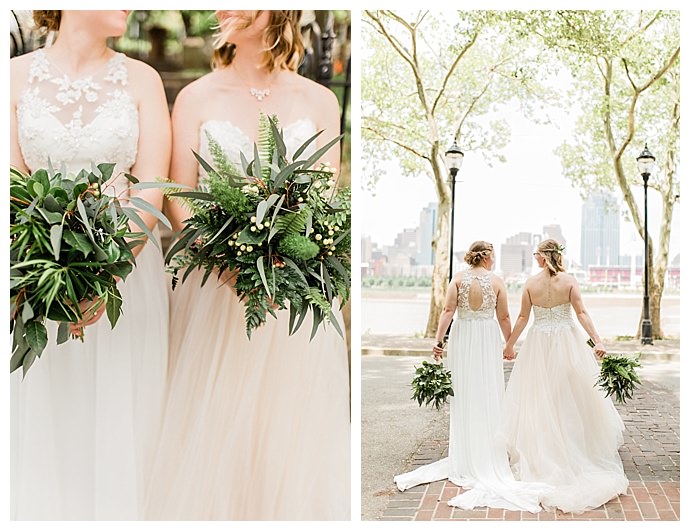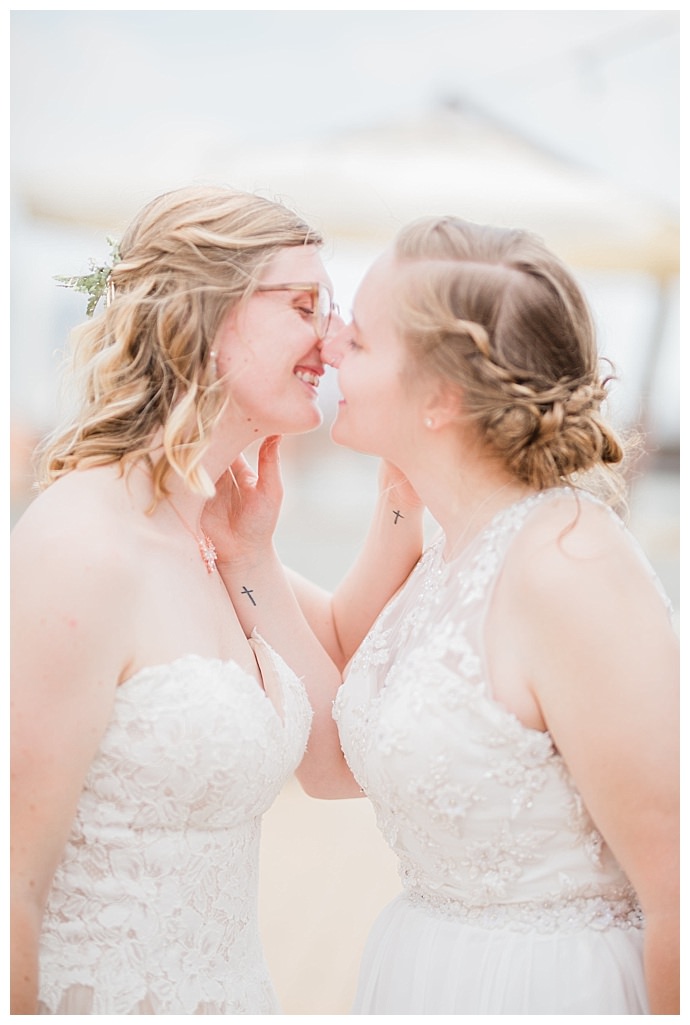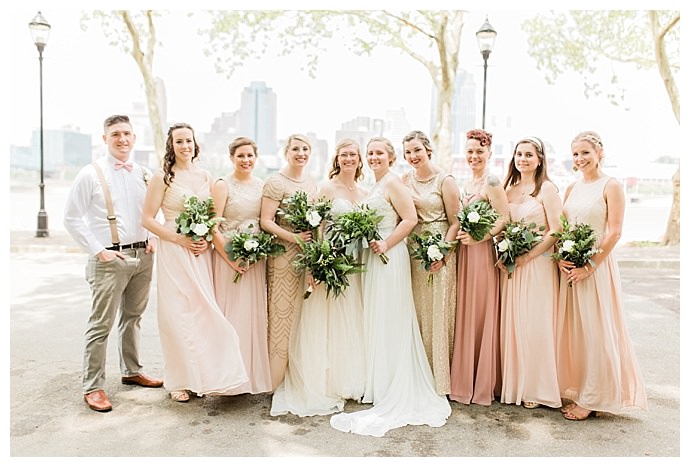 The Ceremony
Kate and Sarah were interested in finding a nontraditional venue for their wedding that was more suitable to their style. They fell in love with the exposed brick walls, wooden beams and string lighting inside Rhinegeist brewery in Cincinnati, Ohio, and knew it was the perfect place to say "I do." Carrying bouquets of greenery, the brides were accompanied by their dads down the aisle, which was a moment that they say they'll never forget. "We loved sharing vows and the look on everyone's faces when we walked down the aisle," Kate says. "I don't think there was one dry eye in the entire room."
Standing at their sides, the wedding party wore a variety of blush and rose gold attire and had bouquets of greenery with a single white rose. "We wanted to keep everything simple but allow everyone to show their individual style," Kate says. "My brother was the only boy in the wedding and he wore khaki pants and suspenders and a pink bow tie. I cannot get over how beautiful everyone looked together."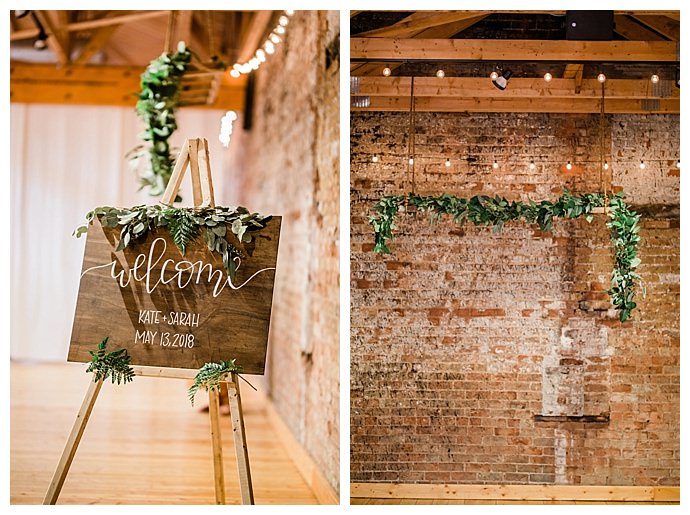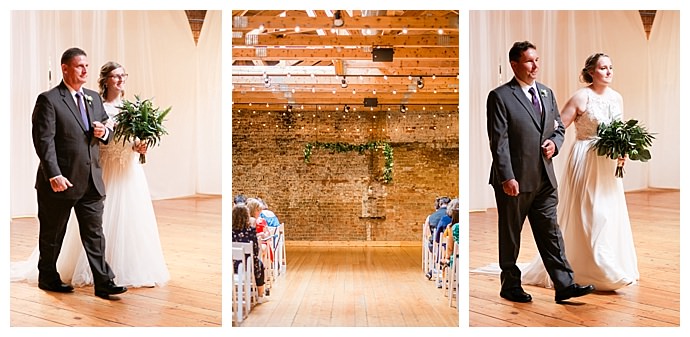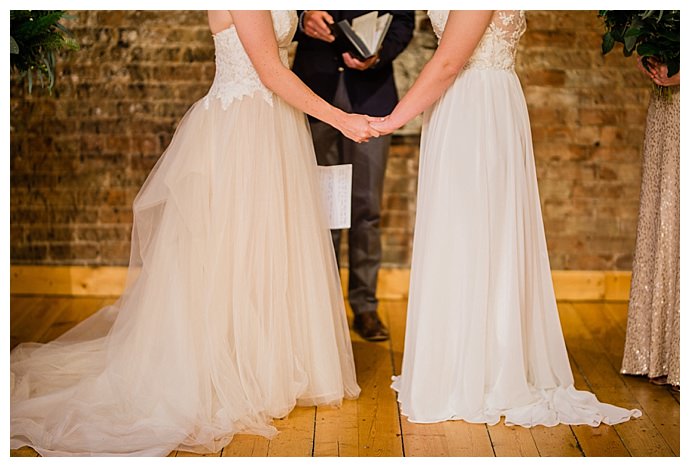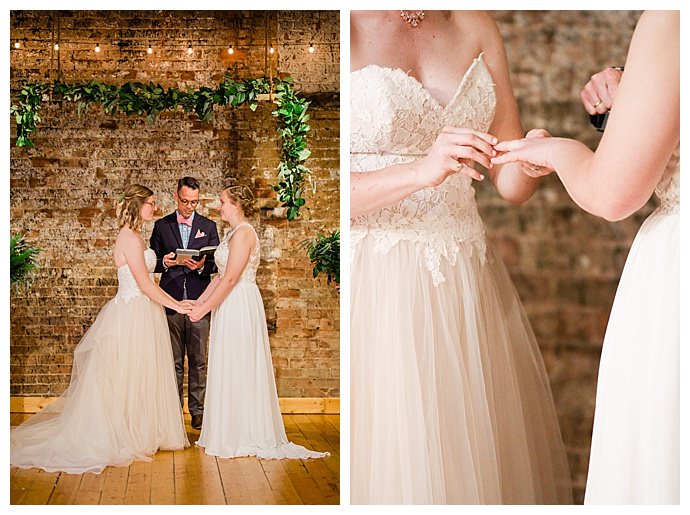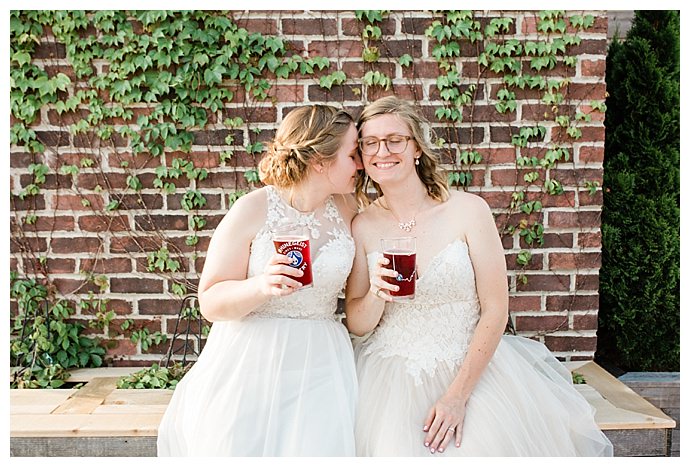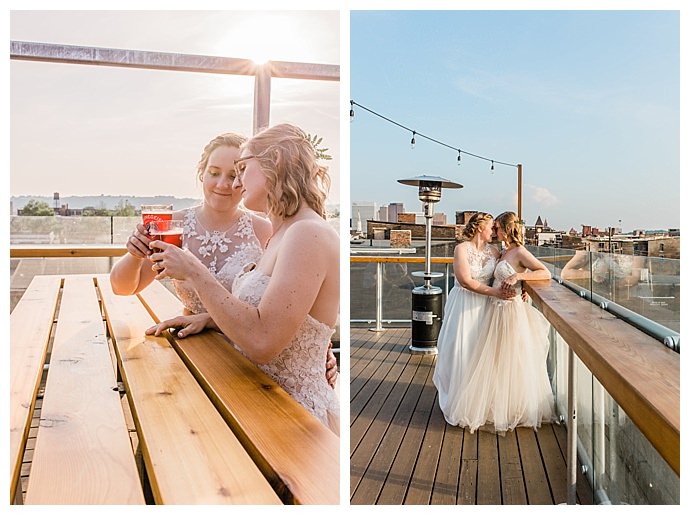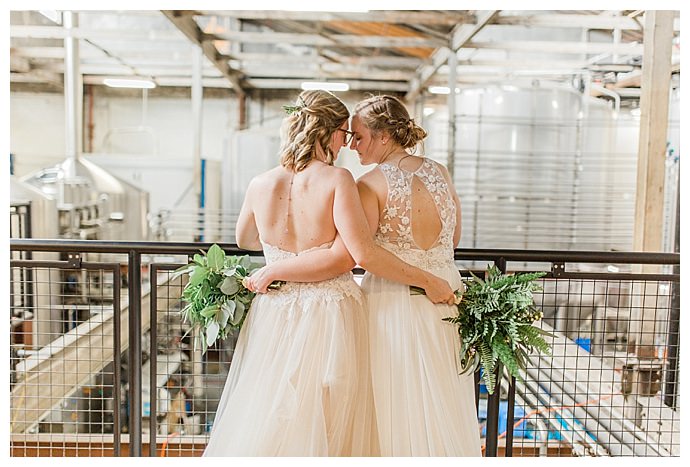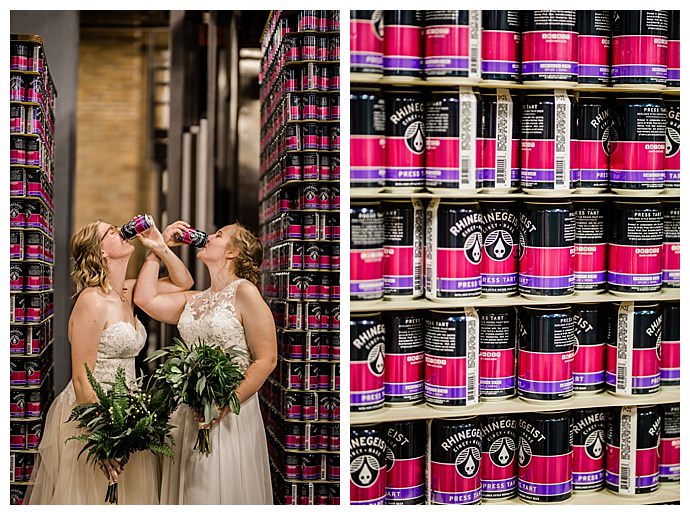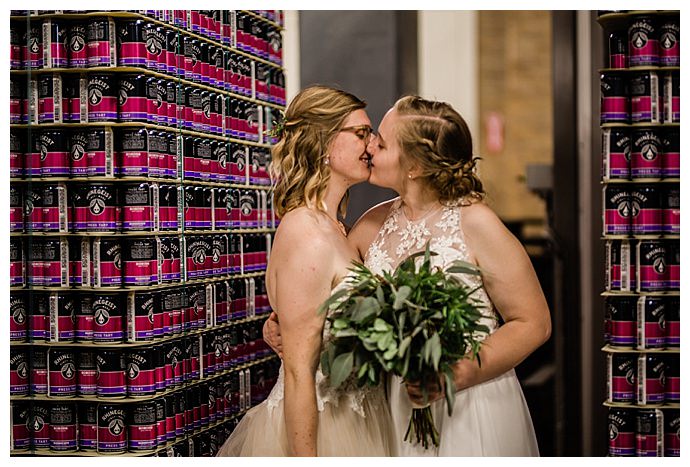 The Party
After the "I do's," it was time for some brews! The natural, rustic beauty of the space inside Rhinegeist didn't require much added decor, so the brides filled the room with greenery and calligraphed signs by Kait Carroll Lettering. They brought in catering from Skyline Chili, a family favorite, and served chocolate dipped cheesecake popsicles from Mickey's CheeseSicles for dessert. And as a favor for guests to take home, Kate and Sarah designed a logo and used Cricut to create custom pint glasses that guests filled with tasty brews at the reception. Of the entire day, one of the brides favorite moments came toward the end of the night. "Our favorite part of the day was getting to dance with each other," they say, "then our dads and then all of our friends and family."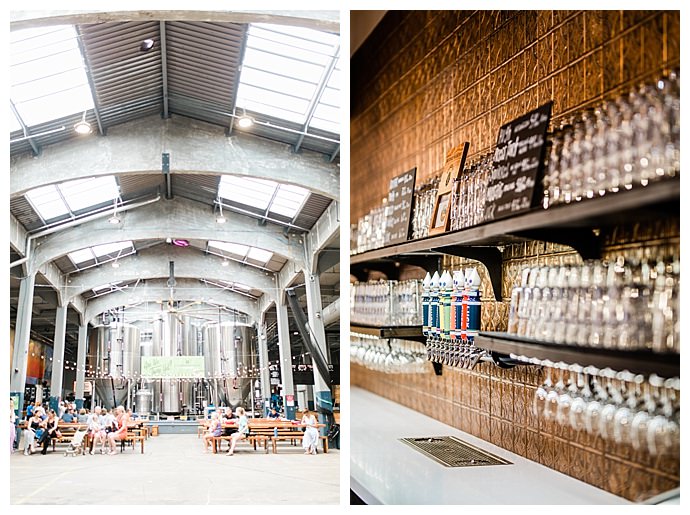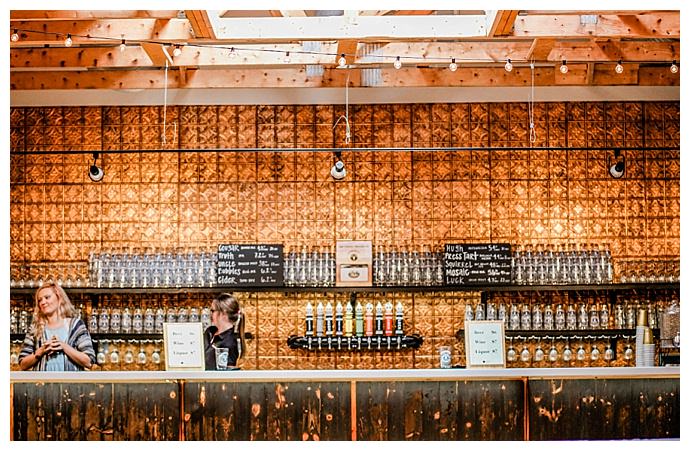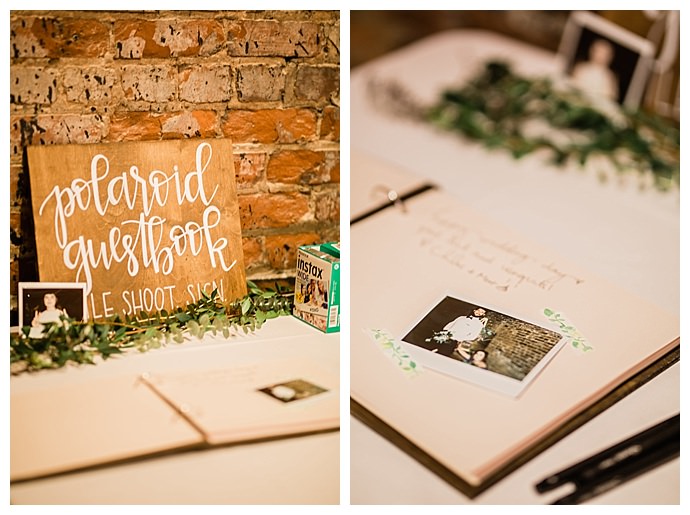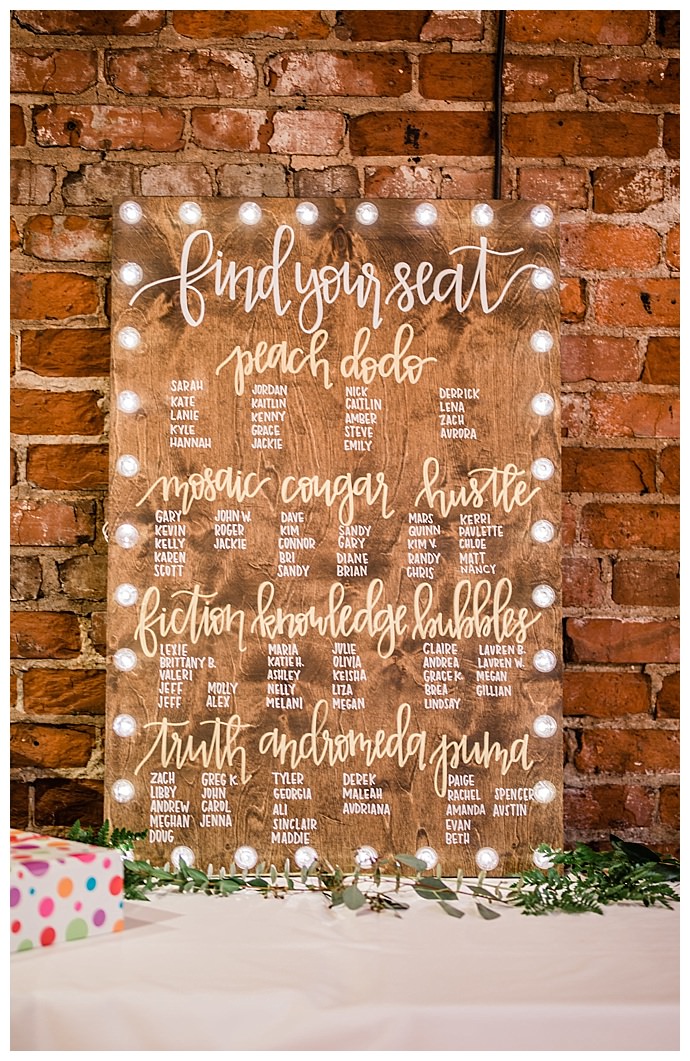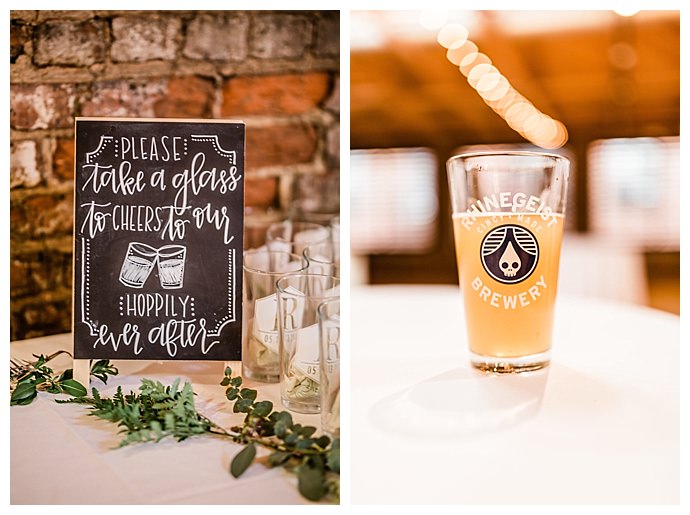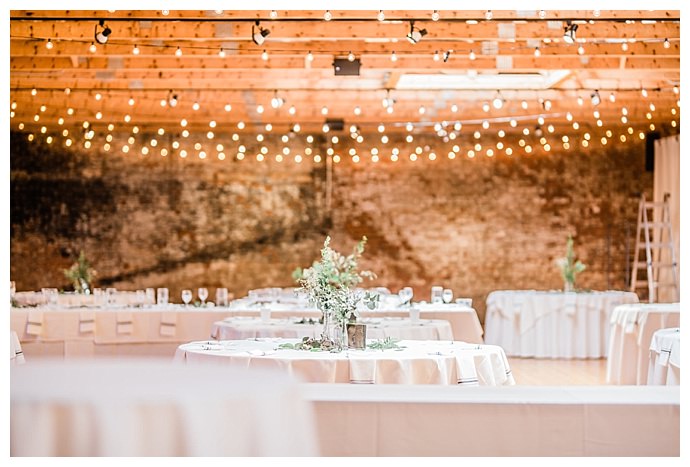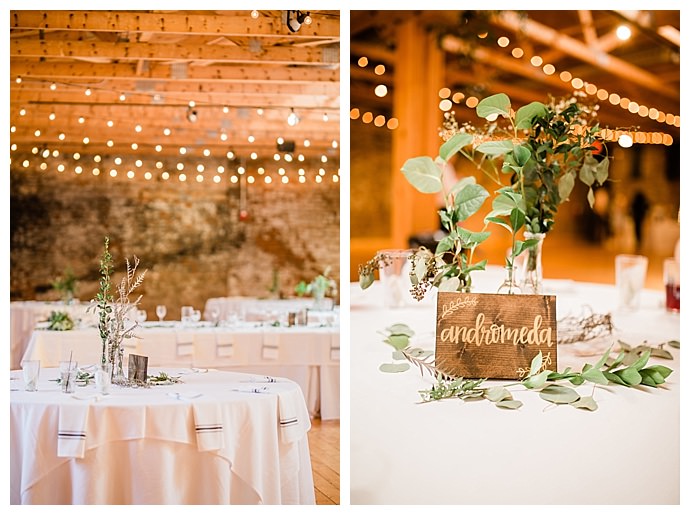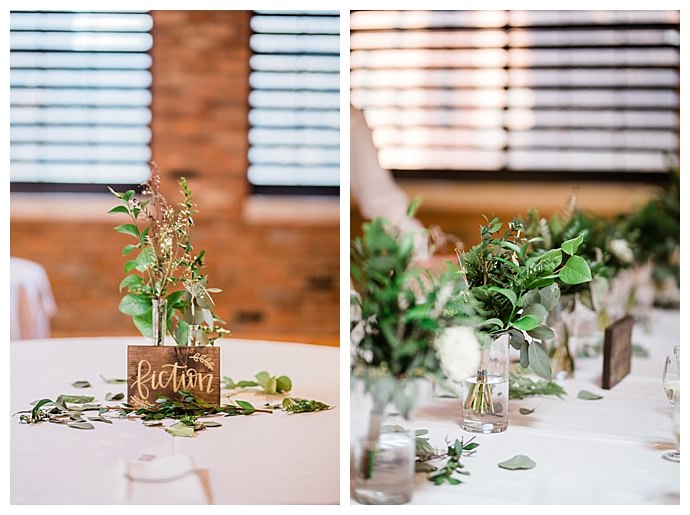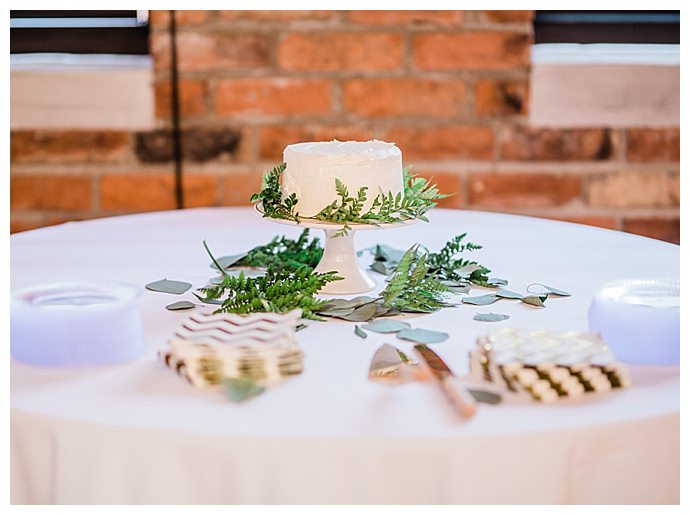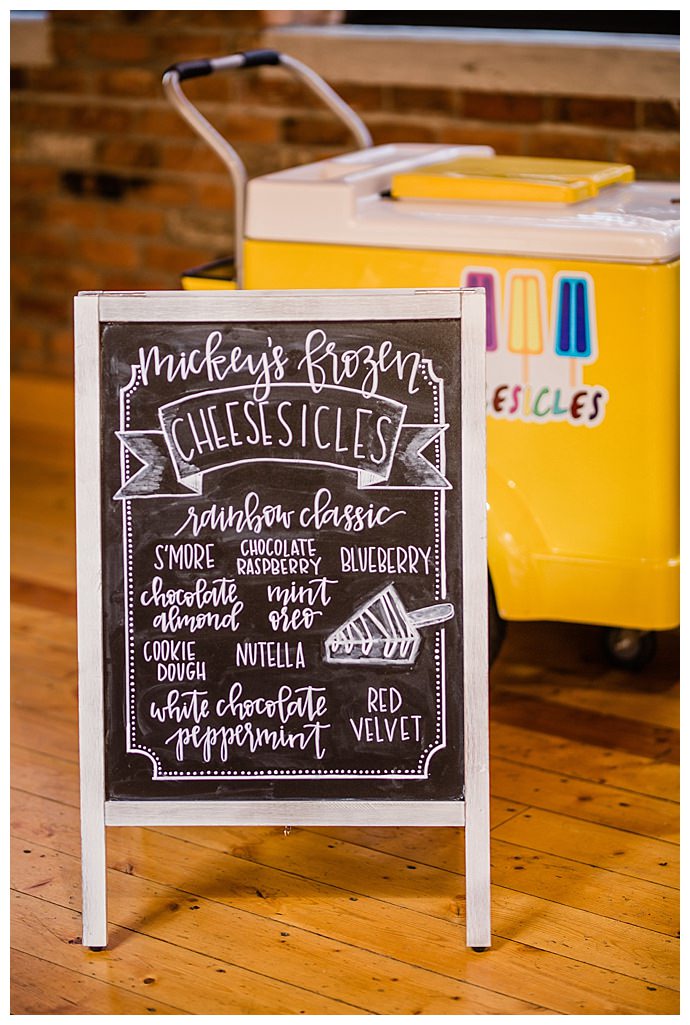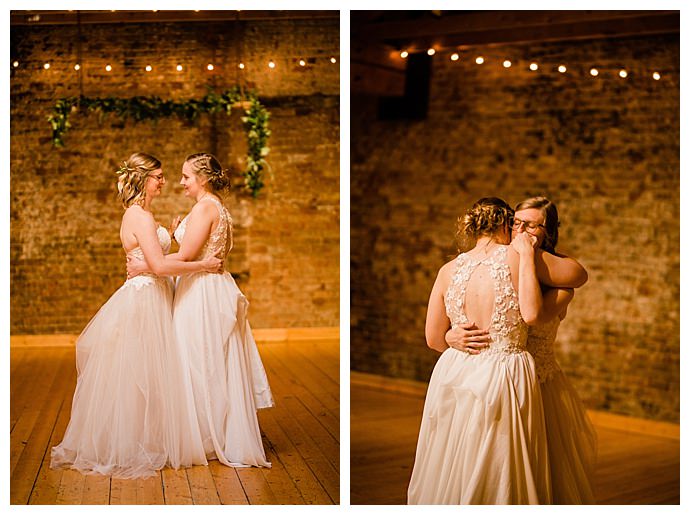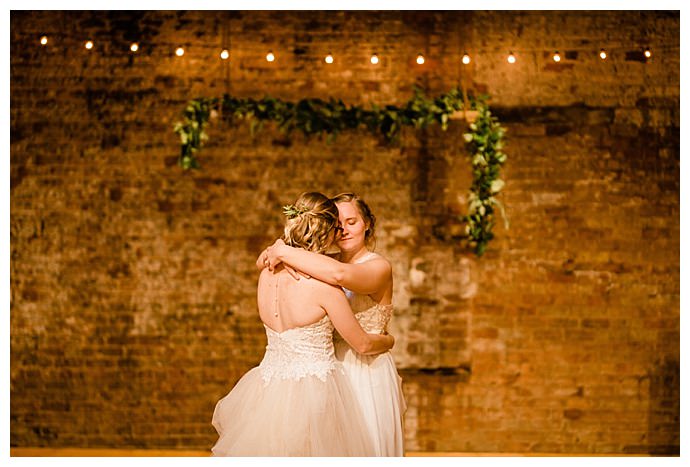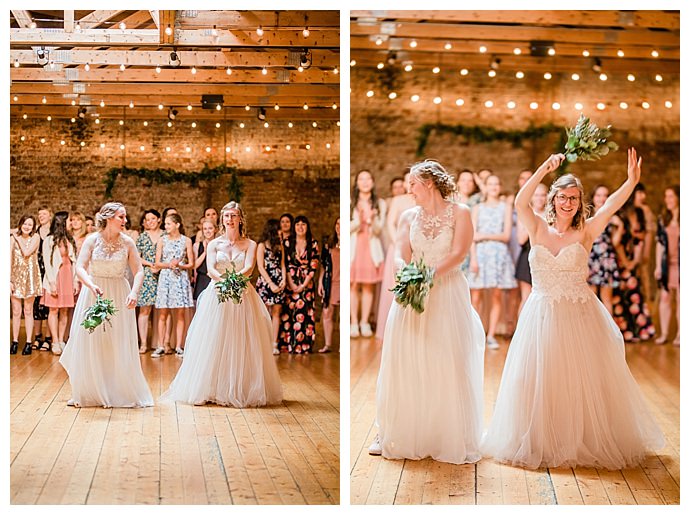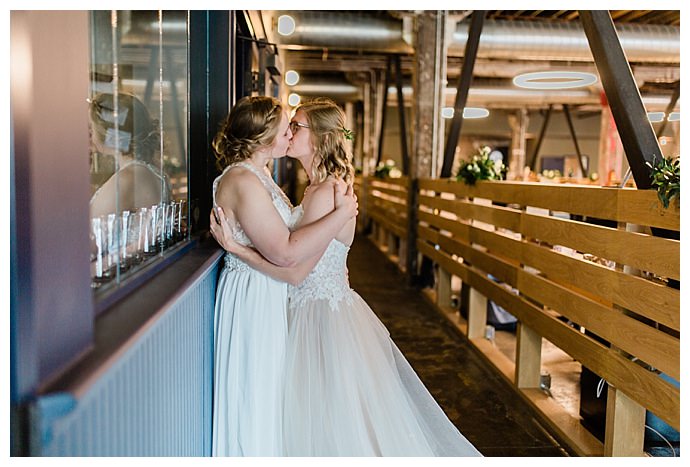 Submitted via Matchology
Written by: