By Meghan Kennedy | Photography by KB Digital Designs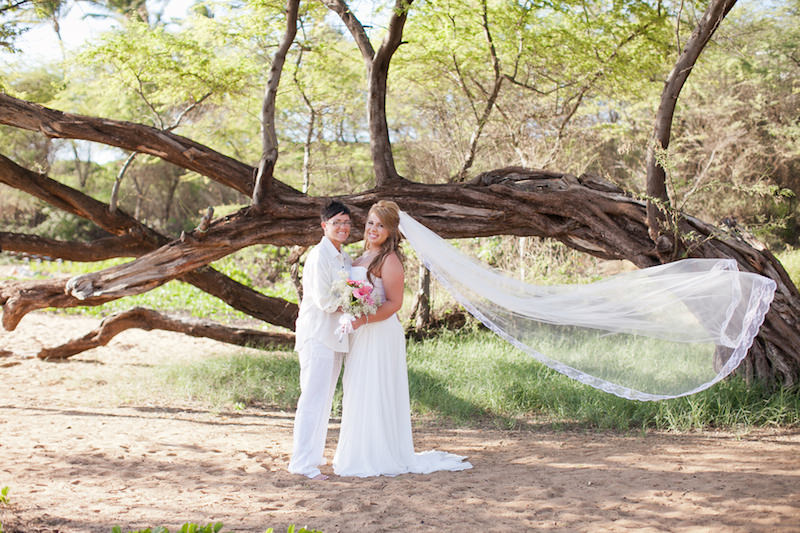 Freshmen in high school aren't usually concerned with whom they are going to spend the rest of their lives with, but Audrianna fell head over heels for Sam when she met her. The brides tell us that it was love at first sight, and they dated for four years before tying the knot. Sam proposed to Audrianna by suggesting a trip to Vegas — getting married the week after the proposal. Audrianna's only counteroffer? After the wedding, there would be a real ceremony, specifically with a white dress.
The (technical) newlyweds traveled to Hawaii to say their "I dos" in ceremony fashion, complete with heirloom jewelry, a dream dress, flowers made by Audrianna and intimate beachside moments captured by Katie Brewer of KB Digital Designs. 
The Ceremony
Sam wanted to get married on the beach, but Audrianna wanted a country wedding, so they compromised: a beach ceremony in Hawaii, and a big backyard blowout once they returned to their hometown. They exchanged vows (and leis, as is custom in Hawaii) as the sun set on Po'olenalena Beach in Maui, with a Christian ceremony and the exchanging of rings.
The Fashion
Each bride wore jewelry from their family members for their special day — Sam opted for more casual attire, in sheer white pants and a silky white button up shirt, with a ring made from diamonds from her parents' wedding rings. Audrianna got the white dress she had always dreamed of — a chiffon and lace confection complete with a cathedral-length veil. She wore a sapphire bracelet of her mom's and a diamond necklace gifted to her by her father for the ceremony and reception.
The Reception
The brides and their family headed to the Lahaina Grill for a quiet reception after the ceremony. The elopement was celebrated with a delicious sit-down dinner and, of course, mai tais! Although it was difficult planning the wedding from another state, the brides were able to orchestrate a gorgeous ceremony they'll remember for the rest of their lives.
Memorable Moment
Sam: The first look. I got to see my beautiful bride before the ceremony and it was the best idea ever! Seeing her calmed my nerves and I couldn't wait to get the ceremony started!
Audrianna: Right after the first look, Sam took off my shoes so I could walk in the sand and held my dress while I walked. It was very sweet to me.