By Brittny Drye / Photography by Luna Blue Studio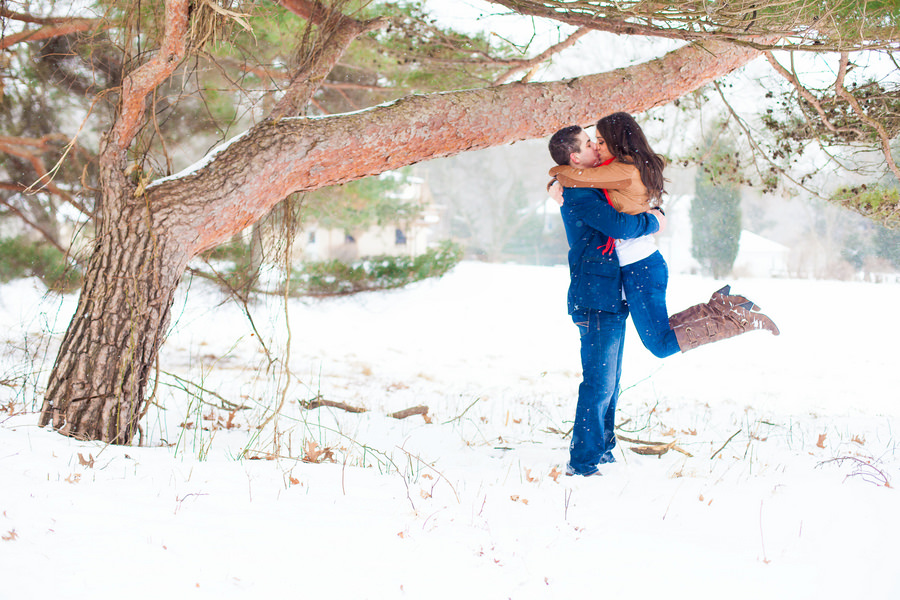 It may be cold but Rob and Dana's snowy engagement session is sure to give you warm fuzzies. With hot cocoa mug save-the-dates, snowball fights and cuddles in a blanket, this sesh shot by Luna Blue Studio definitely shows how beautiful and insanely romantic the winter months can be.
[raw]
[/raw]
The Love Story
Rob and Dana's love story begins the summer after high school, when they met through a mutual friend. They dated for a year and a half before parting ways. Fast forward five years when they reconnected, realizing that they had it right all those years ago. "Once we got back together, I knew I wouldn't lose her again," says Rob.
[raw]
[/raw]
The Engagement
Rob surprised Dana with notes and, er, quirky but symbolic gifts as their song "Remind Me" by Brad Paisley and Carrie Underwood blasted in the background. "As I'm walking in, there's a bag with a note on it. The note read, 'October 14, 2004 on this day we went to the movies to see this Ladder 49 and I asked you out for the first time. Even though you made fun of me for the way I asked, a part of me knew we would get to this day' — the DVD was inside the bag along with pictures of us from 2004," explains Dana. "As I walked down the hall there was another bag with a note on it that read, 'September 9, 2011 I asked if you wanted to cut the sh*t and make this official? I knew on this day I wouldn't let you go again.' Inside that bag was pictures of us from that night along with plastic poop and scissors. When I opened the door to his room he was on one knee and said, 'I should of done this along time ago, will you marry me?'"
"I couldn't of asked for a better proposal. Who wouldn't want plastic poop?!" laughs Dana.
The Ring
Dana's diamond-encrusted infinity band ring features a sparkling round-cut diamond. "The ring is perfect," she adds.
[raw]
[/raw]
The Wedding Date: October 18, 2014