Ring shots are not only a perfect excuse to show off your band and/or sparkler, it's an opportunity to bring the entire wedding aesthetic into one photo. Unfortunately, this shot isn't one that couples normally plan for ahead of time (I know I'm guilty of this!) and photographers don't really have the information or props on hand to get creative and ensure it's reflective of your wedding day. So before the big day, talk with your photographer and make a plan. Here are some tips to get you started:
1. Have it reflect the theme/surroundings: Find inspiration in your surroundings! Having a barn wedding? Use textured backdrops such as hay or distressed wood. Go for marble if you're celebrating in a ballroom or concrete for an industrial warehouse vibe.
2. Use appropriate props: A well-done ring shot is simple in design — patterns are kept to a minimum and colors are fairly neutral or monochromatic. Limit yourself to only one to three items in the shot, playing with angles and textures. Only use a ring box if it's aesthetically beautiful (like the gorgeous velvet ones from Etsy shown above!) and your ring is strong enough to hold its own, otherwise it can feel overshadowed.
3. Use sentimental items: Whether it's next to a pretty bottle of the perfume you're wearing on your wedding day or it's posed with your grandmother's pearls, using items that have sentimental significance will make your shot just that much more special.
4. Glue dots: In order to properly show off a diamond, you may need to use glue dots to defy gravity (just be sure to style strategically so they're not in the shot!).
Looking for inspiration? We've curated some ring shot-worthy props below for various wedding styles, so whether you're going for soft and romantic or a laidback beach vibe, we've got you covered!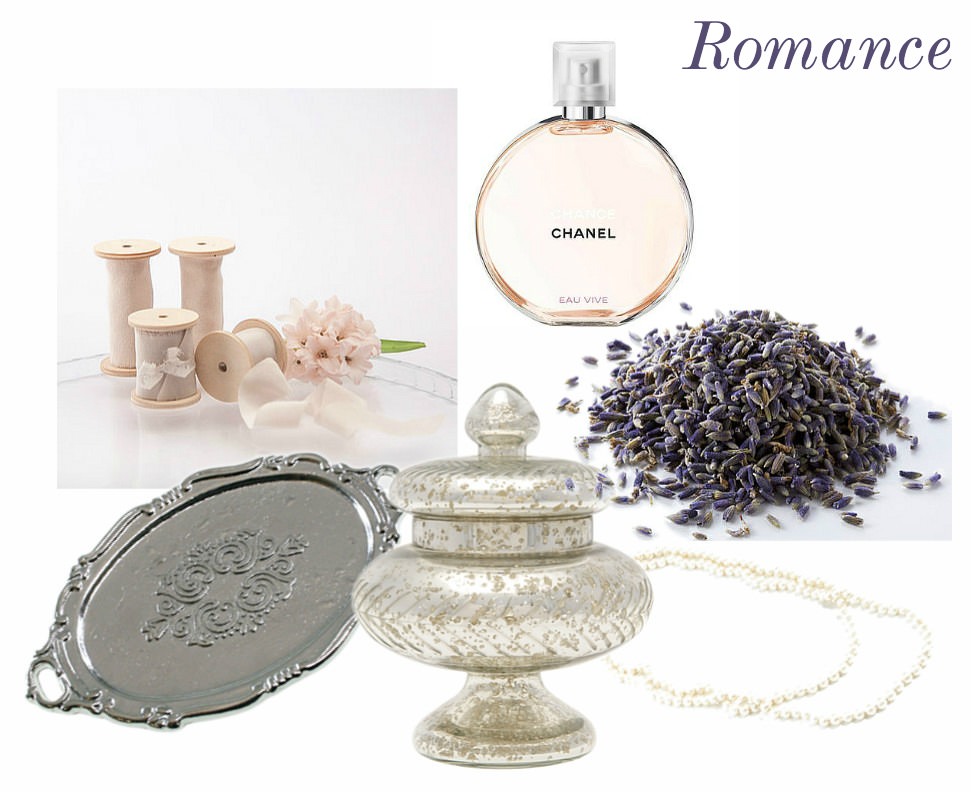 Top left, clockwise: hand-painted silk ribbon from Silk Ribbon Florentes available on Etsy.com for $14 for three yards; Chanel Eau Vive perfume available at Sephora for $78; lavender confetti from Atelier Emma Rose available on Etsy.com for $24.99 for two pounds; pearl necklace from J.Crew for $495; silver mercury glass apothecary jar available at LunaBazaar.com for $25.85; miniature silver tray available at Michael's Craft Stores for $1.99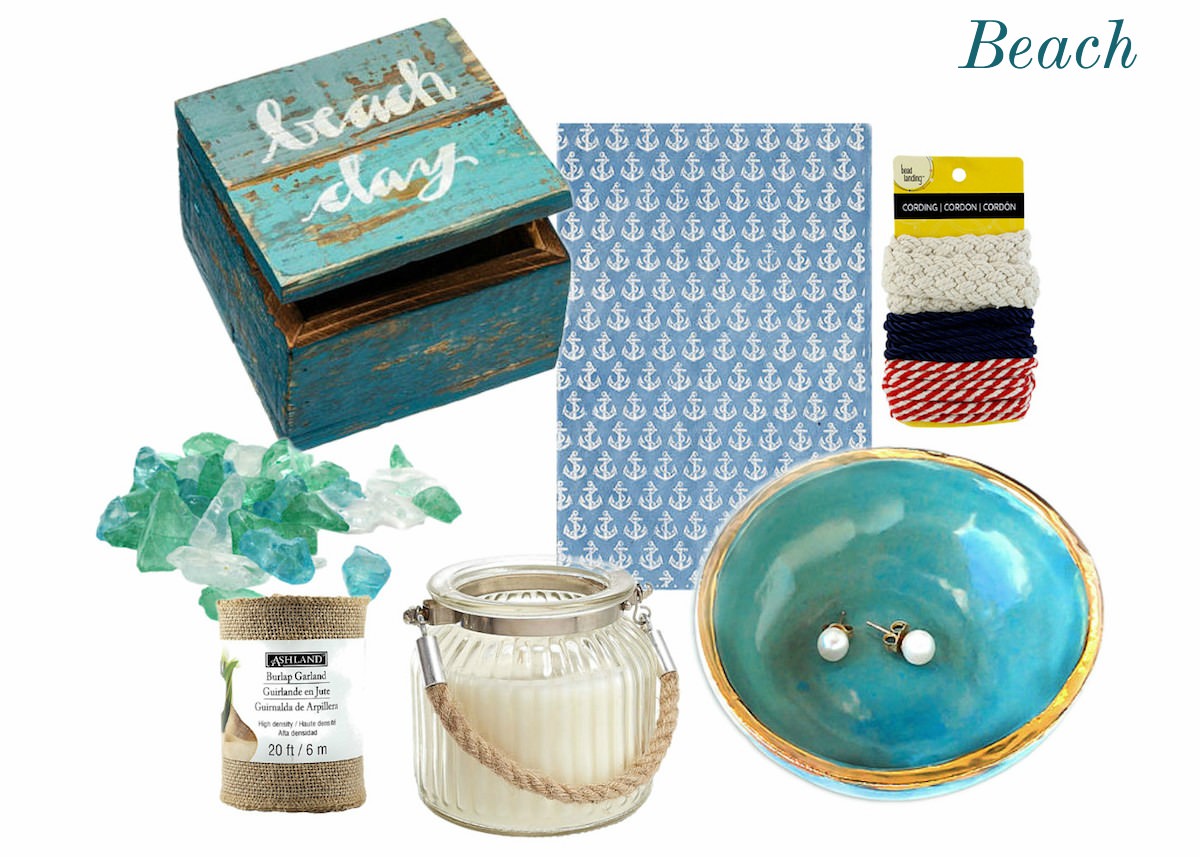 Top left, clockwise: Beach Day box by from Barnes & Noble for $9.95; Lokta white anchor paper from PaperSource.com for $6.50; Bead Landing nautical cording available at Michael's Craft Stores for $5.49; jewelry dish available on Fab.com for $42; ocean-scented candle available at Barnes & Noble for $14.95; burlap ribbon available at Michael's Craft Stores for $6.99; sea glass available at Michael's Craft Stores for $2.99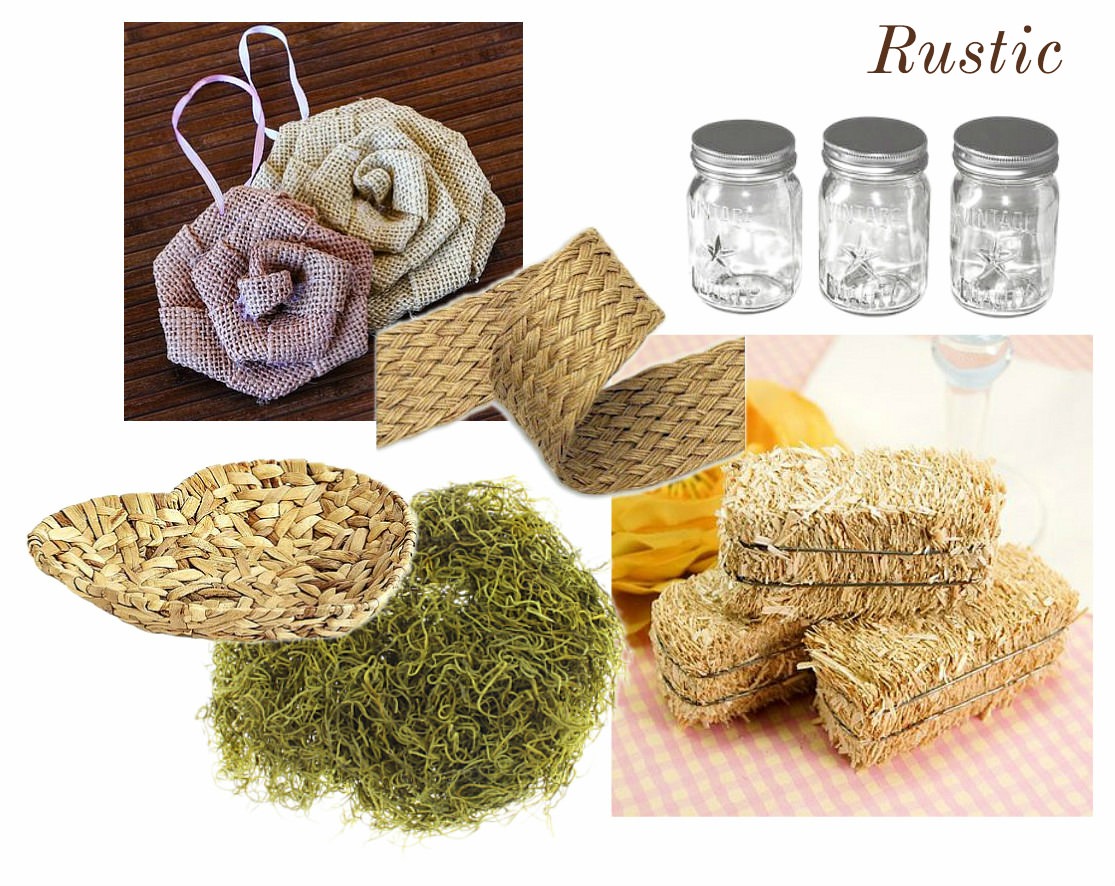 Top left, clockwise: burlap flowers available at Beau-coup.com for $16.65-$27.91; jute ribbon available at M&J Trimmings for $5.98/yd; mini hay bales available at Beau-coup.com for $36.70/set of 12; moss available at Michael's Craft Stores for $6.49; heart-shaped weave basket available at Pier1 Imports for $9.71
*Editor's Note: This post contains affiliate links. Each time you purchase an item via our affiliate links, Love Inc. is receiving a small percentage of the sale, thus you are helping our small, equality-minded business grow and allowing us to provide more content for YOU! Isn't that just fantastic?