By Meghan Kennedy | Photography by Peach Plum Pear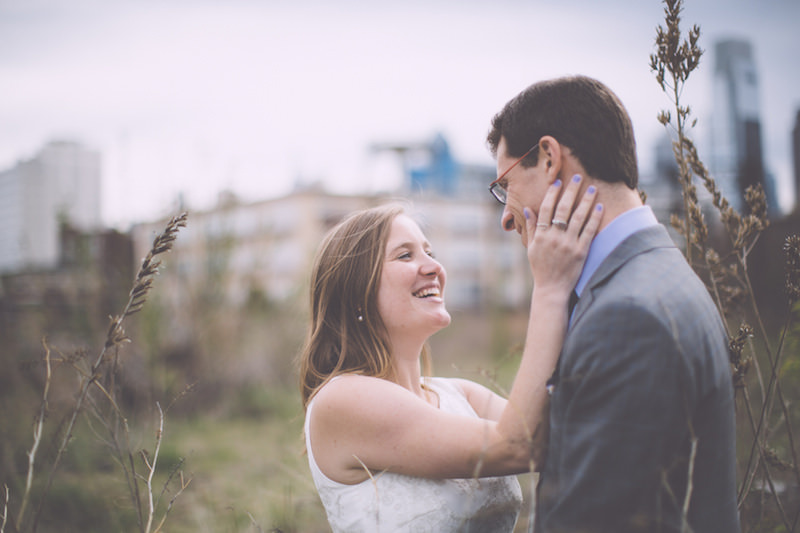 High above the Philadelphia streets, Rachel and Josh celebrated their engagement a few days before their May wedding earlier this year. With rain in the forecast, the couple decided to get as many outdoor pictures as they could a few days before the big day with their photographer, Peach Plum Pear Photo. The adventurous couple climbed high into an abandoned railroad track, the Reading Viaduct, to get the unique shots that speak volumes about the couple's adventurous personalities. The urban, romantic photo shoot shows that no matter what happens — Rachel's wedding shoes got ruined during the shoot — they know that every day with each other is an adventure.
The Love Story
At a  nightclub neither of them would have deigned to go to on a normal night out, Rachel and Josh's love story begins in the summer of 2007. Brought together by a mutual friend's birthday, when the couple realized the birthday girl had actually ditched their location in favor of another hotspot, they were able to strike up a conversation and find that they had more than just a friend in common. Their love of music (and the fact that neither one of them would have ever set foot in that club of their own volition!) brought them together, and they've been together ever since.
The Proposal
Six years after their chance encounter, Rachel and Josh finally decided to set a date. Being the nontraditional, laid-back couple that they are, there was no proposal and no engagement ring — just a mutual decision to spend the rest of their lives together. "We're both fairly nontraditional, and many times toyed with the idea of never getting married," says Rachel. "But we eventually decided we could do it in a way that was genuinely reflective of ourselves and our relationship, settled on a date, and announced our intentions." They were, however, able to spring a surprise on their friends and family: on the day of their six-year anniversary, in August of 2013, they sent out a mass save-the-date e-mail via Paperless Post. "We loved all of the reactions from our wedding guests after we sent out our surprise save-the-date. Easily some of the best emails, texts and phone calls we've ever received."
The Ring
While the couple decided not to take part in a formal engagement, they bought matching wedding rings at Bario Neal, a Philadelphia store. "We liked the store because it's a local business, and the owners are two women. The owners sustainably and ethically source all their metals and gems, they support women's collectives in the countries where the metals and gems come from, and they are big supporters of marriage equality," explains Rachel of their choice. "We also got our rings several months before the wedding, and began wearing them immediately — we thought it was silly to keep them in a drawer for half a year."
The Location
An unplanned engagement shoot for the couple took place a few days prior to the wedding, as the forecast called for rain on the big day. The location of the shoot, the Reading Viaduct in Philadelphia, is an abandoned elevated train track that has been out of use for 30 years; there are plans for it to become a public park but for now, as Rachel says, you need to do some "creative trespassing" to access it. The lush greenery of the tracks set against the gray, rain-foreboding Philadelphia skyline sets the tone for a romantic, almost ethereal photo shoot.
Wedding Date: May 10, 2014