By Shannen Hofheimer | Photography by Carlyn K Photography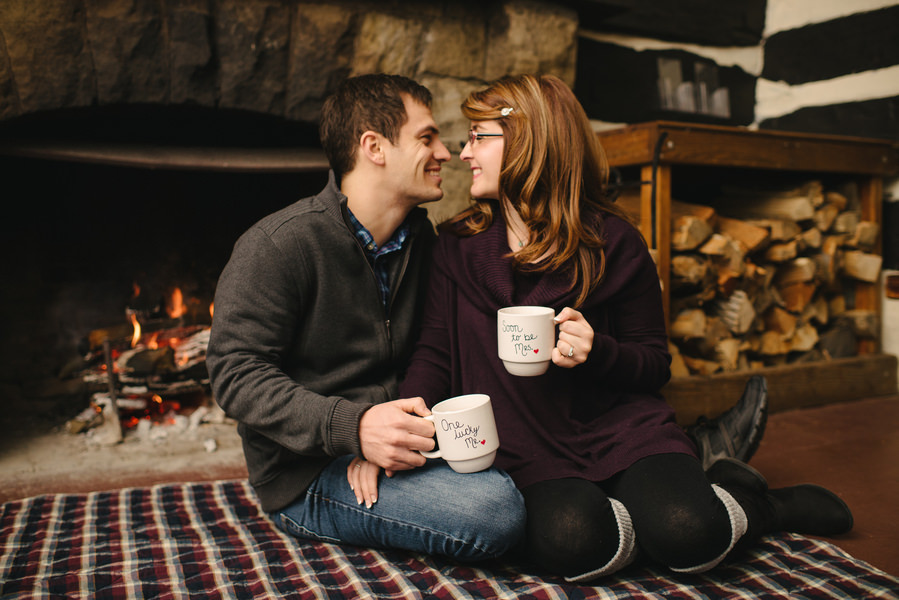 If there is one ideal way to sum up Phil and Miranda's engagement session, it's cozy and not just because of the flannel blankets and hot cocoa. The comfort and compatibility that Phil and Miranda emanate in their photos, captured by Carlyn K Photography, is effortless. Phil and Miranda snuggled up for their photo shoot in the historic Old Log Cabin in Mill Creek Park in Youngstown, Ohio — coincidentally located at the bottom of the hill where Phil proposed — and their love for one another is glowing hotter than those fireplace embers in these adorable pictures!
The Love Story
Phil and Miranda met on eHarmony in October 2012; Phil, being new to the area, looking for someone to hang out and pass the time, and Miranda, looking for someone to share her life with. "I knew I could love this man forever only a month after meeting him. He volunteered to shop with me and help set up for my mom's surprise party. He pushed the cart and was just so patient and happy to be with me. That's when I thought, 'I am lucky to have found him!'"
The Engagement
In a year and a half, Phil and Miranda came a long way from their first date at a Phantoms Hockey game in January 2013 to the proposal on a rainy Tuesday in June 2014. Leaving for what Miranda thought was a quick trip to a craft store and then food, Phil started the drive by taking one of his infamous "long-cuts" in which he takes every side road possible (making a 15-minute trip into 45 minutes). Objecting to every turn, Miranda declared that she hated the way he drove. "You'll regret saying that one day…", Phil foreshadowed as he pulled into the Rose Garden at Mill Creek Park, feigning accidence. To keep up the ruse, Phil suggested that they may as well get out, walk around and enjoy the moment since they had "accidentally" pulled in. At that point, Miranda suspected something and went along for the walk. Wanting to go look at the nearby waterfalls, Phil insisted they stay where they were and took her in his arms, telling her how much he loved her. When he got down on one knee and asked her to be his bride, Miranda squealed with excitement and disbelief.
The Ring
"I picked out the ring, knowing very little about what she wanted. I looked at multiple stores and decided on a solitaire, round cut, white gold ring."
Wedding Date: September 26, 2015